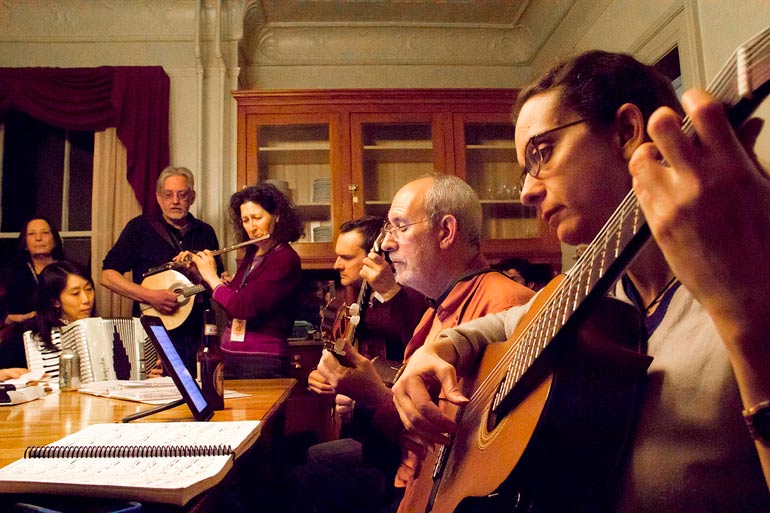 Choro Workshop: April 25-29, 2018
Choro Concert: 7:30pm April 28, 2018 
2018 registration opens November 1.
Our popular Choro workshop is back and will include all the features which have made it a favorite, plus a new faculty member. Dudu Maia continues to improve the schedule with an eye towards maximizing what you will learn AND the fun you'll have playing. The faculty will explore current and historical players and styles, in addition to master classes, group sessions and, of course, lots of playing.
This year will include a special emphasis on the music of Ernesto Nazareth, and all participants will be asked to bring a specific book for the jam sessions (details are in the registration process.) Whether you're new to the workshop or have attended several, you'll get lots of new information.
We're particularly excited to announce the addition of one of the leading instrumentalists of the Rio scene – saxophonist/flutist Daniela Spielmann. She'll join returning faculty members Dudu Maia, (bandolim); the extraordinary clarinetist, Anat Cohen; and Trio Brasileiro members Douglas Lora, 7-string guitar; and Alexandre Lora, pandeiro/percussion. All are master teachers and outstanding performers who will show you first hand how much fun it is to play Choro.
Choro is a great way for both jazz and classically oriented musicians to meet on common ground. There are written charts with lovely and lively melodies accessible to any competent player. There's also room for improvisation, and in a vein that's a great way for classical musicians to expand their skills in this. This workshop is limited to forty-five people and is open to strings, woodwinds, accordion/piano and hand percussion (rather than drum set). Some others are also accepted; call if you have a question about your instrument.
"I found the entire workshop a highlight. A very amazing, wonderful group of people.
Within 15 minutes of settling into our room we were playing tunes in the living room with
our new house mates."  – Workshop Participant
Some of the most delightful moments of the weekend happen after dinner, when faculty and participants gather and jam to their hearts' content. This year there are two housing options. Premium housing is in the beautiful, large Victorian "officer's houses" (returning participants will be familiar with these). A second option will be in the Reunion House (formerly Madrona Vista) and is a bit more economical. Both options provide private rooms and full kitchens.
Participants will receive free admission to the April 29 performance in the Joseph F. Wheeler Theater.
Who Should Attend?
Both classical and jazz musicians will feel comfortable in this workshop, and will enjoy expanding their skills through this style. You should be proficient on your instrument, i.e. comfortable with the mechanics of playing. There will be people of different backgrounds and abilities and we'll be sure to match you up.
What is Choro Music?
The Brazilian musical style of Choro represents the coming together of European melodic and harmonic traditions with African rhythms and sensibilities. Emerging in Brazil in the middle of the nineteenth century, Choro is a cousin of jazz, with a sense of yearning that is often described as a "sweet lament." Many ethnomusicologists believe that the name Choro comes from the Portuguese verb chorar—that is, to weep or to cry. It often seems bright and happy on the surface, but if you dig deeper you'll find a kind of sadness, a longing that Brazilians call saudade.
Something about the combination of Portuguese and Italian influences resulted in melodies with a strong romantic feeling. When joined with its African influences, Choro has an irresistible groove and rhythmic momentum that is uniquely Brazilian. (Read more about Choro).
What Does Choro Sound Like?
Here are some YouTube links featuring our faculty playing typical Choro tunes:
Choro Workshop Schedule (2017)
Wednesday, 4/26
4:00 – 5:30pm Check-in, Centrum office
6 – 7:00 Dinner
7:00 – 9:30 First session
9:30 Welcome reception
Thursday, 4/27
8:00 – 9:00am Breakfast for those who registered for it
9:00 – 10:30 Group session: "Ernesto Nazareth and the History of Choro"
11 – 12:25 Master classes
12:30 – 1:30pm Lunch
2:00 – 3:30 Group session: "Brazilian Rhythms"
3:45 – 5:15 Ensemble rehearsals
6:00 Dinner
Evening: Open for jamming
Friday, 4/28
8:00 – 9:00am Breakfast
9:00 – 10:30 Group sessions: "Choro Harmony and Melody"
11:00 – 12:25 Master classes
12:30 – 1:30pm Lunch
2:15 – 5:00pm Rehearsals
6:00 Dinner
Evening: Open for jamming
Saturday, 4/29
8:00 – 9:00am Breakfast
9:00 – 10:30 Group session
11:00 – 12:25
12:30 – 1:30pm Lunch
1:30 – 5:00 Rehearsals
5:30 Dinner
7:30pm Concert by Faculty in Wheeler Theater
9:30pm Reception, open for jamming
Sunday, 4/30
8:00 – 9:00am Breakfast
9:00 – 10:30am Final session, participant performances
11:00am Checkout
What Are the Costs?
Tuition: $450
Room/board: $495 (Officer's houses) or $375 (Madrona Vista)
Meals only: $165