We're hard at work assembling faculty for the 2018 gathering. Here is who we have confirmed to date; stay tuned!
ARTISTIC DIRECTOR JERRON PAXTON
Although only in his 20s, Jerron "Blind Boy" Paxton has earned a reputation for transporting audiences back to the 1920s and making them wish they could stay there for good. Paxton may be one of the greatest multi-instrumentalists that you have not heard of. Yet. This young musician sings and plays banjo, guitar, piano, fiddle, harmonica, Cajun accordion and the bones (percussion). Paxton has an eerie ability to transform traditional jazz, blues, folk and country into the here and now and make it real.
He's a world class talent and a uniquely colorful character who has been on the cover of Living Blues Magazine and the Village Voice and has been interviewed on FOX News. Paxton's sound is influenced by the likes of Fats Waller and "Blind" Lemon Jefferson. According to Will Friedwald in the Wall Street Journal, Paxton is "virtually the only music-maker of his generation—playing guitar, banjo, piano and violin, among other implements—to fully assimilate the blues idiom of the 1920s and '30s." Playing with Jerron "Blind Boy" Paxton is like being at a house party in the wee hours after all the civilians have been weeded out and it's time for the lunatics to shine. Jerron is musical genius, expert in all forms of traditional American music from Blues to Ragtime to Swing to Appalachian to you name it. He is a brilliant player of piano, guitar, fiddle, banjo, harmonica, Cajun accordion, again you name it. He mesmerizes audiences with his storytelling, his humor, and his prodigious musicianship.
JIMMY 'DUCK HOLMES' – GUITAR
Jimmy 'Duck' Holmes is a deep-roots folk blues musician who plays in the blues tradition described as American-primitivism, a repetitive and monotone style that is ethereal, gritty and rough. There are many sophisticated pickers but the primitive school had always been at the core of blues, conveying the most important element – the feeling.
Holmes was influenced by Jack Owens and Skip James who were part of the Bentonia School of blues musicians, influenced by Henry Stuckey. Holmes is one of the oldest active purveyors of the Bentonia country blues tradition.
Holmes was recorded by several people, including Alan Lomax during the 1970s, but did not release his first album until 2006 on the Broke and Hungry label. Bentonia blues is often played in Open E minor and Open D minor, with a peculiar mournful, listless tonality. It's unique and distinct and was largely confined to the past until Jimmy 'Duck' Holmes stared to record again.
Holmes is also the proprietor of one of the oldest juke joints in Mississippi, the Blue Front Café in Bentonia on the Mississippi Blues Trail. Holmes parents, who were sharecroppers, opened the Blue Front Café in 1948, the year after he was born.
Dick Waterman, who managed Skip James in the 1950s and says of Holmes, "it is haunting to see the similarities between them."
MARY FLOWER – GUITAR
An internationally known and award-winning picker, singer/songwriter and teacher, Mary Flower relocated from Denver to the vibrant Portland, Oregon, music scene in in 2004 She continues to please crowds and critics at folk festivals and concert stages domestically and abroad, ones that include Merlefest, Kerrville, King Biscuit, Prairie Home Companion and the Calgary Folk Festival, among many. A finalist in 2000 and 2002 at the National Fingerpicking Guitar Championship (Top 3 both years), a nominee in 2008 and 2012 for a Blues Foundation Blues Music Award, and a many times a Portland Muddy Award winner, Flower embodies a luscious and lusty mix of rootsy, acoustic-blues guitar and vocal styles that span a number of idioms – from Piedmont to the Mississippi Delta, with stops in ragtime, swing, folk and hot jazz. Flower's 10 recordings, including her last four for Memphis' famed Yellow Dog Records — Bywater Dance, Instrumental Breakdown, Bridges and Misery Loves Company — show a deep command of and love for folk and blues string music. For Flower, it's never about re-creation. Her dedication to the art form is a vital contribution to America's music.
ROY BOOK BINDER – GUITAR
Singer-Songwriter-Storytelling-Bluesman…Roy Book Binder has been rambling around the world for the past 45 years! He gave up his Greenwich Village "pad" in the early 1970's and lived in his "Tour Bus" for the next 15 years criss-crossing the US and appearing at festivals throughout Canada & Europe.
Book Binder, travelled with the legendary Rev. Gary Davis in the late 60's….. The Book, recorded his first solo acoustic Blues album in the 70's, which was the first to receive 5 stars in DOWNBEAT magazine! In the late 80's 'The Book' was part of Bonnie Raitt's East Coast Tour, which included an appearance on The Grand Old Opry which led to almost 30 appearances on NASHVILLE NOW's, Ralph Emory Show! In the 90's he often appeared with JORMA KAUKONEN (who recorded 2 of Roy's songs)
Last Aug. 19th, THE GOOD BOOK, Roy's latest release of all original songs, reached #3 on AirPlayDirect's Americana charts! #1 was Guy Clark & #2 was the late Townes Van Zandt. Folkdj.org had Roy in the top 3 artists for July.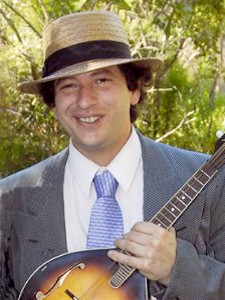 CRAIG VENTRESCO – GUITAR
(from a review by Pete Madsen, Acoustic Guitar magazine)
If you ever wandered through San Francisco metro stations during the mid-1990s, you may have heard what you thought was the ghost of Blind Blake playing ragtime guitar. In fact, the music echoing through the tunnels was coming from the guitar of Maine native and transplanted San Franciscan Craig Ventresco.
Ventresco's unconventional musical direction was set during early childhood, when he fell in love with old 78-rpm recordings of early ragtime and jazz. When other kids were listening to Led Zeppelin, Ventresco was searching through dusty bins for rare sides by such obscure artists as Billy Murray, Arthur Collins, and Will Denny. "I love all kinds of music from the turn of the century – ragtime, waltzes, marches," he explains. "I wasted every dime I've ever made on old records."
Much of the material he plays was not originally guitar music. The rags of pianist Scott Joplin are obvious examples, but Ventresco also draws inspiration from horn players, accordionists, and even the American Quartet, a best-selling vocal group that scored hits during the 1910s and '20s with such popular songs as "Casey Jones," "It's a Long, Long Way to Tipperary," and "Over There."
Ventresco's playing stands out by virtue of his aggressive sound. Using only a flatpick (to set up an attack that can't really be duplicated with a naked thumb or a thumbpick) and the ring finger of his right hand, Ventresco manages to sound like three guitarists, and he achieves a brawniness lacking in the approach of many fingerstyle guitarists who play similar material.
WASHBOARD CHAZ – WASHBOARD
Though comfortable in all forms of our diverse American musical heritage, Washboard Chaz Leary has achieved dominance and international recognition in acoustic country blues. He has played professionally with an impressive array of world-class musicians, both on the stage and in the recording studio. His reputation as a consummate musician and performer – along with a delightful stage presence has brought him countless excellent reviews and wide popularity.
Originally from New York, Chaz lived in Boulder, CO from 1975-1997, and played with a wide variety of bands including the legendary Ophelia Swing Band, Prosperity Jazz Band, BBQ Bob & Washboard Chaz, Judy Roderick and the Forebears, and Bleecker St. During this time, Chaz was a two time finalist in KBCO's Boulder songwriting contest.
Upon arrival in New Orleans in December 2000, Chaz established himself as a seasoned musician, forming his Washboard Chaz Blues Trio with Ben Maygarden on harmonica and Roberto Luti on slide guitar. Shortly afterward, Chaz joined Alex McMurray and Matt Perrinne on sousaphone to form the Tin Men, one of New Orleans' most unique and recognized bands. Since then, Chaz has also played with the cream of New Orleans musicians, including the New Orleans NightCrawlers, The Iguanas, Tuba Fats, Royal Fingerbowl, The Jazz Vipers, the Tin Men, The Palmetto Bug Stompers and Washboard Rodeo.
Chaz has shared the stage with Bonnie Raitt, John Hammond, Taj Mahal, Anders Osborne and Corey Harris among others. He has opened for many blues greats, including Muddy Waters, Robert Cray, Doc Watson and Keb Mo. Chaz's musical talents have been featured on over 100 recordings, including John Hammond's 1998 Grammy nominated "Long as I have You" He has played festivals and clubs from coast to coast, including the Bottom Line in New York City, the New Orleans Jazz and Heritage Festival, Telluride Blue Grass Festival, the American Music Hall in San Francisco and Red Rocks Amphitheatre in Denver. He has played successful International tours, with his band Bleecker St. in Germany, in Holland and Germany with David Booker, and in Japan with Chris Mule. His Blues Trio and Tin Men have performed in Japan and all over Europe. Chaz is also a featured performer in the wildly popular Playing For Change, appearing in videos with Keith Richards, Keb Mo and members of the Grateful Dead, among others.
PAT DONOHUE – GUITAR
Pat Donohue's musical tastes are eclectic. Though he considers himself foremost a folk guitarist, Pat's influences are rooted in bluesmen Blind Blake, Robert Johnson, Charlie Parker, Duke Ellington, Muddy Waters and Miles Davis. He manages to blend jazz and blues with folk, and the mix is seamless. Over the years he has captivated audiences with his unique original compositions, dazzling instrumentals and humorous song parodies. Honors include a 2005 Grammy for his participation on Pink Guitar, a compilation of Henry Mancini tunes on acoustic guitar, several Minnesota Music Awards, and the title of 1983 National Finger Picking Guitar Champion. His original tunes have been recorded by Chet Atkins, Suzy Bogguss and Kenny Rogers. Pat has also been a featured performer at major music festivals including the Newport, Telluride and Philadelphia Folk Festivals. Pat joins a legendary list of notables, as The Martin Guitar Company recently introduced a Custom Signature Edition Series OM-30DB guitar designed to his specifications.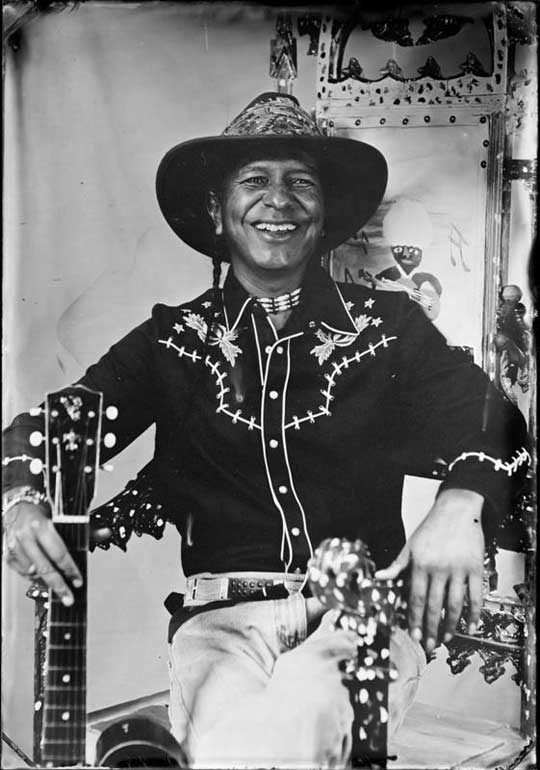 CARY MORIN – GUITAR AND PERFORMANCE
Cary Morin brings together the great musical traditions of America and beyond like no other. With deft fingerstyle guitar and vocals that alternately convey melodic elation and gritty world-weariness, Morin crafts an inimitable style often characterized as acoustic Native Americana with qualities of blues, bluegrass, jazz, jam, reggae, and dance.
Crow tribal member and son of an air force officer, Morin was born in Billings, Montana. He spent the bulk of his youth in Great Falls, where he cut his teeth picking guitar standards at neighborhood get-togethers, before relocating to Northern Colorado. There  his musical career hit the ground running with The Atoll, a band he founded in 1989 and that toured nationally, gaining a devoted following. Later, he achieved international acclaim with The Pura Fé Trio, for whom the single "Ole Midlife Crisis," which Morin wrote and performed with Pura Fé, placed at number 17 on France's iTunes blues chart.
Morin's stage credits also include Tribe at the Celebrity Theater in Phoenix, and co-authorship of Turtle Island, a 50-member production that played two consecutive years to sold-out audiences in Northern Colorado. With the Red Willow Dancers, he was a guest of the internationally renowned Kodo Drummers, performing at their 1998 Spring Festival and additional dates in Japan. He has produced or performed on over 15 recordings, and has toured across the US, as well as Japan, France, Germany, Italy, Switzerland, Spain, Belgium, Denmark, and the UK. Morin's performances have reached millions on national TV in Japan, France, and the UK, as well as on national radio in the US (NPR's Beale Street Caravan), UK (BBC's Whose London), France (RFI), Switzerland, and Belgium.
For two consecutive years (2013 and 2014), Cary won the Colorado Blues Challenge Solo Championship. He was also nominated for Aboriginal Entertainer of the Year and Best Blues CD in the Aboriginal People's Choice Music Awards. In 2013, he received a lifetime achievement award from the Fort Collins Music Association (FoCoMA) and won the Colorado Fan Favorite Poll in the blues category for his second solo release, Streamline.
JONTAVIOUS WILLIS – GUITAR
Every generation or so a young bluesman bursts onto the scene. Someone who sends a jolt through blues lovers. Someone who has mastered the craft for sure, but who also has the blues deep down in his heart and soul. At the age of 21, bluesman Jontavious Willis may be the one.
"That's my Wonderboy, the Wunderkind," Taj Mahal said after inviting Jontavious to play on stage in 2015. "He's a great new voice of the twenty-first century in the acoustic blues. I just love the way he plays."
Hailing from Greenville, Ga., Jontavious grew up singing gospel music at the Mount Pilgrim Baptist Church with his grandfather. At the age of 14, he came across a YouTube video of Muddy Waters playing "Hoochie Coochie Man" and was hooked. That's when he set his course on the blues. All types — Delta, Piedmont, Texas, gospel. As a fingerpicker, flat-picker and slide player. On guitar, harmonica, banjo and cigar box. And four years later he was playing on Taj Mahal's stage.
Currently Jontavious is finishing his studies at Columbus State University, majoring in sociology. But on most weekends you can find him playing a small house show, up on the main stage or posting music videos for his friends and fans around the world.
ETHAN LEINWAND – PIANO
Ethan Leinwand is a St. Louis-based blues pianist and preservationist. A student of the music's rich history and varied regional styles, Ethan presents personal interpretations of many of the great (and forgotten) old-time barrelhouse masters. He specializes in St. Louis pre-war piano blues, Texas barrelhouse, Deep South barrelhouse, early Chicago boogie-woogie, and good-time hokum stride. His influences include: Jimmy Yancey, Henry Brown, Little Brother Montgomery, Peetie Wheatstraw, Aaron 'Pinetop' Sparks, Albert Ammons, Black Bob, Cooney Vaughn, Professor Longhair, and Carl Sonny Leyland.
Though it's a tradition rarely championed, the piano has played a tremendous role in the history and development of the blues. In his performances, Ethan teaches this story, connecting tunes with the pianists, regions and environments whence it came. Ultimately, a more complete history of the blues emerges.
Originally from Middletown, CT, Ethan has spent time living in New Orleans and Brooklyn. He moved to St. Louis in the summer of 2014, and, connecting with the city's thriving blues community and its deep piano blues heritage, has quickly become a mainstay. In addition to his solo work, Ethan plays in multiple projects, include The Bottlesnakes (piano/guitar duo with Nick Pence) and The St. Louis Steady Grinders (with vocalist Miss Jubilee).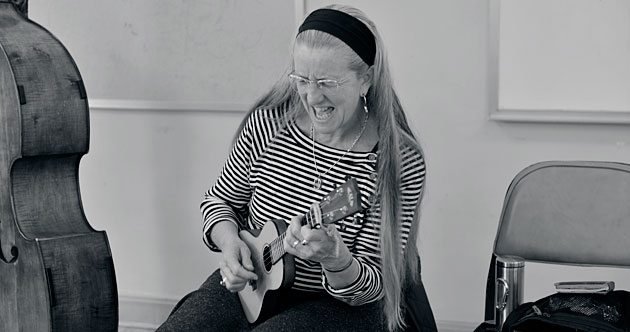 DEL REY – UKULELE
I started playing guitar when I was four. At the age of thirteen I was introduced to the world of traditional acoustic music, when a friend and I stumbled into a concert at Folk Arts Rare Records in San Diego. About 20 people were sitting on the floor under the record bins listening to a kid named Tom Waits play his original songs.
Lou Curtiss, proprietor of Folk Arts and artistic director of the San Diego Folk Festival suggested I quit wasting my time playing "Stairway to Heaven" and listen to some Memphis Minnie. He put me on stage with Sam Chatmon when I was fourteen, and introduced me to Lydia Mendoza and Howard Armstrong. Lou gave me recordings that still influence everything I do on solo acoustic guitar. I soaked up country blues, stride piano, classic jazz and hillbilly boogie. It was a musical education hanging around the record shop.
Thirty years later, I became fascinated with the ukulele. I try to play the same kind of complicated rhythmic blues and ragtime on four strings as on six. I expect a lot out of the little instrument.
I play solo concerts world-wide and also present a concert/lecture on women musicians called Women In American Music.  I also collaborate and tour frequently with Steve James, Suzy Thompson and Adam Franklin. My website is http://delreyplays.com/.
I have contributed to projects in honor of The Mississippi Sheiks, Sister Rosetta Tharpe and Johnny Cash and occasionally write about music for various publications, including Acoustic Guitar.
My most recent release is just me, singing with uke and guitar; it's called Solo. All albums available from Hobemian Records.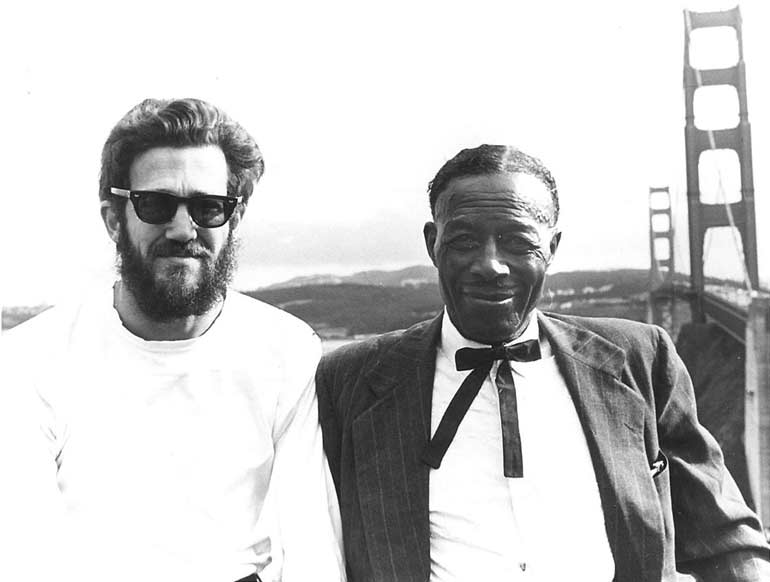 DICK WATERMAN – LECTURER
Richard "Dick" Waterman was born in 1935 in Plymouth, Massachusetts.  He began his career as a sports writer, but everything changed in 1964 when he embarked on a journey with Phil Spiro and Nick Perls to locate early blues singer Son House.  Soon after their rediscovery of House on June 21, 1964, Waterman became House's manager in an effort to reignite the elderly blues man's career. As House's success grew, other musicians approached him for assistance and he quickly realized there was a need for his services.  In 1965, he founded Avalon Productions, the first agency devoted to managing black blues artists.  He worked with a number of early blues musicians such as Skip James, Arthur "Big Boy" Crudup, Mississippi John Hurt, Robert Pete Williams, Mance Lipscomb and Mississippi Fred McDowell.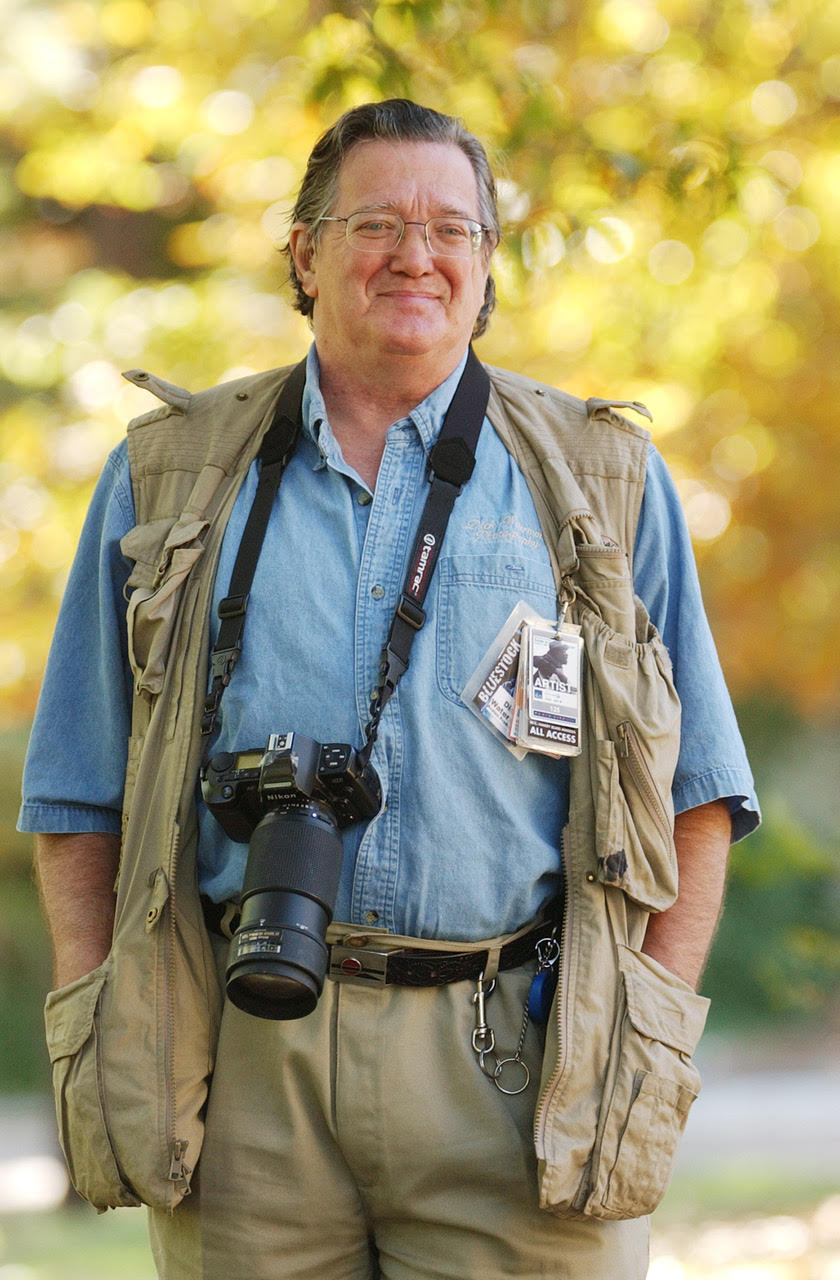 Within a couple of years, he was working with younger artist such as Junior Wells and Buddy Guy, both of whom he managed for many years. In the late 1960s, he met Radcliffe University freshman Bonnie Raitt. He managed the aspiring young musician for almost two decades as she rose to international fame.
Throughout his career, he has been a tireless advocate for fair treatment, compensation, and royalties for blues artists. As some of the older musicians passed away, he even assisted in securing royalty payments owed to their family members.  His journalistic tendencies followed him throughout his life.  His camera accompanied him to a host of performances over several decades.  In 2003, "Between Midnight and Day" was published, containing selection of his numerous photographs accompanied by his personal recollections of the artists.  Two years later, he published "B.B. King Treasures".   His photographs have been shown in galleries both in the U.S. and abroad.
He has garnered a number of awards during his career.  In 2000, he was inducted into the Blues Hall of Fame, one of the first non-performers to receive this honor.  In 2014, he received his third Keeping the Blues Alive Award from the Blues Foundation.  He is the only person to be honored with more than one of these prestigious awards.   In October 2017, a ceremony was held on Beale Street during which he was honored with a Brass Note on the Beale Street Brass Note Walk of Fame.
ANDREW ALLI – HARMONICA
Andrew Alli is a 29 year old Richmond, Virginia native. Always passionate about music, he stumbled upon the blues while taking up his first instrument; the harmonica. He instantly fell in love with the blues and all of the history that comes with the harp.
Andrew developed his style of playing by studying from the harmonica greats including: Little Walter, Big Walter Horton, Sonny Boy Williamson II, and Junior Wells. Co-fouding "Andrew Alli and Last Night's Blues Band", with drummer, Charles Hibbler in 2012. The band had a particular interest to the Chicago and Delta styles of blues.
With Drummer, Charles Hibbler, Bassist Ken Kellner and Guitarist Mike Burgess, "Andrew Alli and Last Night's Blues Band" won the title of 2013 River City Blues Society, Blues Challenge Champions! They represented Richmond in the International Blues Challenge, down in Memphis, Tennessee.
Andrew also has had the privilege to tour with folk musicians Tim Barry and Josh Small during a US, European, and Australian music tour. The Richmond Folk Festival has featured Andrew for 3 years teaching harmonica lessons and performing.
G BURNS JUG BAND
(Each band member will teach one class, and together will lead a jug band band lab)
The G Burns Jug Band plays old American music with an intensity and authenticity rarely heard today: urban blues, mountain fiddle, and popular music of the nineteen-twenties and thirties. Based in San Diego, G Burns is led by multi-instrumentalist and native Kentuckian Clinton Davis, who grew up hearing jug band music in its birthplace of Louisville.
Since forming in 2012, the G Burns Jug Band has garnered praise from the national roots community, and an enthusiastic following on the West Coast. In 2013, the band launched their residency at San Diego's Black Cat Bar, held the first Saturday of every month. They have self-released two albums, including their most recent, The Southern Pacific & The Santa Fe, which earned them a San Diego Music Award . The album also received coverage from renowned roots music publication No Depression, who called their work "a joyous and soulful restoration of one of the lost treasures of American musical tradition." They have shared the stage with roots luminaries including Jim Kweskin, Del McCoury, and Beausoleil avec Michael Ducet.
Members include:
Clinton Davis – guitar, plectrum banjo, banjolin, piano, harmonica, vocals
Tim McNalley – guitar, vocals
Jonathan Piper – jug, tuba
Jake Faulkner – tenor banjo
(bandmates Batya MacAdam-Somer and Meghann Welsh are not able to join us)