Details on our 2015 workshop are ongoing – but here is our confirmed faculty so far…
—
ALICE STUART – GUITAR
Alice Stuart celebrated her 70th birthday June 16th, 2012 at 2 sold out shows at the Triple Door Theater in Seattle, WA.  The energy she expressed that night made it easy to tell why her nickname is the 'energizer bunny'. After migrating to California from her native Washington State, she was invited to perform at the prestigious 1964 Berkeley Folk Festival, thus launching her professional career. She was warmly welcomed by audience and performers alike.  It was the beginning of a long career that continues today.  She met and performed with folk and blues legends such as Joan Baez, Doc Watson, Mississippi John Hurt, Lightnin' Hopkins,  and many others. After touring and playing folk music for 4 years, Alice, not unlike Bob Dylan, was itching to play electric guitar.  She briefly joined forces with her friend, Frank Zappa, during the formation of the Mothers of Invention.  She then went on to form her own bands. Stuart toured the US and Europe with Van Morrison, played bass and sang with Commander Cody, shared the stage with Michael Bloomfield, John Prine, Jerry Garcia, Richard Greene, Elvin Bishop, Albert King and Tower of Power.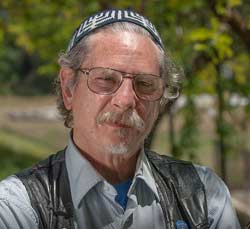 ANDY COHEN – GUITAR
Andy Cohen plays Blues and country ragtime on a guitar, with fingerpicks, hard enough to be heard in a noisy juke, without a mic. He lives in Memphis when he's not living in his car, which is most of the time.
Although not strictly speaking a bluesman, he has eked out a living playing for more than fifty years playing all over the country, and been an advocate, lead boy, agent and friend to a solid gang of 'source' bluesmen and gospel musicians in those years.
He feels he hasn't wasted his time.
BEAREATHER REDDY – VOCALS
Beareather Reddy, vocalist/actress/producer, is a native of Sylvania, Georgia, and has performed in numerous plays throughout the New York metropolitan area, including "The First Wife", "Going Homeless", "The Mayor's Wife", the Audelco nominated, "Nzingha's Children" "Cinderah" and "Freedom Trail – The Life of Harriet Tubman". She has worked with such great musicians as Archie Shepp, Max Roach, Avery Sharp, Abdullah Ibrahim, Sheila Jordan, Jimmy Sigler, Gerry Eastman, George Gee & the Jump Jivers, Mferghu, Michele Rosewoman, Donald Smith, Rachim Sahu, Atiba and the Befo' Quotet, bassist Kim Clarke, Bertha Hope. She has appeared on " The David Letterman Show", "Jazz Corner", " Annie & Her Friends" and ABC's WORLD NEWS NOW. In 2001, Ms. Reddy formed her own edutainment/performance arts organization called Big Eyed Productions, Inc. BEP is dedicated to introducing community youths to blues music and preserving blues culture throughout the entire community. Beareather is also the writer/producer/actress of three ongoing projects, "The Classic Blues Women – An Historical Tribute. This project gives an historical outlook of the era of the Classic Blues Women 1920-1930 when the black female blues singer was queen and African Americans were first introduced to the recording industry. The second project is "Dinah's Blues" which depicts a day in the life of the legendary Blues/Jazz vocalist, Dinah Washington. Lastly, a tribute to the great American heroine, "Harriet Tubman – Ain't life Funny?"
CYD SMITH – GUITAR
Cyd Smith began studying classical guitar in her early teens, then majored in music at Stanford University. While living in the Bay Area, she was introduced to the rich treasury of American folk music, especially bluegrass and vintage country music. From there it was a smooth transition into 20's, 30's, and 40's swing music, and she has delved deeply since into the guitarists, vocalists, and songwriters of that era. Bands have included stints with such musical luminaries as Matt Glaser, Rebecca Kilgore, Bob Brozman, and Howard Armstrong.
She has been teaching guitarists how to swing for decades at music camps all over the country, from the Augusta Heritage Festival to Puget Sound Guitar Workshop.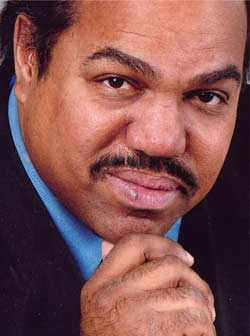 DARYL DAVIS – PIANO
The son of a Foreign Service officer, Daryl Davis is a native of Chicago, but was raised in Europe and Africa. He earned a bachelor of music degree from Howard University, where he was a member of the Howard University Choir and Jazz Vocal Ensemble.
In addition to being a vocalist, guitarist, keyboardist, and composer, Davis is a celebrated lecturer, actor, and author of, "Klan-Destine Relationships: A Black Man's Odyssey in the Ku Klux Klan," the story of his quixotic journey into the heart of the KKK. As a performer, Davis has worked with Elvis Presley's Jordanaires, B.B. King, Chuck Berry, Percy Sledge, and many others. He was the featured pianist on Cephas & Wiggins' 1992 Grammy-nominated album, Flip Flop and Fly.
In 1985, boogie-woogie pioneer Pinetop Perkins selected Davis to succeed him in the piano and vocal slot of the Muddy Waters Legendary Blues Band.
DEAN MUELLER – BASS, BAND LAB
This Chicago-born and Portland-based bassist says that being a musician is just "what I was meant to do." Dean Mueller is originally from the city of blues, Chicago, and had played electric bass since he was a kid. He picked up the upright bass and put his talent to good use. You'll often find Dean Mueller on stage with his upright bass with his aggressive yet simple approach. The ultimate compliment you can give to a blues rhythm section is that they play together almost as 1 musician, 1 voice. Dean can most certainly do just that.
Dean plays regularly in the Northwest with The Duffy Bishop Band and Julie Amici trio. Over the past couple years he has produced and played shows in Manzanita and Portland with Curtis Salgado, LaRhonda Steele, Julie Yanko, Rae Gordon, and Kevin Selfe just to name a few. Dean has taught and performed at Centrum's Acoustic Blues workshop for many years and feels fortunate to have accompanied and learned from so many legends of the blues.
GENE TAYLOR – PIANO
Gene Taylor is an extraordinary blues piano-player and singer, born in Los Angeles, California, in 1952. At the age of eight, he came under the influence of a family of blues and boogie-woogie players who moved in next door to his house. After starting out with the drums, he switched to the piano and the guitar at age ten. At age 16 – and looking much older, thanks to an already-receding hairline – Gene started finding local work with such L.A. based blues legends as Big Joe Turner, T-Bone Walker, Lowell Fulson, and Pee-Wee Crayton. During this period, he met both James Harman and Phil and Dave Alvin—who later formed The Blasters. After working for James Harman during most of 1974, Gene was asked to join Canned Heat. He was a member of this legendary band from November, 1974 until June, 1976—giving him his first international exposure.
In 1981, Gene joined the Blasters for 4 1/2 years, recording four critically-acclaimed albums for Warner Brothers records.
In 1993, Gene relocated to Austin, Texas, and joined The Fabulous Thunderbirds, remaining with this internationally-acclaimed band until September of 2006. During his almost-14 years with the T-Birds, he toured the world constantly and recorded two studio albums and one live album with the band. In 2003, Gene released a self-titled CD on the Pacific Blues label and participated in all the tours and recordings of the 'Original Blasters Reunion' from 2002-2003. He has also appeared on a recording (2006) with his dear friend, legendary L.A. bluesman, Carlos Guitarlos—and of course, Gene continues to record and perform with his friend of over 35 years, 'Icepick James' Harman.
JAY SUMMEROUR – HARMONICA
Harmonica player Jay Summerour has been involved with music for well over 40 years.
Beginning his musical education on the trumpet at age 7, Summerour learned the harmonica from his grandfather Smack Martin.
Largely self-taught, Summerour picked up bits and pieces from "folks he ran into"—folks like Sonny Terry, James Cotton and Magic Dick.
During the late 1960s and early 1970s, Summerour took the traditional harmonica into the popular arena, joining the Starland Vocal Band and playing with Nils Lofgren and his band Grin.
Four of the Starland Vocal Band's records went gold during Summerour's tenure.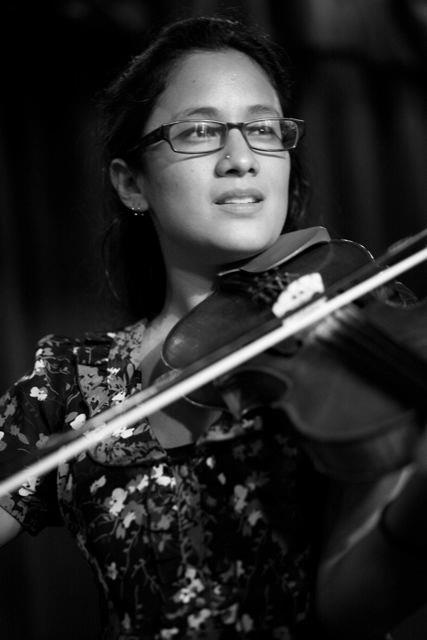 JERIE CHOI – VIOLIN
An ardent student of such early blues greats as Andrew Baxter, Eddie Anthony and Henry Sims, Jerie Choi originally hails from New Orleans, but has roots the world over. Her fiddle playing focuses on the acoustic country blues tradition, where the relationship between fiddle and guitar is informed by a distinct old-time style.
A violinist since early childhood, she put down her instrument at the age of twelve due to a sustained injury, only to pick it up again a decade later with the intention of learning every Mississippi Sheiks tune. Since then, she has studied fiddle styles from Louisiana, Georgia, and Cape Verde as well as the Mississippi Delta, and is fortunate enough to have played alongside some of the country's most knowledgeable figures in blues and old-time music.
She is a member of the Brooklyn-based Brotherhood of the Jug Band Blues and a co-founder of The Hoodoo Honeydrippers, and has performed at several annual Brooklyn Folk Festivals, the Lincoln Center Out of Doors, and the Jug Band Jubilee in Louisville, KY. She can frequently be seen at Brooklyn's Jalopy Theatre, where she is still working on some of that vast Sheiks repertoire whenever a willing accompanist can be found.
JOHN MILLER – GUITAR
John Miller has been singing and playing and teaching Country Blues for over forty-five years. He made his first solo album at the age of 21 and has continued to record in the intervening years.
John has filmed a host of instructional DVDs teaching Country Blues and other topics. He has a passion for the music and for teaching, and his enthusiasm is infectious.
LAUREN SHEEHAN – GUITAR, MANDOLIN
With sandy-edged vocals and sparkling guitar, mandolin and banjo picking, Lauren Sheehan plays from an old Songster tradition, combining blues, country, folk, ballads and standards, along with popular as well as her own music. Her shows are unusual for their stylistic breadth and emotional range, masterfully delivered with warmth, humor and passion for the music and its history. Inspired by study with elders, oral tradition and scholarship, Lauren creates the intimacy of a back porch, where singing and playing were regular events. She clearly loves the music she performs, shape shifting through the moods of familiar and the obscure, howling with the werewolf and weeping with the willow.
LEROY ETIENNE – PERCUSSION/WASHBOARD
Leroy Etienne was born in St. Martinville and now resides in Lafayette, LA. Although everyone spoke Creole in his household growing up, Leroy learned much of the language from his mother, Odelia Porter Etienne.
Leroy's father, Lawrence Etienne taught Leroy the Bamboula or rumba rhythm commonly used in the older Creole musical forms of juré and la la music. Both juré and la la are musical predecessors to zydeco.
Leroy has has a deep connection to this music and currently plays drums with Sunpie and the Louisiana Sunspots.
LIGHTNIN' WELLS – UKE
"Lightnin'" Wells breathes new life into the vintage tunes of the 1920s and depression era America employing various appropriate stringed instruments in a dynamic style which he has developed in over thirty years of performing experience.
Raised in eastern North Carolina, Wells learned to play harmonica as a young child and taught himself to play the guitar as he developed a strong interest in traditional blues and folk music. His many years of public performance began in Chapel Hill, N.C. in the early 1970s. During the following decades he has presented his brand of acoustic blues throughout North Carolina, the United States and Europe.
MARK PURYEAR – HISTORY/GUITAR
Mark Puryear has performed a variety of musical styles including blues, jazz, and Afro-pop. Over the years he has performed at Smithsonian Folklife Festivals, the Montpelier Cultural Arts Center, the D.C. Blues Society festival, the Centrum – Port Townsend Acoustic Blues, Festival in clubs, on college campuses and at private events. He toured the East Coast and recorded with the acoustic blues trio BluesWorks.
While residing in Micronesia he led a jazz trio and played many styles of popular music. Mark has had the pleasure of working with blues artists such as Phil Wiggins, Gaye Adegbalola, Nat Reese and Daryl Davis.
More recently Mark has performed in trio format with Harold Anderson and Phil Wiggins and in duos with harmonica players Phil Wiggins and Jay Summerour. And he teaches a course on blues at the University of Maryland, College Park.
MARY FLOWER – GUITAR
An internationally known and award-winning picker, singer/songwriter and teacher, Mary Flower relocated from Denver to the vibrant Portland, Oregon, music scene in in 2004 She continues to please crowds and critics at folk festivals and concert stages domestically and abroad, ones that include Merlefest, Kerrville, King Biscuit, Prairie Home Companion and the Calgary Folk Festival, among many. A finalist in 2000 and 2002 at the National Fingerpicking Guitar Championship (Top 3 both years), a nominee in 2008 and 2012 for a Blues Foundation Blues Music Award, and a many times a Portland Muddy Award winner, Flower embodies a luscious and lusty mix of rootsy, acoustic-blues guitar and vocal styles that span a number of idioms – from Piedmont to the Mississippi Delta, with stops in ragtime, swing, folk and hot jazz. Flower's 10 recordings, including her last four for Memphis' famed Yellow Dog Records — Bywater Dance, Instrumental Breakdown, Bridges and Misery Loves Company — show a deep command of and love for folk and blues string music. For Flower, it's never about re-creation. Her dedication to the art form is a vital contribution to America's music.
MICAH KESSELRING – BAND LAB
Micah Kesselring, 21, has performed acoustic blues music since he was 14 years old.
Raised in the Appalachia foothills of southeastern Ohio, Micah has been blazing the trail for the next generation of blues players all over the country, even venturing down to Colombia, South America to headline the Cali Blues & Folk Festival in 2014.
Known for his passionate, soulful vocals, heartfelt slide guitar, and versatility in pre-war blues music, Micah is a devoted student of artists such as Charley Patton, Son House, Corey Harris, and Alvin Youngblood Hart.
A participant at Centrum since 2009, Micah is excited to be teaching the band lab alongside Dean Mueller in 2015.
MICHAEL JEROME BROWN – GUITAR/BANJO
Michael Jerome Browne is a multi-instrumentalist, singer, songwriter, and living encyclopedia of American Roots music.
Whether he's gliding a slide across his National guitar, pulling his bow over the fiddle strings to play a lively Creole waltz, playing a driving blues on the mandolin, or "hammering with the claw" on his gourd banjo, Michael's passion and virtuosity always shine through.
Michael has won two Canadian Folk Music Awards (Solo Artist of the Year 2012 & 2008), and a Maple Blues Award (Acoustic Artist). He was a Kerrville (Texas) New Folk Finalist, a nominee at the Independent Music Awards (Blues Song), and a three-time Juno Award Nominee in both the roots/traditional and blues categories.
ORVILLE JOHNSON – GUITAR
Orville Johnson grew up in a small farming town in Illinois not far from the banks of the Mississippi River. He moved to Seattle, WA in 1978, and was a founding member of the legendary NW folk/rock group The Dynamic Logs. Over the years he has played with a diverse list of artists including Delaney and Bonnie Bramlett, John Hartford, Maria Muldaur, Richie Havens, Laura Love, blues artists John Cephas, Howard Armstrong, Sam Andrew (Big Brother and the Holding Company) and Mick Taylor (Rolling Stones). Known for his dobro and slide guitar stylings and soulful vocal acrobatics, Orville has guested on over 400 albums, appeared on Garrison Keillor's Prairie Home Companion, Jay Leno's Tonight Show and was featured in the 1997 film Georgia with Mare Winningham and Jennifer Jason-Leigh. He is also in demand as a teacher and author, writing for Acoustic Guitar and Fretboard Journal and teaching at prestigious workshops worldwide.
PAT DONOHUE – GUITAR
Pat's musical tastes are eclectic. Though he considers himself foremost a folk guitarist, Pat's influences are rooted in bluesmen Blind Blake, Robert Johnson, Charlie Parker, Duke Ellington, Muddy Waters and Miles Davis. He manages to blend jazz and blues with folk, and the mix is seamless. Over the years he has captivated audiences with his unique original compositions, dazzling instrumentals and humorous song parodies. Honors include a 2005 Grammy for his participation on Pink Guitar, a compilation of Henry Mancini tunes on acoustic guitar, several Minnesota Music Awards, and the title of 1983 National Finger Picking Guitar Champion. His original tunes have been recorded by Chet Atkins, Suzy Bogguss and Kenny Rogers. Pat has also been a featured performer at major music festivals including the Newport, Telluride and Philadelphia Folk Festivals. Pat joins a legendary list of notables, as The Martin Guitar Company recently introduced a Custom Signature Edition Series OM-30DB guitar designed to his specifications.
PAUL ASBELL – GUITAR
Paul has earned an underground reputation as a true "musician's musician". He has played and recorded with Muddy Waters, John Lee Hooker, Howlin' Wolf, Lightnin' Hopkins, Otis Rush, Magic Sam, Earl Hooker, Lightnin' Slim, Paul Butterfield, Sam Lay, Pops Staples, Donny Hathaway, and numerous others while in his hometown of Chicago. In 1978 he formed Kilimanjaro, and recorded 2 award-winning albums for Philo Records which led to several appearances at the Kool Jazz Festival at SPAC, the Atlanta Jazz Festival, the Montreal Jazz Festival, the Montreux Jazz Festival in Switzerland, the Roskilde Festival in Copenhagen, and numerous national tours and concert dates. In 1981, he and other members of Kilimajaro joined forces with a legendary saxophonist/blues singer to form Big Joe Burrell and the Unknown Blues Band, which remained a Northeast regional favorite until Big Joe's passing in 2005.  Performance/recording credits in recent years include David Bromberg, Paul Butterfield, Betty Carter, Joshua Redman, James Carter, Kermit Ruffins, Michael Ray, the Sun Ra Arkestra, The Wild Magnolias, John Stowell, guitar wunderkind Julian Lage, Dave Grippo and former student Trey Anastasio.
PHIL WIGGINS – HARMONICA
Phil Wiggins is arguably America's foremost blues harmonica virtuoso. While rooted in the melodic Piedmont blues of the Chesapeake region, his mastery of the instrument now transcends stylistic boundaries. During the early years of his development as a musician, Phil Wiggins was constantly playing with and learning from some of the most notable acoustic blues musicians that made their homes in the Washington area of his youth: Flora Molten, Mother Ester Mae Scott, Wilber "Chief" Ellis, John Jackson, Archie Edwards, John Cephas, and others. He was mentored as well by many other musicians who frequented the D.C. area: Johnny Shines, Sam Chapman, Sunnyland Slim, Henry Townsend, Robert Lockwood, John Dee Holeman, Algia Mae Hinton, Howard Armstrong, Ted Bogan, Etta Baker, and others. Phil performed with Flora Molten at the Smithsonian Folklife Festival in Washington, D.C. every summer from 1972-1976. It was there in 1976 that he met and joined with Chief Ellis on piano, John Cephas on guitar, and James Bellamy on bass, forming the group Chief Ellis and the Barrelhouse Rockers. The group performed at several venues and festivals in the D. C. area until Chief retired and moved back home, coincidentally to Titusville, Alabama. Soon after returning home, Chief suffered a heart attack and passed on. Not long after Chief's passing Phil and John Cephas formed the duo Cephas and Wiggins. This duo performed together for over 30 years, becoming America's premier blues duo. As ambassadors of the Piedmont blues, Cephas and Wiggins took their music all over America as well as all over the world.
RICH DELGROSSO – MANDOLIN
Rich DelGrosso is widely regarded as the leading exponent of mandolin blues. For over thirty years DelGrosso has written articles for Blues Revue, Living Blues, Mandolin Magazine, Frets, and Sing Out!, and has published mandolin and guitar instruction books on for Hal Leonard Pub.
Rich has presented workshops across the Americas and Europe, earning him a Keeping the Blues Alive Award from the Blues Foundation in Memphis.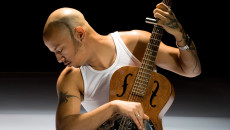 SAMUEL JAMES – GUITAR
With a voice of grit and gravel, roots musician Samuel James sings with an authenticity lost in time.
A modern guitar master, James' skill has a depth and range that seems impossible for a man with only two hands.
An award-winning songwriter, one of the world's most innovative guitar players, and a Moth-featured storyteller, James brings all of this to his amazing stage show.
STEVE JAMES – MANDOLIN/GUITAR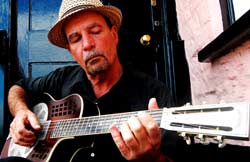 Steve James is a Centrum Blues Week recidivist who first taught and performed here over 20 years ago and has done so regularly ever since. An autodidact who sees roots music history as a circle rather than a line, he has toured extensively and internationally, including work as an arts envoy for U.S. embassies in Bulgaria, Guatemala and Finland. His original style on guitar, slide guitar, mandolin and vocals is informed by influences that include blues cornerstone Furry Lewis, rock'n'roll inventor Bo Diddley, and Centrum Blues godfather Howard Armstrong (with all of whom he has played). Heard on broadcasts including NPR Morning Edition and A Prairie Home Companion, Steve has supplemented his activities as a performing and recording artist by creating numerous instructional books, DVDs and on-line lessons and participating in over a hundred music camps and workshop programs.
SUNPIE BARNES – ACCORDION
Bruce "Sunpie" Barnes is a veteran musician, park ranger, actor, former high school biology teacher, former college football All-American, and former NFL player (Kansas City Chiefs). Sunpie Barnes' career has taken him far and wide, and he has traveled to over 35 countries playing his own style of blues, zydeco and Afro-Louisiana music incorporating Caribbean and African influenced rhythms and melodies. He is a multi-instrumentalist playing piano, percussion, harmonica, and he learned to play accordion from some of the best, including Fernest Arceneaux, John Delafose, and Clayton Sampy. With his musical group Sunpie and the Louisiana Sunspots, he has played festivals and concerts accross New Orleans and the US, as well as internationally, and they have recorded 5 critically acclaimed CDs. Sunpie is deeply involved in New Orleans parade culture and takes his music to the streets. He is Second Chief of the North Side Skull and Bone Gang, one of the oldest existing carnival groups in New Orleans, and a member of the Black Men of Labor Social Aid and Pleasure Club. Sunpie is currently the full-time accordion and harmonica player in the Paul Simon Band, touring 22 countries with Paul and Sting in the spring of 2015.
TERRY HARMONICA BEAN – HARMONICA
Terry Harmonica Bean is one of Mississippi's hidden treasures: a contemporary hill country bluesman, lifelong resident of Pontotoc, who has created his own distinctive version of the harp-blowing, guitar-grooving one-man band.
Bean came up in a blues world filled with country jukes and late house parties. "I always did love the sound of the blues," he says. "Ever since I was a little bitty boy that's the music I head. My daddy used to play with B.B. King, but he had to stay at home and couldn't go on the road."
One of 24 kids, Bean is the only one still playing blues. "I just like to play, I can't let the blues die, I don't want to let it go." As a harmonica-playing guitarist who sings, he's a triple treat determined to hang on.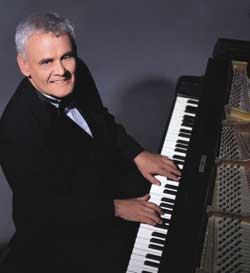 TERRY WALDO – PIANO
Terry Waldo, the protégé of the legendary Eubie Blake, is a virtuoso ragtime, stride, and blues pianist.  He is also a vocalist, composer of show tunes, film and TV scores, and has led many highly regarded musical groups.  His 'This is Ragtime' was just republished with a new introduction by Wynton Marsalis by Jazz at Lincoln Center Library Editions.  His 26-part radio series of the same title was produced for NPR and fueled the 1970's ragtime revival. Recently he has been teaching courses on early jazz and ragtime piano styles for Jazz at Lincoln Center.  He has performed in numerous theatrical projects and concerts all over the world and has produced over 50 albums. Terry is in demand for corporate events including fund raisers, dinners, parties and lectures where he appears solo or with his various bands and shows. Clients and venues include: The National Gallery of Art, Walt Disney Productions, The Museum of Modern Art, The Chevy Chase Bank, Estée Lauder, Callaway Gardens, Carnegie Hall, The Smithsonian Institution, The Supreme Court, and The Kennedy Center.  He has several new recording projects including a solo album  for Tomkins Square Records and is working on a PBS music documentary on ragtime.  (www.ThisIsRagtime.com). He regularly performs in New York at several prestigious venues including The Rum House, The Dead Rabbit, and Chez Josephine.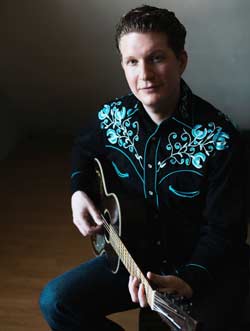 TOM FELDMAN – GUITAR
Minnesota native Tom Feldmann taught himself to play guitar at age 17 after hearing "The Country Blues of John Lee Hooker" and soon developed the rare talent of being able to accurately transcribe the amazing playing of legendary bluesmen Charley Patton, Son House, Robert Johnson, Fred McDowell, Blind Willie Johnson, Mississippi John Hurt and many others. Feldmann released his first CD in 1999, at the age of 21, and began logging countless highway miles touring throughout North America with over 150 shows a year.
Tom has since self-released 13 CD's which have received rave reviews from top publications around the world as well as international radio airplay. In the past few years Tom Feldmann has been most active as a guitar instructor.  His popular lessons for Stefan Grossman's Guitar Workshop covering the guitar playing of Robert Johnson, Son House, Charley Patton, Fred McDowell, and many others, have made him a well known and respected figure in the acoustic guitar community. Tom has filmed 13 DVD's for Grossman's Guitar Workshop with more to come. Feldmann is also a regular instructor at Jorma Kaukonen's Fur Peace Ranch.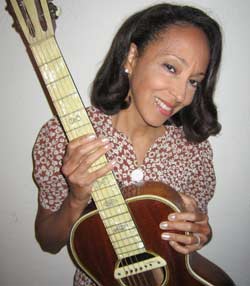 VALERIE TURNER – GUITAR
Valerie Turner is a native New Yorker with southern roots and is the co-founder of the "Piedmont Bluz Acoustic Duo." She plays finger style Country Blues guitar and her eclectic repertoire has been greatly influenced by her studies with both John Cephas and Woody Mann. Valerie's earliest influences were Mississippi John Hurt and Elizabeth Cotten, and her specialty is the Piedmont style of fingerpicking.
Valerie has performed in a variety of festivals and clubs including the Richmond Folk Festival, Brooklyn Folk Festival, Riverside Blues Festival, Hampton Acoustic Blues Revival, American Folk Art Museum, ArtsWestchester, Archie Edwards Blues Heritage Foundation, Howland Cultural Center, The Jalopy Theatre, and Towne Crier Café to name a few. She has also been a featured guest on Horses Sing None Of It with Ralph Litwin, The Blues Break with Big Joe Fitz on Radio Woodstock, and on Wes Houston Presents on QPTV.