Details on our 2014 workshop are under development. Stay tuned for more information. Below is information from our 2013 gathering.
—
The 2013 Artist Faculty – scroll down for bios and photos!
Gaye Adegbalola – vocals
Bruce "Sunpie" Barnes – accordion / zydeco dance
Rich Del Grosso – mandolin / guitar
Jonn Del Toro Richardson – guitar
Grant Dermody – harmonica
Eleanor Ellis – guitar
Leroy Etienne – drums / washboard
Andra Faye – vocals / mandolin and violin
Dom Flemons – banjo / guitar
Mary Flower – guitar
Billy Flynn – guitar
Chase Garrett – piano
Boo Hanks – guitar
Michael Harris – bass
Jake Heck – band lab / guitar
Angela Hill – vocals / gospel
Orville Johnson – guitar
Arthur Migliazza – piano
Dean Mueller – band lab
Jon Parry – violin
Jerron Paxton – you name it…
Del Rey – ukulele / guitar
Caitlin Romtvedt – band lab
Lauren Sheehan – guitar / band lab
Tim Sparks – guitar
Jay Summerour – harmonica
Clay Swafford – piano
Elijah Wald – guitar / blues history
Lightnin' Wells – ukulele / guitar
Warner Williams – guitar
Phil Wiggins – harmonica
Maria Woodford – band lab / vocals
—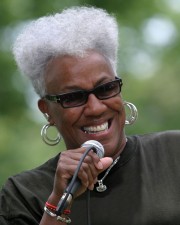 GAYE ADEGBALOLA – VOCALS
Gaye Todd was born and raised in Fredericksburg, Virginia. She graduated as valedictorian of the then-segregated Walker-Grant High School. She finished Boston University with a major in biology and a minor in chemistry. Prior to becoming a teacher, she worked as a technical writer for TRW Systems, a biochemical researcher at Rockefeller University, and a bacteriologist at Harlem Hospital. She has a Master's degree in Educational Media (with a concentration in photography) from Virginia State University.
In the early '70s, she began her teaching career. She was an educator in the Fredericksburg City Public School system for 18 years, and honored as Virginia State Teacher of the Year in 1982. Throughout her teaching career, she directed Harambee 360º Experimental Theater. She was able to creatively use performance as a tool to assist black youth in gaining confidence as they struggled with identity issues during the spread of "integration."
During her teaching career, Ms. Adegbalola moonlighted as a musician. By maintaining the blues legacy, she now sees herself as a contemporary griot – keeping the history alive, delivering messages of empowerment, ministering to the heartbroken, and finding joy in the mundane. As a founding member of Saffire – the Uppity Blues Women, she became a full-time performer. (Saffire ended in November, 2009, after making music together for 25 years.)
She has toured nationally and internationally, and has won numerous awards including the prestigious Blues Music Award (formerly the W.C. Handy Award – the Grammy of the blues industry). As of 2012, Adegbalola has 14 CDs in national distribution, including 4 on her own label, Hot Toddy Music. Gaye composes, sings and plays acoustic guitar, slide guitar, and harmonica.
She is the mother of son, Juno Lumumba Kahlil. Motherhood is essential to her bio.
BRUCE "SUNPIE" BARNES – ACCORDION / ZYDECO DANCE
Bruce "Sunpie" Barnes is a veteran musician, park ranger, actor, former high school biology teacher, and former NFL player with the Kansas City Chiefs.
His career has taken him far and wide, travelling to over 35 countries playing his own style of blues, zydeco and Afro-Louisiana music incorporating Caribbean and African influenced rhythms and melodies.
He is a multi-instrumentalist playing piano, percussion, and harmonica – and he learned to play accordion from some of the best, including Fernest Arceneaux, John Delafose, and Clayton Sampy. With his musical group "Sunpie and the Louisiana Sunspots," he has played festivals and concerts across New Orleans and the US, as well as internationally, and they have recorded 5 critically acclaimed CDs.
RICH DELGROSSO – MANDOLIN
Writer/teacher/performer Rich DelGrosso is widely regarded as the leading exponent of mandolin blues. For over twenty years he has written articles for Blues Revue, Living Blues, Mandolin Magazine, Frets, and Sing Out!, and has published mandolin and guitar instruction books on for Hal Leonard Pub. He has presented workshops across the U.S. and Europe, earning him a Keeping the Blues Alive Award from the Blues Foundation in Memphis.
Rich's many performances, recordings, and festival appearances have garnered him five Blues Music Award nominations. Four of the five were for Best Instrumentalist-Other for his mandolin work, and the other, in 2009, for his recording Live From Bluesville, which was nominated for Acoustic Album of the Year; a recorded live jam session with BMA nominees and winners Fiona Boyes and Mookie Brill at XM radio's B.B.King's Bluesville.
JONN DEL TORO RICHARDSON – GUITAR
Jonn Del Toro Richardson is a blues guitarist from Houston, representing the strong defining sound of the Texas Blues. Inspired by his uncles he picked up the guitar in his early twenties and immediately started playing in the music scene around Houston. From starting his own bands to having the honor to play with many of the blues greats in Houston early in his career, Richardson discovered his passion in blues music.
One of early his bands consisted of Richardson playing with his musically talented uncles. Showing his gratitude for his mother's heritage and his uncles inspiration he legally changed his name to Jonn "Del Toro" Richardson … taking on his mother's family name from which he proudly inherited his musical talent and giving him the name we know him as now, Jonn Del Toro Richardson, The Texas Bull.
Richardson's partnership with Diunna Greenleaf and his role in the Blue Mercy Blues Band and the support of the Blue Shoe Project in Dallas TX lead them to the International Blues Challenge in Memphis TN in 2005. In Memphis Diuna Greenleaf and Blue Mercy took the first place over 120 competing bands on Beale Street giving them recognition nationally and internationally playing amongst the greatest in the blues scene. That same competition Richardson was honored with the Albert King Award, the most promising blue guitarist of the competition. This set a new standard for his level of playing and from there he has gone on to continue playing with blues greats such as, Hubert Sulim, Pinetop Perkins, Otis Taylor, to name a few.
Diuna Greenleaf and The Blue Mercy band was also garnered the Blues Music Award for the Best Debut Artist in 2008. Richardson and Greenleaf also shared the honor to be apart of the backing band for Pinetop Perkin's recording on "Last of the Delta Mississippi Blues Man" that won a Grammy Award in 2008 for Best Traditional Blues Album. This album was also produced by the Blue Shoe Project in Dallas TX.
Richardson is widely known for his impeccable tone, as well as, his incomparable tasteful playing. His soft voice in conversation is a calming cover to the strong and steady singer and the explosive guitar player he is on stage.
GRANT DERMODY – HARMONICA
Grant Dermody is a harmonica player, singer, songwriter, and teacher from Seattle, Washington. He has performed with blues legends Leon Bib, Honeyboy Edwards, Robert Lowery, Big Joe Duskin, John Dee Holeman, and Cephas & Wiggins.
As a member of The Improbabillies, whose 1998 self-titled CD made a serious splash in the old-time world, Grant brought a unique blues sensibility and an innovative harmonica style to that genre.
He has played on several of Seattle based singer/songwriter Jim Page's recordings, and was a guest artist on Dan Crary's, Renaissance of the Steel String Guitar.
A dedicated mentor of the instrument, Grant has taught harmonica for many years in both private and group settings nationwide to students of all ages. Teaching venues have included Blues Week at The Augusta Heritage Center in Elkins West Virginia, the Telluride Acoustic Blues Camp in Telluride, Colorado, and Blues Week at The University of Northhampton in the United Kingdom.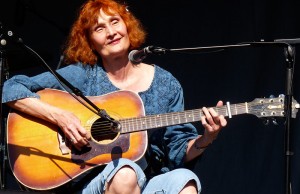 ELEANOR ELLIS – PIEDMONT GUITAR
Louisiana native Eleanor Ellis has performed at clubs, festivals and concerts in the United States, Canada and Europe. She has also traveled and played with the late gospel street singer Flora Molton, bluesman Archie Edwards, and sometimes accompanied Delta Blues great Eugene Powell.
She is a founding member of the DC Blues Society and the Archie Edwards Blues Heritage Foundation, and has written about the blues for several publications.  A bluegrass jam session led to a musical collaboration with "Delta Rambler" Hazel Schlueter, and Eleanor later wound up playing stand-up bass in two bluegrass bands, the Green Valley Cutups and Bill Malone's Hill Country Ramblers.
In addition, Eleanor is producer and editor of the video documentary Blues Houseparty, which features well-known Piedmont blues musicians such as John Jackson, John Cephas, and Archie Edwards. She also worked at the Archive of New Orleans Jazz at Tulane University in New Orleans, and at the New Orleans Jazz Museum.
LEROY ETIENNE – DRUMS / WASHBOARD
Leroy Etienne was born in St. Martinville and now resides in Lafayette, LA. Although everyone spoke Creole in his household growing up, Leroy learned much of the language from his mother, Odelia Porter Etienne. Leroy's father, Lawrence Etienne taught Leroy the Bamboula or rumba rhythm commonly used in the older Creole musical forms of juré and la la music. Both juré and la la are musical predecessors to zydeco.
Leroy has has a deep connection to this music and currently plays drums with Sunpie Barnes and the Louisiana Sunspots.
ANDRA FAYE – VOCALS / MANDOLIN / VIOLIN
Andra Faye hails from Indianapolis, and has been playing music since the sixth grade, performing in a variety of eclectic local bands. She was influenced early on by Howard Armstrong and fellow Hoosier Yank Rachel.
Andra is known for her powerful vocals and her talents on stringed instruments (fiddle, upright & electric bass & guitar), especially the blues mandolin.
She has recorded and performed nationally & internationally with Saffire-The Uppity Blues Women since joining them in 1992.
In addition to teaching privately and for workshops, she performs solo and with "The Mighty Good Men," as well as other spontaneous configurations.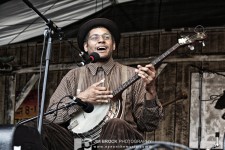 DOM FLEMONS – BANJO / GUITAR
Dom Flemons is a multi-instrumentalist and a songster. Playing in a broad range of old-time blues, country, string band, rock and jazz, he has impressed audiences with his outrageous performance style. As a member of the Carolina Chocolate Drops, Dom has toured all over the world going as far as Ireland, England, Scotland, France, Holland and Belgium. He is up for most any type of gig having played from coffee houses to street corners to house parties to the big-time venues.
Dom has performed at such venues as the National Folk Festival, the Newport Folk Festival, The Grand Ole Opry, Prairie Home Companion, Merlefest, Fresh Air with Terry Gross, The Tavis Smiley Show, The Bob Harris show on the BBC, New Orleans Jazz and Heritage Festival, Spoleto Music Festival, Bonnaroo, The Fillmore in San Francisco, Telluride Bluegrass Festival, The Bowery Ballroom in NYC, Schomburg Center For Research in Black Culture in New York, The Ryman Auditorium, Winnipeg, Vancouver and Ottawa Folk Festivals, The Festival of American Fiddle Tunes, The Sage in Gateshead, England, The New Morning in Paris, The Paradiso in Amsterdam, The Carter Family Fold, Old Town School of Folk Music and Bristol Rhythm and Roots just to name a few.
Though he has studied music performance independently for the past 11 years, he has been making it a point to study with elders in the North Carolina community and beyond.
MARY FLOWER – GUITAR
Mary Flower is renowned for a uniquely personal vision of roots music that blends ragtime, acoustic blues, and folk – technically dazzling yet grounded in the down-to-earth simplicity of early 20th century American music.
With eight albums under her belt, Mary has earned rave reviews from critics and audiences alike for her unassuming vocals, and her mastery of the difficult Piedmont blues guitar style. She continues to be a highly regarded teacher whose knowledge and technical mastery have inspired students at the Augusta Heritage Center and the Swannanoa Gathering, among many other educational venues.
Mary has played shows all over North America as a regular on the blues and folk festival circuit, including performances at Merlefest, the Kerrville Folk Fest and the Winnipeg Folk Festival.  Mary performs and teaches internationally, and has released several instructional DVDs, including the highly regarded Homespun Tapes.
BILLY FLYNN – DELTA GUITAR  / SLIDE
Over the last 40 years, Billy Flynn has played with a wealth of Chicago blues legends including Jimmy Rogers, Jr. Wells, Otis Rush, Pinetop Perkins, Buddy Guy, Jimmy Dawkins, Koko Taylor, Willie Kent and countless others.
Billy's encyclopedic knowledge and mastery of a wide array of guitar styles from the 1920's though the present make him the go-to guy when bands and record producers want to recreate a certain blues guitar sound.  Billy was tapped to play guitar for the soundtrack for the major motion picture "Cadillac Records," which chronicled the heyday of the legendary Chicago blues label, Chess Records.
As part of the soundtrack, Billy backed Beyonce in her 2010 Grammy Winning recording of Etta James' "At Last."
In addition to his virtuosic guitar playing, Billy also plays mandolin, banjo, lap steel, harmonica, bass, drums, piano or just about anything else that produces sound, including electric sitar.  Billy currently records and performs with the Cash Box Kings, and also produced their second album, Black Night Falling.
CHASE GARRETT – PIANO
Chase Garrett started playing piano at age nine and began playing professionally by age 17. He has performed all across the U.S. and Europe alongside some of today's best boogie woogie, blues and jazz pianists such as Axel Zwingenberger, Joachim Schumacher, Julian Phillips and Michael Kaeshammer.
Deeply influenced by Albert Ammons, Meade 'Lux' Lewis, Otis Spann, Fats Waller and Oscar Peterson, Chase's playing moves seamlessly between boogie woogie, blues, jazz, stride and swing.
The "Chase Garrett's Annual Blues & Boogie Woogie Piano Stomp," is held each November at the Englert Theatre in downtown Iowa City, Iowa.
The concert features four different pianists each year and always provides the most demanded leaders in blues and boogie woogie piano from around the world.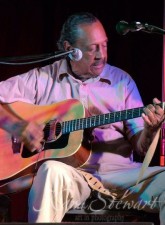 BOO HANKS – GUITAR
James Arthur "Boo" Hanks was born and raised in Virginia, just over the North Carolina line. For the majority of his eighty-four years he has been a laborer, working the tobacco fields. Boo learned to play guitar from his father, singing traditional roots music in the Piedmont blues style. Until recently his performances have been limited to his southern home base and shared with family and friends.
It is only during his elder years that Hanks' music career has blossomed. His first album, Pickin' Low Cotton, was recorded at the age of seventy-nine by the Music Maker Relief Foundation, a non-profit organization that supports the traditional music and musicians of the South.
"Most people, when they hear me play, they think it's two guitars, because I play the bass and the other strings at the same time. They say, man that's two guitars, and I say no, me, it's just me by myself. They say, don't believe you, it sounds like two guitars to me."
Boo Hanks, a descendant of Abraham Lincoln on his mother's side, is the greatest Piedmont Blues rediscovery in many years. He sings and plays guitar in the style of the legendary Blind Boy Fuller. At the age of 79, he made his first recording and at 82 he has enjoyed performances around home as well as Lincoln Center and Belgium.
MICHAEL HARRIS – BASS
Michael Harris, a veteran New Orleans bassist, is well known in the city as a performer in the gospel, zydeco, and blues styles.
Michael has been a professional bass player for more than twenty years, performing and recording with many great artists like Clarence "Frogman"" Henry, Tommy Ridgley, Walter "Wolfman"" Washington, Linda Hopkins and many others.
Among other bands, Michael is in the Zydeco band Sunpie Barnes and the Louisiana Sunspots.
JAKE HECK – BAND LAB / GUITAR
Said to be the best guitar player in Pennsylvania's Lehigh Valley, Jake Heck continues to expand and mature his musical voice.
He grew up on the recordings of great blues musicians and quickly developed a love for  fingerstyle guitar.
He has toured with various blues artists and represented the Lehigh Valley at the International Blues Competition in 2006. He is currently playing with Maria Woodford.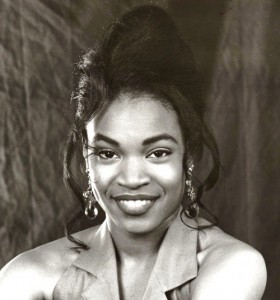 ANGELA HILL – GOSPEL CHOIR / VOCAL
Angela Hill strongly believes in gospel music.  Even as a young child, she played piano for church choirs, traveled the country singing in school choruses, and developed her songwriting and musical performance skills.
Angela received her B.A. in Music Education from Howard University in Washington, DC, with a double minor in Piano Studies and Dance Studies.  Angela has several albums to her credit as both a vocalist and a writer/producer, including an album with the R&B group XL, and an album with the gospel group, Highest Praise; as well as countless nightclub performances as a vocalist for jazz, blues, and country ensembles.
Currently Angela serves as Musical Director and pianist for two churches in Maryland, and performs as a member of the metropolitan area based gospel group, UVP.  While not performing music, she is devoted to children as a fulltime preschool teacher, and hopes that her artistry will be an inspiration to others through her music.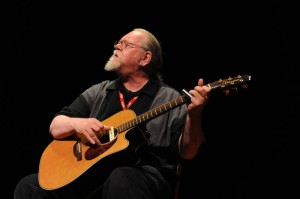 ORVILLE JOHNSON – SLIDE GUITAR
Orville Johnson has a gift for finding the secret ingredient that makes a song sound letter-perfect, whether it's an R&B tune from New Orleans, a country blues or a jazz ballad. He moved to Seattle in 1978, where he was a founding member of the much-loved and well-remembered folk/rock group, the "Dynamic Logs."
Other musical associates include Laura Love, Ranch Romance, and the File' Gumbo Zydeco Band; and he's shared the stage with artists such as Doc Watson, Bonnie Raitt and John Lee Hooker.
Orville's guitar, dobro, and quavering, honeyed vocals have been featured on more than a hundred recordings, soundtracks and countless TV and radio commercials.
ARTHUR MIGLIAZZA – PIANO
Arthur Migliazza was born in Hyattsville, Maryland, and began taking classical piano lessons at age nine.
Inspired by his immense talent, blues piano luminaries such as Ann Rabson, Mr. B, and the great New Orleans keyboard master Henry Butler have all taken Arthur under their collective wing.
In 2005, Arthur was awarded the Tucson Area Music Award for Best Keyboardist, and in 2010 he was inducted into the Arizona Blues Hall of Fame.
During the past several years, Arthur has been featured on the Cincinnati Blues Fest's Arches Piano Stage multiple times, and has taught blues piano at Augusta Blues Week in Elkins, WV, and at Centrum.
DEAN MUELLER – BASS
Dean Mueller is originally Chicago, and had played electric bass since he was a kid. He picked up the upright bass as an adult and now wows audience with either instrument.
A fixture in the Pacific Northwest blues scene – Dean is always a welcome addition to the Port Townsend gathering.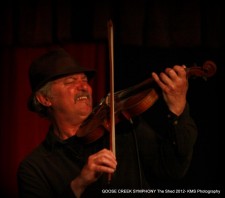 JON PARRY – BLUES VIOLIN
Jon Parry was given classical training on the violin beginning at age seven by his mother Louise and by Walter Sundstein, then assistant concertmaster of the Seattle Symphony. As a child Jon developed a life-long love of the blues playing along with records his father brought home. Son House, Father Earl Hines, John Lee Hooker, and Huddie Ledbetter were some of the artists he immersed himself in as a youth.
By the age of 15, he was opening shows for Taj Mahal, Big Mama Thorton, and B.B. King, among others. Jon has performed professionally as a sideman across America, at concert halls, festivals and clubs ranging from The Kennedy Center to the barrooms of New Orleans. He is a long time member of the legendary Goose Creek Symphony. Jon has recorded and performed with artists such as Hank Williams Jr. and Danny Barnes.
In the formative period of the early 1900s the violin was a predominant instrument of the blues. By 1930 over fifty black blues men had been recorded. Because the violin could not be effectively electrified, it did not evolve with the art form of the blues.
Jon's main mission in life is to help re-introduce the violin back into the blues and has developed an effective method of teaching blues fundamentals from the violin's perspective.
JERRON PAXTON – EVERYTHING
Jerron Paxton is a songster, busker and itinerant bluesman, the living embodiment of the true blues in the 21St Century. The young bard was born in 1989, but his vast talent rivals the greatest in the genre. He is the whole package. He's witty, fast rhyming, poetic, fun, exciting, wonderfully skilled as a musician and a fine singer, he is the continuation of a proud tradition, literally and figuratively.
Jerron is even the real-life son of Robert Johnson's cousin, so you can say it's in the blood. The charismatic bluesman, sometimes also called "J-Dog Paxton" or Jerron "Blind Boy" Paxton, hails from a Creole family in Watts, South Central Los Angeles, but his people come from Louisiana. He is a capable multi-instrumentalist who picks banjo and guitar, plays harmonica, piano and other instruments.
He is a joyous entertainer, humorous with a dazzling wit, a terrific storyteller, exuding an affable excitement. He masters multiple blues styles and picks like Blind Blake. He feels home in the Piedmont tradition with its ragtime influence. Country blues fans will pick up on Blind Boy Fuller, Gary Davis, but also on the swampy blues of Louisiana and the Mississippi Delta. He digs deep in the archives of the country blues, from Furry Lewis to Texas Alexander. On the piano he can remind you of Fats Waller. He is often cited to have said that at the age of fifteen– about the time he started to go blind– that he just didn't like anything written after 1934. He raised himself on 78s.
DEL REY – UKELELE / GUITAR
Del Rey started playing guitar when she was four. At the age of fourteen she was introduced to the world of traditional acoustic music. Lou Curtiss, proprietor of Folk Arts Rare Records and artistic director of the San Diego Folk Festival introduced her to living artists like Sam Chatmon, Lydia Mendoza and Howard Armstrong, and to recordings, especially those of the great blues guitarist Memphis Minnie.
Her guitar playing is influenced by country blues, stride piano, classic jazz and hillbilly boogie-all filtered through the sensibility of an autodidact trailor-park aesthete.
Thirty years later, when Del Rey became fascinated with the ukulele, she tried to play the same kind of complicated rhythmic blues and ragtime on four strings as she does on six. She expects a lot out of the little instrument, and usually gets it.
CAITLIN BELEM ROMTVEDT – BAND LAB
Caitlin Belem Romtvedt grew up in a house full of music in Northern Wyoming. She started playing the fiddle with her parents, saxophone in school, and later the guitar.
She has lived and played music in Brazil and the Basque Country, spent time studying music in Cuba, and now plays a lot of Brazilian and other Latin American music along with old swing, jazz, and blues.
The first time she came to the Port Townsend Acoustic Blues Festival, she fell in love with the music, the people, and the whole world of the blues.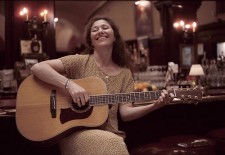 LAUREN SHEEHAN – GUITAR / BAND LAB
With sandy-edged vocals and sparkling guitar, mandolin and banjo picking, Lauren Sheehan plays from an old Songster tradition, combining blues, country, folk, ballads and standards, along with popular as well as her own music.
Her shows are unusual for their stylistic breadth and emotional range, masterfully delivered with warmth, humor and passion for the music and its history.
Inspired by study with elders, oral tradition and scholarship, Lauren creates the intimacy of a back porch, where singing and playing were regular events. She clearly loves the music she performs, shape shifting through the moods of familiar and the obscure, howling with the werewolf and weeping with the willow.
TIM SPARKS – GUITAR
Tim Sparks started picking out tunes by ear on an old Stella flat top during an illness that kept him out of school for a year. He taught himself to play the music he heard around him: traditional country blues and the gospel his grandmother played on piano in a small church in the Blue Ridge Mountains.
At 14, Tim was nominated for a scholarship at the prestigious North Carolina School of the Arts. There he studied the classics with Segovia protégé Jesus Silva while continuing to play all kinds of music, increasingly turning to classic jazz for inspiration. He adapted compositions by Jelly Roll Morton, Scott Joplin, and Fats Waller to the guitar, frequently reducing piano arrangements to their essence.
Sparks also found time to revive his interest in classical music, adapting Tchaikovsky's Nutcracker Suite to the guitar, a work that has been cited as a significant contribution to solo guitar literature.
In recent years, Sparks' musical focus has come full circle, returning to the country blues and classic jazz that served as a springboard for his worldwide guitar explorations.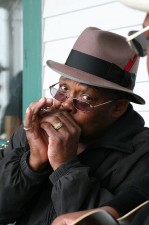 JAY SUMMEROUR – HARMONICA
Harmonica player Jay Summerour has been involved with music for well over 40 years.
Beginning his musical education on the trumpet at age 7, Summerour learned the harmonica from his grandfather Smack Martin.
Largely self-taught, Jay picked up bits and pieces from "folks he ran into"—folks like Sonny Terry, James Cotton and Magic Dick.
During the late 1960s and early 1970s, Summerour took the traditional harmonica into the popular arena, joining the Starland Vocal Band and playing with Nils Lofgren and his band Grin. Four of the Starland Vocal Band's records went gold during Summerour's tenure.
CLAY SWAFFORD – PIANO
When Jerry Lee Lewis was asked what he thought about Clay's playing he said "The boy can play, and is doing a damn good job of keeping this music alive."
Clay Swafford started playing piano at age 5, and now he is well respected as one of the top up and coming blues piano players today.
The Clay Swafford band was formed in 2000 and has been playing blues and jazz clubs in Alabama every since as well being a big hit with the Birmingham Swing Dance Society.
Clay also holds down the piano seat for the local blues/rock band "Four of A Kind" and has also toured all over the United States with many of today's top blues bands.
ELIJAH WALD – GUITAR / BLUES HISTORY
Elijah Wald spent many years hitchhiking and performing all over North America and Europe, as well as much of Asia and Africa, including several months studying with the Congolese guitar masters Jean-Bosco Mwenda and Edouard Masengo in eastern Zaire.
In the early 1980s, Elijah began writing for the Boston Globe, and was in charge of the newspaper's "world music" coverage for most of the 1990s, as well as contributing articles to various other newspapers and magazines.
His books include Escaping the Delta: Robert Johnson and the Invention of the Blues, Josh White: Society Blues, Global Minstrels: Voices of World Music, Dave Van Ronk's memoir The Mayor of MacDougal Street, River of Song: Music Along the Mississippi, and Narcocorrido, a survey of the modern Mexican ballads of drug smuggling and social issues.
His latest book is How the Beatles Destroyed Rock 'n' Roll: An Alternative History of American Popular Music. He has won a Grammy Award for his album notes to The Arhoolie Records 40th Anniversary Box, for which he was also nominated as a producer.
LIGHTNIN' WELLS – UKELELE / GUITAR
North Carolina musician Lightnin' Wells breathes new life into the vintage tunes of the 1920s and depression-era America.  Lightnin' produced the first commercial recordings of the North Carolina blues veterans Big Boy Henry, Algia Mae Hinton and George Higgs.
He has traveled and performed extensively with these musicians and has documented their backgrounds and musical histories for future generations.
Lightnin' is a life-long student and devotee of the pioneering performers in the piedmont blues tradition which once thrived in the Carolinas, including such artists as Blind Boy Fuller, Rev. Gary Davis and Elizabeth Cotton.
PHIL WIGGINS – HARMONICA
During the early years of his development as a musician, Washington, D.C. native Phil Wiggins was constantly playing with and learning from some of the most notable acoustic blues musicians in the Washington area, including Flora Molten, Wilber "Chief" Ellis, John Jackson, John Cephas, and others.
He was mentored as well by many other musicians who frequented the D.C. area, including Sunnyland Slim, Henry Townsend, John Dee Holeman, Algia Mae Hinton, Howard Armstrong, Etta Baker, and others.  In 1976 he met and joined with Chief Ellis on piano, John Cephas on guitar, and James Bellamy on bass, to form, Ellis and the Barrelhouse Rockers.  Not long after, Phil and John Cephas formed the duo Cephas and Wiggins.
As ambassadors of the Piedmont blues, Cephas and Wiggins took their music all over America and the world, including Carnegie Hall, the Sydney Opera House, Royal Albert Hall, and the White House.
Phil is a highly sought after instructor, and was the Artistic Director of the Port Townsend Acoustic Blues Festival from 2004-2009.
WARNER WILLIAMS – GUITAR
Warner Williams has been plying his musical wares in and around the Maryland-Washington, D.C. area for the past sixty-five years. Drawing on an endless repertory of blues, county, jazz, pop, gospel, rock, and even old-time classics, Williams imprints each piece with his own style, the mark of a true songster.
Over the course of his life he's picked up lots of songs and as long as it's good music, he doesn't discriminate between genres. He grew up in a profoundly musical family, performing as a youngster at home, church, and on the streets. When he was old enough, he played in jooks and taverns, at times working with various bands.
Three generations of family-based music provide context for his superb musicianship. His skills and musical choices provide a unique blend of rural and urban and black and white traditions. He admits a preference for older songs that date back as far as the country breakdown his father once played, but most stem from blues, jazz, country, pop, and rhythm and blues of the late 1940's and 1950's.
A musician's musician, his playing and singing appear so effortless that it takes a moment or two to realize just how good he is.
MARIA WOODFORD – BAND LAB / VOCALS
Maria Woodford is a lifelong musician and songwriter who has seen the world from the most prestigious of stages and the smallest of seedy back room venues. Throughout her years of playing the streets with an open guitar case to her more recent experiences playing Allentown's Symphony Hall, Woodford's sultry vocals, throaty growl, and disarmingly honest approach to songwriting has earned her many honors and awards including The B.E.A.M. grant for independent music (2001) and Best Independent Album of the Year (NJ Press- 2002).
Woodford has traveled from coast to coast and beyond with her music. Maria was published as a contributing author in the textbook, "Music in Elementary Education" by Trollinger and Flhor (Prentice Hall Publishing) in 2009. Her offering's to the students of inner city Allentown earning Maria a "Growing Up Artfully" Nomination.
Her July 2012 release of "Bad Dog Blues" features the great Phil Wiggins and many of the blues worlds most up and coming musicians, including Ian Walters and Jake Heck.