Seattle Theatre Group and Centrum offers
DANCE This! Camp at Centrum, Port Townsend, WA
August 4-10, 2013
Immerse yourself in dance!
The DANCE This! Camp at Centrum provides an opportunity for high school students to study a wide range of dance styles and techniques in a supportive, yet challenging atmosphere.
Students participate in African, Ballet, Choreography, Hip-Hop and Modern dance classes with professional dance instructors from the Seattle area.
Tuition, Room & Board is $850; scholarships are available.
View 2011 Student Showcases
African    Musical Theatre     Ballet    Modern     Hip Hop     Choreography
Each day includes technique classes, repertory instruction and choreography sessions, with time for meals and exploring the Fort Worden campus. At the end of the week, students share their work at a Saturday showcase for friends and family.
View photos and comments from past DANCE This! experiences
The DANCE This! Camp at Centrum is open to students entering grades 9-12 in Fall 2012 at all levels of dance experience–from beginner to advanced.
At Centrum, renovated Fort buildings, including classrooms, dormitories, performance and studio spaces, serve as home. While here, students are supervised by faculty and staff, including experienced dorm counselors. During free time students are asked to be in groups of two-to three if they are exploring the grounds of Fort Worden. They are not accompanied by supervisors during their free time, but they are asked to let the Dorm staff know where they are going. Food served at Fort Worden is organic, fresh, and local.
Tuition is $850 per participant and includes room and board.
Centrum is located at Fort Worden State Park, Port Townsend. Perched on the Northeast tip of the Olympic Peninsula, Fort Worden offers 450 acres of sandy beaches, wooded hills, wetlands, and a historic campus, with stunning views of the Strait of Juan de Fuca and the Olympic and Cascade ranges.
Tuition, Room & Board is $850; scholarships are available. 
—

Produced by Seattle Theatre Group, DANCE This! brings together teen performers, choreographers, guest  artists and teachers to share their culture through the art of dance.  The DANCE This! Program started in Seattle in 1999 with a performance of cultural and contemporary dance at the Moore Theatre. It has grown into a multi-faceted program that includes performances at the Paramount Theatre, a two-week training Intensive in diverse styles and, the DANCE This! Camp at Centrum.
Seattle Theatre Group (STG) is a non-profit performing arts organization dedicated to operating Seattle's historic Paramount & Moore Theatres, presenting diverse programming and maintaining extensive Education & Community Programs. We are pleased to be partnering with Centrum for this program.
CORE ARTIST FACULTY
Daniel Cruz (Hip Hop)
Daniel Cruz most recently choreographed Rent (5th Avenue Theater) and Big River (Village Theater). He also served as Co-Dance Captain on the 1st National Tour of the Tony-award winning musical, In The Heights.
Cruz has also worked with MTV VMA's (Michael Jackson/NSYNC), BET (Ashanti), Musicology music video (Prince), Seattle Seahawks, Microsoft, and choreographers Napoleon & Tabitha D'Umo, Wade Robson and Brian Friedman. He has choreographed for numerous dance productions, including STG's DANCE This performance.
Etienne Cakpo (African Dance) 
Etienne Cakpo is a professional dancer, choreographer and musician from Benin, West Africa. He teaches and performs traditional and contemporary African dance styles, and has been building his dance repertoire for over twenty years.
Currently the director and lead choreographer of Gansango Music and Dance based in Seattle, Etienne contributes regularly to the cultural arts community in Western Washington, and performs in solo events and group shows. Etienne enjoys collaborating with multi-cultural dance groups and educating people of all ages and backgrounds about African culture through the arts.
Amy O'Neal (Choreography, Improvisation)
Amy O'Neal is a performer, choreographer, and dance educator, sometimes making work under the name AmyO/tinyrage. From 2000-2010, she was the co-director of locust (music/dance/video). Over the past decade, she has taught and toured nationally and internationally and choreographed for theater, commercials, and music videos.
Amy has been an artist in residence at Bates Dance Festival, Headlands Center for the Arts, the US/Japan Choreographer's Exchange/DTW, and Velocity Dance Center. She has received awards from Creative Capital, National Performance Network and National Dance Project, and is an Artist Trust Fellow, Mid Atlantic Arts Grantee, DanceWEB Scholar, and Stranger Genius Shortlister with a BFA from Cornish.
She has been teaching for the Dance This program since 2004 and is the lead teaching artist for the Seattle Youth Dance Collective (formerly Young Choreographer's Lab).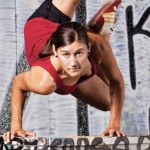 Ellie Sandstrom ( Ballet, Modern)
Ellie Sandstrom, a Seattle Magazine "Spotlight Award Winner," is originally from Minneapolis, where she began her movement training with Minnesota Dance Theater and later BalletArts Minnesota. She has studied various forms of dance technique, body conditioning, composition, improvisation and performance at dance festivals and schools across the country including Cornish College of the Arts, where she received her Bachelor of Fine Arts degree in Dance.
Ellie worked and toured with dance companies locust and Scott/Powell Performance from 2000-2010. Her choreography, under the name SANDSTROMMOVEMENT, has been produced locally and nationally by organizations such as On the Boards, Velocity Dance Center and Perpich Center for the Arts and commissioned by Seattle Dance Project and Washington Ensemble Theater.
She currently teaches ballet and modern dance to young adults and beyond at Velocity Dance Center and hip hop to high school students at Northwest School in Seattle.
—
This program is generously funded by the Washington State Office of the Superintendent of Public Instruction. Additional sponsors include the Washington State Arts Commission, Washington State Parks and Recreation Commission, The Baker Foundation, the College Success Foundation, The Greater Tacoma Community Foundation, The Forest Foundation, Rayonier Foundation, the Congdon Hanson Family, and nearly a thousand individual donors whose generosity celebrates the power of creativity to change lives.