August 7 -13, 2016
Fort Worden, Port Townsend, WA
Immerse yourself in dance!

Presented by Seattle Theatre Group and Centrum, The DANCE This Camp at Centrum provides an opportunity for high school students to study a wide range of dance styles and techniques in a supportive, yet challenging atmosphere.
Students participate in Afro-Brazilian, Ballet, Jazz, Hip-Hop and Modern dance classes with professional dance instructors from the Seattle area and beyond.
Each day includes technique classes and repertory sessions, with time for meals and exploring the Fort Worden campus. At the end of the week, students share their work at a Saturday showcase for friends and family.
WHO: The DANCE This Camp at Centrum is open to students entering grades 9-12 in Fall 2015 at all levels of dance experience–from beginner to advanced.
LOCATION: Centrum is located at Fort Worden State Park, Port Townsend, WA. Perched on the Northeast tip of the Olympic Peninsula, Fort Worden offers 450 acres of sandy beaches, wooded hills, wetlands, and a historic campus, with stunning views of the Strait of Juan de Fuca and the Olympic and Cascade ranges. Renovated Fort buildings, including classrooms, dormitories, performance and studio spaces, serve as students' homes during their time at Centrum. Dorm wings are supervised by experienced dorm counselors.
COST: Tuition, room and board for the week is $850 per participant.*
*A limited number of scholarships are available. Scholarship Deadline: July 11, 2016; Notifications on a rolling basis.
2015 CORE ARTIST FACULTY
Andrew found a love for choreography through his unique style of movement; years later he found his passion for training dancers. Happiest in a room of students, his goal has been to be a catalyst for growth and a beacon of positivity within the Hip Hop community. He has taught all over the west coast, eventually finding his home at The Connection Performing Arts Center with long time friend and business partner, Kolanie Marks.
Teachers such as Daniel Cruz and Kari-Lee Florentine helped Andrew find his path. As co-director of Phyzikal Graffi-T and PG-Fam his choreography has reached the stages of America's Got Talent, We Day, the movie Battle Field America, and hundreds of stage performances over the years.
As Co Founder of KreativMndz (Seattle's first dance agency) and Editor in Chief of KreativMndz Magazine, his future ambition is to share the journeys of and celebrate all the great choreographers who established the culture we so love.
Christy McNeil (Jazz)
Christy has danced since age three, training at a studio just outside of Seattle. At fifteen, she traveled to Kazan, Russia to perform in the Rudolf Nureyev Ballet Festival with the Evergreen City Ballet. She was then honored with the Kreielsheimer Scholarship from Cornish College of the Arts where she earned her B.F.A. in Dance.
Christy holds an M.F.A. from the University of Washington and is currently an Assistant Professor at Cal Poly, San Luis Obispo.
She is a current member of Interweave Dance Theatre in Boulder, CO and of Variable Velocity Dance Company in San Luis Obispo, CA. Her research interests include proper warm up and fitness training for dancers as well as continuing to study the history of her favorite dance form, jazz. A hybrid of modern, jazz, and ballet technique best describes the technical demands of her energetic and passionate class.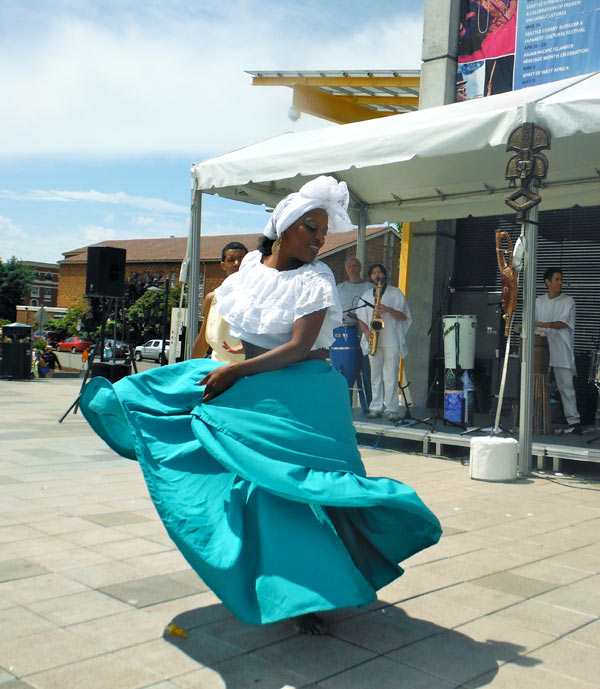 Dora Oliveira (Afro-Brazilian)
Dora has performed and taught Afro-Brazilian dance for 30 years. Dora's career as a professional dancer began in 1976 when she joined renowned Brazilian folkloric dance troupe, Exaltacao A Bahia. She learned a repertoire that ranges from Afro-Brazilian dance forms through jazz, ballet, and modern dance. After obtaining a professional dance degree from the prestigious Federal University of Brazil, Dora moved to the US where she lives in Seattle, WA.
Since starting in 1991, Dora has developed a large dance student following teaching at many studios and other locations across the city of Seattle. Recently, she has taught Brazilian dance at the Cornish School for the Arts and has partnered with Seattle Theater Group to teach dance to Parkinson patients.
Dora toured the world as the principal dancer with Olodum – the world famous samba bloc. Her choreography has appeared on stage with STG's Dance This, Vamola, and SambaOlywa. Currently, she continues to tour the US, Canada, and South America as lead dancer with Occeami, Gansango, and Show Brazil.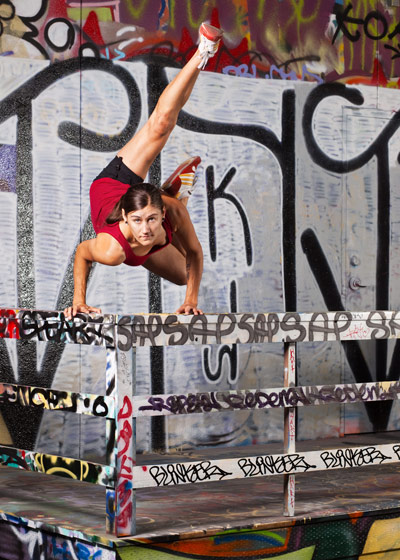 Ellie Sandstrom (Modern)
Ellie, a Seattle Magazine "Spotlight Award Winner," is originally from Minneapolis, where she began her movement training with Minnesota Dance Theater and BalletArts Minnesota. She has studied various forms of dance technique, body conditioning, composition, improvisation and performance at dance festivals and schools across the country including Cornish College of the Arts, where she received her Bachelor of Fine Arts degree in Dance.
Ellie worked and toured with the dance companies locust and Scott/Powell Performance from 2000-2010. Her choreography, under the name SANDSTROMMOVEMENT, has received funding from the Seattle Office of Arts & Culture and from Artist Trust. Her work has been produced by organizations such as On the Boards, Velocity Dance Center and Perpich Center for the Arts.
Ellie currently teaches ballet to young adults and beyond at Velocity Dance Center and contemporary styles and dance performance to middle school and high school students at Northwest School in Seattle, where she is the Dance Department Chair.
Instructors Subject to Change
Seattle Theatre Group is a 501 (c) 3 non-profit arts organization.
This program is generously funded by the Washington State Office of the Superintendent of Public Instruction. Additional sponsors include the Washington State Arts Commission, Washington State Parks and Recreation Commission, The Baker Foundation, ecotrust, The Greater Tacoma Community Foundation, The Forest Foundation, Rayonier Foundation, Jubilation Foundation, McEachern Foundation, JCCF Fund for Women and Girls, the Congdon Hanson Family, and nearly a thousand individual donors whose generosity celebrates the power of creativity to change lives.