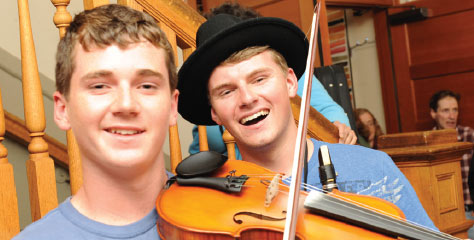 After 40 years, Centrum's impact on the lives of aspiring artists is profound.
As example, in the 1980s a young woman from British Columbia applied for a scholarship to attend Centrum's jazz festival, having abandoned college in Boston that fall to return home to work for a year. Centrum granted that scholarship (plus room and board) and received a hand-written note from her one month later stating that the experience in Port Townsend helped her decide to stay in the arts. Today, she has sold more than 15 million records worldwide and has earned nine gold, three platinum, and seven multi-platinum albums. She is one of the most sought-after artists of her generation. Her name? Diana Krall. She, and all of our alumni, make us proud every day.
Centrum respectfully asks for your help as we look ahead to the next 40 years of growth and innovation.
As a Centrum supporter or participant, you know the value of our programs. Our workshops and festivals transform peoples' lives and impact many families from one generation to the next. Simply put, there is nothing quite like Centrum anywhere in the world.

Tax ID and Stock Transfer Information
Centrum Foundation
Non-profit organization under section 501 (c) (3)
Tax ID Number: 23-7348302
Please ask your broker to put your name in the delivery instructions (last name first, in the event that the instructions do not get transmitted in their entirety.) And please also let us know you have made a gift to Centrum: Karen Clemens, (360) 385-3102 Ext. 132, kclemens@centrum.org, or Beth Bradley (360) 385-3102 Ext. 122, bbradley@centrum.org.
For transfer of stock, please contact the following:
TD Ameritrade
Toll free (800) 669-3900
Fax (866) 468-6268
DTC # 0188
For credit to TD Ameritrade account #868-102-644
Centrum Stats at a Glance
average # of participants enrolled in Centrum's programs in the past three years = 4,848
# of countries represented among those participants = 17
# of participants living outside of the USA = 316
# of US states represented = 46 out of 50 plus the District of Columbia (Rhode Island, N. Dakota, S. Dakota & Delaware missing!)
% of participants 18 years or younger = 27%
Age range of those in workshops = 4 to 98
–