Centrum's Emerging Artist Residency is an initiative to support artists at the beginning of their career trajectory. Centrum invites a cohort of six visual artists from the Northwest region to be in residence during the month of October each year. The artists are provided with housing, studio space and a stipend, while they spend the month creating new work or refining existing work. This program is supported with grants from Sally Warren and Jeff Jackson, and Lucy and Charlie Hanson.
Now in its fourth year, the program begins in February by asking educators and cultural producers from Alaska, British Columbia, Idaho, Montana, Oregon and Washington to nominate artists who are then invited to apply for the residency.
Originally, our criteria were that nominees must be less than 5 years out of an undergraduate or graduate degree program and that their work be distinguished. After the second year, in discussion with our 2015 jurors and advisors, we decided to open the criteria a bit. We wanted to make sure that we were reaching a diverse selection of artists, and understood that artists could be practicing outside academia, but still be creating interesting work deserving of support.
In 2017, we will invite over 70 artists to apply for the Emerging Artist Residency. Centrum Program Manager Martha Worthley asks a panel of jurors (See below) to review the applications and then the jurors come together as a group to make the selection of finalists.
2017 Emerging Artist Residents
The 2017 finalists selected for Centrum's Emerging Artist Residency are Aruni Dharmakirthi, Benjamin Gale-Schreck, Mario Lemafa, Anna Mlasowsky, Minh Nguyen and Melanie Stevens.
Aruni Dharmakirthi
Aruni Dharmakirthi is a Sri Lankan born artist and educator based in the US. They received a BA in Studio Art and Art History from Florida State University and an MFA in Visual Studies at the Pacific Northwest College of Art. Their work is described as new media and fiber and has been shown nationally and internationally in galleries including Disjecta in Portland, OR and Sonam Studios in Mumbai, India. In addition to their artistic practice, Aruni co-curates Soft Space, a video + new media curatorial project that exists as a digital archive and pop-up shows.
Artist Statement
Using the mediums of digital animation and fibers, I examine how the legacy of colonization continues to affect South Asia and the immigrants who choose to leave. As a first-generation Sri Lankan immigrant, memory has been an important aspect in shaping my identity and has allowed me to hold on to my heritage while growing up thousands of miles away from my native home. In my current process of making I manipulate family photographs, sourced imagery and fabric to make digital and handmade collages. The figures, which are mainly sourced from family photographs, depict my childhood memories of Sri Lanka and immigrating to the US. Fabrication and fantasy gain significance in the reconstruction of these moments as I take agency in giving them new meaning and seeking hidden histories.  I see memory as creating a bridge between our individual past and our collective past. By creating a parallel between personal experience and historical narrative, I want to explore a conversation around how the past influences our present.
My Time at Centrum 
I look forward to creating my works in a new environment, and to utilizing the landscapes and architecture of the space within my work. I also look forward to meeting all the other wonderful artists!
Benjamin Gale-Schreck
Benjamin Gale-Schreck is an interdisciplinary artist, residing in Seattle Washington. Gale-Schreck's practice resonates with familial relationships and generational departures. Through object-based performance and collaboration, the work weaves the present and the past.
Born in Carlock, Illinois he later moved to Boulder, Colorado, to attend the University of Colorado at Boulder, where he graduated with a BFA in Sculpture, as well as a BA in Art History in 2013.   Learning through the reciprocal exchange of teaching, Gale-Schreck worked as an educator as well as fine art fabricator, until moving to Seattle, where he received his MFA from the University of Washington Seattle in 2016. In addition to national tours showcasing performance with the Flinching Eye Collective—recipients of The Idea Fund funded by the Andy Warhol Foundation for the Visual Arts in 2014—Gale-Schreck's work has been exhibited internationally and nationally, with exhibitions in Valdivia, Chile; Cuernavaca, Mexico; Bethlehem, Palestine; Houston, Texas; Brooklyn, New York, among other venues.
Artist Statement
Central to my work is the process of repurposing abandoned materials.  By reassigning context to the forgotten I am able to give object and material new life, distinctive from an otherwise prescribed fate.  My exploration of obsolete materials allows others to see their own potential. This potential motivates my work.  Both as a father, and as a son who has lost his father, the mortality of memory offers insight into the concepts I address.  Connecting to my past through simple acts of labor, I build upon artifacts venerated through a dystopian reflection of romanticized aspects of my origins. Reconstructing these blurred realities through the shared interaction of archaic technologies and simple machines parlays the viewer into a new state of consciousness.  Critiquing the metaphysical community of digital culture in relation to cognitive reality, the interaction between my work and its audience is essential.  Finding universal truths through the exploration of my own history, I recall childhood through the lens of a child, and build it through the hands of a father.
My Time at Centrum
Much of my practice revolves around two principles.  Resonance (in the audible as well as physical sense) and an object's ability to convey meaning specific to its inherent history and use.  Recent work has been heavily driven by the experience of exploring an old water silo in Rangeley, Colorado.  The 40 seconds of natural reverb provided by the massive abyss at The TANK Center For Sonic Arts, opened my eyes to the physicality of sound.  I am looking forward to exploring Fort Worden, and to discover how its resonance aligns with my practice.
Mario Lemafa
A Seattle-based queer indigenous artist, Mario Lemafa was born in 1990, in Honolulu, HI. Recent projects include group and solo exhibitions at SOIL art gallery, OUT OF SIGHT 2016, and Interstitial Theater. Mario received their BFA in Photomedia  and BA in Drama from the University of Washington.
Artist Statement
"Something about being unaccounted for growing up, having no firm grasp on belonging either in my mother's often hazy oral geneology, the constant "Other" bubble I would fill for the State, the lack of representation in history books and stories, or even comfort in my own meatspace led me to the detective work I commit to. I employ a campy sleuth's sensibility to find gaps in the material and cultural conditions of health, diaspora, communication, queerness, and environment. My work is "funserious, rigorously low-key gestalt"- often my ideas source themselves from a vast and deep oily pitch before being lit with the heat of a laugh."
My Time at Centrum
I am excited to have time to dedicate to creation/ideating as well as meeting the other artists involved! I consider myself a multi-disciplinary conceptual artist. I use he/they pronouns interchangeably.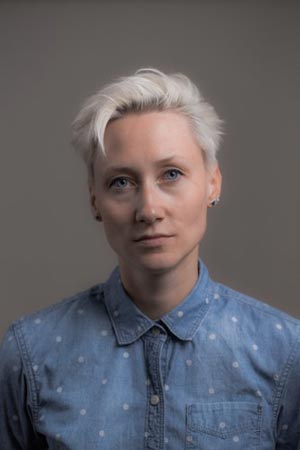 Anna Mlasowsky
Anna Mlasowsky is a multi disciplinary visual artist based in Seattle WA. Born and raised in Germany, Anna has lived in many countries and for the past four years in the United States. Anna holds a BA from the Royal Danish Academy and graduated with her MFA in Sculpture from the University of Washington in 2016. This year Anna received an Artist Trust Fellowship, was one of the Emerging Voices in Craft Award recipients and has recently completed a residency at the Vermont Studio Center as well as the Specialty Glass Residency at the Corning Inc. Science Center.
Artist Statement
My work takes many different forms as my investigation continuously refocuses on different nuances of the same area of investigation. I follow a deep fascination with transmutation, cycles and the limitlessness of possibilities at the brink of change. My body is the most important and immediate material I possess and I predominantly use it in my current work. It is an object of constant reformulation in tension between light and dark, knowledge and speculation and functions as record of lived experience and vehicle for empathy.
I am Searching for the fluid interconnectedness of subjects in life we detach. This search has led to my most recent work in which I have started drawing the relationship between the body and the landscape as a metaphysical quest into metamorphic zones that show our interconnectivity to all reality, visible and invisible.
My Time at Centrum
I will work on a number of individual pieces for a larger project while at Centrum ranging from abstract portraiture through printmaking, over tidal salt block carvings at the beach to filming scenes for my current video project and hopefully some testing with fluorescent pigments.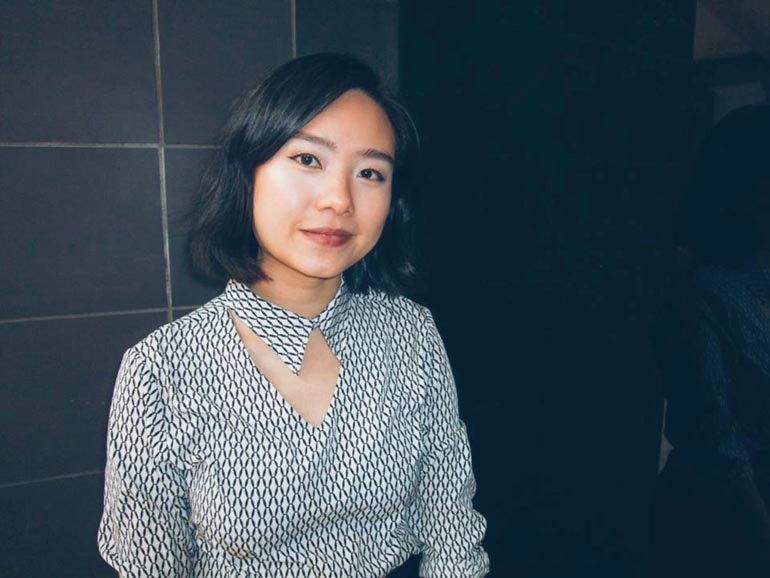 Minh Nguyen
Minh Nguyen is a writer, illustrator, and organizer of exhibitions and art programs. She has curated exhibitions at Wing Luke Museum, and writes art criticism for Seattle Weekly and elsewhere. Along with Claire Buss, she initiated Chat Room, a research and development project about how the internet has changed the culture and economy of art.
Artist Statement
My choice of medium ranges broadly, and lately I find that I return to the same handful of inquiries: the constructions of national identity with cultural artifacts, the geopolitics of beauty and information technology's hand in the globalization of aesthetics, the relationship between personal and historical memory, etcetera. I'm a writer and illustrator interested in finding home in a genre that combines both image and text, and not necessarily in the sequential logic of comics. I'm figuring it out. Maggie Nelson once said in an interview, "I'm still trying to understand why the culture around literature is obsessed with its classification. If you develop an obsession with hybridity, you're only creating a new norm, and then, whenever there's a new norm, it's just like, let's run for the hills, you know?" I feel similarly.
My Time at Centrum
I have a specific project to which I will be dedicating this residency, that I don't want to talk about too much because I haven't started and I'm a little superstitious. It's about bodies, personal and governmental, and sexuality and pleasure. It's about how one's conception of desire — as it's tied to the sense of civil duty, procreation, community, and creative expression — changes under political ideologies.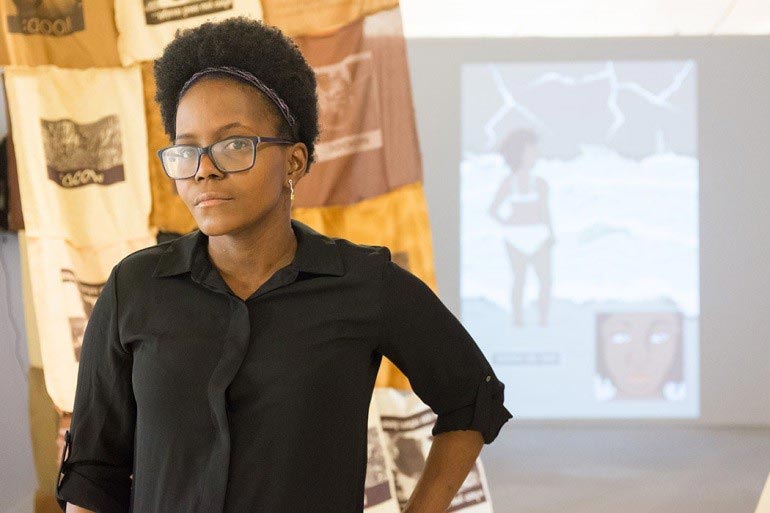 Melanie Stevens
Melanie Stevens is an artist, illustrator, and writer.  She is the creator of the graphic novel, Black Picket Fence, and the co-founder, editor, and an instructor of Miss Anthology, an organization that supports and publishes racially and economically diverse young comic artists who identify as female or genderqueer.  She is also the co-curator of Nat Turner Project, a migratory, radical gallery space that grants artists of color the freedom to create or express their own language within and without the parameters of racial commodification or designation. She received her Bachelor of Arts degree for Political Science from Yale University and her Master's of Fine Arts degree for Visual Studies at Pacific Northwest College of Art.
Artist Statement
Utilizing a variety of media and genres, I investigate narrative as a site of reflection or reinforcement of societal power structures and over determined norms, specifically the manner in which stories (both real and fictional) supposedly centering people of the African diaspora have a long history of appropriation and erasure.  My intent is to research and seek out these marked narratives, based on a predetermined set of rules and criteria, and to re-appropriate them.  In doing so, I illuminate the destructive resonance of these flawed accountings by juxtaposing a reimagined version which centers a nuanced and oft-ignored humanity in such a way as to appear irreverent or banal, as if itself the norm.  I also empower myself with these stories by reclaiming them as my own and resolving the dissonance of cultural amnesia, while encouraging opportunities for meditation and discourse.
My Time at Centrum
By utilizing the hybrid format of the graphic novel, I am attempting to subvert the racial tropes of many traditional American narratives by employing text, language and visual vocabularies along with the added potential of sequence and time; the dedication of time, space, and critique for an allotted art project is a privilege that would afford me the opportunity to jumpstart the original timeline for the completion of my work.
---
2017 Emerging Artist Residency Jurors
Amanda Donnan
Amanda Donnan is curator at the Frye Art Museum in Seattle.  She served as curator of Seattle University's art galleries and, as an adjunct faculty member in the Art and Art History department, teaches a course on exhibition histories and curatorial practice. Donnan was assistant curator of contemporary art at Carnegie Museum of Art in Pittsburgh, where she worked extensively with the postwar and contemporary collections and organized exhibitions with artists and collectives such as The Propeller Group, Jacqueline Humphries, Corey Escoto, Jennifer West, and Duncan Campbell. She was also assistant curator of the 2013 Carnegie International, which featured the work of 35 artists from 19 countries, including several major new commissions.
Before joining CMOA's staff in 2009, Donnan was production coordinator at Art21, Inc. in New York, creator of the award-winning PBS documentary series Art in the Twenty-First Century. She completed undergraduate degrees in studio art and museum education at Penn State, and a masters in art history and criticism at SUNY Stony Brook.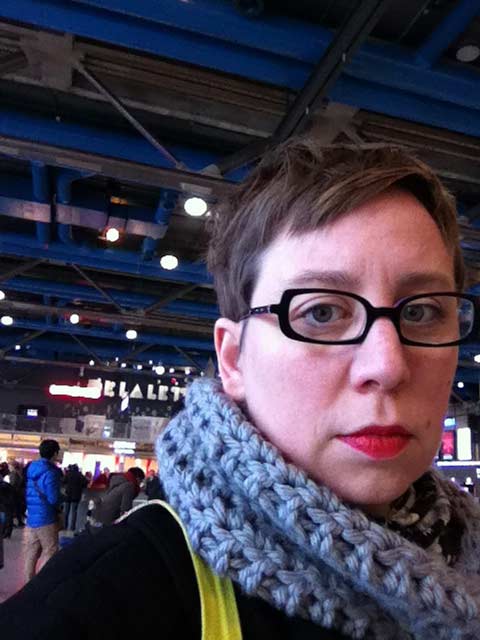 Laura Heit
Laura Heit is an multidisciplinary artist who has lived in Portland, Oregon, since 2011. Her films and installations have been seen at; Adams and Ollman Portland, The Schnitzer Museum of Art Eugene, Boise Art Museum, She Works Flexible Houston, REDCAT Los Angeles, Walker Art Center Minneapolis, MOMA NYC, Millennium Film NYC, Pompidou Paris, TBA Festival Portland, and the Guggenheim Museum.
Heit was a 2016 Oregon Arts Council Individual Artist Fellow and has received grants and awards including; Artist Project Grant Regional Arts & Culture Council including the 2014 Innovation Award, Henson Foundation (2009, 2014), ARC California, Illinois Arts Council, Puppeteers of America, Thames and Hudson, The British Council, and the Mac Dowell Colony. She was the co-director of the Experimental Animation Program at Cal Arts, and currently teaches at Pacific Northwest College of Art.
Roy Tomlinson
Roy Tomlinson, a painter and multi-disciplinary artist, lives in Portland, Oregon.  Raised in Seattle, Washington, he moved to San Francisco, California to attend the San Francisco Art Institute. He worked for galleries and the San Francisco Museum of Modern Art before attending graduate school at UC Berkeley.  He taught for many years at the California College of the Arts before moving to Portland, Oregon and joining the faculty of the Pacific Northwest College of Art.
He was awarded the Eisner Prize from the University of California at Berkeley, and is the recipient of a Gottlieb Foundation Grant. His work has been exhibited at the Oakland Museum, Mills College Art Museum, Oakland Art Gallery, San Francisco Arts Commission Gallery, Friesen Gallery, Seattle and Nisus Gallery in Portland. His solo exhibitions in San Francisco include Stephen Wirtz Gallery, Gallery 16, Miller/Brown Gallery, SFMOMA Artist Gallery. His work has been published in Eleven Eleven, ZYZZYVA, and Inquiring Mind. Influences range from field and post-minimalist painting to Zen Buddhism and the science of perception. (photo: Matthew Miller)