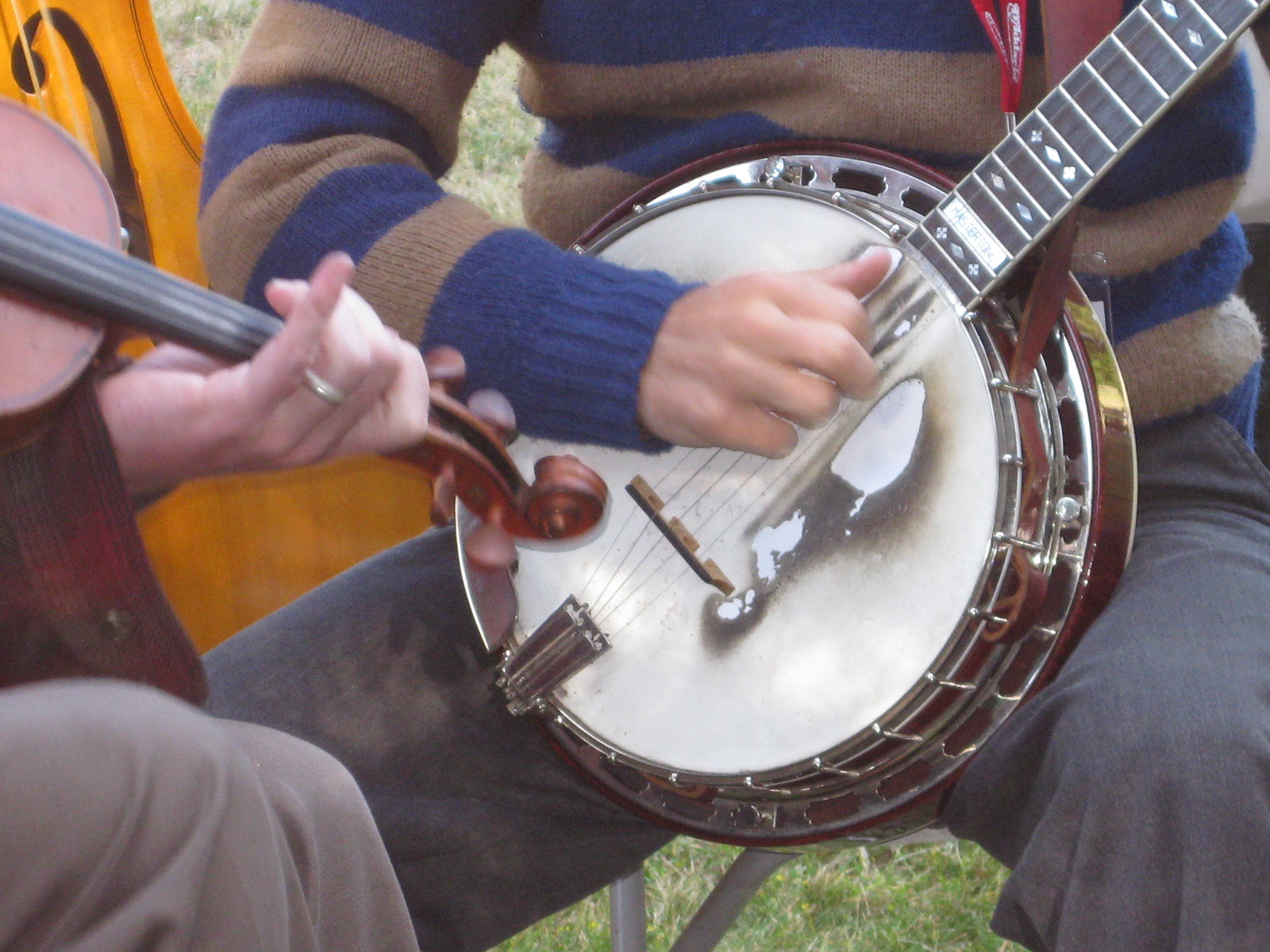 We're currently assembling the 2017 gathering. Here's what we presented in 2016.
---
Tutorials, held each afternoon, are designed to address the needs of beginning and beginning/intermediate players who wish more individualized instruction on their instrument. The tutorials are generally small, allowing for personal attention. They focus on technique and sometimes on style.
Charmaine Slaven: Tutor Coordinator
Charmaine Slaven is a Seattle-based full-time guitarist, fiddler, singer, flatfoot dancer, and square dance caller who performs regularly with her projects The Lucky Shots, Squirrel Butter, & Trillium Stringband, and was one of the members of venerable old-time stringband, The Tallboys. She's also an active community organizer & instigator, helping initiate projects ranging from a weekly jam in Seattle, twice-monthly dance at the Tractor Tavern, the Dare to be Square West conference, square dances at the NW Folklife Festival & Seattle Subversive Square Dance Society. Starting her music career in her late 20's, she knows what it's like to be an adult beginner and believes it's never too late for anyone to start playing music or dancing. She will do her best to help match up students to the right tutor, and will be on hand to help anyone with anything!
David Bragger: Beginning Fiddle, Old-time
David Bragger is a Los Angeles-based old-time musician, instructor and founder of The Old-Time Tiki Parlour. David's specialty is his ability to break down old-time fiddle bowing with crystal clear explanation. David was an itinerant street magician, collector of South Asian folk tales and filmmaker before his obsession with old-time fiddle music. After years of visiting with and studying old-time musicians including Mel Durham, Tom Sauber, Dan Gellert, Charlie Acuff, Benton Flippen, Clyde Davenport and Joe Thompson, David is a go-to-guru for learning old-time fiddle, banjo and mandolin. In addition to teaching, he has now started documenting the greatest living old-time musicians for future generations. David directs, shoots, records, edits and spearheads the vision of Tiki Parlour Recordings.(www.oldtimetikiparlour.com)
Kevin Carr: Fiddle, Irish/Quebecois/New England
Kevin's played the fiddle for almost forty years now, with time out for other musical distractions. He's mostly played for dancing, with the Hillbillies from Mars amongst others, and played a fair number of concerts, most noticeably with Wake the Dead and Les Tetes de Violon.
He loves to try to get a strong tone of some rhythmic fun out of that darn little contraption.
Scott Prouty: Fiddle, Old-Time
Scott Prouty has an extensive and eclectic repertoire rooted in the old mountain style of fiddle playing which includes dance music as well as beautiful solo fiddle tunes. His music has been shaped by time spent with older traditional players and contemporary musicians as well as by rare field recordings. He has written several articles and reviews on traditional music and is currently working on an oral history interview project for the Old-Time Herald magazine. He gives private fiddle lessons and has taught at the Augusta Heritage Center, Cowan Creek Mountain Music School and at the Berkeley Old-time Music Convention.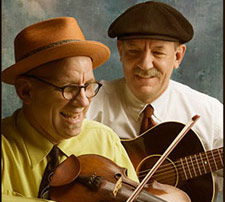 Greg Canote: Fiddle, Old-time
Greg Canote really loves those old tunes and has been happily sawing away on them for about 45 of his 65 years.
Mostly with his twin brother Jere as the Canote Brothers.
He has taught an ongoing stringband workshop for three decades in Seattle and has been an instructor at many music camps including: Colorado Roots, Rocky Mountain Fiddle Camp, Swannanoa Gathering, John C. Campbell Folk School, NimbleFingers, and many more.
Eva Dorrough: Beginning Fiddle
Eva Dorrough has been playing fiddle since the age of four, and more or less grew up at Fiddle Tunes.
She has played a variety of styles, including playing for contra dances throughout the Northwest.
Her current focus is on Old Time music, and she now lives in Brooklyn, NY.
Tatiana Hargreaves: Fiddle, Old-time & Bluegrass
Since releasing her first solo album "Started Out To Ramble" in 2009, Tatiana has
toured with musicians from Dave Rawlings and Gillian Welch, to Laurie Lewis, Bruce Molsky, and Darol Anger.
She's most recently featured on Laurie Lewis's new release "The Hazel And Alice Sessions."
From being the second woman to place first at the Clifftop Appalachian Fiddle Contest in 2009 to the 2015 release of an EP with bassist Ethan Jodziewicz featuring traditional and original material performed by the unique duo of bowed bass and fiddle, Tatiana is dedicated to respecting and preserving oldtime and bluegrass traditions while simultaneously seeking her own musical voice and exploring new ways of approaching these styles.
Kelli Jones: Fiddle, Cajun
Kelli Jones has been living in Lafayette Louisiana since 2006 studying and playing Cajun fiddle.
She currently plays fiddle in the Cajun trio, T'Monde, and the Cajun band Feufollet.
In the tutoring sessions we will be focusing on a few simple two steps and waltzes. We'll learn both the melodies and some simple seconding chords and rhythm techniques, as well as working on whatever people may have questions about pertaining to the style.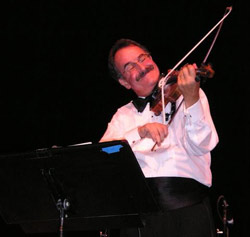 Paul Anastasio: Fiddle, Swing/Bluegrass
Paul Anastasio grew up in Bellingham, WA. He began playing the violin at the age of nine and was soon swayed to the sounds of swing, fiddle tunes and vintage country music. From late 1976 through '77, he studied with jazz violin legend Joe Venuti, then went to work in Merle Haggard's band for six months in 1978. After working with Asleep at the Wheel (1980-84), Larry Gatlin (1984-87) and Loretta Lynn (1988-90), he returned to Washington in 1992.
Paul first heard Mexican violin genius Juan Reynoso at the Festival of American Fiddle Tunes in Port Townsend in 1996. He then started traveling regularly to Mexico's Tierra Caliente to study with Juan and his fellow violinists. Now he transcribes, indexes and showcases the region's music with support from Sage Arts, King County's 4Culture, Grammy Foundation and Seattle Folklore Society.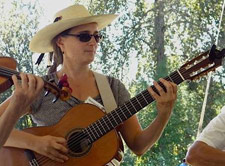 Elena DeLisle-Perry: Guitar
Elena DeLisle-Perry is a guitarist and music teacher who lives in Seattle with her husband and two children. Elena spent her formative years in Sonoma County, CA, studying jazz in school and playing in Jug Bands and bluegrass bands. She holds a B.A in Jazz guitar. She has worked extensively with fiddler Paul Anastasio to save and bring back to life the incredible music from Tierra Caliente, Mexico. Elena also has extensive experience in many other genres. Currently, she plays Western Swing with the Go Outside and Playboys, Cajun music with Toulooloo, and the music of Michoacan with Paul Anastasio & Fire of Tierra Caliente. She teaches private lessons, preschool and elementary music classes, & owns and directs Shoreline Music Together, a family music program for kids aged 0-5.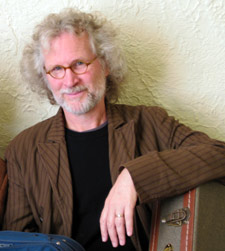 Dan Compton: Guitar
Dan Compton lives in Portland, Oregon and has been part of the Pacific Northwest folk music scene for a long time, both as a performer and a teacher. A multi-instrumentalist, Dan is particularly devoted to exploring traditional music on the guitar. Coming from a strong classical guitar background, he's a captivating fingerstyle player as well as a dynamic flatpicker and accompanist.
Dan performs with fiddler Lisa Ornstein, Massachusetts-based flute-and-banjo player Mark Roberts, the poly-folk band Sprig, and Scottish-style fiddler Jamie Laval. His more recent recordings include The Magic Paintbrush (with Lisa), The High Caul Cap (with Mark), and Session at the Cottage (with box player Fran Slefer).
Paul Rangell: Mandolin
Paul Rangell lives in Santa Cruz, California where he plays several times each week in public settings where people eat and drink. Mainly focusing on music from Italy, Mexico and New Mexico on mandolin, violin and guitar he performs with his wife Emily Abbink and other local musicians.
In 2015, Paul and Emily received a residency in Venice, Italy where they spent time learning the fiddle tunes from traditional musicians and dancers in Northern Italy. An experienced teacher, he plays music entirely by ear and loves showing and using chords.
Evan Kinney: Banjo, Fingerstyle
Evan Kinney grew up in a family of old time music in his native Kennesaw, Georgia.
He learned the two-finger banjo of Walter Hogson and Uncle John Patterson as well as clawhammer and plectrum styles.
Also a fiddler and guitarist, Evan has performed and taught traditional music at John C. Campbell, Alabama Folk School, Blue Ridge Old-Time Music Week, and Brooklyn Folk Fest.
Molly Tenenbaum: Banjo, Clawhammer
Molly began playing old-time clawhammer banjo as a teenager, and has since played for square dances and dance camps around the Pacific Northwest with The Queen City Bulldogs and Dram County. She has a songs-and-tunes duet with her brother, Dan Tenenbaum.
Molly has taught banjo at camps including the Rocky Mountain Old-time Music Festival, the Festival of American Fiddle Tunes and the Puget Sound Guitar Workshop, and teaches regularly at Dusty Strings Music School in Seattle. Her recordings are Instead of a Pony and Goose and Gander, and she's featured on Mark Simos' album Race the River Jordan. She loves the intertwine of the banjo and fiddle more than just about anything, and is at her happiest when her banjo is guessing what the fiddle will do at the same time the fiddle does it.
Sarah Savoy: Cajun Accordion
Daughter of master accordionist, Marc Savoy, and guitarist/singer Ann Savoy, Sarah grew up in the Cajun music tradition and become a torch-bearer of the tradition in her own right.
From the Magnolia Sisters, Savoy Family Band, and Francadians, she's kept true to the Cajun sound while bringing her own sense of creativity and rebelliousness to the music. Sarah is a true talent, and important ambassador of her family's culture.
Hopefully she'll lead a Cajun cooking class as well.
Val Mindel: Singing
Val Mindel is a longtime musician, teacher and workshop leader with a specialty in the close, buzzy harmony that characterizes bluegrass, country and other forms of American roots music. In addition to a busy workshop schedule, she teaches at numerous music camps in the U.S. and abroad – including this year at the Festival of American Fiddle Tunes! She also performs in various combinations, notably over the years with California-based group, Any Old Time, and more currently with daughter and old-time country musician, Emily Miller. For more, visit www.valandemmy.com. Val teaches regularly in New York City at Brooklyn's growing old-time music school, Jalopy. She lives in Marlboro, Vermont.
Amy Carroll: Piano
Amy Carroll is a back up piano player of the old school – she keeps the chords simple, the beat solid, and leaves the melody to the fiddlers, et al. Her tutorial will focus on playing straight-ahead back-up by ear. She has played piano (ragtime, classical) since forever, and been working hard on contra dance music for the last decade or so. Her biggest influences are Bob McQuillen and Randy Miller. She loves to back up New England and Metis fiddle tunes, (and old time when the fiddler's willing). She currently plays with Cathie Whitesides in The Coffey Party. She is also an avid caller of squares, contras and barn dances for all ages as well as an elementary school music teacher in Seattle.
Katy Harris: Bass
Katy Harris is a self-taught bass and guitar player currently living in Seattle. She plays bass with groups in a variety of styles from old-time with The Barn Owls, honky tonk with The Lucky Shots, to jug band with The Crow Quill Night Owls.
She's passionate about music and loves to share it.
Teen Band Lab with the Onlies:
Riley Calcagno, Sami Braman, Leo Shannon, with additional help from RuthMabel Boytz
Leo, Riley, and Sami have grown up in the traditional music world. They had their first band practices at age 7 and have been playing tunes at festivals and camps like Fiddle Tunes ever since. They have dug deep into Old-Time source recordings and have written original songs that veer towards fiddle infused indie-folk. The Onlies released their second full length album last April and have played with people such as Elvis Costello, Darol Anger, Altan, Brittany Haas, Kristin Andreassen, Laurie Lewis, John Herrmann, and many more musical friends both on stages and in campgrounds. RuthMabel has been playing bass since 4th grade and she's been coming to Fiddle Tunes since 1996. She plays many styles of music including Old Time, Celtic, Scandinavian, jazz, and classical, with many groups in the Seattle area. They can't wait to play some fun tunes.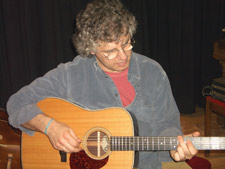 Dave Cahn: Beginner's Band Lab
David hails from Seattle, Washington and is a versatile instrumentalist, playing in numerous bands over the past thirty years. He's toured with Rodney Miller, and appears on two of his CDs which include several of David's original tunes. He's also recorded with Clyde Moody, Charlie Moore, Wade Mainer, Helen Carter, and Mark Simos, and is featured on the Rounder recording "Young Fogies II" with his old-time band "The Queen City Bulldogs" (1st place, Clifftop, 1994). He's taught at the Puget Sound Guitar Workshop, The Festival of American Fiddle Tunes, Pinewoods, Augusta, American Banjo Camp, and many other camps and festivals around the country.
Karen Iglitzin: Play by Ear and Without Fear
Karen Iglitzin, (Seattle) was the first violinist of the Philadelphia String Quartet, and later was head of the string program at Western Washington University.
She spent the year in 1997 teaching music at a university in China, and founded "Chamber Music Madness," to teach the great classical string quartets to young people. She's been fiddling since 1984.