Tutorials, held each afternoon, are designed to address the needs of beginning and beginning/intermediate players who wish more individualized instruction on their instrument. The tutorials are generally small, allowing for personal attention. They focus on technique and sometimes on style.
Charmaine Slaven:
Tutor Coordinator
Charmaine Slaven is a Seattle-based full-time guitarist, fiddler, singer, flatfoot dancer, and square dance caller who performs regularly with her projects The Lucky Shots, Squirrel Butter, & Trillium Stringband, and was one of the members of venerable old-time stringband, The Tallboys. She's also an active community organizer & instigator, helping initiate projects ranging from a weekly jam in Seattle, twice-monthly dance at the Tractor Tavern, the Dare to be Square West conference, square dances at the NW Folklife Festival & Seattle Subversive Square Dance Society. Starting her music career in her late 20's, she knows what it's like to be an adult beginner and believes it's never too late for anyone to start playing music or dancing. She will do her best to help match up students to the right tutor, and will be on hand to help anyone with anything!
Scotty Meyer – old time fiddle
Steph Coleman – old time fiddle
Amy Hofer – beginning fiddle
Dave Mount – old time fiddle
Devon Leger – French Canadian fiddle
Erik Killops – Irish fiddle
Cathie Whitesides – Klezmer fiddle
Lisa Ornstein – New Brunswick fiddle
Paul Anastasio – Mexican fiddle
Brittany Newell – fiddling for violinists
Brendan Doyle – banjo
Johnny Fitzpatrick – banjo
Bill Meyer – backup guitar
Frank Blade – backup guitar
Jack Dwyer – mandolin
Laurie Andres – piano
David Romtvedt – button accordion
Sabra Guzman – singing
Nadine Landry – bass
Janet Dows – concertina
Mark Graham – old time harmonica
House Band – individually or together available for dance/music workshops
Caleb Klauder
Reeb Willms
Sammy Lind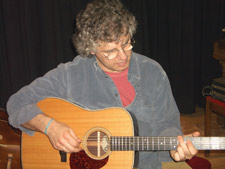 Dave Cahn: Beginner's Band Lab
David hails from Seattle, Washington and is a versatile instrumentalist, playing in numerous bands over the past thirty years. He's toured with Rodney Miller, and appears on two of his CDs which include several of David's original tunes. He's also recorded with Clyde Moody, Charlie Moore, Wade Mainer, Helen Carter, and Mark Simos, and is featured on the Rounder recording "Young Fogies II" with his old-time band "The Queen City Bulldogs" (1st place, Clifftop, 1994). He's taught at the Puget Sound Guitar Workshop, The Festival of American Fiddle Tunes, Pinewoods, Augusta, American Banjo Camp, and many other camps and festivals around the country.