We're currently assembling the faculty for 2018 Jazz Port Townsend. Here is our confirmed faculty to date; stay tuned!
JOHN CLAYTON – ARTISTIC DIRECTOR
Grammy-winning bassist/composer/conductor John Clayton has written and arranged music for Diana Krall, DeeDee Bridgewater, Natalie Cole, Milt Jackson, Nancy Wilson, McCoy Tyner, Quincy Jones, George Benson, Dr. John, Regina Carter and many others.
John has been commissioned by many ensembles including the Northwest Chamber Orchestra, the American Jazz Philharmonic, The Iceland Symphony, The Metropole Orchestra, The Carnegie Hall Big Band, The Richmond Symphony, the WDR Orchestra, and the Amsterdam Philharmonic. John was awarded a platinum record for his stirring arrangement of "The Star-Spangled Banner," performed by Whitney Houston during the Super Bowl in 1990.
John has won numerous awards such as the Golden Feather Award, and the Los Angeles Jazz Society's Composer/Arranger award.  Most recently, John won a Grammy for his arrangements on Queen Latifah's, Trav'lin' Light.  John has served as the musical director of several jazz festivals including the Sarasota Jazz Festival, the Lionel Hampton International Jazz Festival, the Santa Fe Jazz Party, and the Vail Jazz Workshop.
John is a co-founder of the Grammy-nominated Clayton-Hamilton Jazz Orchestra, which is co-led by John, his brother, saxophonist, Jeff Clayton, and drummer, Jeff Hamilton. Also, John and his brother Jeff co-lead the Clayton Brothers Quintet, who have been nominated for two Grammy awards.
CLARENCE ACOX – DRUMS
A leading figure in the Seattle music scene, Clarence Acox Jr. has nurtured young musicians for the past 35 years as director of jazz bands at Garfield High School. He leads the renowned Garfield Jazz Ensemble, winning dozens of awards and making regular appearances at national and international venues. The ensemble has taken first place four times at New York's Essentially Ellington National Jazz Band Competition and Festival, the country's most prestigious high school jazz competition.
Clarence was named "Educator of the Year" by DownBeat Magazine in 2001. He co-founded the Seattle Repertory Jazz Orchestra in 1995 and has been a prominent performer on the Seattle jazz scene for more than two decades.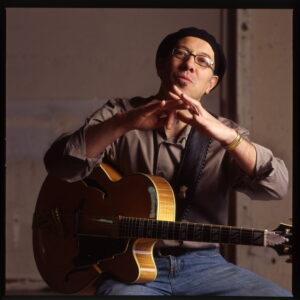 DAN BALMER, GUITAR
Dan Balmer has long been considered one of the finest guitarists, composers, and educators in the Northwest. In 2009, Dan became one of only five musicians, and the youngest, to be honored with membership in both The Oregon Music Hall of Fame and the Jazz Society of the Oregon Hall of Fame.
In 2015, Dan continued his work with Les McCann and Javon Jackson, and also performed on the road with Dr. Lonnie Smith. From 2005-2009 Dan toured and recorded with two time Grammy Winner Diane Schuur, playing in over 15 countries and 60 cities. When home in Portland, Dan leads his own groups, plays regularly with drummer Mel Brown, and is a first call sideman for many others.
Dan has appeared on over 90 CDs including eight of his own which have received critical acclaim and international airplay. His music has been featured in movies and television shows both in the U.S. and overseas.
JEAN BAYLOR – VOCALS
MARCUS BAYLOR – DRUMS, MASTER CLASSES
Grammy nominated artists Jean and Marcus Baylor stormed onto the jazz scene on their debut CD "The Journey", cracking the top 10 on the Billboard Jazz Chart. Their follow-up, "The Baylor Project," has been nominated for two Grammy Awards in 2018.
Jean, a "Jersey Girl", was introduced to jazz in college as a Vocal Performance Major at Temple University, where she was heavily influenced by artists such as Carmen McCrae, Jimmy Scott, and Shirley Horn. She subsequently made her mark as one-half of the platinum recording duo, Zhane´. In addition to continued development of her craft, Jean has expanded into composing, arranging, producing, and band leading. She has been a featured guest artist in performances and recordings with Yellowjackets, Kenny Garrett, Marcus Miller and legendary bassist, Buster Williams. Well-equipped with an agile mezzo-soprano range, Jean combines a fresh, whimsical approach to phrasing with clever improvisation resulting in singing of such vocal purity that she embraces the soul.
Marcus, a St. Louis native, is widely recognized as the former member and drummer of the Grammy Award winning jazz quartet, Yellowjackets. While studying and graduating from The New School for Jazz and Contemporary Music, he performed and recorded with musical icons Cassandra Wilson, John Scofield, and Kenny Garrett. Since then, Marcus has come into his own as a composer, arranger, producer and bandleader. With his natural feel, creative use of space and innovative ability to tell a story, his musicianship and improvisation are those of a seasoned musician.
GEORGE CABLES – PIANO
Pianist George Cables has played with Art Blakey, Sonny Rollins, Dexter Gordon, Art Pepper, Joe Henderson, and many other legendary jazz musicians.
His own records include the 1980 Cables' Vision with Freddie Hubbard among others. In the 1980s he worked in the project Bebop & Beyond, who recorded tribute albums to Dizzy Gillespie and Thelonious Monk.
According to Victor Schermer, "Anyone who is serious about jazz will tell you that George Cables belongs in the pantheon of the greatest jazz pianists. Everyone, that is, except George Cables. Exceptional in every way, he is yet a team player. He sees himself as part of the rhythm section, and has always emphasized the group over the soloist. "
He is currenty performing and recording as a soloist, with trio and larger ensembles, and as a clinician in college jazz programs.
JEFF CLAYTON – ALTO
Reed specialist Jeff Clayton is a versatile performer, bandleader, and studio musician whose diverse recording credits include work with Stevie Wonder, Michael Jackson, Frank Sinatra, Madonna, and Earth, Wind, and Fire.
Together with his brother John, he founded the Grammy-nominated Clayton Brothers in 1977, and later co-founded the Clayton-Hamilton Jazz orchestra – named by readers of Downbeat as the top big band in jazz.
In addition, Jeff has performed with numerous artists including Lena Horne, Lionel Hampton, Dr. John, Ella Fitzgerald, and played in the Count Basie Orchestra while under the leadership of Thad Jones.  (Photo by Jim Levitt)
DAWN CLEMENT – PIANO

Pianist/Composer and vocalist Dawn Clement hails from Seattle, WA. A veteran of Jazz Port Townsend, Dawn is involved in several collaborations including the Jane Ira Bloom Quartet, Priester's Cue with the legendary Julian Priester, the Seattle Pianist Collective, as well as her own trio.
Dawn has performed with such notables as Nancy King, Ingrid Jensen, Hadley Caliman, John Clayton, Mercer Ellington, Mark Dresser, Jay Clayton and Pharaoh Sanders. Dawn has performed in some of the world's most premier venues such as Carnegie Hall, Le Conservatoire Superieur, Paris, and Seattle's Benaroya Hall, as well as numerous clubs (including Sweet Rhythm, Tonic, and Iridium), art museums, and theaters.
In addition to her work with Jane Ira Bloom, Dawn has toured the U.S. with a number of projects including the Sabella Consort, and the Rubin/Clement Piano Dialogues.  Dawn is currently on the faculty of Cornish College of the Arts and maintains a rigorous performance schedule.
CHUCK DEARDORF – BASS
 Chuck Deardorf has recorded and toured internationally with Bud Shank and Don Lanphere, George Cables and Kenny Barron, Winard Harper, and Larry Coryell.  As the first call bassist in Seattle, Chuck has performed with Chet Baker, Zoot Sims, Art Farmer, Howard Roberts, Monty Alexander, Kenny Burrell, Marian McPartland, Mel Lewis, Pete Christlieb, Joe Williams, Kenny Werner, Carl Fontana, Joe LaBarbara, and Tal Farlow.
Chuck's latest solo release on Origin records, "Transparence" (released 2011) demonstrates his performing, producing and arranging abilities with a host of great musicians. He is currently a member of the Deardorf/Peterson Group (whose 2004 Origin release "Portal" won critical acclaim), the Jovino Santos Neto Quartet, the Susan Pascal Quartet along with the Bill Ramsay Big Band.
An accomplished studio musician, Chuck's bass has been heard on many first run movie soundtracks, dozens of albums and CD projects, and numerous Broadway touring shows.  Chuck also has performed on numerous occasions with the Seattle Symphony Orchestra.
ALEX DUGDALE – SAXOPHONE
Alex Dugdale (saxophone) is a graduate of Roosevelt High School and holds a bachelors degree in Jazz from the Eastman school of music and Masters degree in Education from Seattle Pacific University.
He first performed with SRJO in 2006 in the Duke Ellington Sacred Music Concert which he looks forward to every year. Alex works for Bishop Blanchet High School in their music department teaching band at 6 different Catholic grade schools in the Seattle area. Alex continues his work as an educator with Edmonds Woodway High School and as a private instructor.
He continues to be a performer in the greater Seattle area with his group FADE with regular performances at Tulas and Capitol Cider.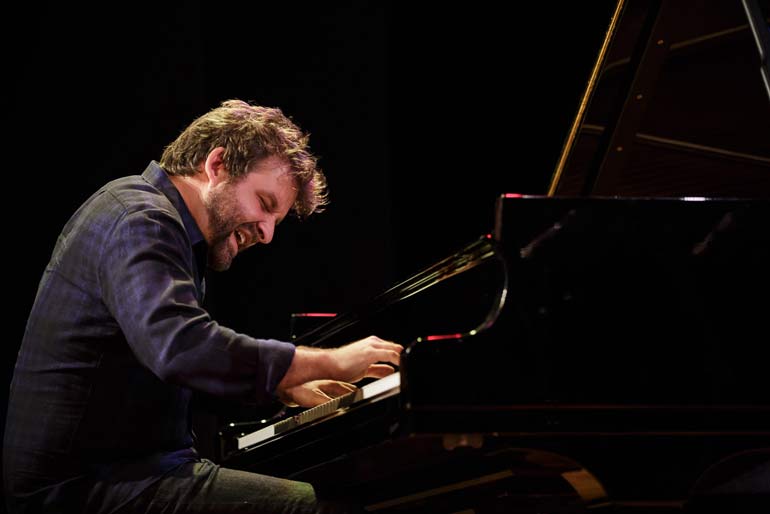 TAYLOR EIGSTI – PIANO
New York-based pianist and composer Taylor Eigsti has released 7 albums as a leader, receiving two GRAMMY nominations for Best Jazz Solo and Best Instrumental Composition for his CD Lucky to Be Me. He has also been featured as a sideman on many award-winning albums as well as numerous television specials and radio appearances. He and composed the theme music to the motion picture "Detachment" (2011) as well as a song for the new Miles Davis biopic "Miles Ahead." Taylor was spotlighted in Vanity Fair Magazine among a handful of the young azz musicians in New York.
Taylor has composed and orchestrated music for various symphony orchestras including the San José Chamber Orchestra, Oakland East Bay Symphony, Sacramento Philharmonic, Boston Youth Symphony and the New York Pops. He has had the good fortune of working with such luminaries as Dave Brubeck, Joshua Redman, Nicholas Payton, Esperanza Spalding, Chris Botti, Sting, David Benoit, Christian McBride, Marian McPartland, Red Holloway, John Mayer, James Moody, Chris Potter, Ernestine Anderson, Kurt Rosenwinkel, The Clayton Brothers, Dianne Schuur, Ambrose Akinmusire, Hank Jones, Brubeck Brothers, and Frederica Von Stade.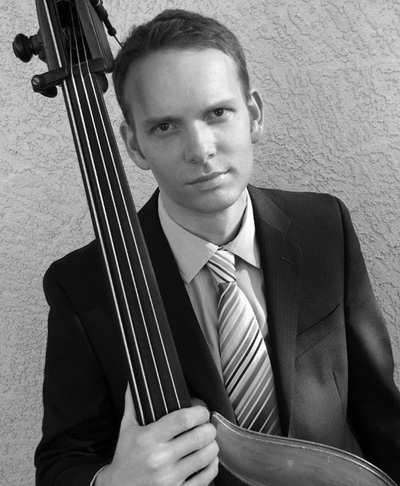 MICHAEL GLYNN – BASS
Bassist Michael Glynn is a fixture on the West US jazz scene. In addition to performing with countless musicians throughout the Pacific Northwest, California, and New Mexico, Glynn has performed with jazz legends including Bud Shank, Jon Hendricks, Bobby Shew, Mark Levine, Dave Grusin, Geoffrey Keezer, Seamus Blake, Eric Alexander, David Hazeltine, Benny Green, Gary Smulyan, Don Lanphere, Conte Candoli, Bob Florence, Doug Lawrence, William Parker, Kevin Hays, Kim Richmond, Aaron Parks, Madeline Eastman, Dena DeRose, and the Cab Calloway Orchestra.
Michael starting working professionally while still a student at Garfield High School, where he played for four years in that school's renowned jazz band. After two years in engineering school at Columbia University in New York City, Michael returned to Seattle where he graduated summa cum laude in with a Bachelor of Arts and Bachelor of Music in Jazz Studies from the University of Washington, where he studied under Doug Miller and Barry Lieberman.
Moving to Albuquerque in 2006, he quickly established himself as an integral part of the New Mexico music scene, performing and recording extensively, and also making time to earn his Master of Music degree from the University of New Mexico, studying with Mark Tatum.
On top of his jazz work, Michael performs in a variety of other genres, including classical work with the New Mexico Philharmonic, the New Mexico Symphony Orchestra, Opera Southwest, and Canticum Novum Santa Fe, calypso with steel drum legend Ray Holman, and a mix of Arabic and Western music with Iraqi-American oud virtuoso Rahim Al Haj.
RANDY HALBERSTADT – PIANO
A pianist, arranger, composer, lyricist, and author, Randy Halberstadt has enjoyed an international performing career, having played and/or recorded with Mimi Fox, Ray Drummond, Jay Clayton, Terry Gibbs, Buddy DeFranco, James Moody, Herb Ellis, Mel Brown, Nancy Kelly, Houston Person, Sheila Jordan, Ernestine Anderson, Rene Marie, Bobby Shew, Marlena Shaw, Jackie Ryan, Jiggs Wigham and John Stowell.
Randy's book, Metaphors For The Musician: Perspectives From A Jazz Pianist (Sher Music 2002) has become one of the most highly acclaimed texts in jazz education. His composition "When Springtime Turns To Fall" appears in The All-Jazz Real Book (both books published by Sher Music Co. in 2002). His recordings include Inner Voice (Pony Boy Records 1991), Clockwork (Pony Boy Records 1995), Parallel Tracks (Origin Records 2004), and Flash Point (Origin Records 2010).
Randy makes his home in the Pacific Northwest and has taught for many years at Seattle's prestigious Cornish College of the Arts.
JON HAMAR – BASS
Jon Hamar is a versatile artist who has been recognized for his ability to find a tasteful unique voice in any musical situation. Jon earned a Bachelor of Arts degree in Double Bass Performance from Eastern Washington University under the tutelage of Roma Vayspapir and graduated from the Eastman School of Music with a Master's degree in Jazz and Contemporary Media, studying with Jeff Campbell, James Vandermark, Harold Danko, Clay Jenkins and Fred Sturm.
Jon recently moved from Seattle to Knoxville, Tennessee joining the University of Tennessee and the Natalie L. Haslam School of Music.
JEFF HAMILTON – DRUMS
Originality is what versatile drummer Jeff Hamilton brings to the groups he performs with and is one of the reasons why he is constantly in demand, whether he is recording or performing with his trio, the Clayton Brothers or co-leading the Clayton/Hamilton Jazz Orchestra.
In addition to his many recordings with Ray Brown, Jeff has been on nearly 200 recordings with artists such as Natalie Cole, Diana Krall, Milt Jackson, Rosemary Clooney, Barbara Streisand, Mel Torme, John Pizzarelli, Benny Carter, Lalo Schifrin, George Shearing, Dr. John, Clark Terry, Gene Harris, Toshiko Akioshi, Scott Hamilton, Harry "Sweets" Edison, Keely Smith, Bill Holman, Herb Ellis, Barney Kessel and Mark Murphy.
Jeff is a frequent guest of the WDR Big Band in Cologne, Germany. He also appeared in Natalie Cole's Great Performances PBS special, Unforgettable and an Oscar Peterson documentary, Life In The Key Of Oscar.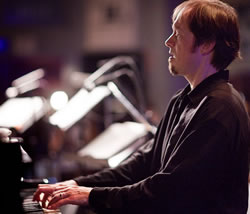 JOHN HANSEN – PIANO
John Hansen is regarded as one of the most in-demand jazz pianists in the Northwest. A studied and musical ensemble player with a strong melodic vocabulary, John has always been recognizable for a unique personal voice. His performance history includes such venues as NYC's Birdland, The Jazz Standard, Dizzy's Club Coca-Cola, DC's John F. Kennedy Center of the Performing Arts, Seattle's Jazz Alley and Tula's, and international festivals and tours in France, Japan, Korea, Eastern Europe, Central Asia, Russia and Central America.
During his career, John Hansen has performed and recorded with many of the Northwest's premiere, award-winning bands including: the Jay Thomas Quartet, Jim Knapp Orchestra, Kelley Johnson, and The Bill Ramsay-Milt Kleeb Band with Pete Christlieb. He has been invited to perform with The Seattle Symphony, Rick Margitza, Randy Brecker, Ingrid Jensen, Ernestine Anderson, The Woody Herman Orchestra, Bud Shank, Bobby Shew, David 'Fathead' Newman, and more.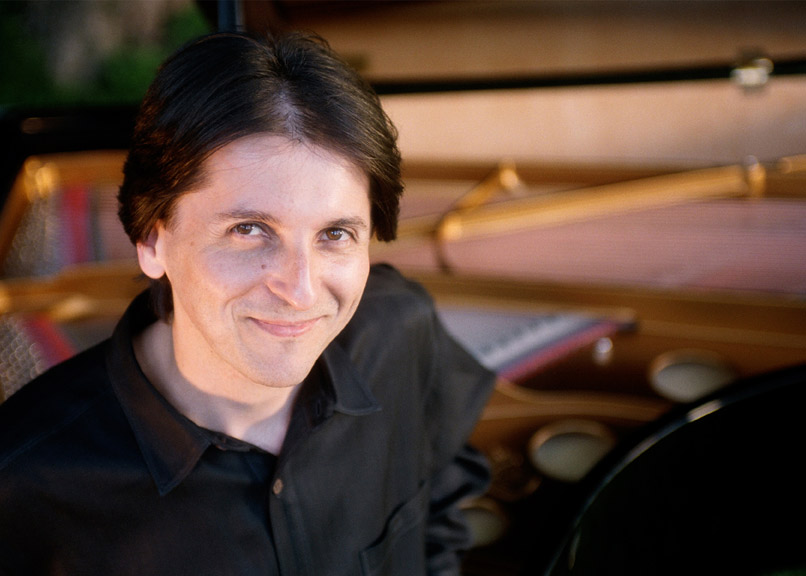 TAMIR HENDELMAN – PIANO
Award-winning jazz pianist Tamir Hendelman has performed with the Jeff Hamilton Trio, the Clayton-Hamilton Jazz Orchestra, Harry Allen, Teddy Edwards, Warren Vache, Houston Person, Jeff Clayton, Nick Brignola, Phil Upchurch, Rickey Woodard, John Clayton, Roberta Gambarini and Barbara Morrison. He also leads his own trio whose debut CD "Playground" was recently released.
A native of Tel Aviv, Tamir moved to the US at age 12 in 1984. He joined the Jeff Hamilton Trio in 2000, to which he frequently contributes arrangements in addition to recording and touring in the U.S., Europe and Japan. He has also toured Europe with Tierney Sutton and the Bill Holman Big Band.  In 2001 he became a member of the Clayton-Hamilton Jazz Orchestra. Tamir has also served as musical director for Julia Migenes' s "Alter Ego."
JAZZMEIA HORN –VOCAL
Jazzmeia Horn won the 2015 Thelonius Monk International Vocal Jazz Competition and the2013 Sarah Vaughan International Jazz Vocal Competition.
Hailing from Dallas, TX she moved to New York in 2009 and earned her degree at The New School for Jazz and contemporary Music . Soon she began to perform as a sideman with musicians Winard Harper, Junior Mance, Billy Harper, Lincoln Center Alumni Vincent Gardner, Delfeayo Marsalis, Mike LeDonne, Peter Bernstein, Johnny O'Neal, Vincent Herring, Kirk Lightsey, Frank Wess, and Ellis Marsalis.
Jazzmeia has appeared in jazz festivals and clubs such as the Lenox Lounge, Bill's Place, The Apollo, The Blue Note, Dizzy's Jazz Club Coca­Cola, Minton's, The Jazz Standard, Smalls Jazz Club, Zinc, Jazz Gallery and Birdland. Her accolades include Downbeat Student Music Award Recipient 2008, 2009, and Best Vocal Jazz Soloist Winner 2010.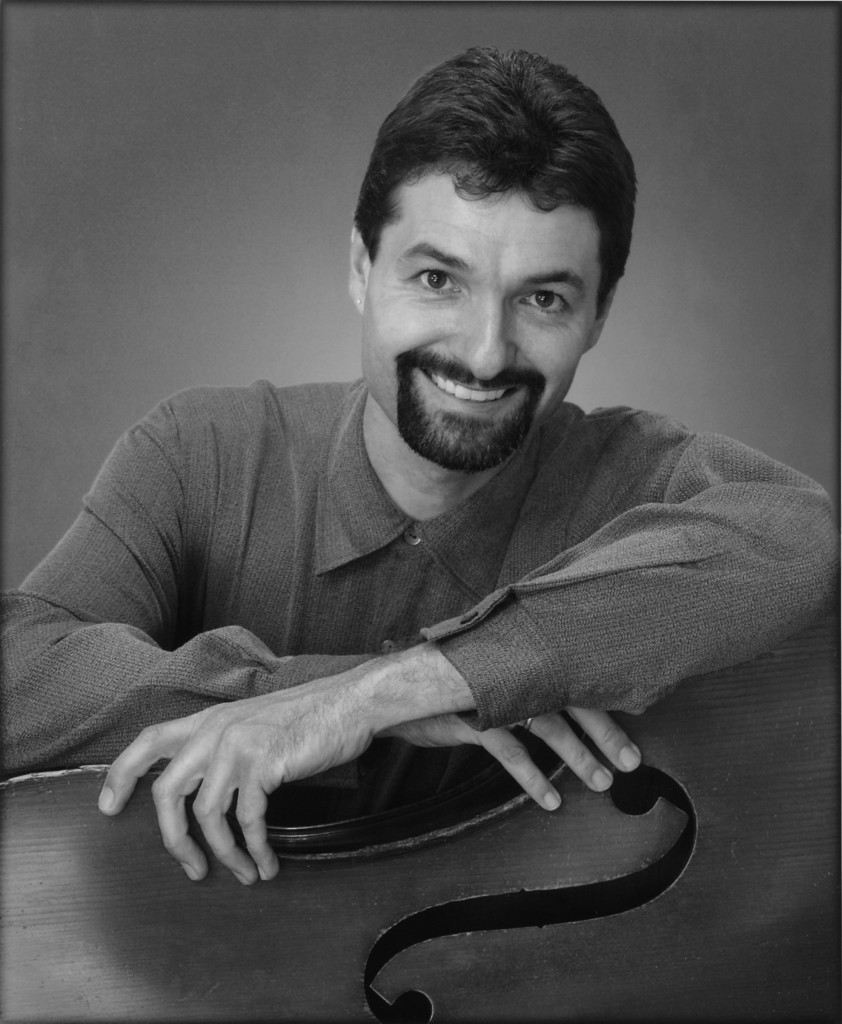 CHRISTOPH LUTY – BASS
Christoph Luty currently lives in the Los Angeles area, and is a member of the Jeff Hamilton Trio. He maintains a busy concert schedule, appearing in concert halls, clubs and festivals throughout the United States, Japan and Europe.
As the longtime bassist of the Clayton/Hamilton Jazz Orchestra he has performed with Oscar Peterson, Ray Brown, Diana Krall, Clark Terry, Dave Brubeck, James Moody and Shirley Horn. He has recorded or performed with Milt Jackson, John Pizzarelli, Diana Krall, Dena DeRose, Harry Allen, Warren Vache, Curtis Stigers, Bill Watrous, Anthony Wilson, Jeff Clayton, Bill Cunliffe, Howlett Smith and many others.
Christoph enjoys educating young bassists – he teaches jazz bass at California State University Long Beach and teaches privately in his own studio.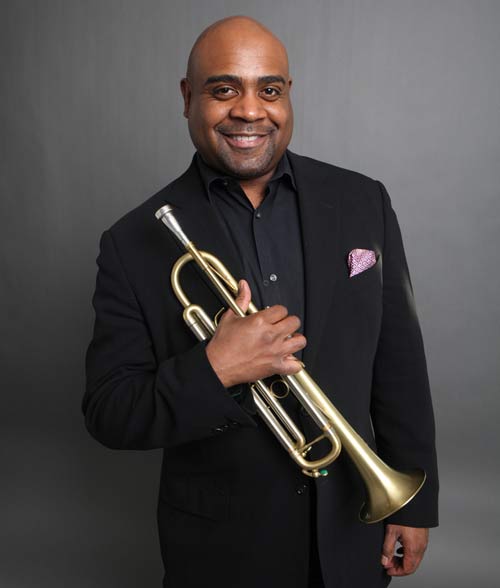 TERELL STAFFORD – TRUMPET
Based in New York, acclaimed trumpet player Terell Stafford has been hailed as "one of the great players of our time, a fabulous trumpet player" by piano legend McCoy Tyner. Stafford is recognized as an incredibly gifted and versatile player, he combines a deep love of melody with his own brand of spirited and adventurous lyricism. Stafford's exceptionally expressive and well defined musical talent allows him to dance in and around the rich trumpet tradition of his predecessors while making his own inroads.
Since the mid-1990's, Stafford has performed with groups such as Benny Golson's Sextet, McCoy Tyner's Sextet, Kenny Barron Quintet, Frank Wess Quintet, Jimmy Heath Quintet and Big Band, Jon Faddis Jazz Orchestra, Carnegie Hall Jazz Band and Dizzy Gillespie All-Star Alumni Band.
He is the Director of Jazz Studies and Chair of Instrumental Studies at Temple University, founder and band leader of the Terell Stafford Quintet, and Managing and Artistic Director of the Jazz Orchestra of Philadelphia (JOP).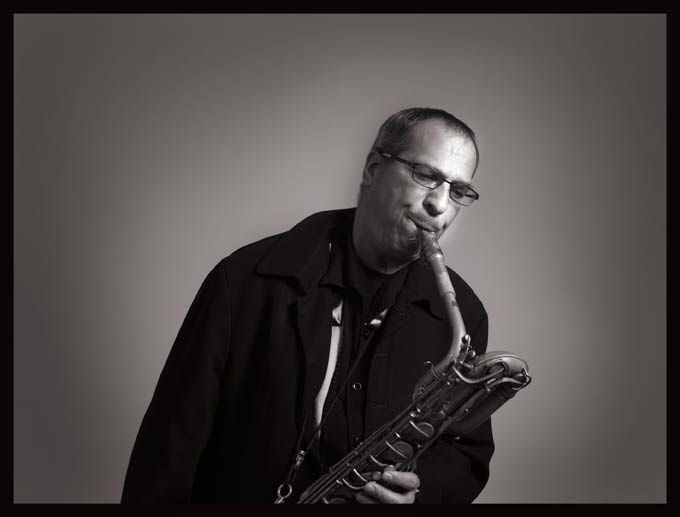 GARY SMULYAN – BARI SAX
Gary Smulyan attended SUNY-Postsdam and Hofstra University before he joined Woody Herman's Young Thundering Herd in 1978. In 1980, he became part of the Mel Lewis Jazz Orchestra then under the direction of Bob Brookmeyer.
Smulyan also found work with other important large ensembles including the Mingus Epitaph band, and the Smithsonian Jazz Masterworks Orchestra. Smulyan has shared the stage and the recording studio with trumpeters Freddie Hubbard and Dizzy Gillespie, saxophonist Stan Getz, pianist Chick Corea, timbales king Tito Puente, and R&B/blues and soul icons Ray Charles, B.B. King and Diana Ross.
Smulyan is a perennial (and 2014) winner of the DownBeat Critics and Readers Polls, and a five-time Grammy award winner for his work with B.B. King, Lovano, Holland and the Vanguard Jazz Orchestra. He teaches at the Manhattan School of Music, Rutgers University, and SUNY Purchase.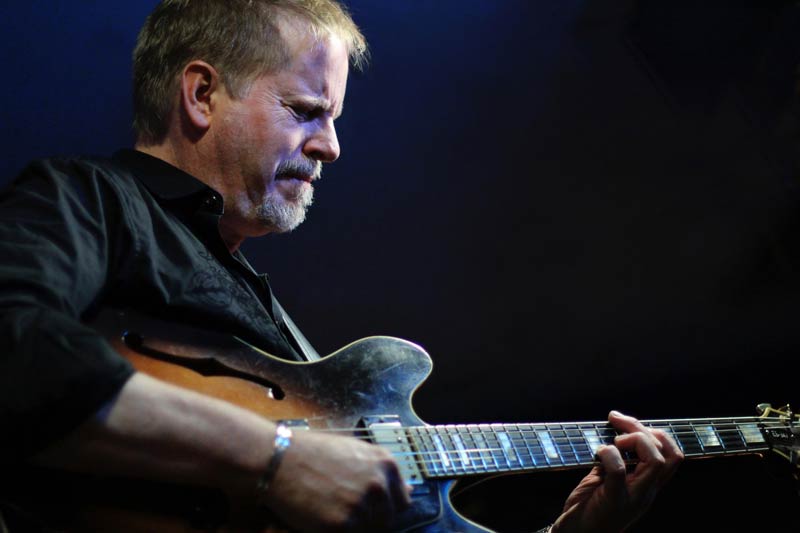 DAVE STRYKER – GUITAR
Whether you've heard guitarist Dave Stryker leading his own group (with 28 CD's as a leader to date), co-leading The Stryker/Slagle Band, or as a featured sideman with Stanley Turrentine, Jack McDuff, and many others, you know why the Village Voice calls him "one of the most distinctive guitarists to come along in recent years."
Dave's new CD "Strykin' Ahead" features the same lineup as "Eight Track II"- Steve Nelson, Jared Gold and McClenty Hunter, and is getting great reviews. "Messin' with Mister T", is a celebration of the man he worked with for over a decade — Stanley Turrentine, "Mister T" — with ten of the greatest tenor sax players on the scene today. It went to #1 on JazzWeek Radio and stayed in the Top 50 for 20 weeks and has received great reviews including 4 1/2 stars in Downbeat magazine. Dave's last CD "Eight Track" was #9 for 2014 on the Jazz Week Radio Charts where it stayed for 20 weeks topping off at #3 for 3 weeks. Downbeat magazine picked it as one of the Top CD's of 2014, and ran a feature article in the June 2014 issue on Dave.
Dave was recently voted into the 2017 Downbeat Critics and Readers Poll for the 10th time.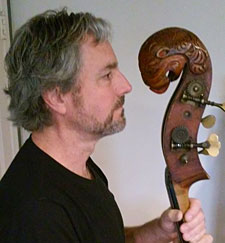 CHRIS SYMER – BASS
Chris has performed and/or recorded with Roger Kellaway, Bennie Maupin, Robben Ford, Theo Saunders, Kai Akagi, Kate McGarry, Tierney Sutton, Larry Koonse, Kim Richmond, Bob Florence and many more. Originally from Southern California Chris relocated to Seattle in 2002, where he makes his living as a freelance jazz musician. His recent projects have included recordings with The Johnaye Kendrick Quartet (Here, 2014), Jim Knapp's Scrape (2013) and Nelda Swiggett's Swingtet (2014).
Chris has played and taught clinics throughout Europe, Asia, North and South America. He has appeared on soundtracks for television, movies, theatre, performance art, and in settings from duos to big bands and symphony orchestras. Since May of 2000, Chris has been tuning in fifths and enjoys the altered palette of colors that tuning provides.
KATIE THIROUX – BASS
As a bass player, singer and composer Katie Thiroux is a "triple threat." Her debut album, Introducing Katie Thiroux, has received many awards including "Debut Record of the Year" from the Huffington Post, All About Jazz, and the Jazz Journalist's Association, and "Top 5 Debut Records of the Year" from the NPR Jazz Critics Poll. Other accolades include being a 2015 semi-finalist in the Thelonious Monk Competition, and being featured on WBGO's "The Checkout," Downbeat Magazine and NPR.
Stylistically, Katie carries on the hard swinging tradition of such bass masters as Ray Brown and John Clayton, while channeling the vocal finesse of iconic singers including Anita O'Day, Chet Baker and Ella Fitzgerald. She draws upon the rich history of the music, from swing to bebop and beyond.
In May, 2017 Katie served as musical director in a tribute to Ella Fitzgerald at the Grammy Museum in Los Angeles. She has performed at the Blue Note, Birdland, the San Jose Summer Jazz Fest, NAMM and the Juneau Jazz and Classics Festival, and recently returned from a two-month residency in Dubai June at the invitation of Quincy Jones.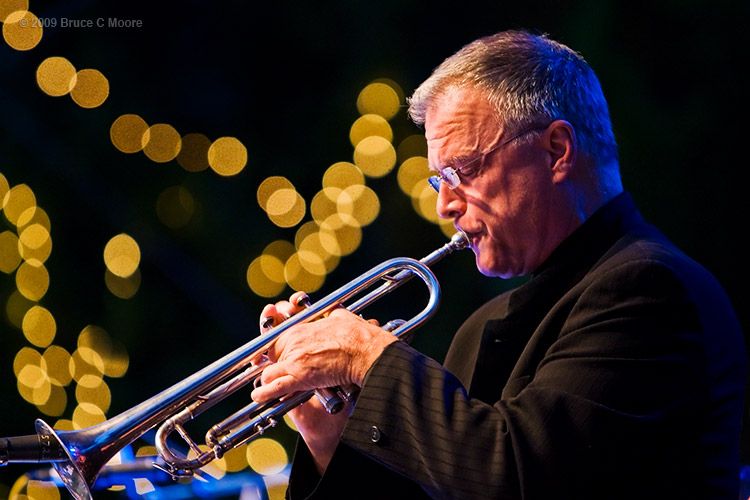 JAY THOMAS – TRUMPET
 Jay Thomas is a versatile multi-instrumentalist, and can be heard on over 60 recordings that run the gamut from hip-hop to acid-jazz, rock, Latin, and big band.
Jay has appeared in concert with Mel Lewis, John Clayton and Jeff Hamilton, Maria Schneider, Bill Holman, Bob Florence and Frank Wess. He has played festivals at Wolf Trap with Red Rodney and Ira Sullivan, the Aspen Jazz Festival with Herb Ellis, Jake Hanna and Mel Ryne (recorded with them on Roll Call), the duMaurier Jazz Festival with Chuck Israels Trio and with the Jay Thomas Quartet.
Jay toured Great Britain with jazz legend Slim Gaillard recording there with Slim, Jay McShann and Buddy Tate.
ERIC VERLINDE – PIANO
Pianist Eric Verlinde has excited audiences worldwide with his energetic and passionate performances. His music touches the very soul of the listener.
He has played with Arturo Sandoval, Randy Brecker, Eric Alexander, Terell Stafford, Mark Murphy, Luis Conte, Thelma Huston, Francine Reed, Kelley Gray, Don Lamphere, Jay Thomas, Buddy Cattlet, Greta Matassa, and Luis Peralta.
Eric is in high demand and is constantly performing, refining the sound and creating new music. His different groups create music that is pure, creative, spontaneous, superbly structured and melodic.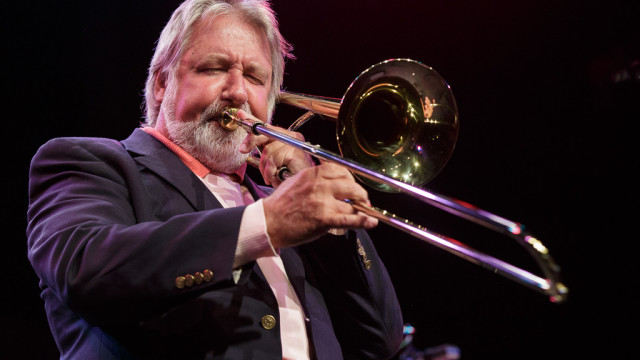 JIGGS WHIGHAM – TROMBONE
Jiggs Whigham first came to the attention of critics and fans at the age of 17 as featured soloist and first trombonist with the Glenn Miller Orchestra. Two years later he became solo trombonist in Stan Kenton's band, and subsequently joined the Kurt Edelhagen Jazz Orchestra in Cologne, Germany in 1965. In 1979 he was became Professor and Head of the Jazz Department at Cologne University College of Music, the first appointment of its kind in Germany. In 1995 he was named "Professor for Life" and head of the Jazz-Popular Music Department at the Hanns Eisler College of Music in Berlin. From 1995-2000 Jiggs was chief conductor and artistic director of the Berlin Radio Orchestra, and he has served as a visiting professor at Indiana University.
Dividing his time between Bonn, London and Cape Cod, Jiggs is currently conductor of the BBC Big Band in Great Britain, artistic director of the Berlin Jazz Orchestra and visiting tutor at the Royal Northern College of Music in Manchester, England. He is also musical director of the LaJJOB (Brandenburger Youth Jazz Orchestra) and artistic director of the BUJAZZO (German jazz orchestra).
MATT WILSON – DRUMS
Matt Wilson leads the Matt Wilson Quartet, Arts and Crafts, Christmas Tree-O and the Carl Sandburg Project. Matt is integral part of bands led by Joe Lovano, John Scofield, Charlie Haden, Lee Konitz, Bob Stewart, Denny Zeitlin, Ron Miles, Marty Ehrlich, Ted Nash, Jane Ira Bloom and Dena DeRose among others.
He has performed with many legends of music including Herbie Hancock, Dewey Redman, Andrew Hill, Bobby Hutcherson, Elvis Costello, Cedar Walton, Kenny Barron, John Zorn, Marshall Allen, Wynton Marsalis, Michael Brecker, Pat Metheny, Bill Frisell and Hank Jones.
Wilson has appeared on 250 CDs as a sideman and has released 9 as a leader for Palmetto Records as well as co-leading 5 additional releases.