Stay tuned for updates to the 2015 Jazz Port Townsend Faculty!
—
JOHN CLAYTON – ARTISTIC DIRECTOR
Grammy-winning bassist/composer/conductor John Clayton has written and arranged music for Diana Krall, DeeDee Bridgewater, Natalie Cole, Milt Jackson, Nancy Wilson, McCoy Tyner, Quincy Jones, George Benson, Dr. John, Regina Carter and many others.
John has been commissioned by many ensembles including the Northwest Chamber Orchestra, the American Jazz Philharmonic, The Iceland Symphony, The Metropole Orchestra, The Carnegie Hall Big Band, The Richmond Symphony, the WDR Orchestra, and the Amsterdam Philharmonic. John was awarded a platinum record for his stirring arrangement of "The Star-Spangled Banner," performed by Whitney Houston during the Super Bowl in 1990.
John has won numerous awards such as the Golden Feather Award, and the Los Angeles Jazz Society's Composer/Arranger award.  Most recently, John won a Grammy for his arrangements on Queen Latifah's, Trav'lin' Light.  John has served as the musical director of several jazz festivals including the Sarasota Jazz Festival, the Lionel Hampton International Jazz Festival, the Santa Fe Jazz Party, and the Vail Jazz Workshop.
John is a co-founder of the Grammy-nominated Clayton-Hamilton Jazz Orchestra, which is co-led by John, his brother, saxophonist, Jeff Clayton, and drummer, Jeff Hamilton. Also, John and his brother Jeff co-lead the Clayton Brothers Quintet, who have been nominated for two Grammy awards.
CLARENCE ACOX – DRUMS
Clarence Acox Jr., an instrumental figure in the Seattle music scene, has nurtured young musicians for the past 35 years as director of jazz bands at Garfield High School. He leads the renowned Garfield Jazz Ensemble, winning dozens of awards and making regular appearances at national and international venues.
Garfield's Jazz Ensemble has taken first place at New York's Essentially Ellington National Jazz Band Competition and Festival four times – the country's most prestigious high school jazz competition.
Acox was named "Educator of the Year" by DownBeat Magazine in 2001. Acox co-founded the Seattle Repertory Jazz Orchestra in 1995 and performed with the Floyd Standifer Quartet at the New Orleans Creole Restaurant for more than two decades.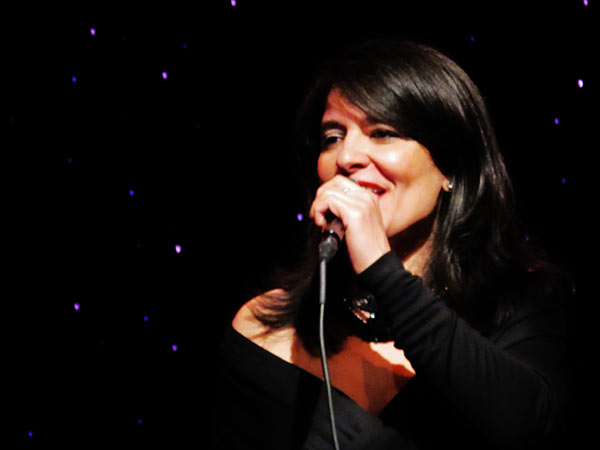 MAUCHA ADNET – VOCALS
Born in Rio de Janeiro, Brazil, Maucha Adnet started singing professionally at age 15 as part of the vocal group Céu da Boca, touring throughout Brazil and recording two albums from 1978 to 1984.
From 1984 until 1994 Maucha performed around the world with legendary composer Antonio Carlos Jobim and his Banda Nova and recording the albums Passarim (1987), Rio Revisited (1987), the Grammy-winning Antonio Brasileiro (1995), and Tom Jobim Inédito (1995).
Since settling in New York in 1987, Maucha has been working with her own band as well as recording and performing with such artists as Randy Brecker, Slide Hampton, Claudio Roditi, Duduka Da Fonseca, Trio da Paz, Mario Adnet, Winton Marsalis, Bucky Pizzarelli and many others.
Maucha teaches workshops in Brazilian Music in many parts of the world sharing her expertise in phrasing and interpreting different styles of Brazilian music. She has recorded three solo CD's: Songs I Learned From Jobim and The Jobim Songbook (2006) and most recently Milagre (2013).
Antonio Carlos Jobim said of Maucha "She is a marvellous singer. Her voice is deep, rich and mysterious. It makes me long for the Brazilian forest." 2015 marks Maucha's first visit to Jazz Port Townsend. (Photo by Luzia Grob dos Santos)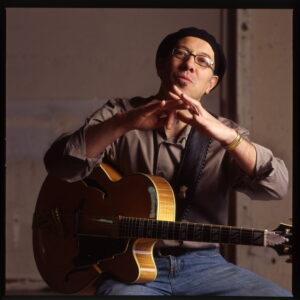 DAN BALMER, GUITAR
Dan Balmer has long been considered one of the finest guitarists, composers, and educators in the Northwest. In 2009, Dan became one of only five Oregonians to be honored with membership in both The Oregon Music Hall of Fame and the Jazz Society of the Oregon Hall of Fame.
From 2005-2009 Dan toured and recorded with two time Grammy Winner Diane Schuur, playing in over 15 countries and 60 cities. When not on the road with Ms. Schuur, he leads his own groups and continues his long standing gigs with drummer Mel Brown, David Friesen, and others.
Dan has appeared on over 80 CDs including eight of his own which have received critical acclaim and international airplay. His music has been featured in movies and television shows both in the U.S. and overseas.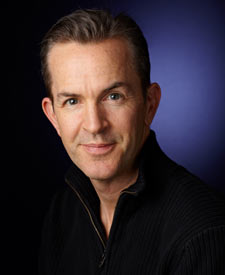 JAKE BERGEVIN – COORDINATOR, EDUCATOR TRACK
Jake Bergevin has taught in Washington State for 23 years including the past 16 at Edmonds-Woodway High School where he is currently the Director of Bands, teaching three Concert Bands and three Jazz Ensembles. He is also is an active performing musician, keeping a steady schedule as both a clinician and performer. In 2012 and 2007 Jake was honored SBO magazine as one of their "50 Directors that Make a Difference."  Under his direction the Edmonds-Woodway Jazz Program has earned national recognition as four-time finalists in the prestigious Essentially Ellington Contest. The EWHS Jazz Ensemble I has also been designated as one of the top 5 high school Jazz Bands in the Seattle Area as an invited guest performer at the Hot Java Cool Jazz Concert Series organized by Starbucks.  The EWHS Music Department has been recognized by the Grammy's as a Signature School.
Jake has received a fellowship from the National Endowment for the Humanities with a focus on Duke Ellington. He has served as the Jazz Curriculum Chairperson for the Washington chapter of the National Association for Music Education (NAfME) and as Vice President for Washington's chapter of the IAJE. He serves on the advisory board to the new Seattle Jazz Experience Festival organized by Cornish College. He blogs about his work as a music educator at www.ijazzed.blogspot.com
GEORGE CABLES – PIANO
Pianist George Cables has played with Art Blakey, Sonny Rollins, Dexter Gordon, Art Pepper, Joe Henderson, and many other legendary jazz musicians.
His own records include the 1980 Cables' Vision with Freddie Hubbard among others. In the 1980s he worked in the project Bebop & Beyond, who recorded tribute albums to Dizzy Gillespie and Thelonious Monk.
According to Victor Schermer, "Anyone who is serious about jazz will tell you that George Cables belongs in the pantheon of the greatest jazz pianists. Everyone, that is, except George Cables. Exceptional in every way, he is yet a team player. He sees himself as part of the rhythm section, and has always emphasized the group over the soloist. "
He is currenty performing and recording as a soloist, with trio and larger ensembles, and as a clinician in college jazz programs.
REGINA CARTER – VIOLIN
Violinist Regina Carter is considered the foremost jazz violinist of her generation – a designation which doesn't quite paint the picture.
Carter was the first jazz artist to perform and record on Niccolo Paganini's famous Guarneri violin, which led to her album Paganini After a Dream. In 2005, she received a MacArthur Fellowship, which helped fund her research into African folk rhythms and ultimately her 2010 album Reverse Thread.
Her curiosity, passion, and quest for beauty led to her 2014 release Southern Comfort (Sony Music Masterworks), in which she explores the folk music of the South.
JEFF CLAYTON – ALTO
Reed specialist Jeff Clayton is a versatile performer, bandleader, and studio musician whose diverse recording credits include work with Stevie Wonder, Michael Jackson, Frank Sinatra, Madonna, and Earth, Wind, and Fire.
Together with his brother John, he founded the Grammy-nominated Clayton Brothers in 1977, and later co-founded the Clayton-Hamilton Jazz orchestra – named by readers of Downbeat as the top big band in jazz.
In addition, Jeff has performed with numerous artists including Lena Horne, Lionel Hampton, Dr. John, Ella Fitzgerald, and played in the Count Basie Orchestra while under the leadership of Thad Jones.  (Photo by Jim Levitt)
DAWN CLEMENT – PIANO

Pianist/Composer and vocalist Dawn Clement hails from Seattle, WA. A veteran of Jazz Port Townsend, Dawn
is involved in several collaborations including the Jane Ira Bloom Quartet, Priester's Cue with the legendary Julian Priester, the Seattle Pianist Collective, as well as her own trio.
Dawn has performed with such notables as Nancy King, Ingrid Jensen, Hadley Caliman, John Clayton, Mercer Ellington, Mark Dresser, Jay Clayton and Pharaoh Sanders. Dawn has performed in some of the world's most premier venues such as Carnegie Hall, Le Conservatoire Superieur, Paris, and Seattle's Benaroya Hall, as well as numerous clubs (including Sweet Rhythm, Tonic, and Iridium), art museums, and theaters.
In addition to her work with Jane Ira Bloom, Dawn has toured the U.S. with a number of projects including the Sabella Consort, and the Rubin/Clement Piano Dialogues.  Dawn is currently on the faculty of Cornish College of the Arts and maintains a rigorous performance schedule.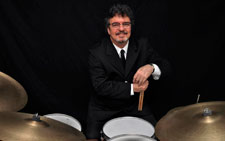 DUDUKA DA FONSECA – DRUMS
Duduka Da Fonseca was born in Rio de Janeiro when Rio was enjoying the embryonic stages of Bossa Nova. Since moving to New York in 1975 Duduka has played and recorded with Haroldo Mauro Jr, Sergio Barrozo, Alfredo Cardim, Ion Muniz, Toninho Horta, Victor Assis Brasil, Claudio Roditi, Tenorio Jr, Dom Salvador, Cesarius Alvim, Edison Maciel  Ricardo Santos, Edson Lobo, João Donato, Nana Vasconcelos, Mario Adnet , Nivaldo Ornelas, Paulo Jobim, Jacques Morelenbaum, OSESP (São Paulo Symphony Orchestra), Milton Nascimento, Dori Caymmi and Raul de Souza amongst many others.
In addition to being a founding member and co-leader of Trio Da Paz, Duduka has appeared on over 200 albums and performed with artists such as Antonio Carlos Jobim, Astrud Gilberto, Gerry Mulligan, John Scofield, Wayne Shorter, Tom Harrell, Eddie Gomez, Rufus Reid, Lee Konitz, Herbie Mann, Jorge Dalto, Joe Henderson, Kenny Barron, Emily Remler, Nancy Wilson, Slide Hampton, Toshiko Akiyoshi, Gil Goldstein, Joanne Brackeen, Marc Johnson, George Mraz, John Patitucci, Renee Rosnes, Bill Charlap, Maucha Adnet , Phil Woods and Steve Allee amongst many others. In 2002 Duduka's first solo album, Samba Jazz Fantasia (Anzic) was nominated for the 45th Grammy®.  In 2009 The Brazilian Trio, his group together with Helio Alves & Nilson Matta was nominated for the 10th Latin Grammy, with their album Forests (Zoho).
Duduka is the author of the bestseller instructional book and CD, Brazilian Rhythms for Drumset.
CHUCK DEARDORF – BASS
 Chuck Deardorf has recorded and toured internationally with Bud Shank and Don Lanphere, George Cables and Kenny Barron, Winard Harper, and Larry Coryell.  As the first call bassist in Seattle, Chuck has performed with Chet Baker, Zoot Sims, Art Farmer, Howard Roberts, Monty Alexander, Kenny Burrell, Marian McPartland, Mel Lewis, Pete Christlieb, Joe Williams, Kenny Werner, Carl Fontana, Joe LaBarbara, and Tal Farlow.
Chuck's latest solo release on Origin records, "Transparence" (released 2011) demonstrates his performing, producing and arranging abilities with a host of great musicians. He is currently a member of the Deardorf/Peterson Group (whose 2004 Origin release "Portal" won critical acclaim), the Jovino Santos Neto Quartet, the Susan Pascal Quartet along with the Bill Ramsay Big Band.
An accomplished studio musician, Chuck's bass has been heard on many first run movie soundtracks, dozens of albums and CD projects, and numerous Broadway touring shows.  Chuck also has performed on numerous occasions with the Seattle Symphony Orchestra.
GRAHAM DECHTER – GUITAR
An accomplished guitarist, composer and arranger, Graham Dechter plays with the kind of swinging authority and seasoned maturity that belies his young age. The 28-year-old Los Angeles native, a member of the Clayton-Hamilton Jazz Orchestra since he was 19, shows a deep reverence for the jazz guitar tradition in his warm-toned renditions of ballads, bossas, bebop and blues.
While most contemporary jazz guitarists today are coming out of the six-string trinity of John Scofield, Pat Metheny and Bill Frisell or heavily emulating modern day guitar stars like Kurt Rosenwinkel, Dechter's tastes are firmly rooted in a different aesthetic. A talent deserving of wider recognition, Dechter follows in the lineage of his guitar heroes like Wes Montgomery, Barney Kessel, Grant Green and Herb Ellis.
Over the past eight years, Dechter has toured worldwide with the Clayton-Hamilton Jazz Orchestra appearing at major festivals in North America, Asia and Europe. In 2011, he played on Michael Bublé's best-selling Christmas album and made followup television appearances backing the popular singer on The Today Show, Regis & Kelly, the Rockefeller Center Christmas Tree Lighting and on Michael Buble's NBC Christmas special. Currently, he is the guitarist for Brazilian jazz pianist and vocal sensation, Eliane Elias.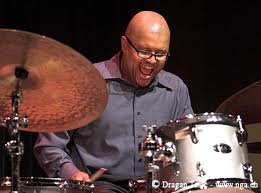 ALVESTER GARNETT – DRUMS
"Joy and spirited musical communication" are what characterize the artistry of Alvester Garnett's drumming. Singers such as the living legend Abbey Lincoln and the late great Betty Carter, to instrumentalists Wynton Marsalis, James Carter, Regina Carter, and Cyrus Chestnut have all called on Mr. Garnett for the energy and fire that he brings to the bandstand.
Garnett has appeared on Great Performances on PBS in a tribute to Kurt Weill along with Betty Carter, a live record with Teddy Edwards, the CD's Earth Stories with Cyrus Chestnut and Who Used To Dance with Abbey Lincoln. He also played on James Carter's In Carterian Fashion.
Other recorded performances include Stefon Harris' A Cloud of Red Dust on Blue Note records and Abbey Lincoln's latest recording, Wholly Earth. He has also performed at many notable Jazz Festivals. Some of them are the JVC Jazz Festivals of NY and Paris, The Newport Jazz Festival, The North Sea Jazz Festival, The Vienne Jazz Festival, The Montreux Jazz Festival, The DuMaurier Jazz Festival, The Nice Jazz Festival, The San Francisco Jazz Festival, The Monterey Jazz Festival, and The New Orleans Jazz and Heritage Festival.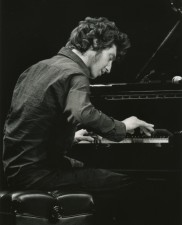 BENNY GREEN – PIANO
Pianist Benny Green possesses the history of jazz at his fingertips. Combine mastery of keyboard technique with decades of real world experience playing with no one less than the most celebrated artists of the last half century, and it's no wonder Green has been hailed as perhaps the most exciting hard-swinging, hard-bop pianist to ever emerge from Art Blakey's Jazz Messengers.
Recognized as having incredible talent at a young age, Benny began his touring life with Betty Carter for four years and realized a life long dream of becoming a Jazz Messenger. In 1993 Oscar Peterson chose Benny as the first recipient of the City of Toronto's Glen Gould International Protégé Prize in Music culminating in Oscar & Benny (1998) recorded for Telarc. Appearing on well over one hundred recordings, with artists such as: Betty Carter, Art Blakey & the Jazz Messengers, Freddie Hubbard, Bobby Watson, Milt Jackson, Diana Krall, and he is particularly featured in Ray Brown's trio series of CD's for Telarc: Bass Face, Don't get Sassy, and Some of my best friends.
His latest recording is the self-produced "Magic Beans," featuring original compositions for jazz trio.
RANDY HALBERSTADT – PIANO
A pianist, arranger, composer, lyricist, and author, Randy has enjoyed an international performing career, having played and/or recorded with Mimi Fox, Ray Drummond, Jay Clayton, Terry Gibbs, Buddy DeFranco, James Moody, Herb Ellis, Mel Brown, Nancy Kelly, Houston Person, Sheila Jordan, Ernestine Anderson, Rene Marie, Bobby Shew, Marlena Shaw, Jackie Ryan, Jiggs Wigham and John Stowell.
Randy's book, Metaphors For The Musician: Perspectives From A Jazz Pianist (Sher Music 2002) has become one of the most highly acclaimed texts in jazz education. His composition "When Springtime Turns To Fall" appears in The All-Jazz Real Book (both books published by Sher Music Co. in 2002). His recordings include Inner Voice (Pony Boy Records 1991), Clockwork (Pony Boy Records 1995), Parallel Tracks (Origin Records 2004), and Flash Point (Origin Records 2010).
Randy makes his home in the Pacific Northwest and has taught for many years at Seattle's prestigious Cornish College of the Arts.
JON HAMAR – BASS
Jon Hamar is a versatile artist who's ability to find a tasteful, unique voice in any musical situation has made him a staple in the Northwest music scene. Hamar's friendly nature, sense of humor and work ethic has kept him busy as a freelance bassist in multiple performance genres.
Jon graduated from the Eastman School of Music with a Master's degree in Jazz and Contemporary Media, studying with Jeffrey Campbell, James Vandermark, Harold Danko, Clay Jenkins, Raymond Ricker and Fred Sturm.
Since moving to Seattle in 2001 Hamar has been active in the role of supporting bassist. Hamar performed for four years with jazz and blues great Ernestine Anderson and is currently a regular with Northwest notables such as Greta Matassa, Jim Knapp, Randy Halberstadt and Dawn Clement. Jon also performs regularly in an orchestral setting recording on movie soundtracks, and playing recitals and concerts around the Northwest.
As an educator Jon keeps busy teaching at Central Washington University in Ellensburg, Washington, Northwest University in Kirkland, Washington and Edmonds Community College in Edmonds, Washington as well as maintaining an active private studio. Jon currently has former students attending Berklee College of Music, The New School and the Manhattan School of Music.
JEFF HAMILTON – DRUMS
Originality is what versatile drummer Jeff Hamilton brings to the groups he performs with and is one of the reasons why he is constantly in demand, whether he is recording or performing with his trio, the Clayton Brothers or co-leading the Clayton/Hamilton Jazz Orchestra.
In addition to his many recordings with Ray Brown, Jeff has been on nearly 200 recordings with artists such as Natalie Cole, Diana Krall, Milt Jackson, Rosemary Clooney, Barbara Streisand, Mel Torme, John Pizzarelli, Benny Carter, Lalo Schifrin, George Shearing, Dr. John, Clark Terry, Gene Harris, Toshiko Akioshi, Scott Hamilton, Harry "Sweets" Edison, Keely Smith, Bill Holman, Herb Ellis, Barney Kessel and Mark Murphy.
Jeff is a frequent guest of the WDR Big Band in Cologne, Germany. He also appeared in Natalie Cole's Great Performances PBS special, Unforgettable and an Oscar Peterson documentary, Life In The Key Of Oscar.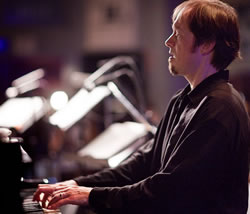 JOHN HANSEN – PIANO
John Hansen is regarded as one of the most in-demand jazz pianists in the Northwest. A studied and musical ensemble player with a strong melodic vocabulary, John has always been recognizable for a unique personal voice. His performance history includes such venues as NYC's Birdland, The Jazz Standard, Dizzy's Club Coca-Cola, DC's John F. Kennedy Center of the Performing Arts, Seattle's Jazz Alley and Tula's, and international festivals and tours in France, Japan, Korea, Eastern Europe, Central Asia, Russia and Central America.
During his career, John Hansen has performed and recorded with many of the Northwest's premiere, award-winning bands including: the Jay Thomas Quartet, Jim Knapp Orchestra, Kelley Johnson, and The Bill Ramsay-Milt Kleeb Band with Pete Christlieb. He has been invited to perform with The Seattle Symphony, Rick Margitza, Randy Brecker, Ingrid Jensen, Ernestine Anderson, The Woody Herman Orchestra, Bud Shank, Bobby Shew, David 'Fathead' Newman, and more.
SEAN JONES – TRUMPET
For Sean Jones, the pursuit of Jazz is a most serious endeavor. Deeply influenced by his immersion in Gospel music in the church as a youth, Sean had an epiphany at the age of 19 with his first hearing of the magnificent John Coltrane's masterpiece A Love Supreme. "I was driving in my car at the time and I had to pull off the road . . . I knew the course I needed to pursue."
Originally a drummer, he discovered Jazz and the trumpet at ten years old on hearing Miles Davis' Kind of Blue and Amandla. "Miles is probably the single most powerful influence on me as an artist. His overall vision, the way he changed with the times, the purity of his sound."
After receiving his Master's Degree from Rutgers University Sean had a 6-month stint with Wynton Marsalis' Lincoln Center Jazz Orchestra. This led to a permanent position as lead trumpeter which he held until 2010. Sean has also recorded and performed Charles Fambrough, the Fort Apache Band, Joe Lovano, Chico O'Farrill, Illinois Jacquet, Jimmy Heath, Frank Foster, Nancy Wilson, Dianne Reeves, Gerald Wilson and Marcus Miller. In 2011 Sean joined Marcus Miller, Herbie Hancock and Wayne Shorter for their Tribute to Miles tour.
Education is a major part of Sean's professional activities. Shortly after joining the LJCO he began teaching at Duquesne University in his adopted hometown of Pittsburgh. In 2012 he became Professor of Trumpet at the Oberlin Conservatory of Music and in 2014 he was named Chair of the brass department at Berklee College of Music. In addition Sean serves as Artistic Director of both the Pittsburgh and Cleveland Jazz Orchestras.
JOE LA BARBERA – DRUMS
Born in Mt. Morris, New York, Joe La Barbera's first musical experiences began at home as part of the family band with his parents and two older brothers, saxophonist Pat and trumpeter and arranger/composer John La Barbera. After Berklee and two years with the U.S. Army band at Fort Dix, New Jersey, Joe began his professional career with Woody Herman and the Thundering Herd, and then moved onto The Chuck Mangione Quartet. In 1978 Joe was asked to join Bill Evans in what was to become a landmark trio. Along with bassist Marc Johnson, the trio grew over a two-year period to become one of Evans' finest (see performances of "My Romance", "In Your Own Sweet Way" and "Bill's Hit Tune" on YouTube). After Bill's untimely death in 1980, Joe joined singer Tony Bennett.
Currently residing in Los Angeles, Joe is involved in a wide range of music locally, nationally and internationally. On the local scene he is busy with his own quintet as well as sideman duties with many well known jazz artists. Recent dates in North America include performances with Bill Mays, Eddie Daniels, Randy Brecker and brother Pat LaBarbera.
ROMERO LUBAMBO – GUITAR
In 1985 Romero Lubambo came to the United States and brought with him a new sound in Brazilian jazz guitar. Romero's playing unites the styles and rhythms of his native Brazilian musical heritage with his fluency in the American jazz tradition to form a distinctive new sound.
After arriving in New York City, Romero quickly established himself as a "first call" session and touring guitarist who was in demand not only for his authentic Brazilian sound, but also for his command with a variety of styles. He has performed and recorded with many outstanding artists, including Dianne Reeves, Michael Brecker, Yo-Yo Ma, Kathleen Battle, Diana Krall, Herbie Mann, Wynton Marsalis, Gal Costa, Kurt Elling, Kenny Barron, Luciana Souza, Cyro Baptista, Sergio and Odair Assad, Ivan Lins, Grover Washington Jr., Vernon Reid, Flora Purim and Airto, Paquito D'Rivera, Harry Belafonte, Larry Coryell, Gato Barbieri, Leny Andrade, James Carter, Paula Robison, Dave Weckl, Jason Miles, and Cesar Camargo Mariano… among many others.
Romero has also established himself as a composer and performer on his own critically acclaimed recording projects as well as on those of Trio Da Paz. He is considered by critics to be "the best practitioner of his craft in the world today… the guitarist's facility, creativity and energy are in a class all their own."
KELBY MACNAYR – DRUMS
Percussionist, composer, music director and band leader Kelby MacNayr performs jazz, classical, new music, and has collaborated with many acclaimed artists including Anne Schaefer, pop group Elephant Island, N.Y. pianist Misha Piatigorsky, composer and pianist Marianne Trudel, Christine Jensen, Chuck Deardorf, Ian McDougall, Chet Doxas and many others.
Kelby is currently the Artistic Director for the Art of the Trio Series, and is a member of the Marc Atkinson Quartet, the Marianne Trudel Quintet, and Misha Piatigorsky's Canadian trio.
His group the Kelby MacNayr Quintet has been earning critical acclaim in the US and Canada.  (Photo by Jim Levitt)
NILSON MATTA – BASS
Described by DownBeat magazine as "a powerhouse bass player," Nilson Matta has been a force in the evolution and popularity of Brazilian jazz. At a young age in his native Brazil he was already playing the with luminaries such as João Gilberto, Hermeto Pascoal, João Bosco, Johnny Alf, Helio Delmiro, Luis Bonfá, Chico Buarque, MPB-4 and many others.
Since moving to New York in the 1980's he has performed and recorded with such renowned artists as Sadao Watanabe, Paquito D'Rivera, Mark Murphy, Don Friedman, Oscar Castro Neves, Paul Winter, Claudio Roditi, Gato Barbieri, Herbie Mann, Joe Henderson and many others. Nilson joined Yo-Yo Ma for his new Brazilian music project, recording three Grammy-winning CD's and touring worldwide for two years.
Along with longtime friends Romero Lubambo and Duduka Da Fonseca, Nilson was a founding member of "Trio Da Paz," which quickly gained a distinction of one of the foremost Brazilian Jazz groups. In recent years he has been focused on many of his own projects including "Walking With My Bass," Copacabana" and "Black Orpheus."
Nilson enjoys sharing his passion for Brazilian music as Music and Artist Director of Samba Meets Jazz, a series of weeklong workshops in Rio de Janeiro, New York City and Bar Harbor, Maine.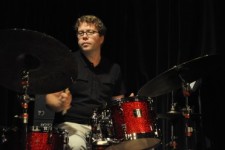 JULIAN MCDONOUGH – DRUMS
Julian MacDonough is a Pacific Northwest drummer, who tours with the Mike Allen Quartet/Trio (Vancouver BC), the genre-bending "funk" band Megatron (Bellingham Washington) the Monday Night Project, and alt-country singer songwriter Kasey Anderson (Portland Oregon).
In addition to those bands, Julian has been very active as a freelance musician. Primarily hired as a jazz drummer up and down the west coast, he has also spent a lot of time in recording studios with over 40 CDs under his belt. Some of his favorites are Mike Allen's 2003 award winning album "Dialectic," 2004 "Fearless," and 2006 "Love One Another." Kasey Anderson's "Nowhere Nights" Havilah Rand's 2009 "Bengalese Butterflies", Jenni Potts's "Take This and Go" and New York pianist Aaron Parks "First Romance."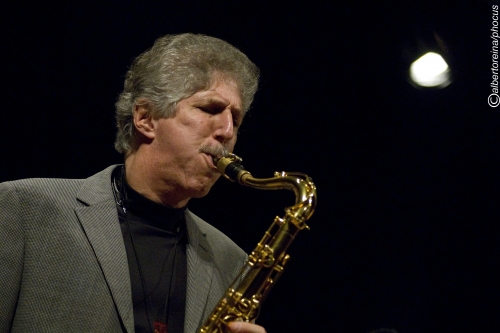 BOB MINTZER – COMPOSING/ARRANGING, SAX
Saxophonist Bob Mintzer is a twenty year member of the Grammy award winning Yellowjackets who also leads a Grammy winning Big Band, travels with his own Quartet, and plays with numerous bands globally.
A respected educator, Bob is holds the Buzz McCoy endowed chair of jazz studies at the University of Southern California in Los Angeles and has written nearly twenty books used by Jazz educators worldwide.
Bob honed his big band writing and playing skills in the bands of Tito Puente, Buddy Rich and Thad Jones-Mel Lewis. He has written over 200 works for orchestra, concert band and big band. He has also written works for the National Symphony Orchestra, Metropole Orchestra of the Netherlands. WDR Big band in Cologne, HR Big Band in Frankfurt.
As an instrumentalist Bob has worked with Art Blakey, Jaco Pastorius, Sam Jones, Randy Brecker, Gil Evans, the Yellowjackets, GRP All Star Big Band, Mike Manieri, and The New York Philharmonic, to name a few. He has done session work for James Taylor, Steve Winwood, Queen, Donald Fagan, Milton Nascimento, and countless others.
KIM NAZARIAN – VOCALS
Kim Nazarian is the soprano and one of the founding members of the New York Voices, with whom she has recorded, performed and toured for the past twenty years. She has taught at Duquesne University and the Ellis School and continues a busy schedule in her private teaching at home in PA. Kim shares her perspectives on music and life as a musician through teaching private students, clinics, workshops, jazz camps, master classes, festival adjudication and guest conducting for singers on all levels from grade to graduate school in the US and abroad.
In New York, Kim works as a session singer, with credits including jingles and major motion picture scores. She is currently the Artist in Residence for the Bowling Green State University Vocal Jazz Program, teaching both classical and contemporary voice. Also in the works is an educational book/DVD covering her critically acclaimed approach to vocal technique, solo and ensemble singing, and musical sensibilities for singers.
Kim has worked with and conducted choirs around the world. She also has a passion for Latin music, and her album with Boston-based El Eco was recently featured on NPR's JazzSet.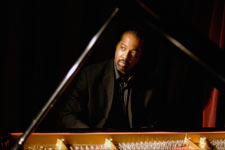 ERIC REED – PIANO
Born in Philadelphia, Eric Reed started playing piano at the age of two and began private studies by the age of seven at Settlement Music School. Eric grew up playing in his father's storefront Baptist church. "My father was a minister who sang with a Gospel group; he was my earliest musical influence. I was also hit heavily by everything I heard on the radio – James Cleveland, Edwin & Walter Hawkins, Andraé Crouch, Donny Hathaway, Earth, Wind & Fire."
By age eleven his family moved to Los Angeles and he continued his formal instruction at the Colburn School (formerly the Community School of Performing Arts). Soon after, young Reed was bitten by the Jazz bug after hearing recordings by Art Blakey, Ramsey Lewis and Dave Brubeck. As a teenager he was already working with West Coast luminaries such as Buddy Collette, Teddy Edwards, Clora Bryant, Jeff & John Clayton. During his first year at California State University at Northridge he received a call to tour with Wynton Marsalis. Leaving college life behind, Eric began touring the world both as a leader and sideman, and making numerous recordings and appearances as a permanent member of Wynton's ensembles. He also worked in the bands of Freddie Hubbard and Joe Henderson and performed with Wayne Shorter, Jessye Norman, Patti Labelle, Edwin Hawkins, Quincy Jones, Natalie Cole and numerous others.
Eric has composed and arranged for numerous Hollywood films and commercials, and he serves annually as musical conductor for choreographer Alvin Ailey's classic Revelations with the Alvin Ailey American Dance Theater. He has served on the faculty of the Juilliard School of Music and continues to give master classes worldwide that cover the full spectrum of Jazz history and discography.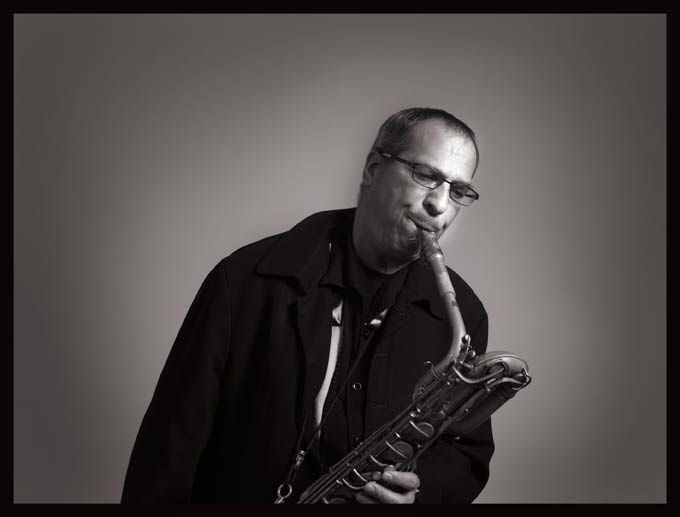 GARY SMULYAN – BARI SAX
Gary Smulyan attended SUNY-Postsdam and Hofstra University before he joined Woody Herman's Young Thundering Herd in 1978. In 1980, he became part of the Mel Lewis Jazz Orchestra then under the direction of Bob Brookmeyer.
Smulyan also found work with other important large ensembles including the Mingus Epitaph band, and the Smithsonian Jazz Masterworks Orchestra. Smulyan has shared the stage and the recording studio with trumpeters Freddie Hubbard and Dizzy Gillespie, saxophonist Stan Getz, pianist Chick Corea, timbales king Tito Puente, and R&B/blues and soul icons Ray Charles, B.B. King and Diana Ross.
Smulyan is a perennial (and 2014) winner of the DownBeat Critics and Readers Polls, and a five-time Grammy award winner for his work with B.B. King, Lovano, Holland and the Vanguard Jazz Orchestra. He teaches at the Manhattan School of Music, Rutgers University, and SUNY Purchase.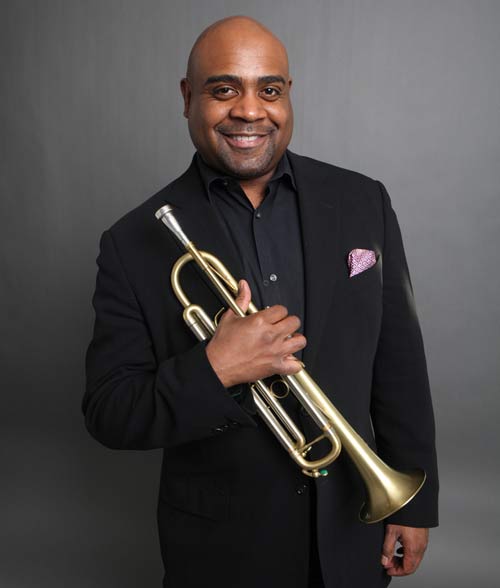 TERELL STAFFORD – TRUMPET
Based in New York, acclaimed trumpet player Terell Stafford has been hailed as "one of the great players of our time, a fabulous trumpet player" by piano legend McCoy Tyner. Stafford is recognized as an incredibly gifted and versatile player, he combines a deep love of melody with his own brand of spirited and adventurous lyricism. Stafford's exceptionally expressive and well defined musical talent allows him to dance in and around the rich trumpet tradition of his predecessors while making his own inroads.
Since the mid-1990's, Stafford has performed with groups such as Benny Golson's Sextet, McCoy Tyner's Sextet, Kenny Barron Quintet, Frank Wess Quintet, Jimmy Heath Quintet and Big Band, Jon Faddis Jazz Orchestra, Carnegie Hall Jazz Band and Dizzy Gillespie All-Star Alumni Band.
He is the Director of Jazz Studies and Chair of Instrumental Studies at Temple University, founder and band leader of the Terell Stafford Quintet, and Managing and Artistic Director of the Jazz Orchestra of Philadelphia (JOP).
DAYNA STEPHENS  – TENOR SAX
Dayna Stephens' debut album The Timeless Now (Contagious Music 2007) features jazz legends John Scofield, Taylor Eigsti, Ben Street, Eric Harland and Nick Vayenas. The record was immediately embraced by the jazz community. It received warm reviews from a number of magazines, including a four-star review in the Nov 2007 issue of Downbeat Magazine and climbed to #11 on the Billboard Jazz Charts, #9 on JazzWeek and NPR Top 10 Jazz Jewels of 2007.
In recent years, Dayna has appeared on stage with numerous established musicians and other rising stars, including Terence Blanchard, Geoffrey Keezer, Albert "Tootie" Heath, Matt Wilson, Oliver Lake, Carlos Santana, Stefon Harris, Stevie Wonder, Dr. Lonnie Smith, Peter Apfelbaum, Tom Harrell, Gretchen Parlato, Josh Roseman, Ray Drummond, Winard Harper, Bobby Short and many others.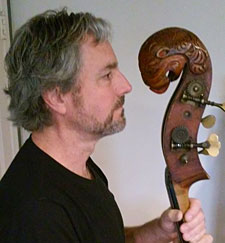 CHRIS SYMER – BASS
Chris has performed and/or recorded with Roger Kellaway, Bennie Maupin, Robben Ford, Theo Saunders, Kai Akagi, Kate McGarry, Tierney Sutton, Larry Koonse, Kim Richmond, Bob Florence and many more.
Originally from Southern California Chris relocated to Seattle in 2002, where he makes his living as a freelance jazz musician. His recent projects have included recordings with The Johnaye Kendrick Quartet ("Here", 2014), Jim Knapp's "Scrape" (Origin, 2013), Nelda Swigget's "Swingtet" (Origin, 2014). Chris has played and taught clinics throughout Europe, Asia, North and South America. He appeared on soundtracks for television, movies, theatre, performance art, and in settings from duos to big bands and symphony orchestras.
Since May of 2000, Chris has been tuning in fifths and enjoys the altered palette of colors that tuning provides.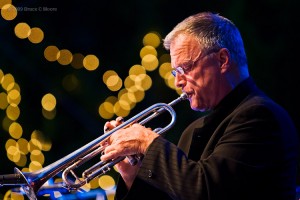 JAY THOMAS – TRUMPET
 Jay Thomas is a versatile multi-instrumentalist, and can be heard on over 60 recordings that run the gamut from hip-hop to acid-jazz, rock, Latin, and big band.
Jay has appeared in concert with Mel Lewis, John Clayton and Jeff Hamilton, Maria Schneider, Bill Holman, Bob Florence and Frank Wess. He has played festivals at Wolf Trap with Red Rodney and Ira Sullivan, the Aspen Jazz Festival with Herb Ellis, Jake Hanna and Mel Ryne (recorded with them on Roll Call), the duMaurier Jazz Festival with Chuck Israels Trio and with the Jay Thomas Quartet.
Jay toured Great Britain with jazz legend Slim Gaillard recording there with Slim, Jay McShann and Buddy Tate.
SACHAL VASANDANI – VOCALS
A graduate of the University of Michigan, Sachal Vasandani has released three albums on Mack Avenue Records, Eyes Wide Open in 2007, We Move in 2009, and Hi-Fly in 2011.
The Chicago-born artist attracted attention when he was named Down Beat magazine's Collegiate Jazz Vocalist of the Year in 1999. He has worked with the Lincoln Center Jazz Orchestra with Wynton Marsalis.
His debut recording, Eyes Wide Open, lead to tours and opening for artists such as jazz trumpeter Chris Botti and pop singer Joan Osborne. Vasandani's second album, 2009's We Move, was chosen as a New York Times Critic's Pick.
ERIC VERLINDE – PIANO
Pianist Eric Verlinde has excited audiences worldwide with his energetic and passionate performances. His music touches the very soul of the listener.
He has played with Arturo Sandoval, Randy Brecker, Eric Alexander, Terell Stafford, Mark Murphy, Luis Conte, Thelma Huston, Francine Reed, Kelley Gray, Don Lamphere, Jay Thomas, Buddy Cattlet, Greta Matassa, and Luis Peralta.
Eric is in high demand and is constantly performing, refining the sound and creating new music. His different groups create music that is pure, creative, spontaneous, superbly structured and melodic.
JIGGS WHIGHAM – TROMBONE
Jiggs Whigham first came to the attention of critics and fans at age 17 as featured soloist and first trombonist with the Glenn Miller Orchestra, directed by Ray McKinley.
In 1979 he was named Professor and Head of the Jazz Department at Cologne University College of Music.  From 1995-2000 he was chief conductor and artistic director of the Berlin Radio Orchestra.
He is currently a soloist and clinician worldwide, conductor of the BBC Big Band in Great Britain, artistic director of the Berlin Jazz Orchestra and visiting Professor at the Guildhall School of Music And Drama in London.
MATT WILSON – DRUMS
Matt Wilson leads the Matt Wilson Quartet, Arts and Crafts, Christmas Tree-O and the Carl Sandburg Project. Matt is integral part of bands led by Joe Lovano, John Scofield, Charlie Haden, Lee Konitz, Bob Stewart, Denny Zeitlin, Ron Miles, Marty Ehrlich, Ted Nash, Jane Ira Bloom and Dena DeRose among others.
He has performed with many legends of music including Herbie Hancock, Dewey Redman, Andrew Hill, Bobby Hutcherson, Elvis Costello, Cedar Walton, Kenny Barron, John Zorn, Marshall Allen, Wynton Marsalis, Michael Brecker, Pat Metheny, Bill Frisell and Hank Jones.
Wilson has appeared on 250 CDs as a sideman and has released 9 as a leader for Palmetto Records as well as co-leading 5 additional releases.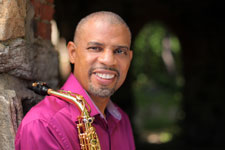 STEVE WILSON – ALTO SAX
Steve Wilson has attained ubiquitous status in the studio and on the stage with the greatest names in jazz, as well as critical acclaim as a bandleader in his own right.
A musician's musician, Wilson has brought his distinctive sound to more than 100 recordings led by such celebrated and wide-ranging artists as Chick Corea, George Duke, Michael Brecker, Dave Holland, Dianne Reeves, Bill Bruford, Gerald Wilson, Maria Schneider, Joe Henderson, Charlie Byrd, Billy Childs, Karrin Allyson, Don Byron, Bill Stewart, James Williams, and Mulgrew Miller among many others.
Wilson has seven recordings under his own name, leading and collaborating with such stellar musicians as Lewis Nash, Carl Allen, Steve Nelson, Cyrus Chestnut, Greg Hutchinson, Dennis Irwin, James Genus, Larry Grenadier, Ray Drummond, Ben Riley, and Nicholas Payton.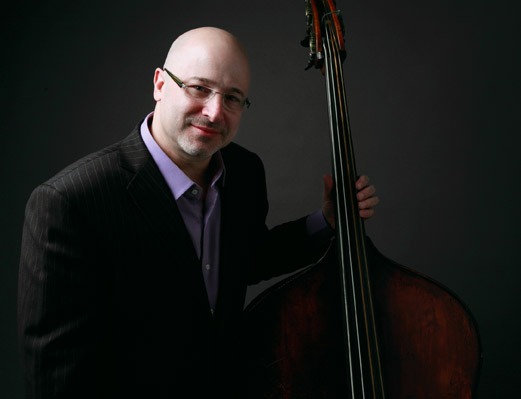 BEN WOLFE – BASS
As Wynton Marsalis said, "Ben Wolfe swings with authority." Downbeat Magazine says, " He hews to the esthetic of group interplay and the rhythms of bebop, and displays a well-honed sense of sonic narrative."
As a member of The Jazz at Lincoln Center Orchestra (JLCO), Ben has performed with Joe Henderson, Doc Cheatham, Jon Hendricks, Harry "Sweets" Edison, and Billy Higgins. Other artists he has also recorded with include Branford Marsalis, James Moody, Eric Reed, Carl Allen, and Benny Green.
Ben is currently on the teaching faculty at The Julliard School in the Jazz Division.