We're currently assembling the 2017 gathering. Here's what we presented in 2016.
---
JOHN CLAYTON – ARTISTIC DIRECTOR
Grammy-winning bassist/composer/conductor John Clayton has written and arranged music for Diana Krall, DeeDee Bridgewater, Natalie Cole, Milt Jackson, Nancy Wilson, McCoy Tyner, Quincy Jones, George Benson, Dr. John, Regina Carter and many others.
John has been commissioned by many ensembles including the Northwest Chamber Orchestra, the American Jazz Philharmonic, The Iceland Symphony, The Metropole Orchestra, The Carnegie Hall Big Band, The Richmond Symphony, the WDR Orchestra, and the Amsterdam Philharmonic. John was awarded a platinum record for his stirring arrangement of "The Star-Spangled Banner," performed by Whitney Houston during the Super Bowl in 1990.
John has won numerous awards such as the Golden Feather Award, and the Los Angeles Jazz Society's Composer/Arranger award.  Most recently, John won a Grammy for his arrangements on Queen Latifah's, Trav'lin' Light.  John has served as the musical director of several jazz festivals including the Sarasota Jazz Festival, the Lionel Hampton International Jazz Festival, the Santa Fe Jazz Party, and the Vail Jazz Workshop.
John is a co-founder of the Grammy-nominated Clayton-Hamilton Jazz Orchestra, which is co-led by John, his brother, saxophonist, Jeff Clayton, and drummer, Jeff Hamilton. Also, John and his brother Jeff co-lead the Clayton Brothers Quintet, who have been nominated for two Grammy awards.
CLARENCE ACOX – DRUMS
A leading figure in the Seattle music scene, Clarence Acox Jr. has nurtured young musicians for the past 35 years as director of jazz bands at Garfield High School. He leads the renowned Garfield Jazz Ensemble, winning dozens of awards and making regular appearances at national and international venues. The ensemble has taken first place four times at New York's Essentially Ellington National Jazz Band Competition and Festival, the country's most prestigious high school jazz competition.
Clarence was named "Educator of the Year" by DownBeat Magazine in 2001. He co-founded the Seattle Repertory Jazz Orchestra in 1995 and has been a prominent performer on the Seattle jazz scene for more than two decades.
JD ALLEN —TENOR
Hailed by the New York Times as "a tenor saxophonist with an enigmatic, elegant and hard-driving style," JD Allen has a unique and compelling voice on his instrument. Originally from Detroit, Allen began his apprenticeship in New York with a lengthy tenure with Betty Carter. He has also worked with Lester Bowie, George Cables, Ron Carter, Louis Hayes, the Frank Foster Big Band, Winard Harper, Dave Douglas, Cindy Blackman, Butch Morris, David Murray, Wallace Roney, Rufus Reid, and Geri Allen.
JD has appeared on NPR's "Jazz Perspectives," WNYC's "Soundcheck" and WKCR's "Musician's Show." He has been named as a winner three times in Downbeat magazine's Critic's Polls: as a "Rising Star" in 2011; as Tenor Saxophonist in 2012; and as "Composer" in 2013. JD has six recordings as a leader already to his credit. 2016 marks his first appearance as a faculty member and performer at Jazz Port Townsend.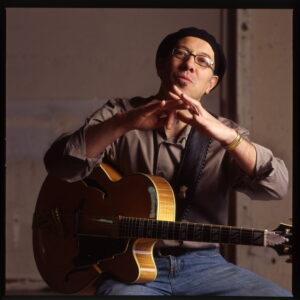 DAN BALMER, GUITAR
Dan Balmer has long been considered one of the finest guitarists, composers, and educators in the Northwest. In 2009, Dan became one of only five musicians, and the youngest, to be honored with membership in both The Oregon Music Hall of Fame and the Jazz Society of the Oregon Hall of Fame.
In 2015, Dan continued his work with Les McCann and Javon Jackson, and also performed on the road with Dr. Lonnie Smith. From 2005-2009 Dan toured and recorded with two time Grammy Winner Diane Schuur, playing in over 15 countries and 60 cities. When home in Portland, Dan leads his own groups, plays regularly with drummer Mel Brown, and is a first call sideman for many others.
Dan has appeared on over 90 CDs including eight of his own which have received critical acclaim and international airplay. His music has been featured in movies and television shows both in the U.S. and overseas.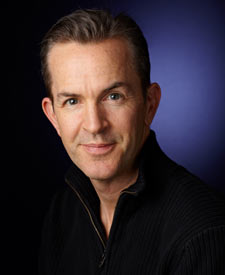 JAKE BERGEVIN – EDUCATOR'S TRACK
Jake Bergevin is an active performer and educator. He keeps a steady schedule of performances as both a clinician and performer (as trumpeter, vocalist and band leader). Jake is currently the Director of Bands and Department Chairperson at Edmonds-Woodway High School where he teaches 3 Concert Bands and 3 Jazz Ensembles in addition to cultivating a thriving jazz combo community. Last year Mr. Bergevin was a quarter finalist for Educator of the Year from the Grammy Foundation. Under his direction the Edmonds-Woodway Jazz Program has earned national recognition as 4 time finalists in the prestigious Essentially Ellington Contest.
Jake has received a fellowship from the National Endowment for the Humanities with a focus on Duke Ellington. He has served as the Jazz Curriculum Chairperson for the Washington chapter of the National Association for Music Education (NAfME) and as Vice President for Washington's chapter of the IAJE.
GEORGE CABLES – PIANO
Pianist George Cables has played with Art Blakey, Sonny Rollins, Dexter Gordon, Art Pepper, Joe Henderson, and many other legendary jazz musicians.
His own records include the 1980 Cables' Vision with Freddie Hubbard among others. In the 1980s he worked in the project Bebop & Beyond, who recorded tribute albums to Dizzy Gillespie and Thelonious Monk.
According to Victor Schermer, "Anyone who is serious about jazz will tell you that George Cables belongs in the pantheon of the greatest jazz pianists. Everyone, that is, except George Cables. Exceptional in every way, he is yet a team player. He sees himself as part of the rhythm section, and has always emphasized the group over the soloist. "
He is currenty performing and recording as a soloist, with trio and larger ensembles, and as a clinician in college jazz programs.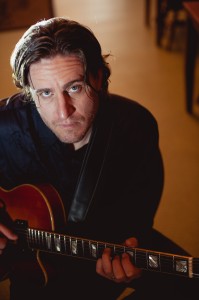 COREY CHRISTIANSEN – GUITAR
Corey is becoming recognized as one of the preeminent jazz guitarists in the world. A recording artist, writer, educator and performer, he has played and taught in literally every type of situation around the globe for the last decade.
"Awakening," Corey's first CD as a leader, was the initial release on Mel Bay Records in 2004 and received critical acclaim throughout the jazz community. MB3: Jazz Hits Vol. 1 marked a great leap in his national and international visibility as a player and producer. Jazz Hits Vol. 1 spent three weeks as the No. 1 jazz recording on North American jazz radio.His first performance DVD – "Vic Juris & Corey Christiansen: Live at the Smithsonian Jazz Café" – was released in July 2006.  Jazzwise-reviewer Mike Flynn gave the recording four stars, noting that "…Christiansen is well versed in the guitar's sonic heritage and his judicious sense of phrasing finds him light-fingered even on the densest of changes and positively euphoric on his ballad work."
Corey has written several method books for Mel Bay Publications as well as articles for many of the major guitar magazines and Downbeat Magazine. Corey currently teaches at Utah State University and the famed Jacobs School of Music at Indiana University. He is also an artist-in-residence at Atlanta Institute of Music (Atlanta, GA), and Broadway Music School (Denver, CO)
GERALD CLAYTON – PIANO
Over the course of eight years, with three albums as a leader, several studio projects as a sideman, and countless worldwide performances, pianist and composer Gerald Clayton has established himself as a leading figure in the up-and-coming generation of jazz artists who are fluent in the range of styles that make up today´s jazz lexicon. Hailed by The New York Times for his "huge, authoritative presence," Clayton is well on his way toward etching his own enduring mark in the long and rich tradition of jazz.
In 2009, he released Two Shade, his debut album as a leader, with bassist Joe Sanders and drummer Justin Brown. It was from this recording that Gerald received a 2010 Grammy nomination in the category of ´Best Improvised Jazz Solo´ for his rendition of Cole Porter´s "All of You." In 2011, Gerald received a second Grammy nomination, this time for ´Best Jazz Instrumental Composition´, for his piece "Battle Circle" featured on the Clayton Brothers recording, The New Song and Dance. The same year, Clayton released his second album, Bond: The Paris Sessions. Bond received a Grammy nomination, Gerald´s third, in 2012 for ´Best Jazz Instrumental Album´.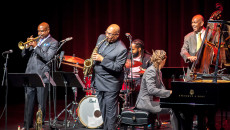 JEFF CLAYTON – ALTO
Alto saxophonist and multi-reed instrumentalist Jeff Clayton began his career as both a touring and studio musician.
Recently Jeff has been a main stay as Jeff has also toured with Frank Sinatra, Sammy Davis Jr., Ella Fitzgerald, Woody Herman, Lionel Hampton, and Lena Horne, and played in the Count Basie Orchestra while under the leadership the Count and after Basie's passing with Thad Jones.
Jeff served at UCLA from 1998 to 2002 as an adjunct professor, and at the University of Southern California from 2000 to 2004. Also, he was an adjunct professor at CSU Long Beach 2005 thru 2007 and Cal State Los Angeles. Jeff and John Clayton were nominated Educators of the Year in Jazz Times Magazine in 2005.
He has numerous Jazz Camps and Clinics to his credit including the Vail Jazz Camp 1994-2010, the Stanford Jazz Camp 2001, University of Notre Dame with Jon Faddis, 2003 again in 2010, and Port Townsend 1991-1993 and again 2004 thru 2010. Savannah Educational Jazz Festival in 2007 thru 2011, University of Notre Dame Master Class and performance with his own group the Jeff Clayton Quartet.
DAWN CLEMENT – PIANO

Pianist/Composer and vocalist Dawn Clement hails from Seattle, WA. A veteran of Jazz Port Townsend, Dawn
is involved in several collaborations including the Jane Ira Bloom Quartet, Priester's Cue with the legendary Julian Priester, the Seattle Pianist Collective, as well as her own trio.
Dawn has performed with such notables as Nancy King, Ingrid Jensen, Hadley Caliman, John Clayton, Mercer Ellington, Mark Dresser, Jay Clayton and Pharaoh Sanders. Dawn has performed in some of the world's most premier venues such as Carnegie Hall, Le Conservatoire Superieur, Paris, and Seattle's Benaroya Hall, as well as numerous clubs (including Sweet Rhythm, Tonic, and Iridium), art museums, and theaters.
In addition to her work with Jane Ira Bloom, Dawn has toured the U.S. with a number of projects including the Sabella Consort, and the Rubin/Clement Piano Dialogues.  Dawn is currently on the faculty of Cornish College of the Arts and maintains a rigorous performance schedule.
GEORGE COLLIGAN – PIANO
George Colligan is a New York based pianist, organist, drummer, trumpeter, teacher, and bandleader, who is one of the most original and compelling jazz artists of his generation. An award-winning composer (Chamber Music America/Doris Duke Foundation grant recipient) and player (winner, Jazzconnect.com Jazz Competition), Colligan is highly in demand as a sideman, having worked with players like Cassandra Wilson, Don Byron, Buster Williams, and Lonnie Plaxico, both on the bandstand and in recording sessions (appearing on over 100 CDs).
He has released 24 recordings full of his intelligent writing and impressive technique. His latest CD on the Origin Label is called"The Endless Mysteries" and features Larry Grenadier and Jack DeJohnette. Colligan's musical style incorporates everything from showtunes to funk, from free improvisation to 20th century classical music. His performances include dazzling technique as well as mature restraint. Colligan was on the faculty of the Juilliard School for two years and is currently an Assistant Professor at Portland State University. He is currently a member of Jack DeJohnette's New Quintet.Recently, Colligan started playing the Hammond 44 Melodion(melodica). He also started a popular blog called jazztruth(jazztruth.blogspot.com).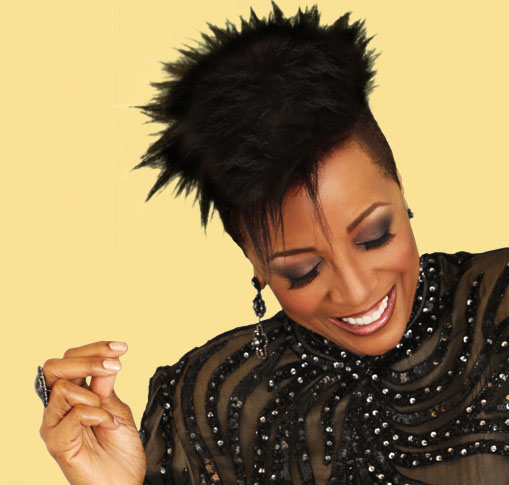 DEE DANIELS – VOCAL
Whether accompanying her self at the piano, fronting a trio, big band or symphony, Dee Daniels' musical career is as varied as her four-octave vocal range is thrilling. She is a unique talent who transcends musical borders when she brings her jazz styling, infused with gospel and blues flavoring, to the stage. One critic says,"Daniels' voice has a hypnotic quality, delivering an impressive range that gives the romantic songs and verse of 50 years ago new life and raw emotion."
Dee's vocal style was born in her stepfather's church choir in Oakland, California, refined through the R&B era, polished during a five-year stay in The Netherlands and Belgium from 1982 to 1987, and brought to full fruition upon her return to North America. During those years to the present, she has performed and/or recorded with many 'Legends of Jazz' including Benny Green, Houston Person, John Clayton, Russell Malone, Wycliffe Gordon, Cyrus Chestnut, Clark Terry, Ken Peplowski, Kenny Barron, Bill Mays – to mention a few.
Career highlights include: Teaching at Queens College (NY) 2013 – 2014, being named Artistic Director, in September 2011, of the Frank DeMiero Jazz Festival – a camp dedicated to Jazz Vocals with around 60 participating schools; a nomination for Atlanta Theater's 2010 Suzi Bass Award; the 2009 receipt of an Honorary Doctorate Degree of Fine Arts and 2008 President's Award, both from Capilano University; 2003 recipient of the prestigious Commemorative Medal for the Golden Jubilee of Her Majesty Queen Elizabeth II, and induction into the University of Montana's School of Fine Arts Hall of Honor as well as a 1997 University of Montana Distinguished Alumni Award; a 2002 inductee into the BC Entertainment Hall of Fame with a plaque installed on Vancouver's Granville Street Walk of Fame; and a command performance for the King and Queen of Belgium's 25th Wedding Anniversary. Her international career includes performances in twelve African countries, Australia, South America, the United Kingdom, Hong Kong, Japan, throughout North America, and many countries within Europe.
CHUCK DEARDORF – BASS
 Chuck Deardorf has recorded and toured internationally with Bud Shank and Don Lanphere, George Cables and Kenny Barron, Winard Harper, and Larry Coryell.  As the first call bassist in Seattle, Chuck has performed with Chet Baker, Zoot Sims, Art Farmer, Howard Roberts, Monty Alexander, Kenny Burrell, Marian McPartland, Mel Lewis, Pete Christlieb, Joe Williams, Kenny Werner, Carl Fontana, Joe LaBarbara, and Tal Farlow.
Chuck's latest solo release on Origin records, "Transparence" (released 2011) demonstrates his performing, producing and arranging abilities with a host of great musicians. He is currently a member of the Deardorf/Peterson Group (whose 2004 Origin release "Portal" won critical acclaim), the Jovino Santos Neto Quartet, the Susan Pascal Quartet along with the Bill Ramsay Big Band.
An accomplished studio musician, Chuck's bass has been heard on many first run movie soundtracks, dozens of albums and CD projects, and numerous Broadway touring shows.  Chuck also has performed on numerous occasions with the Seattle Symphony Orchestra.
DENA DEROSE – VOCAL
Dena DeRose, Vocalist and Pianist, has recorded 11 CD's as a leader, the latest of which is United (2016). DeRose has been selected eight times as an "Artist Deserving Wider Recognition" by the Downbeat Critic's Poll, the first time in 2003, and she was the subject of a recent feature article in JazzTimes magazine. Dena has appeared on NPR's Morning Edition, and was a guest on Marian McPartlands' Piano Jazz three times. She also appears on the NPR Christmas CD "'Piano Jazz' Christmas Compilation".
She has shared the stage with many jazz greats such as Clark Terry, Ray Brown, Kenny Burrell, Albert 'Tootie' Heath, Benny Golson, Marian McPartland, Rufus Reid, Louis Hayes, Mark Murphy, Lewis Nash, Jay Clayton, Marvin Stamm, Michael Abene, Scott Hamilton, Benny Green, Harry Allen, Gary Smulyan, Jeff Hamilton, Matt Wilson, John Clayton, Terell Stafford, Tootie Heath, Larry Grenadier, Bill Henderson, Sheila Jordan, Peter Washington, Deborah Brown, Eric Alexander, Kenny Washington, Michael Abene, Jay Clayton, Bill Charlap, Akira Tana, Ken Peplowski, Ingrid Jensen, John Scofield, and many others.
Dena has performed at some of the most respected Jazz Festivals around the world such as Marciac (France), Monterey (CA), The North Sea (Holland), Buenos Aires and Cordoba (Argentina), Providencia del Jazz (Santiago, Chile), The San Francisco (CA), and The Red Sea (Israel).
After residing in NYC for 15 years, Dena moved to Europe when she accepted a Vocal Jazz Professorship at the Jazz Institute of the University for Music and Performing Arts in Graz, Austria (KUG). She continues to do concerts, clinics, workshops, and master classes around the world.
TAYLOR EIGSTI – PIANO
New York-based pianist and composer Taylor Eigsti started playing the piano when he was 4 years old, inspired by his sister. He became a bandleader at age 12, and was quickly labeled a prodigy. He released 4 early albums as a leader before having the opportunity to sign with Concord Records, where he has released three highly acclaimed albums.
The Grammy nominated artist has performed and recorded with Dave Brubeck, Christian McBride, Joshua Redman, among many others. He has also performed internationally for 11 years with guitarist Julian Lage, his close musical collaborator. Recently, Eigsti and Lage collaborated on new symphonic compositions for guitar, piano and symphony orchestra to premiered by the Peninsula Symphony Orchestra. Eigsti has also premiered work in the classical vein with the San José Chamber Orchestra and the Oakland East Bay Symphony.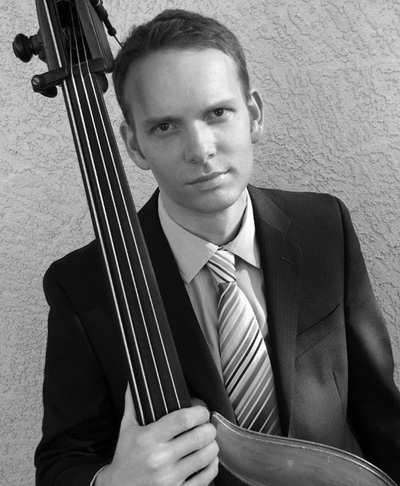 MICHAEL GLYNN – BASS
Michael Glynn began playing bass at the age of 11 and starting working professionally while still a student at Seattle's Garfield High School. In addition to performing with countless local musicians throughout the Pacific Northwest, California, and New Mexico, Michael has performed with jazz legends including Bud Shank, Jon Hendricks, Bobby Shew, Mark Levine, Dave Grusin, Geoffrey Keezer, Seamus Blake, Eric Alexander, David Hazeltine, Benny Green, Gary Smulyan, Doug Lawrence, William Parker, Madeline Eastman, Dena DeRose, and the Cab Calloway Orchestra. Michael has performed around the United States and in Canada, Switzerland, France, the Netherlands, Oman, and Trinidad and Tobago.
He performs in a variety of other genres, including classical work with the New Mexico Philharmonic, the New Mexico Symphony Orchestra, Opera Southwest, and Canticum Novum Santa Fe; calypso with steel drum legend Ray Holman; and a mix of Arabic and Western music with Iraqi-American oud virtuoso Rahim Al Haj.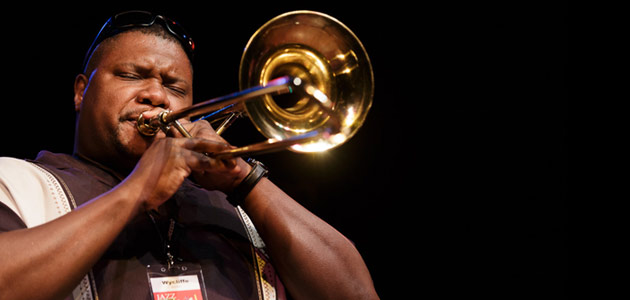 WYCLIFFE GORDON – TROMBONE
Musical ambassador and interpreter of America's music, Wycliffe Gordon has an unmatched modern mastery of the plunger mute and his exceptional technique and signature sound, have solidified Gordon a place in musical history as one of the top trombonists of his generation.
Wycliffe has been named "Best in Trombone" by the Downbeat Critics Poll for 2012 and Jazz Journalists Association named him "Trombonist of the Year" again this year in 2012 as well as previous years 2001, 2002, 2006, 2007, 2008, and 2011.
He is a past recipient of the ASCAP Foundation Vanguard Award, among others. Wycliffe is on the faculty of the Jazz Arts Program at Manhattan School of Music.
RANDY HALBERSTADT – PIANO
A pianist, arranger, composer, lyricist, and author, Randy Halberstadt has enjoyed an international performing career, having played and/or recorded with Mimi Fox, Ray Drummond, Jay Clayton, Terry Gibbs, Buddy DeFranco, James Moody, Herb Ellis, Mel Brown, Nancy Kelly, Houston Person, Sheila Jordan, Ernestine Anderson, Rene Marie, Bobby Shew, Marlena Shaw, Jackie Ryan, Jiggs Wigham and John Stowell.
Randy's book, Metaphors For The Musician: Perspectives From A Jazz Pianist (Sher Music 2002) has become one of the most highly acclaimed texts in jazz education. His composition "When Springtime Turns To Fall" appears in The All-Jazz Real Book (both books published by Sher Music Co. in 2002). His recordings include Inner Voice (Pony Boy Records 1991), Clockwork (Pony Boy Records 1995), Parallel Tracks (Origin Records 2004), and Flash Point (Origin Records 2010).
Randy makes his home in the Pacific Northwest and has taught for many years at Seattle's prestigious Cornish College of the Arts.
JON HAMAR – BASS
Jon Hamar is a versatile artist who has been recognized for his ability to find a tasteful unique voice in any musical situation. Jon earned a Bachelor of Arts degree in Double Bass Performance from Eastern Washington University under the tutelage of Roma Vayspapir and graduated from the Eastman School of Music with a Master's degree in Jazz and Contemporary Media, studying with Jeff Campbell, James Vandermark, Harold Danko, Clay Jenkins and Fred Sturm.
Jon recently moved from Seattle to Knoxville, Tennessee joining the University of Tennessee and the Natalie L. Haslam School of Music.
JEFF HAMILTON – DRUMS
Originality is what versatile drummer Jeff Hamilton brings to the groups he performs with and is one of the reasons why he is constantly in demand, whether he is recording or performing with his trio, the Clayton Brothers or co-leading the Clayton/Hamilton Jazz Orchestra.
In addition to his many recordings with Ray Brown, Jeff has been on nearly 200 recordings with artists such as Natalie Cole, Diana Krall, Milt Jackson, Rosemary Clooney, Barbara Streisand, Mel Torme, John Pizzarelli, Benny Carter, Lalo Schifrin, George Shearing, Dr. John, Clark Terry, Gene Harris, Toshiko Akioshi, Scott Hamilton, Harry "Sweets" Edison, Keely Smith, Bill Holman, Herb Ellis, Barney Kessel and Mark Murphy.
Jeff is a frequent guest of the WDR Big Band in Cologne, Germany. He also appeared in Natalie Cole's Great Performances PBS special, Unforgettable and an Oscar Peterson documentary, Life In The Key Of Oscar.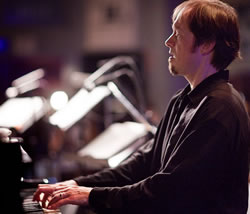 JOHN HANSEN – PIANO
John Hansen is regarded as one of the most in-demand jazz pianists in the Northwest. A studied and musical ensemble player with a strong melodic vocabulary, John has always been recognizable for a unique personal voice. His performance history includes such venues as NYC's Birdland, The Jazz Standard, Dizzy's Club Coca-Cola, DC's John F. Kennedy Center of the Performing Arts, Seattle's Jazz Alley and Tula's, and international festivals and tours in France, Japan, Korea, Eastern Europe, Central Asia, Russia and Central America.
During his career, John Hansen has performed and recorded with many of the Northwest's premiere, award-winning bands including: the Jay Thomas Quartet, Jim Knapp Orchestra, Kelley Johnson, and The Bill Ramsay-Milt Kleeb Band with Pete Christlieb. He has been invited to perform with The Seattle Symphony, Rick Margitza, Randy Brecker, Ingrid Jensen, Ernestine Anderson, The Woody Herman Orchestra, Bud Shank, Bobby Shew, David 'Fathead' Newman, and more.
SEAN JONES  – TRUMPET
For Sean Jones, the pursuit of Jazz is a most serious endeavor. Originally a drummer, he discovered Jazz and the trumpet at ten years old on hearing Miles Davis' Kind of Blue and Amandla. "Miles is probably the single most powerful influence on me as an artist. His overall vision, the way he changed with the times, the purity of his sound." After receiving his Master's Degree from Rutgers University Sean had a 6-month stint with Wynton Marsalis' Lincoln Center Jazz Orchestra. This led to a permanent position as lead trumpeter which he held until 2010.
In 2014 Sean was named Chair of the brass department at Berklee College of Music, and he also serves as Artistic Director of both the Pittsburgh and Cleveland Jazz Orchestras.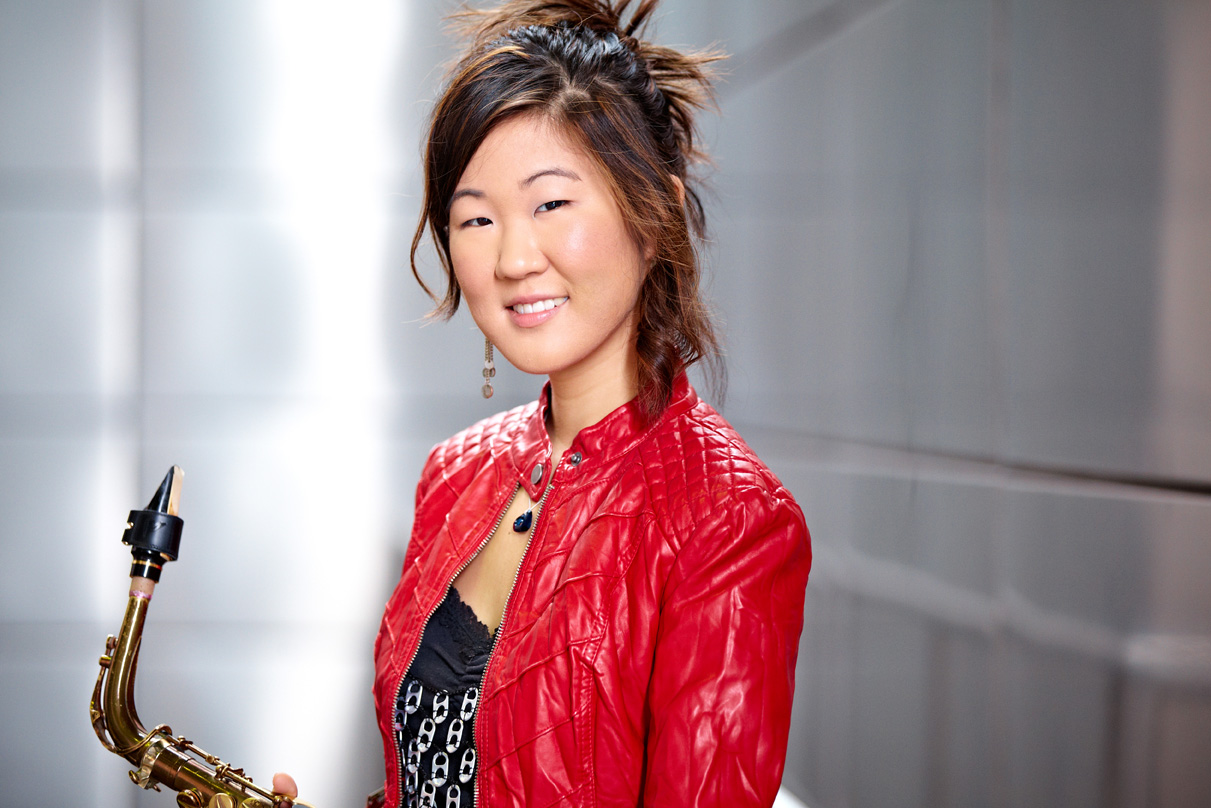 GRACE KELLY – SAX
A regular on The Late Show with Stephen Colbert's band, Stay Human, Grace Kelly graduated from the Berklee College of Music in 2011 with a degree in professional music. She has taught residency workshops since 2012. That year also brought another important opportunity to pass on her musical knowledge: the U.S. State Department sent her on an international speakers tour to be an ambassador of jazz and educate the people of Madagascar and the Comoros Islands about the music.
Having just released her 10th CD Trying To Figure It Out, Grace is a truly unique, dynamic and genre-bending saxophonist, singer, songwriter, composer in Jazz. She wrote her first song when she was 7 years old, recorded her first CD at 12, and orchestrated, and performed an original composition with the Boston Pops Orchestra at 14. As a bandleader Grace has performed over 700 concerts in over 30 countries in such notable venues as the Hollywood Bowl, Kennedy Center, Carnegie Hall, Symphony Hall and major festivals such as Montreal, Newport, and Montreux. Grace has also performed and/or recorded with artists such as Lee Konitz, Phil Woods, Ron Carter, David Sanborn, Marcus Miller, Dave Brubeck, Wynton Marsalis, Huey Lewis, Harry Connick Jr, Questlove, Esperanza Spalding, James Cotton, Gloria Estefan, to name a few.
Winner of the 64th Annual 2016 Downbeat Magazine Critics Poll as "Rising Star Alto Saxophone" Grace also has been featured on CNN.com (Making of a Prodigy), Glamour Magazine's Top Ten College Women 2011, and many appearances on NPR. Grace has won multiple ASCAP Composer Awards, Boston Music Awards, and several International Songwriting Competitions.
JOE LA BARBERA – DRUMS
Joe La Barbera has enjoyed a long and varied career in music, a career that has taken him all over the world with some of the finest names in jazz. He is regarded by his peers as a musical drummer and a supportive accompanist.
Born in Mt. Morris, New York, his first musical experiences began at home as part of the family band with his parents and two older brothers, saxophonist Pat and trumpeter and arranger/composer John La Barbera. From his father he received a solid foundation in drumming as well as lessons on clarinet and saxophone. His education continued at the Berklee College of Music in Boston.
Currently residing in Los Angeles, Joe is involved in a wide range of music locally, nationally and internationally. On the local scene he is busy with his own quintet as well as sideman duties with many well-known jazz artists.
Since 1993, Joe has been on the faculty of California Institute for the Arts in Valencia, California. He is also a visiting artist at UNLV (Las Vegas), and a faculty member of the Bud Shank Jazz Workshop. In the past he has also served on the National Endowment for the Arts council in Washington D.C. and has been a guest at many other colleges as both performer and lecturer.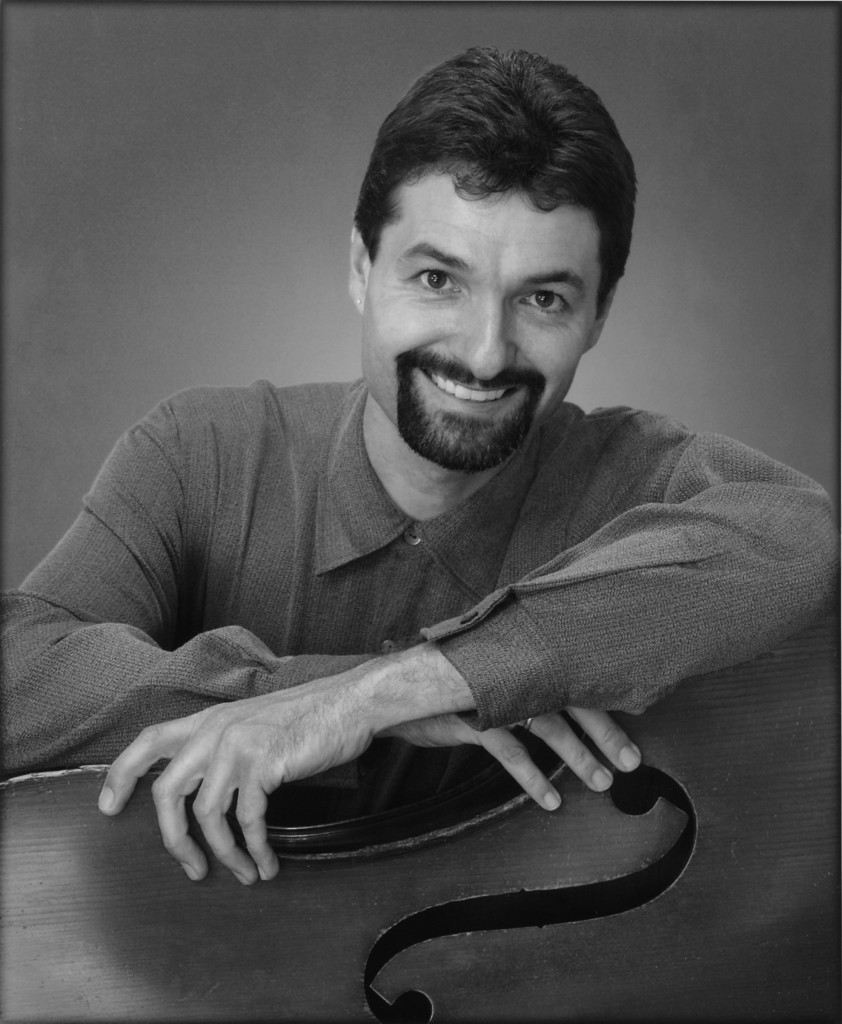 CHRISTOPH LUTY – BASS
Bassist Christoph Luty is known for his big, natural sound, melodic bass lines and solos, and articulate arco playing. He came to Los Angeles from Salt Lake City, Utah, in 1990 to pursue his dream of studying and playing with the greats. He studied bass with his mentor John Clayton–who has said "Christoph's playing exemplifies…swinging bass lines, lyrical solos, and a great, natural sound that is huge and full"–and also earned his Master of Music degree from the University of Southern California. His playing has received many accolades. All About Jazz noted that "bassist Christoph Luty has a fat sound and an unerring sense of melody." With the Jeff Hamilton Trio "Luty 'sang' with a rich sound recalling the sonorous lower register of jazz bass great Ray Brown," as reviewed in The Capital-Journal. Reviewing Christoph's CD "It's Good To Be Seen," Jazz Player Magazine noted that "Christoph Luty's arco bass playing ability is remarkable…exceptionally in tune with a centered tone."
Christoph currently lives in the Los Angeles area, and maintains a busy concert schedule, appearing in concert halls, clubs, and festivals throughout the United States, Japan, and Europe. He is presently a member of the Jeff Hamilton Trio, which performs concerts, club dates and workshops nationally and internationally. As the longtime bassist of the Clayton/Hamilton Jazz Orchestra he has collaborated on concerts with artists like Oscar Peterson, Ray Brown, Diana Krall, Clark Terry, Dave Brubeck, James Moody and Shirley Horn, to name only a few. He has recorded with the likes of Milt Jackson, John Pizzarelli, Diana Krall and more; and has appeared nationally with artists such as Dena DeRose, Harry Allen, Warren Vache, Curtis Stigers, Bill Watrous, Anthony Wilson, Jeff Clayton, Bill Cunliffe, Howlett Smith and many others.
KELBY MACNAYR – DRUMS
Percussionist, composer, music director and band leader Kelby MacNayr performs jazz, classical, new music, and has collaborated with many acclaimed artists including Anne Schaefer, pop group Elephant Island, N.Y. pianist Misha Piatigorsky, composer and pianist Marianne Trudel, Christine Jensen, Chuck Deardorf, Ian McDougall, Chet Doxas and many others.
Kelby is currently the Artistic Director for the Art of the Trio Series, and is a member of the Marc Atkinson Quartet, the Marianne Trudel Quintet, and Misha Piatigorsky's Canadian trio.
His group the Kelby MacNayr Quintet has been earning critical acclaim in the US and Canada.  (Photo by Jim Levitt)
JULIAN MCDONOUGH – DRUMS
Julian MacDonough is a Pacific Northwest drummer, who tours with the Mike Allen Quartet/Trio (Vancouver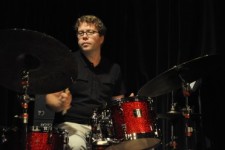 BC), the genre-bending "funk" band Megatron (Bellingham Washington) the Monday Night Project, and alt-country singer songwriter Kasey Anderson (Portland Oregon).
In addition to those bands, Julian has been very active as a freelance musician. Primarily hired as a jazz drummer up and down the west coast, he has also spent a lot of time in recording studios with over 40 CDs under his belt. Some of his favorites are Mike Allen's 2003 award winning album "Dialectic," 2004 "Fearless," and 2006 "Love One Another." Kasey Anderson's "Nowhere Nights" Havilah Rand's 2009 "Bengalese Butterflies", Jenni Potts's "Take This and Go" and New York pianist Aaron Parks "First Romance."
RENÉ MARIE – VOCALIST
René Marie has walked a remarkable journey. Married at 18, a mother of two by 23 and a Jehovah's Witness, she only occasionally sang. When her husband of 23 years issued an ultimatum to stop singing or leave, she chose music over the turbulent marriage and self-released her debut Renaissance in 1998 and toured as Ella Fitzgerald in a regional play.
Widespread recognition of her talent followed quickly, with awards such as the Best International Jazz Vocal CD by France's Academie Du Jazz, and headlining appearances at major international festivals and demonstration her taste for forging connections between songs most would never think to merge. Her well-known medley of "Strange Fruit" and "Dixie" stirred the pot on America's history of slavery and Southern race relations and her choice to sing the black national anthem, "Lift Ev'ry Voice and Sing" (set to the melody of the "Star Spangled Banner") to open Denver's State of the City address in 2008 spurred a significant backlash.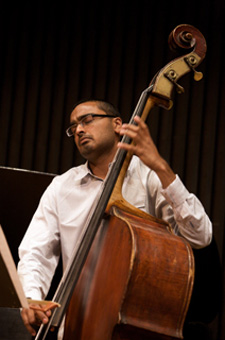 HARISH RAGHAVAN – BASS
Harish Raghavan grew up in Northbrook, Illinois. At age 8, he began studying drums and Indian percussion; he switched over to the double bass at 17. At 18, was accepted to study double bass at the University of Southern California under John Clayton, spending some time in Los Angeles afterward. He moved to New York in 2007 and quickly became a rising star on his instrument.
Raghavan has played/toured with Kurt Elling, Taylor Eigsti, Vijay Iyer, Ambrose Akinmusire, Eric Harland, Mark Turner, Aaron Parks, Greg Osby, Billy Childs, Benny Green, Geoffry Keezer, Terrell Stafford, Mike Moreno, Rodney Green, Logan Richardson, Fabian Almazan, Justin Brown, Dayna Stephens, Julian Lage, Gerald Clayton, Marcus Gilmore, Walter Smith III, among others.
Some recent albums on which Harish can currently be heard include Ambrose Akinmusire's The Imagined Savior Is Far Easier To Paint; Walter Smith III's Still Casual, A.C.T. (Featuring Ben Wendel and Nate Wood) ACT II, Eric Harland's Vipassana; and Logan Richardson's Shift.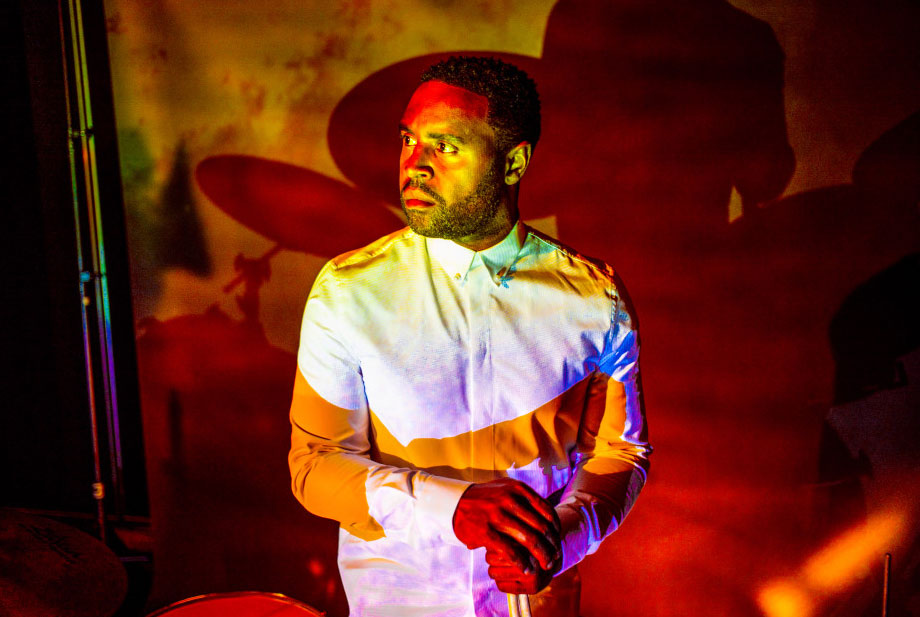 KENDRICK SCOTT – DRUMS
In the relatively short span of ten years, drummer and composer Kendrick Scott has established himself as an artist of great versatility and depth. Having toured and recorded with such luminaries as Terence Blanchard, Herbie Hancock, the Crusaders and others, he has proven his ability to adapt his style to virtually any occasion or circumstance, and at the same time maintain his own distinctive voice in the process.
In addition to his work as a support figure, he has also developed a reputation as an innovative composer and bandleader, with the help of his ever-evolving musical collective. The Kendrick Scott Oracle began their creative odyssey in 2007 with an eclectic and ambitious debut recording called The Source, and followed up on its success with Conviction, an album set for release on Concord Jazz in March 2013.
Before finishing high school, Scott won a number of Downbeat Magazine student awards, as well as the Clifford Brown/Stan Getz Award from the International Association of Jazz Educators and the National Foundation for the Advancement of the Arts. He was later awarded a scholarship to attend Berklee College of Music, where he majored in music education.
In addition to long hours of instruction and practice, the Berklee years also presented Scott with the opportunity to establish relationships with prominent artists like Kenny Garrett, Pat Metheny, the Crusaders and others. After he graduated in 2003, he had offers to tour first with the Crusaders, and later with Terence Blanchard. He has played with Blanchard for most of the ten years since.
"Kendrick is a true artist of the highest order," says Blanchard. "He is not bound by the conventional wisdom of the music world. I've noticed that he never says why, but rather why not. He is exactly what the music world needs: someone with the vision and courage to press forward and expand the world of music. I am blessed to have him around and I look forward to seeing what he does every time we play."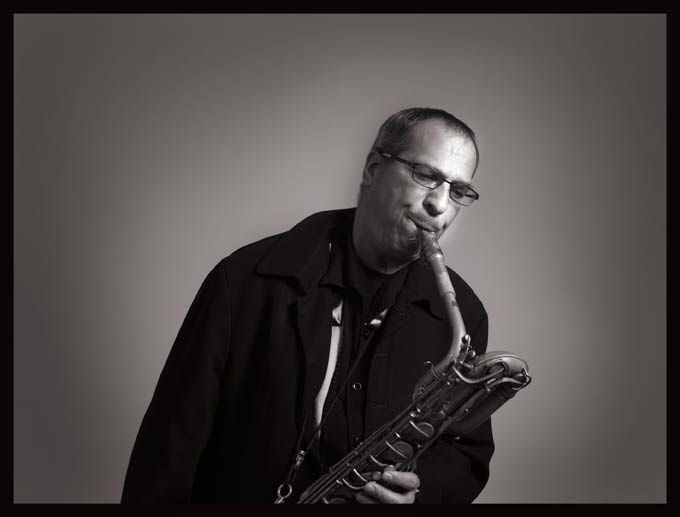 GARY SMULYAN – BARI SAX
Gary Smulyan attended SUNY-Postsdam and Hofstra University before he joined Woody Herman's Young Thundering Herd in 1978. In 1980, he became part of the Mel Lewis Jazz Orchestra then under the direction of Bob Brookmeyer.
Smulyan also found work with other important large ensembles including the Mingus Epitaph band, and the Smithsonian Jazz Masterworks Orchestra. Smulyan has shared the stage and the recording studio with trumpeters Freddie Hubbard and Dizzy Gillespie, saxophonist Stan Getz, pianist Chick Corea, timbales king Tito Puente, and R&B/blues and soul icons Ray Charles, B.B. King and Diana Ross.
Smulyan is a perennial (and 2014) winner of the DownBeat Critics and Readers Polls, and a five-time Grammy award winner for his work with B.B. King, Lovano, Holland and the Vanguard Jazz Orchestra. He teaches at the Manhattan School of Music, Rutgers University, and SUNY Purchase.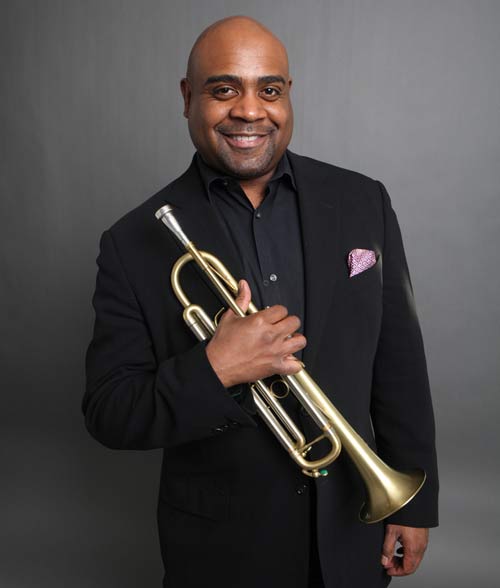 TERELL STAFFORD – TRUMPET
Based in New York, acclaimed trumpet player Terell Stafford has been hailed as "one of the great players of our time, a fabulous trumpet player" by piano legend McCoy Tyner. Stafford is recognized as an incredibly gifted and versatile player, he combines a deep love of melody with his own brand of spirited and adventurous lyricism. Stafford's exceptionally expressive and well defined musical talent allows him to dance in and around the rich trumpet tradition of his predecessors while making his own inroads.
Since the mid-1990's, Stafford has performed with groups such as Benny Golson's Sextet, McCoy Tyner's Sextet, Kenny Barron Quintet, Frank Wess Quintet, Jimmy Heath Quintet and Big Band, Jon Faddis Jazz Orchestra, Carnegie Hall Jazz Band and Dizzy Gillespie All-Star Alumni Band.
He is the Director of Jazz Studies and Chair of Instrumental Studies at Temple University, founder and band leader of the Terell Stafford Quintet, and Managing and Artistic Director of the Jazz Orchestra of Philadelphia (JOP).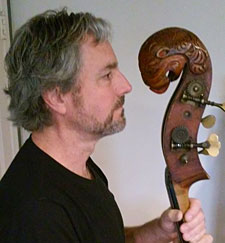 CHRIS SYMER – BASS
Chris has performed and/or recorded with Roger Kellaway, Bennie Maupin, Robben Ford, Theo Saunders, Kai Akagi, Kate McGarry, Tierney Sutton, Larry Koonse, Kim Richmond, Bob Florence and many more. Originally from Southern California Chris relocated to Seattle in 2002, where he makes his living as a freelance jazz musician. His recent projects have included recordings with The Johnaye Kendrick Quartet (Here, 2014), Jim Knapp's Scrape (2013) and Nelda Swiggett's Swingtet (2014).
Chris has played and taught clinics throughout Europe, Asia, North and South America. He has appeared on soundtracks for television, movies, theatre, performance art, and in settings from duos to big bands and symphony orchestras. Since May of 2000, Chris has been tuning in fifths and enjoys the altered palette of colors that tuning provides.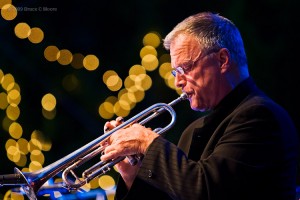 JAY THOMAS – TRUMPET
 Jay Thomas is a versatile multi-instrumentalist, and can be heard on over 60 recordings that run the gamut from hip-hop to acid-jazz, rock, Latin, and big band.
Jay has appeared in concert with Mel Lewis, John Clayton and Jeff Hamilton, Maria Schneider, Bill Holman, Bob Florence and Frank Wess. He has played festivals at Wolf Trap with Red Rodney and Ira Sullivan, the Aspen Jazz Festival with Herb Ellis, Jake Hanna and Mel Ryne (recorded with them on Roll Call), the duMaurier Jazz Festival with Chuck Israels Trio and with the Jay Thomas Quartet.
Jay toured Great Britain with jazz legend Slim Gaillard recording there with Slim, Jay McShann and Buddy Tate.
ERIC VERLINDE – PIANO
Pianist Eric Verlinde has excited audiences worldwide with his energetic and passionate performances. He has played with Arturo Sandoval, Randy Brecker, Eric Alexander, Terell Stafford, Mark Murphy, Luis Conte, Thelma Huston, Francine Reed, Kelley Gray, Don Lamphere, Jay Thomas, Buddy Cattlet, Greta Matassa, and Luis Peralta.
Eric is in high demand and is constantly performing, refining his sound and creating new music that is pure, creative, spontaneous, superbly structured and melodic.
MATT WILSON – DRUMS
Matt Wilson leads the Matt Wilson Quartet, Arts and Crafts, Christmas Tree-O and the Carl Sandburg Project. Matt is integral part of bands led by Joe Lovano, John Scofield, Charlie Haden, Lee Konitz, Bob Stewart, Denny Zeitlin, Ron Miles, Marty Ehrlich, Ted Nash, Jane Ira Bloom and Dena DeRose among others.
He has performed with many legends of music including Herbie Hancock, Dewey Redman, Andrew Hill, Bobby Hutcherson, Elvis Costello, Cedar Walton, Kenny Barron, John Zorn, Marshall Allen, Wynton Marsalis, Michael Brecker, Pat Metheny, Bill Frisell and Hank Jones.
Wilson has appeared on 250 CDs as a sideman and has released 9 as a leader for Palmetto Records as well as co-leading 5 additional releases.