We're working on finalizing the 2015 Jazz Port Townsend faculty. Please check back soon for a complete list. Here's who has committed so far:
—
JOHN CLAYTON – ARTISTIC DIRECTOR
Grammy-winning bassist/composer/conductor John Clayton has written and arranged music for Diana Krall, DeeDee Bridgewater, Natalie Cole, Milt Jackson, Nancy Wilson, McCoy Tyner, Quincy Jones, George Benson, Dr. John, Regina Carter and many others.
John has been commissioned by many ensembles including the Northwest Chamber Orchestra, the American Jazz Philharmonic, The Iceland Symphony, The Metropole Orchestra, The Carnegie Hall Big Band, The Richmond Symphony, the WDR Orchestra, and the Amsterdam Philharmonic. John was awarded a platinum record for his stirring arrangement of "The Star-Spangled Banner," performed by Whitney Houston during the Super Bowl in 1990.
John has won numerous awards such as the Golden Feather Award, and the Los Angeles Jazz Society's Composer/Arranger award.  Most recently, John won a Grammy for his arrangements on Queen Latifah's, Trav'lin' Light.  John has served as the musical director of several jazz festivals including the Sarasota Jazz Festival, the Lionel Hampton International Jazz Festival, the Santa Fe Jazz Party, and the Vail Jazz Workshop.
John is a co-founder of the Grammy-nominated Clayton-Hamilton Jazz Orchestra, which is co-led by John, his brother, saxophonist, Jeff Clayton, and drummer, Jeff Hamilton. Also, John and his brother Jeff co-lead the Clayton Brothers Quintet, who have been nominated for two Grammy awards.
GEORGE CABLES – PIANO
Pianist George Cables has played with Art Blakey, Sonny Rollins, Dexter Gordon, Art Pepper, Joe Henderson, and many other legendary jazz musicians.
His own records include the 1980 Cables' Vision with Freddie Hubbard among others. In the 1980s he worked in the project Bebop & Beyond, who recorded tribute albums to Dizzy Gillespie and Thelonious Monk.
He is currenty performing and recording as a soloist, with trio and larger ensembles, and as a clinician in college jazz programs.
CHUCK DEARDORF – BASS
 Chuck Deardorf has recorded and toured internationally with Bud Shank and Don Lanphere, George Cables and Kenny Barron, Winard Harper, and Larry Coryell.  As the first call bassist in Seattle, Chuck has performed with Chet Baker, Zoot Sims, Art Farmer, Howard Roberts, Monty Alexander, Kenny Burrell, Marian McPartland, Mel Lewis, Pete Christlieb, Joe Williams, Kenny Werner, Carl Fontana, Joe LaBarbara, and Tal Farlow.
Chuck's latest solo release on Origin records, "Transparence" (released 2011) demonstrates his performing, producing and arranging abilities with a host of great musicians. He is currently a member of the Deardorf/Peterson Group (whose 2004 Origin release "Portal" won critical acclaim), the Jovino Santos Neto Quartet, the Susan Pascal Quartet along with the Bill Ramsay Big Band.
An accomplished studio musician, Chuck's bass has been heard on many first run movie soundtracks, dozens of albums and CD projects, and numerous Broadway touring shows.  Chuck also has performed on numerous occasions with the Seattle Symphony Orchestra.
RANDY HALBERSTADT – PIANO
A pianist, arranger, composer, lyricist, and author, Randy has enjoyed an international performing career, having played and/or recorded with Mimi Fox, Ray Drummond, Jay Clayton, Terry Gibbs, Buddy DeFranco, James Moody, Herb Ellis, Mel Brown, Nancy Kelly, Houston Person, Sheila Jordan, Ernestine Anderson, Rene Marie, Bobby Shew, Marlena Shaw, Jackie Ryan, Jiggs Wigham and John Stowell.
Randy's book, Metaphors For The Musician: Perspectives From A Jazz Pianist (Sher Music 2002) has become one of the most highly acclaimed texts in jazz education. His composition "When Springtime Turns To Fall" appears in The All-Jazz Real Book (both books published by Sher Music Co. in 2002). His recordings include Inner Voice (Pony Boy Records 1991), Clockwork (Pony Boy Records 1995), Parallel Tracks (Origin Records 2004), and Flash Point (Origin Records 2010).
Randy makes his home in the Pacific Northwest and has taught for many years at Seattle's prestigious Cornish College of the Arts.
JON HAMAR – BASS
Jon Hamar is a versatile artist who's ability to find a tasteful, unique voice in any musical situation has made him a staple in the Northwest music scene. Hamar's friendly nature, sense of humor and work ethic has kept him busy as a freelance bassist in multiple performance genres.
Jon graduated from the Eastman School of Music with a Master's degree in Jazz and Contemporary Media, studying with Jeffrey Campbell, James Vandermark, Harold Danko, Clay Jenkins, Raymond Ricker and Fred Sturm.
Since moving to Seattle in 2001 Hamar has been active in the role of supporting bassist. Hamar performed for four years with jazz and blues great Ernestine Anderson and is currently a regular with Northwest notables such as Greta Matassa, Jim Knapp, Randy Halberstadt and Dawn Clement. Jon also performs regularly in an orchestral setting recording on movie soundtracks, and playing recitals and concerts around the Northwest.
As an educator Jon keeps busy teaching at Central Washington University in Ellensburg, Washington, Northwest University in Kirkland, Washington and Edmonds Community College in Edmonds, Washington as well as maintaining an active private studio. Jon currently has former students attending Berklee College of Music, The New School and the Manhattan School of Music.
JEFF HAMILTON – DRUMS
Originality is what versatile drummer Jeff Hamilton brings to the groups he performs with and is one of the reasons why he is constantly in demand, whether he is recording or performing with his trio, the Clayton Brothers or co-leading the Clayton/Hamilton Jazz Orchestra.
In addition to his many recordings with Ray Brown, Jeff has been on nearly 200 recordings with artists such as Natalie Cole, Diana Krall, Milt Jackson, Rosemary Clooney, Barbara Streisand, Mel Torme, John Pizzarelli, Benny Carter, Lalo Schifrin, George Shearing, Dr. John, Clark Terry, Gene Harris, Toshiko Akioshi, Scott Hamilton, Harry "Sweets" Edison, Keely Smith, Bill Holman, Herb Ellis, Barney Kessel and Mark Murphy.
Jeff is a frequent guest of the WDR Big Band in Cologne, Germany. He also appeared in Natalie Cole's Great Performances PBS special, Unforgettable and an Oscar Peterson documentary, Life In The Key Of Oscar.
JOHN HANSEN – PIANO
Info coming soon.
KELBY MACNAYR – DRUMS
Percussionist, composer, music director and band leader Kelby MacNayr performs jazz, classical, new music, and has collaborated with many acclaimed artists including Anne Schaefer, pop group Elephant Island, N.Y. pianist Misha Piatigorsky, composer and pianist Marianne Trudel, Christine Jensen, Chuck Deardorf, Ian McDougall, Chet Doxas and many others.
Kelby is currently the Artistic Director for the Art of the Trio Series, and is a member of the Marc Atkinson Quartet, the Marianne Trudel Quintet, and Misha Piatigorsky's Canadian trio.
His group the Kelby MacNayr Quintet has been earning critical acclaim in the US and Canada.  (Photo by Jim Levitt)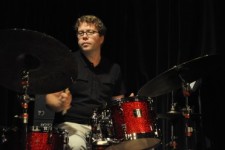 JULIAN MCDONOUGH – DRUMS
Julian MacDonough is a Pacific Northwest drummer, who tours with the Mike Allen Quartet/Trio (Vancouver BC), the genre-bending "funk" band Megatron (Bellingham Washington) the Monday Night Project, and alt-country singer songwriter Kasey Anderson (Portland Oregon).
In addition to those bands, Julian has been very active as a freelance musician. Primarily hired as a jazz drummer up and down the west coast, he has also spent a lot of time in recording studios with over 40 CDs under his belt. Some of his favorites are Mike Allen's 2003 award winning album "Dialectic," 2004 "Fearless," and 2006 "Love One Another." Kasey Anderson's "Nowhere Nights" Havilah Rand's 2009 "Bengalese Butterflies", Jenni Potts's "Take This and Go" and New York pianist Aaron Parks "First Romance."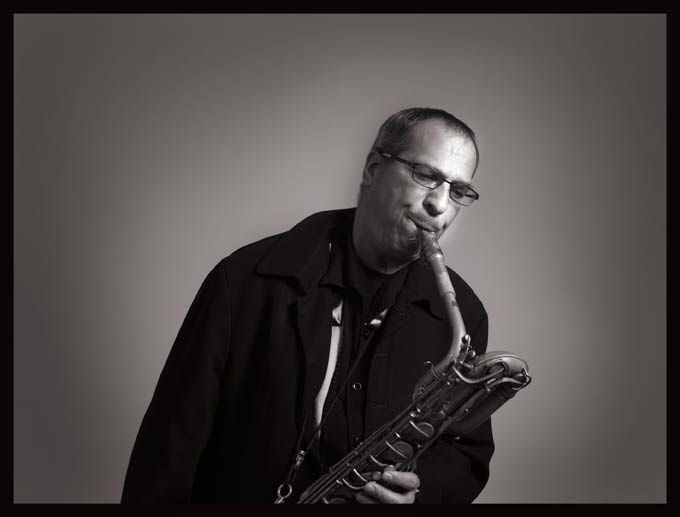 GARY SMULYAN – BARI SAX
 Gary Smulyan attended SUNY-Postsdam and Hofstra University before he joined Woody Herman's Young Thundering Herd in 1978. In 1980, he became part of the Mel Lewis Jazz Orchestra then under the direction of Bob Brookmeyer.
Smulyan also found work with other important large ensembles including the Mingus Epitaph band, and the Smithsonian Jazz Masterworks Orchestra. Smulyan has shared the stage and the recording studio with trumpeters Freddie Hubbard and Dizzy Gillespie, saxophonist Stan Getz, pianist Chick Corea, timbales king Tito Puente, and R&B/blues and soul icons Ray Charles, B.B. King and Diana Ross.
Smulyan is a perennial (and 2014) winner of the DownBeat Critics and Readers Polls, and a five-time Grammy award winner for his work with B.B. King, Lovano, Holland and the Vanguard Jazz Orchestra. He teaches at the Manhattan School of Music, Rutgers University, and SUNY Purchase.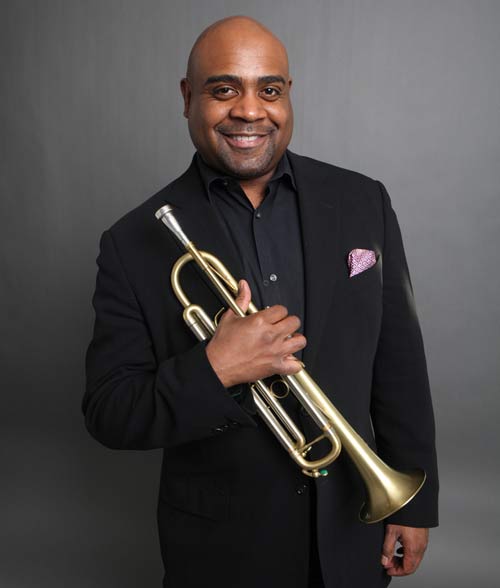 TERELL STAFFORD – TRUMPET
Based in New York, acclaimed trumpet player Terell Stafford has been hailed as "one of the great players of our time, a fabulous trumpet player" by piano legend McCoy Tyner. Stafford is recognized as an incredibly gifted and versatile player, he combines a deep love of melody with his own brand of spirited and adventurous lyricism. Stafford's exceptionally expressive and well defined musical talent allows him to dance in and around the rich trumpet tradition of his predecessors while making his own inroads.
Since the mid-1990's, Stafford has performed with groups such as Benny Golson's Sextet, McCoy Tyner's Sextet, Kenny Barron Quintet, Frank Wess Quintet, Jimmy Heath Quintet and Big Band, Jon Faddis Jazz Orchestra, Carnegie Hall Jazz Band and Dizzy Gillespie All-Star Alumni Band.
He is the Director of Jazz Studies and Chair of Instrumental Studies at Temple University, founder and band leader of the Terell Stafford Quintet, and Managing and Artistic Director of the Jazz Orchestra of Philadelphia (JOP).
CHRIS SYMER – BASS
Info coming soon.
ERIC VERLINDE – PIANO
Pianist Eric Verlinde has excited audiences worldwide with his energetic and passionate performances. His music touches the very soul of the listener.
He has played with Arturo Sandoval, Randy Brecker, Eric Alexander, Terell Stafford, Mark Murphy, Luis Conte, Thelma Huston, Francine Reed, Kelley Gray, Don Lamphere, Jay Thomas, Buddy Cattlet, Greta Matassa, and Luis Peralta.
Eric is in high demand and is constantly performing, refining the sound and creating new music. His different groups create music that is pure, creative, spontaneous, superbly structured and melodic.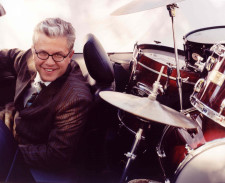 MATT WILSON – DRUMS
Matt Wilson leads the Matt Wilson Quartet, Arts and Crafts, Christmas Tree-O and the Carl Sandburg Project. Matt is integral part of bands led by Joe Lovano, John Scofield, Charlie Haden, Lee Konitz, Bob Stewart, Denny Zeitlin, Ron Miles, Marty Ehrlich, Ted Nash, Jane Ira Bloom and Dena DeRose among others.
He has performed with many legends of music including Herbie Hancock, Dewey Redman, Andrew Hill, Bobby Hutcherson, Elvis Costello, Cedar Walton, Kenny Barron, John Zorn, Marshall Allen, Wynton Marsalis, Michael Brecker, Pat Metheny, Bill Frisell and Hank Jones.
Wilson has appeared on 250 CDs as a sideman and has released 9 as a leader for Palmetto Records as well as co-leading 5 additional releases.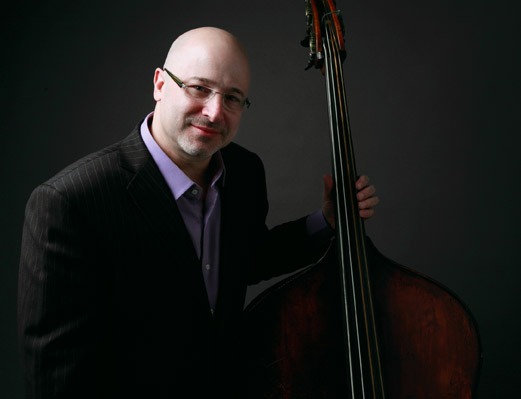 BEN WOLFE – BASS
As Wynton Marsalis said, "Ben Wolfe swings with authority." Downbeat Magazine says, " He hews to the esthetic of group interplay and the rhythms of bebop, and displays a well-honed sense of sonic narrative."
As a member of The Jazz at Lincoln Center Orchestra (JLCO), Ben has performed with Joe Henderson, Doc Cheatham, Jon Hendricks, Harry "Sweets" Edison, and Billy Higgins. Other artists he has also recorded with include Branford Marsalis, James Moody, Eric Reed, Carl Allen, and Benny Green.
Ben is currently on the teaching faculty at The Julliard School in the Jazz Division.