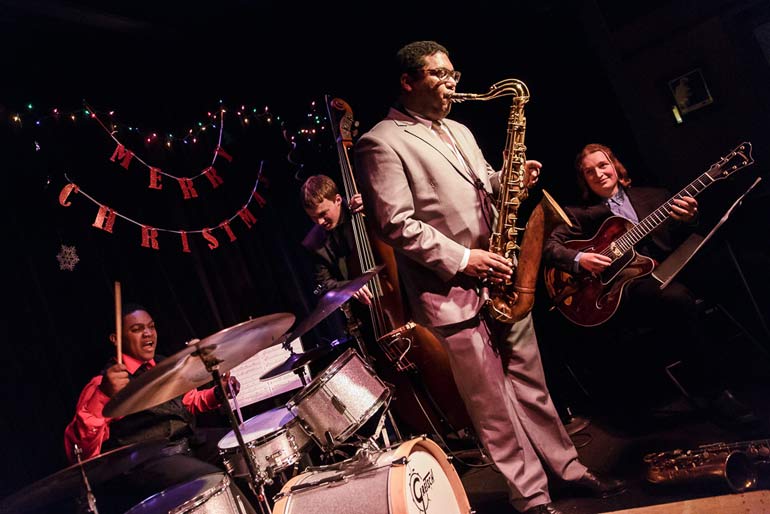 July 22 – 29, 2018
Fort Worden State Park, Port Townsend, WA

Get the tools you need to become a more effective Jazz Educator while earning 40 in-service clock hours this summer in the Educator Track at Centrum's Jazz Port Townsend. The focus throughout the Jazz Port Townsend workshop is on learning improvisation. Participants in the Educator Track learn how to teach these skills. You have the option of playing an instrument but are not required to. Workshop sessions focus on the rhythm section, drum set, big band, jazz theory and a variety of special topics. Master classes focus on instrument-specific skills. Seattle musician and teacher Alex Dugdale will guide you in this program designed just for educators.
Join Alex and other experienced educators as you put what you learn into practice. Your fellow educators will also be a resource as you hone your teaching abilities side-by-side. You'll also be able to watch our world-class faculty during combo and vocal rehearsals. Admission to all performances throughout the week is included in tuition. College students majoring in education will also benefit from this program.
Educator Track Schedule
Tuesday, July 24, 2018
9-11:45am:Check-in. Observe any combo, vocal rehearsal or morning session, especially:

"Bass Basics" A successful jazz ensemble HAS to have a competent bass player. But what can you say that will help them improve? With Jon Hamar.

11:45-1:00: Lunch and orientation with Alex Dugdale
1:15-2:45:  "The Rhythm Section" A good ensemble of any size HAS to have a good rhythm section. This session will focus on how to teach yours to play well together.
3-4:00:  "Your Turn To Play" Putting into practice what you've been learning through improvising in a combo with your colleagues. Playing is not mandatory, but is strongly encouraged! With Alex Dugdale.
4:15-6: Faculty Presents, Wheeler Theater
6-7pm: Dinner
7:15-9:30: "Teaching Improvisation I" Educators often say that improvisation is the most challenging aspect of jazz to teach. These sessions will give you specific information you can use in your classroom. A lab combo will be there to demonstrate. Educators are also welcome to play, but are not required to. With Randy Halberstadt.
Wednesday, July 25, 2018
9-10:30am: "Your Turn To Play" With Alex Dugdale.
10:45-11:45: "Teaching Improvisation II"  Continuation of last evening's session, With Terell Stafford
1:15-2:45: Attend any Master Class
3-4pm: "Your Turn To Play" With Alex Dugdale.
4:15-6: Faculty Presents, Wheeler Theater
8:30-10: Observe Big Band Rehearsal led by Clarence Acox. As the director of the renowned Garfield High School jazz program, Clarence is one of the most respected big band leaders in the country.
Thursday, July 26, 2018
9-10:30: "Focus on Big Bands." Debrief of Wed. evening's big band rehearsal; Big Band literature; Big Band teaching tips. With Alex Dugdale.
10:45-11:45:  "Rhythms of the Americas" A look into Latin rhythms and a guide to grooves.
1:15-2:45: "The Drumset." For non-drummers the drumset can be mysterious. What cymbal should be played in a given setting? When should the bass drum be used? How do you "kick" a horn entrance?
3 – 4:  "Teaching Improvisation III"  Continuation of last evening's session.
4:15-6: Faculty Presents, Wheeler Theater
7-8: Observe Big Band Rehearsal (optional)
8-11pm: Jazz in the Clubs Your badge admits you to all public performances.
Friday, July 27, 2018
6th Annual "Friday Workshop Blowout"  Special topics presentations all day. Choose from sessions such as "Wrapping Your Ears Around A Tune," "The Music of Miles Davis," "Criticism or Critique?" "'Keeping' or 'Sharing' the Time?" "Cooler Chords," "Ride Cymbal Dance Party," "How To Listen Like A Musician," "Know Your $%&! Or Get Off The Stage!"
5 – 6:  Wrap-up session, with Alex Dugdale
7:30:  Mainstage Concert
10pm-12:30am: Jazz in the Clubs
Saturday, July 28, 2018—Optional Day. Your badge admits you to all performances and sessions
10:30-11:45am: Special all-workshop session in Wheeler Theater
1:30pm: Mainstage Concert
5:30-7:10: Dinner on the lawn outside the Pavilion
7:30: Mainstage Concert
10pm-12:30am: Jazz in the Clubs
Sunday, July 29, 2018
7:45-8:45am: Breakfast
9:00: Shuttle departs for SEA-TAC airport
11:00: Check-out time for dorms