Lucinda Carver, Artistic Director
Sponsored by Leah Mitchell and Nancy McLachlan

At Centrum, creativity and learning are one. Centrum's Port Townsend Chamber Music Series exists to showcase the brilliant talent of many of the world's finest classical artists along with the top echelon of most promising young talents in the field today. The intimacy and warmth of the Joseph F. Wheeler Theater at Fort Worden State Park provides an ideal venue for our dynamic performances and master classes.
American Brass Quintet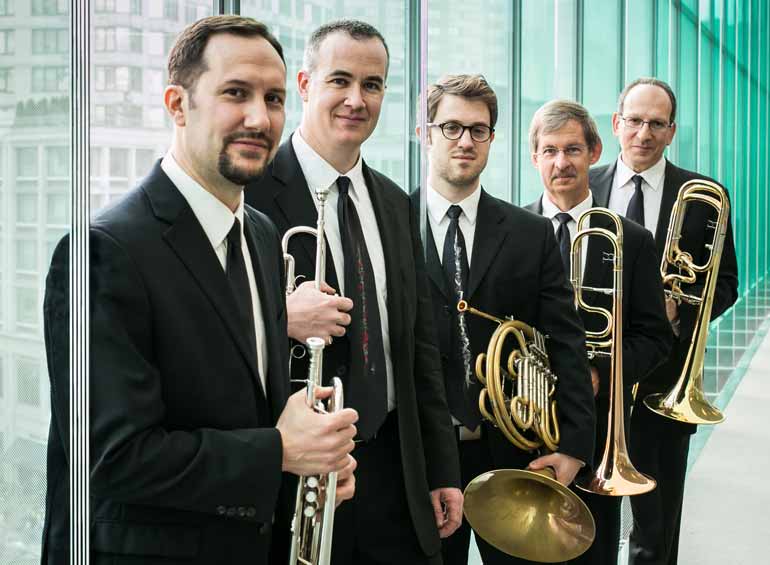 Sunday, October 8, 2017
2pm, Joseph F. Wheeler Theater
Sponsored by Renate Wheeler


Program
Suite of Elizabethan and Jacobean consort music
Suite from 19th Century Russia
Anders Hillborg – Brass Quintet
Steven Franklin – Three Romances (composed for ABQ and Aspen Music Festival)
Suite of canons of the 16th Century
Joan Tower – Copperwave
The American Brass Quintet is internationally recognized as one of the premier chamber music ensembles of our time and celebrated for peerless leadership in the brass world.  As the 2013 recipient of Chamber Music America's highest honor, the Richard J. Bogomolny National Service Award for significant and lasting contributions to the field, the quintet's rich history includes performances in Asia, Australia, Central and South America, Europe, the Middle East, Canada and the United States; a discography of nearly 60 recordings; and the premieres of over 150 contemporary brass works.
This stylish program spans more than 400 years of music and features works by Thomas Morley, John Dowland, Josquin des Prés, Palestrina and others in tandem with an original work composed for the Quintet and debuted at Aspen this summer and music by contemporary composers Joan Tower (American) and Anders Hillborg (Sweden).
The New York Times recently wrote that "among North American brass ensembles none is more venerable than the American Brass Quintet," while American Record Guide has called the ABQ "of all the brass quintets, the most distinguished."  Through its acclaimed performances, diverse programming, commissioning, extensive discography and educational mission, the American Brass Quintet has created a legacy unparalleled in the brass field.
---
A Baroque Feast: Lucinda Carver, Elizabeth Blumenstock & Friends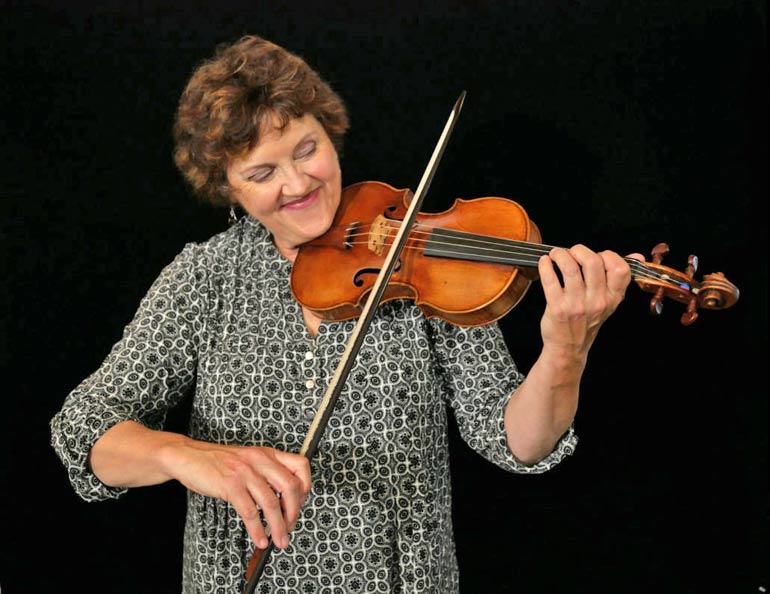 Sunday, March 4, 2018
2pm, Joseph F. Wheeler Theater
Sponsored by Anne and Dick Schneider


Program
Bach Brandenburg Concerto No. 5
Bach Concerto for Two Violins
Vivaldi Concerto for 4 Violins
Telemann Concerto for 4 Violins
Tartini Concerto
Elizabeth Blumenstock, Tekla Cunningham, violins
Andrew McIntosh, viola
Frédéric Rosselet, violoncello
Moriah Neils, bass
Janet See, flute
Lucinda Carver, harpsichord
As a harpsichordist and music historian, Lucinda Carver is a scholar of the music of the Baroque.  She has assembled some of the finest baroque musicians in the US for this special performance, featuring Bach's magnificent Brandenburg Concerto No. 5.
Sharing the stage with Lucinda will be Elizabeth Blumenstock, long-time concertmaster, leader, and soloist with the San Francisco's Philharmonia Baroque Orchestra and American Bach Soloists, and concertmaster of the International Handel Festival in Göttingen, Germany.  In Southern California, Ms. Blumenstock is Artistic Director of the Corona del Mar Baroque Music Festival.  Her love of chamber music has involved her in several accomplished and interesting smaller ensembles including Musica Pacifica, Galax Quartet, Ensemble Mirable, Live Oak Baroque, and Voices of Music, and she has appeared at festivals around the world.  An enthusiastic teacher, Ms. Blumenstock teaches for the Juilliard Historical Performance program, the San Francisco Conservatory of Music, the American Bach Soloists Festival and Academy, the International Baroque Institute at Longy, and the Valley of the Moon Music Festival.  Ms. Blumenstock plays a 1660 Andrea Guarneri violin built in Cremona, Italy, on generous loan to her from the Philharmonia Baroque Period Instrument Trust.
---
Pacifica Quartet
Sunday, June 17, 2018
2pm, Joseph F. Wheeler Theater
Sponsored by Nelly and James Tretter


Program
Haydn – Quartet in G major, Op. 71, No. 1
Harold Meltzer – Aqua (NW Premiere)
Shostakovich – Quartet No. 3 in F major, Op. 73
Recognized for its virtuosity, exuberant performance style, and daring repertory choices, the Pacifica Quartet has gained international stature as one of the finest chamber ensembles performing today.  Named the quartet-in-residence at Indiana University's Jacobs School of Music in 2012, the Pacifica was also the quartet-in-residence at the Metropolitan Museum of Art since 2009 and received the 2009 Grammy Award for Best Chamber Music Performance and "Ensemble of the Year" by Musical America.
The members of the Pacifica Quartet live in Bloomington, IN, where they serve as quartet-in-residence and full-time faculty members at the Jacobs School of Music.  The Pacifica Quartet also serves as resident performing artist at the University of Chicago.
An ardent advocate of contemporary music, the Pacifica Quartet commissions and performs many new works, including those by Keeril Makan, in partnership with the Celebrity Series of Boston and the Great Lakes Chamber Music Festival, and Shulamit Ran, in partnership with the Music Accord consortium, London's Wigmore Hall, and Tokyo's Suntory Hall. The work – entitled Glitter, Doom, Shards, Memory – had its New York debut as part of the Chamber Music Society at Lincoln Center series.
---
Following the huge success of our prior residencies with the Enso, Calder and Miro quartets since 2015, Centrum is honored to welcome the PACIFICA QUARTET as "Ensemble in Residence" for its 2018 workshop week. Two emerging pre-professional quartets and two accomplished pianists will be invited as participants for this unique and immersive experience.  Audiences are encouraged to join us, meet the artists, and witness public master classes and student showcase recitals as an "up close and personal" glimpse into the training and preparation of concert-level performances.
2018 Workshop Events
Joseph F. Wheeler Theater
Wednesday, June 13 – 7:30 p.m.
Free Public Master Class (Quintets)
Friday, June 15 – 7:30 p.m.
Student Showcase Concert
(Quartets and Quintets)
Saturday, June 16 – 7:30 p.m.
Student Showcase Concert
(Quartets and Quintets)
Sunday, June 17 – 2 p.m.
Pacifica Quartet Concert
---
Centrum gratefully acknowledges leadership support provided for this series by Nelly and Jim Tretter, Anne and Dick Schneider, Renate Wheeler, Leah Mitchell and Nancy McLachlan, The Peach Foundation, The Congdon-Hanson Family, Gay and Gary Eisenberger, Valerie Payne, Cindy Thayer, and Marsha Wiener.