Thank you to all who supported Centrum's record-setting 2013-14 Chamber Music series!  All three events were virtually sold-out and we anticipate even stronger demand as we prepare for next season.  We will be announcing our new season very soon (early August), so please mark this page and stay tuned for updates.  We are proud to share that three award-winning ensembles will join us next season:
November 2, 2014 – 2:00 p.m.
Debussy Trio
March 29, 2015 – 2:00 p.m.
Los Angeles Guitar Quartet
June 21, 2015 – 2:00 p.m.
Enso String Quartet
Details of a brand-new chamber music workshop in June with the Enso Quartet will be announced soon, pending final funding and negotiations with artists.
Please bookmark this page for future listings!
- – - – - – - – - – - – - – - – - – - – - – - – - – - – - -
2013-14 Season
CLASSICS IN CONTEXT
Lucinda Carver, Artistic Director
Welcome to Centrum's new season of chamber music entitled, "Classics in Context." I have designed three enchanting programs featuring 14 esteemed colleagues from across the United States, each of which will be presented in Port Townsend along with special content aimed to enhance the concert-going experience.
All music was at one time new. As we present the masterworks of Brahms, Schubert, Bach, Vivaldi, Handel, Mozart and more, we will present each performance with a special emphasis on the environmental and cultural conditions that fostered the development of the music. Ticket holders will be provided access to special materials in program publications, and from our stage to illuminate the life and times of each composer and the evolution of their music within the context of their time.
As a special addition to this year's Festival, I am especially happy to announce that many of our visiting artists will work in local schools with students in immersive, hands-on exchanges to extend the benefits of Centrum's programming to the lives of tomorrow's up-and coming performers.
It is going to be an elevating experience and I'm thrilled to invite you to join us at the Wheeler Theater for these remarkable concert presentations. Subscribe today to guarantee your seats and thank you!
- Artistic Director Lucinda Carver
—
Sunday, June 22, 2014
2pm Joseph F. Wheeler Theater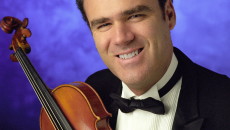 CITY OF ANGELS ENSEMBLE
Roger Wilkie, violin
Robert Brophy, viola
John Walz, violoncello
Robert Thies, piano
SCHUBERT Piano Trio No. 1 in B-flat major, D. 898
MOZART Sonata for Violin and Piano in E minor, KV 304
FAURE Piano Quartet No. 1 in C minor
Centrum is honored to welcome four of the most heralded chamber musicians of Los Angeles for the closing performance of its 2013-14 Festival. Artistic Director and Vice Dean of the Thornton School of Music at the University of Southern California, Lucinda Carver, has assembled a "dream team" of colleagues to comprise her ensemble for this illustrious affair, including a leading member of the Los Angeles Chamber Orchestra, Long Beach Symphony and one from the Los Angeles Opera orchestra.
"Carver makes musical thought manifest."
Los Angeles Times
View the June 22 Performance Program
—
COMPLETED CONCERTS
—
Sunday, November 17, 2013
2pm Joseph F. Wheeler Theater
LATITUDE 41
Livia Sohn, violin
Luigi Piovano, cello
Bernadene Blaha, piano
SCHUBERT Notturno in E-flat major, D. 897
BRAHMS Sonata No. 1 for Cello and Piano in E minor
SAINT-SAENS Piano Trio No. 2 in E minor
Since their formation in 2009, Latitude 41 has appeared in concert at the Newport Music Festival, the L'Ermitage Foundation in Los Angeles, and "Sundays Live" at the Los Angeles County Museum of Art, which is streamed live across the internet and radio. Latitude 41 released its debut CD this year with the Schubert's Notturno, heard in Centrum's inaugural concert of the season. The trio will be heard this year at major series in San Francisco, New York, Vancouver, Banf,f and throughout New England.
"…Latitude 41 bring to its performances a perfect blend of fiery emotion, unquestionable
technical skill, and a deep respect for the power of Schubert's melodic gifts."
Baker & Taylor, CD Hotlist
- -
Friday, March 14, 2014
7:30pm, Joseph F. Wheeler Theater
PHILHARMONIA CHAMBER PLAYERS Sherezade Panthaki, soprano Stephen Schultz, flute Marc Schachman, oboe Kati Kyme, violin Lisa Weiss, violin Anthony Martin, viola William Skeen, violoncello Hanneke van Proosdij, harpsichord
TELEMANN Trio in E minor, from Tafelmusik II MARCELLO Oboe Concerto in D minor VIVALDI Flute Concerto in D major, Op. 10, No. 3 Il Gardellino HANDEL Sonata in G major, Op. 5, No. 4 BACH Air in D from Orchestral Suite No. 3 BACH Wedding Cantata "O Holder Tag, erwünschte Zeit"
This program emphasizes the ideas of diversity and unity: from kaleidoscopic colors of original baroque instruments to the ravishing voice of Sherezade Panthaki which combine to sing of both public and private feelings. We bring together composers who worked in Italy, Germany, and England, including Bach's great wedding cantata "O holder Tag" ("O Glorious Day!") whose variety of forms, colors, instrumental combinations, and sentiments celebrate the union of a devoted couple.
"A wondrous fusion of tender, molten vocal tone and expressive urgency" San Francisco Chronicle