We are working hard to line up an outstanding faculty for the 2017 workshop.  Here's who has confirmed so far – we'll updating frequently, so stay tuned!
Daniel Ward
Daniel Ward was born in Los Alamos NM, where he exposed to a wide variety of musical styles, including Mexican mariachi, Spanish flamenco, world music and jazz. By the time Daniel completed his degree in classical guitar and composition, he was playing flamenco guitar with dancers, electric jazz, trumpet, lute and world beat music.
As a guitarist, he toured with Dance España, Maria Benitez, and Yjastros, went around the world with Ottmar Liebert, and toured with numerous other groups, playing everything from soft jazz to hard rock.
In 2009, he was introduced to the ukulele and all of the music inside him found a new home on the four strings. Since then, he has become a premier ukulele performer and clinician, known for his command of Latin and world styles, with an expressive right hand that delivers beauty, speed and force. He has been a featured performer and workshop instructor at many ukulele festivals across the country and most recently the Ukulele Festival of Great Britain. His first ukulele CD recording "EL UKULELE" is a lively adventure in what the instrument can do. http://www.danielward.net/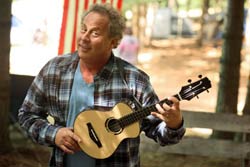 Gerald Ross
Gerald Ross' earliest claim to fame is a commercial he made with a friend for Detroit's Kazoozie Kazoos. The spot ran for two months during the Captain Kangaroo show. While his talent on kazoo may have kick-started his musical career, Gerald also played bass in a high school rock band and electric guitar with a Western swing band. He played acoustic guitar with a bluegrass band while in college, finally graduating to "The Lost World String Band" where he played guitar, bottleneck National guitar and Cajun accordion. The band made several appearances on A Prairie Home Companion.
Today, Gerald is known more for his work with the ukulele and Hawaiian lap steel. He has recorded six solo CDs, available wherever fine music is sold. In addition to being a polished performer, Gerald is a prepared, organized and thoughtful teacher, and such a nice guy! Whew! He has performed with Bonnie Raitt, Arlo Guthrie, Doc Watson, Johnny Gimble and many others. He's been featured at the Ukulele Festival of Great Britain (headliner), The Puget Sound Guitar Workshop, Wine Country Uke Fest, Lone Star Uke Fest, Portland Ukefest, Sevilla (Spain) Uke Fest, Augusta Heritage Swing Week, Ashokan Western Swing Week and many other Roots music festivals. It's no wonder Gerald Ross has been called an entire music camp and festival in one. http://geraldross.com/
Jason Arimoto
Originally from Hawaii, Los Angeles-based Jason Arimoto, also known on YouTube as "facemeltingukulele," is a featured artist on the Na Hoku Hanohano Award winning album, Abe Lagrimas jr. and Friends – Solo Ukulele: The King of Pop and is a two-time winner of the Ukulele Underground Award for Best Vocal Performance of the Year. He has attracted a following for his blues 'ukulele covers of Jimi Hendrix's "Little Wing" and John Mayer's "Gravity," which was featured as one of Jake Shimabukuro's top picks on YouTube in 2011. His original music blends his island roots with reggae and blues, with soulful vocals combining with a bluesy 'ukulele tone.
Jason has performed across the U.S. including the Bean Blossom Blues Festival in Indiana and Downtown Disney in Anaheim, California as well as internationally at the Cairns Ukulele Festival in Australia and the Sentosa Ukulele Festival in Singapore.  Jason teaches and performs regularly while serving as co-owner/operator of U-Space, Los Angeles' premier full-service 'ukulele store. http://www.jasonarimoto.com/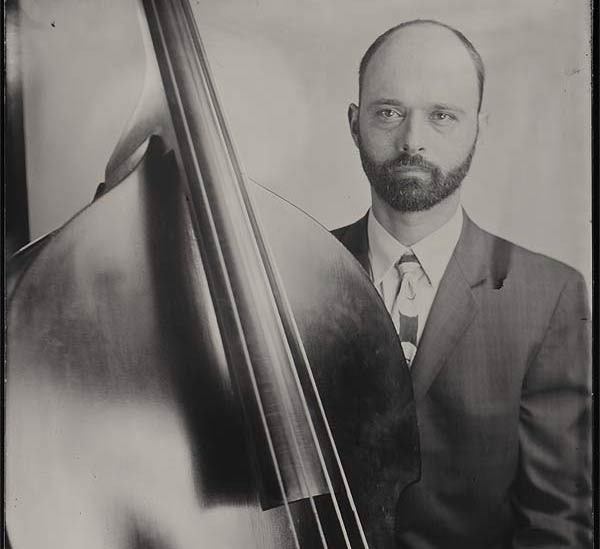 Matt Weiner – House Bassist
Matt Weiner can be spotted in Seattle almost nightly playing bass and singing with drummer Mike Daugherty in Casey MacGill's Blue 4 Trio, as well as with Del Rey, Barton Carroll, Miles & Karina, and many others.
He has performed and/or recorded with The Hot Club of Cowtown, The Asylum Street Spankers, Holotradband, Danny Barnes, Willy Mason, Matt Munisteri, Butch Thompson, Hal Smith, Jon-Erik Kellso and Rani Arbo.
Recently, Matt made his musical theatre debut playing the role of Joe B. Mauldin in the 5th Avenue Theatre's production of "Buddy," the Buddy Holly Story.
Nova Karina Devonie – House Accordionist
Nova Karina Devonie, who once caused Garrison Keillor to blush and become tongue-tied as he attempted to pronounce her name, hails originally from Vancouver BC. This vile temptress of the accordion has been delighting audiences with her sensitive (and sometimes humorous) playing, sonorous singing style, and sideways fashion sense since the early 1980's.
Nova moved to Seattle to join swingabilly cowgirl band "Ranch Romance," and stayed to make it her home after that band ended their touring days. She now performs with several bands including Miles and Karina, The Buckaroosters, and The Rolling Blackouts.