September 3-9, 2017
Fort Worden State Park, Port Townsend, WA

Centrum's literary programs have been since 1974 at the wild heart of the thriving Pacific Northwest literary scene. At Centrum, such writers as Margaret Atwood, Raymond Carver, Kenneth Rexroth, Alice Walker, Ken Kesey, Carolyn Forché, William Stafford, and others drafted and completed work, and found and built writing community.
With a focus on community and rigorous attention to craft, Centrum's juried Writing Studio puts emerging writers together intensively with established writers for a full week of generative writing. Designed for advanced post-MFA students as well as non-academic writers working at a high level, the Studios provide a week of craft and a lifetime of connections to make breakthroughs in your work.
Admission is based on your writing sample.
Tuition, room, and board ranges from $700 to $1,400. Scholarships are available.
Schedule
Mornings: Core morning seminars put you together in a small class of twelve with your faculty member in fiction (Pam Houston), nonfiction (Sheila Bender), or poetry (Kim Addonizio).
Afternoons: The afternoons feature both panels and workshop offerings in special topics led by the morning faculty members and visiting writers.
Evenings: open-mike readings by participants and faculty.
The Daily Schedule
8:15-8:45—Breakfast
9-11:30—Morning workshop
11:45-12:45—Lunch
1-2:00—Craft lectures
5:30-6:30—Dinner
7—Open-Mike readings of work in progress.
Faculty
Sheila Bender
"Personal Matters: Pushing the Boundaries of First-Person Nonfiction"
Memoir is not a dirty word. Confessions often make compelling stories. Nonetheless, as personal writers, we must seek to bring thoughtfulness, honesty, and real craft into this bloated landscape of bloggers and tabloids; we must be artful, intellectual, innovative, and accessible. This circumspection need not exclude emotional intimacy. As Virginia Woolf said, "A good essay must have this permanent quality about it; it must draw its curtain round us, but it must be a curtain that shuts us in not out." A writer must take the risk of naming that which most frightens her. And then she must hammer that truth until it shines from every angle. We can plumb experiences of sex, addiction, violence, love, madness, and all manner of internal phenomena while avoiding pitfalls of insularity and sensationalism. Stories like this necessarily implicate other people, but we must always save the hardest scrutiny for ourselves. In this class, we will examine the way experience, emotion, research, and intellection are integrated in creative nonfiction through both traditional and innovative craft techniques. We will rigorously study the tools of our craft—how dialogue, description, pacing, and scene work to bring a story to life and hold a whole world in microcosm. We will study the masters of this form, and then apply these techniques to our own work. Participants should be ready to work and take those risks both on the page and inside themselves that make nonfiction worth reading.
Sheila Bender's passion is helping writers break out into new forms, revise effectively, generate more writing and facilitate the writing of others. In the last three decades, she has worked with hundreds of people helping them write personal essays, poetry, fiction, and more meaningful writer's journals, in addition to book-length memoir, how-to books and novels. She is the author of the memoir, A New Theology: Turning to Poetry in a Time of Grief, the poetry collection Behind Us the Way Grows Wider, and the instructional book Creative Writing Demystified, available in e-book format. More of her instructional work includes Sorrow's Words: Writing Exercises to Heal Grief, and Writing In a Convertible with the Top Down, co-authored with Christi Glover. She has taught at colleges, universities and community centers and presented at national writers' programs and conferences. In 2013, she served as Seattle University's Distinguished Guest Lecturer in Poetry. 
Pam Houston
"Structure, and Why It Is Good For You"
Barry Lopez said, "We are pattern makers, and if our patterns are beautiful and full of grace they will be able to bring someone for whom the world has become broken and disorganized up from their knees and back to life." In this generative master class, we will begin by writing in particular prose forms and see if, by occupying our minds with the rigors of structure, we free both our emotions and our imaginations to run a little wild.  Then we will write more freely, and look at the work we have done to see what kinds of patterns might be trying to emerge.  Along the way we will talk about all the other elements of good fiction:  metaphor, point of view, tense, dialogue, narrative arc, lyric flight, beginnings and endings, and how they each interact with questions of form.
Please read in advance of the class, Ceremony by Leslie Marmon Silko, as well as the following stories:
Sarah Cole: A Type of Love Story by Russell Banks
http://www.missourireview.com/archives/bbarticle/sarah-cole-a-type-of-love-story/
Loyalty, by Charles Baxter
http://harpers.org/archive/2013/05/loyalty-4/?single=1
Proper Library, by Carolyn Ferrill
https://familyinshortfiction.wordpress.com/proper-library/
Aquifer, by Tim Winton
https://granta.com/aquifer/
(This one will cost you a subscription fee at Granta, or you can get it in the book it came from, called The Turning, which is terrific, or if you have some particular kind of flash player that I don't have someone has taken a pdf of it.)
Pam Houston's most recent book is "Contents May Have Shifted," published in 2012. She is also the author of two collections of linked short stories, "Cowboys Are My Weakness" and "Waltzing the Cat," the novel, "Sight Hound," and a collection of essays, "A Little More About Me," all published by W.W. Norton. Her stories have been selected for volumes of Best American Short Stories, The O. Henry Awards, The 2013 Pushcart Prize, and Best American Short Stories of the Century. She is the winner of the Western States Book Award, the WILLA award for contemporary fiction, The Evil Companions Literary Award and multiple teaching awards. She directs the literary nonprofit Writing By Writers, is professor of English at UC Davis, teaches in The Institute of American Indian Art's Low-Rez MFA program, and at writer's conferences around the country and the world. She lives on a ranch at 9,000 feet in Colorado near the headwaters of the Rio Grande.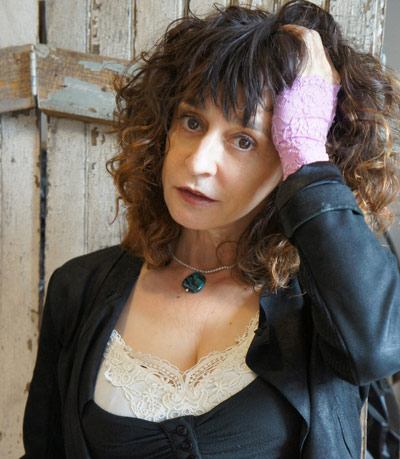 Kim Addonizio
"New Poems: Games of Chance"
I'm interested in how, given specific constraints not of our own making, our imagination often kicks into gear and produces surprising lines and images that wouldn't have otherwise arisen. This week is going to be about play and messing around, and at the same time about following some given rules and restrictions.  We're going to immerse ourselves in various games, from anagrams to random elements to be incorporated into a piece—some language-based, some reality-based, since the world is always offering up surprises. The idea is to dig down into what you didn't know you were thinking until some chance language or rule or encounter triggered it. We're not going to give ourselves up entirely to chance operations, but to explore the intersections of chance and willed elements. We'll do some in-class exercises, as well as sharing our newly written work. If you've been blocked, this is a chance to get back to a sense of play and discovery; if you're just ready to create something new, you'll have plenty of material by the end of the week—and some ideas about where to take it from there.
Kim Addonizio is the author of six poetry collections, two novels, two story collections, and two books on writing poetry, "The Poet's Companion" (with Dorianne Laux) and "Ordinary Genius." She has received fellowships from the NEA and Guggenheim Foundation, two Pushcart Prizes, and was a National Book Award Finalist for her collection Tell Me. Her latest books are "Mortal Trash: Poems" (W.W. Norton) and a memoir-in-essays, "Bukowski in a Sundress" (Penguin). She recently collaborated on a chapbook, "The Night Could Go in Either Direction" (Slapering Hol Press) with poet Brittany Perham. Addonizio also has two word/music CDs: "Swearing, Smoking, Drinking, & Kissing" (with Susan Browne) and "My Black Angel," a companion to "My Black Angel: Blues Poems & Portraits," featuring woodcuts by Charles D. Jones. She teaches and performs internationally.