Centrum's Vintage Jazz
(Hot Strings Workshop)
May 19 – May 22, 2016

Centrum's Vintage Jazz "Hot Strings" workshop celebrates the contributions of pioneering string players to the burgeoning hot jazz of the 1920's and '30's: Folks like Joe Venuti and Eddie Lang, Stephane Grappelli and Django Reinhardt, Slim Gaillard and Slam Stewart, Stuff Smith, Oscar Aleman, Lonnie Johnson, and Eddie South.
From The Spirits of Rhythm and The Mississippi Sheiks, to The Light Crust Doughboys and The Hot Club of France, whether your focus is Early Jazz, Hokum Jazz, Gypsy Swing, Jug Band, or Western Swing, chances are you too are revved-up by the fiery sound of strings churning out the swinging beat and jazzing up hot solos! We think there's a lot of shared territory here to explore, and our excellent instructors are looking forward to throwing off the shackles of genres that divide us, and helping one-and-all learn the hot music of these string-swinging pioneers.
This year's faculty will include guitarist and contemporary master of 1920's and 30's jazz styles, Matt Munisteri; violinist Julian Smedley; bassist Matt Weiner, and guitarist Cyd Smith.
Tuition: $350 (includes admission to the May 21 faculty performance in the Wheeler Theater)
Housing: $280 (private room in house on Non-Commissioned Officer's Row)
Meals: $125 (includes Thursday dinner, three meals on Friday and Saturday and Sunday breakfast)
SEE FAQ AT BOTTOM OF PAGE FOR MORE DETAILS
---
WHO SHOULD ATTEND?
This workshop is limited to thirty people and this first year will focus on strings: guitar, bass, and violin. Although there will be no mandolin or ukulele faculty on staff, proficient players of those instruments with a strong interest and/or background in swing should attend.
This workshop is intended for people who have a reasonable degree of skill on their instrument.
For example:
You're an experienced swing player who wants to take your playing to the next level.
You're new to swing, but you are proficient on your instrument. For example:

GUITARISTS should be able to play several songs at a snappy tempo, without pausing to contemplate finger placement.
VIOLINISTS should be familiar with basic harmony, be comfortable with several bow articulations (tied, slurred, hooked) and be able to play major and minor scales and first position arpeggios in the vital seven keys of , D, G, C, F, Bb & Eb.
BASSISTS should be comfortable creating a simple walking bass line over a chord progression while keeping a steady groove. Also, bring your bows and some rosin!
If you have questions about whether this workshop is right for you, please call Mary Hilts at Centrum 360-385-3102 x 116
---
WORKSHOP SCHEDULE
Thursday May 19, 2016
4-5:30pm – check-in
6-7pm – dinner
7-9pm – welcome reception and jam
Friday May 20, 2016
8-9am – breakfast
Two Morning Sessions
12:30-1:30pm – lunch
Two Afternoon sessions
6-7pm – dinner
Evening – faculty led jam session
Saturday May 21, 2016
8-9am – breakfast
Two Morning Sessions
12:30-1:30pm – lunch
Afternoon session
6-7pm – dinner
7:30pm – faculty concert in the Joseph F. Wheeler Theater
Late evening – jamming
Sunday May 22, 2016
8-9am – breakfast and farewells
---
FACULTY CLASS DESCRIPTIONS
(Faculty reserve the right to make changes)
Matt Munisteri
THE RHYTHM GUITAR OF EDDIE LANG (Intermediate to Advanced)
Eddie Lang (born Salvatore Massaro October 25th 1902, Philadelphia; died March 26th 1933, New York) is the musician most often credited as "the first jazz guitarist". However you choose to describe him, he certainly set the template for the guitarist's role in acoustic jazz, and in his short life he became perhaps the most recorded musician of his time. The many hundreds of sides he recorded ensured that his playing continued to cast a long shadow, and he has influenced decades of guitarists – from Django Reinhardt to Doc Watson, from Les Paul to Jimmy Rogers. The personal guitar language that Lang developed in the 1920's allowed for the acoustic guitar to provide a rich and very versatile accompaniment to singers and melody instruments, and yet his sound could also leap off the grooves and shine during a solo. His accompaniments could be fiery, driving, and propulsive, or they could be light and laced with romance, offering tender commentary on the melody. Ultimately his innovations were almost singlehandedly responsible for stealing away the banjo's place in early jazz. For this class we will concentrate on learning the fingerings for several of his unique chord shapes (voicings which had many listeners convinced they were hearing two guitarists); look at some of the agile and creative runs and intervalic leaps (tenths!) he would employ behind a melody; and study the source of the startling power and thick tone his right hand produced. Through guided collective listening to his work with such as Joe Venuti, Lonnie Johnson, Bing Crosby, and Bix Beiderbecke, we will also seek to identify some of the disparate influences which he synthesized into his style. Ultimately, participants should discover a much deeper appreciation for the daring mischief and the underlying spirit of generosity which never failed to find expression in Lang's rhythmic concepts and broader musical personality.
HOT GUITAR ESSENTIALS: INTRODUCTION TO CHORD/MELODY PLAYING (Intermediate to Advanced)
Many of Jazz's first generation of guitarists who were "reformed" tenor banjo players, and all of them were concerned with being heard above the roar of a Hot Jazz band. So it follows that most quickly became accomplished "chord/melody" players: By adapting to the guitar the banjo's practice of playing a melody through the percussive striking of 3 to 4 strings simultaneously, the guitarist gained more volume, while also being able to articulate a song's harmonies without the requirement of another (possibly louder) chordal instrument in the band. The very best of these guitarists – Carl Kress, Dick McDonough, Allan Reuss – could also swing you off the bandstand with their effortlessly fluid knuckle-busting chord slinging. It was a style that reigned for less than a decade; the advent of the electric guitar in the late 1930's meant there was no need to seek volume through hitting three strings – instead guitarists were "freed" to play horn-like single lines through amplifiers. Guitarists also found that the same chords played on electric guitar lack the sparkle and punch they have on acoustic, and few guitarists were able to adapt their hard-hitting banjo-like touch to the gentler-persuaded electric instruments. Of course, it didn't help matters that the style is challenging to master: Today there are far too few chord/melody practitioners still roaming the earth (Marty Grosz and The Pizzarellis, pere et fils, are among the notable remnants). Surprisingly, and fortunately for us, many of the most commonly used chords are relatively simple shapes, played on the top three strings, which most guitarists have probably already encountered during the first few weeks of lessons. We will look at these primary chord positions, apply them diatonically (as we also explore the meaning of the term "diatonic"), practice a few simple and very effective moves to facilitate smooth transitions between positions, and start applying all this to playing the melody of a song.
TUNE CALL (Intermediate to Advanced)
This informal class will essentially be a guided tour through jam session and gig etiquette, with the stated goal to learn some more tunes – and the unstated goal to learn HOW to learn tunes. Even advanced students who are already playing gigs want to be challenged to grow and specifically to increase their repertoire, so it is my hope that a group of us can meet in a setting that feels somewhere between a class and a jam session and run through tunes quickly without much stopping to explain things. Our focus is the "tune call" part of a gig, during which the leader tosses out the tunes that she'd like to play, briefly runs down essential details – the key for each tune, the shape of its performance (who plays melody, intro, solos etc.) – and offers a quick synopsis (often employing various musician shorthand) for any tune that's unknown (often employing useful terms of "musician shorthand"). After that, we play the tune without a net. There will be no Fake Books, and no iphones. It's by moving quickly through tunes, and repeatedly encountering the same musical motifs that we learn to recognize commonly employed harmonies, becoming more confident in relying on just our ears, hands, and heads. The class will be open to different instruments and abilities, but interested participants should remember: If you find yourself lost and can't keep up, you are still encouraged to stick around and listen. There will be lots for a non-playing participant to take away from these sessions too – a chance to pull back the curtain on the process of "spontaneous" creativity, gain an understanding of new terminologies, find camaraderie, or even *just* the enjoyment of actively listening to music created by living human beings right before your very own ears.
SWING GUITAR MASTER CLASS – (Advanced)
This class will focus on many of the finishing touches of aspiring Swing/acoustic jazz guitarists – phrasing, fingering, pick technique, tone, and volume – so they can get over some humps, and get out there playing in jazz/swing/gypsy jazz groups. The class will be conducted in a "master class" style, meaning that we will play music, together and individually, so that specific problems can be highlighted and addressed as they arise. Solutions to one person's musical or technical stumbling blocks often wind up shedding light on others', and in my experience, the more students there are who are willing to perform solo for the class, the wider a range of useful topics we can cover. We will work on both rhythm playing and soloing, with our focus on getting a big sound from an acoustic instrument, being "in the pocket", and learning about the language of the jazz soloist from its source: the interplay of the (often simple) melodies and (sometimes advanced) harmonies of the American Songbook. Students should be familiar with the basic chord shapes of swing rhythm playing, and be comfortable playing the chord changes to a few standards from the canon of 1920's,30's, 40's American popular song. [Here's a hint as to whether you're on the right track: the somewhat illusory distinctions between Dixieland, Western Swing, Gypsy Jazz, Early Jazz, and Swing obscure the fact that they share much of the same repertoire; if you can easily play 5 tunes from any of these styles you're pretty much there.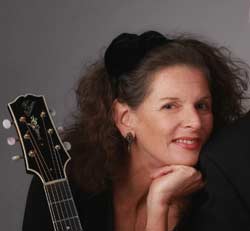 Cyd Smith
INTRO TO SWING RHYTHM GUITAR: THE JOY OF COOKING (beginning swing guitarists)
To concoct a delicious groove for a swing tune, you're going to need the right ingredients. And that means chords spiced up with 6ths, 7ths, 9ths, minor 7ths, and maybe even the occasional flat 5. Even for the math-phobic, it's not that hard. We'll learn some new chord forms – slinky 3 or 4-note chords that you can slide seamlessly up and down the neck to play in any key that happens to suit your fancy. And then for leavening, we'll work on swing feel – the ingredient that puts the air into this irrepressible musical form. So that you won't have to dine alone, we'll learn some great classic swing tunes that have less than 4 or 5 chords, and you'll have the opportunity to use them at the Slow Swing Jam on Friday night! This is a uke-friendly class, which means that in addition to guitar fretboard diagrams, uke fretboard diagrams will also be available.
RIFFING: LESS IS MORE (For Beginning to intermediate swing players – all instruments welcome)
Using the great Count Basie Band of the '30s as our inspiration, we'll explore the power of riffing: using short repetitive phrases as a basis for head arrangements and soloing as well as a way to drill down to the essentials of swing feel. The Basie band had more than its share of great soloists, but the power of the band is in its deep precision of time, the thrilling interaction between the horn sections, and all the notes that could have been played but weren't. We'll emulate that experience in class through deep listening and interaction with the group.
In addition, we'll learn how to make a cohesive solo out of 5 notes or less. If you've never soloed before, and you're willing to take the plunge, this is great place to start. And even if you are already soloing, but you know in your bones that you are simply not swinging, this is an opportunity to pare back to the essentials: to play less and make every note you play count.
"I was in New Orleans and I was in Chicago but I never heard music that had the kind of feeling in jazz I most admire until I went into Kansas City in 1933. We didn't have time for selfishness. We were more concerned with our fellow man and with music" – Jo Jones, drummer for Count Basie
Julian Smedley
JOE VENUTI: EARLY JAZZ VIOLIN VIRTUOSO (Intermediate to Advanced)
Tempting as it would be to spend much of the workshop recalling Joe Venuti's practical jokes and sense of humor, he (and a handful of early jazz violin pioneers) introduced technical innovations that set a high bar for subsequent jazz violinists. With a cadre of early jazz innovators (such as Eddie Lang, Adrian Rollini, Red Nichols, Frankie Trumbauer and Bix Beiderbecke), Joe Venuti performed and recorded extensively during the late 20's and 30's. His early discography of standards and original compositions illustrates his virtuosic flair for the daring, his strong basis in classical technique and his innate swing sense. In this class, we'll learn and play tunes being covered in both guitar and bass workshop classes, delving into one or two of Joe Venuti's early recordings. We'll seek to acquire some of his pearls by looking at fingering, bowing and chording techniques that helped establish Joe Venuti as one of the most influential jazz violinists of his era. Participants should be familiar with diatonic harmony, arpeggiating basic 4 note chords, be conversant with major and minor scales, and able to play comfortably in 1st and 3rd positions.
SWING VIOLIN ANATOMY (Intermediate)
Find the pulse, place yourself in the groove and feel the syncopation! By articulating the roles each hand performs to play a swing rhythm, a melody or a riff, we'll discover where the swing 'pocket' lies and how to lean back or lean forward. We'll perform a daily dissection of the body of a tune into form, melody, arpeggiated chords, riffs and hits, all the while working on our collective sound as a string section. Participants should be familiar with basic harmony, be comfortable with several bow articulations (tied, slurred, hooked) and be able to play major and minor scales & 1st position arpeggios in the vital seven keys A, D, G, C, F, Bb & Eb.
Matt Weiner
"Steve Brown was the one everyone listened to…" -Milt Hinton
ROSETTA STONE OF JAZZ BASS: "My Pretty Girl" Featuring Steve Brown:
Pluck, Slap & Bow. Bow, Slap & Pluck. Using the 1927 Jean Goldkette recording of "My Pretty Girl" featuring Early Jazz bass master Steve Brown as a starting point, let's go back to a time where bass players used a variety of techniques to back up and engage the other musicians. Everyone will get a transcription of Brown's bass part for the song, and then we'll unpack it section by section, seeing how Brown got the timbres and various feels that made this tune a Jazz Bass classic. You'll learn techniques you can apply to any other song.
WORKSHOP TUNE FOCUS: Let's prep for the jam sessions! We'll take apart the tunes these other folks are learning and come up with some solid ideas we can work into our bass parts. Identifying common harmonic progressions and a bass line vocabulary that works with them will be the focus of this class.
Cyd, Julian and Matt Weiner co-lead
ENSEMBLE CLASS
We will explore how the rhythm section works together – how a guitar player and a bass player can work to create different grooves – from a 4 to the bar later style of swing groove, to an earlier 2-beat feel, how to lock in and riff behind soloists, etc.
FREQUENTLY ASKED QUESTIONS
Tuition: Cost of the 2016 Vintage Jazz (Hot Strings workshop) is $350. This includes admission to all workshop activities, and the public performance (Wheeler Theater Saturday evening May 21, 2016)
Registration: Register online or call 360-385-3102 x 114 or 360-385-3102 x 117
Scholarships: There is no scholarship fund at this time.
Housing: Cost for housing is $280. There are 20 private rooms in houses on the non-commission officer's row. All rooms come with linens, blankets, and towels, but you should plan on bringing soap and personal toiletry items. The houses all have fully stocked kitchens.
Meals: the meal plan is $125 and all meals are served at the Fort Worden Commons, who has a passion for fine locally-grown food in a socially-responsible manner. Meals include dinner Thursday, Friday and Saturday evenings, breakfast Friday, Saturday and Sunday and lunch Friday and Saturday.
Under 18: Centrum encourages young artists to attend, participants under-18 please contact Mary Hilts at 360-385-3102 x 116.
Climate: the Pacific Northwest can be chilly. Please remember to bring a sweater, sweatshirt or jacket.
Is smoking allowed during Centrum programs? As posted within Fort Worden, smoking of any kind is prohibited by state law inside any public building or within 25 feet of any public building entrance including windows and ventilation intakes. Regarding the recent legalization of marijuana and the passage of I-502, Washington state law only allows the displaying or consuming of marijuana or a marijuana-infused product on private property. Under no circumstances is such use permitted outdoors at Fort Worden, in public spaces at the Park, or within any building at Fort Worden State Park. State park rangers will enforce the law. Thank you for abiding by Fort Worden State Park policy while a guest at Centrum's programs.
WHAT DOES VINTAGE JAZZ SOUND LIKE?
Joe Venuti and Eddie Lang – "Stringing The Blues"
Eddie Lang and Carl Kress – "Pickin' My Way" (chord melody)
"My Pretty Girl" – Jean Goldkette (with Steve Brown on bass)
Count Basie – "Jumpin' at the Woodside"
"This music makes its own friends" – John Morton