Details on our 2014 workshop are under development. Stay tuned for more information. Below is information from our 2013 gathering.
—
The Birmingham Sunlights
The Birmingham Sunlights are joyous keepers of a deep American tradition, the art of unaccompanied four-part gospel harmony singing. This tradition has a brilliant heritage in their home, Jefferson County, Alabama. This five-man, four-part group was formed in 1978 by Music Director James Alex Taylor and his brothers Steve and Barry.
Jefferson County is the heartland of African-American a cappella gospel quartet singing, and home to one of the richest regional traditions in America. Local quartet activity began in the period immediately following World War I, and had its incubation in the steel mills, mines, and related industries that provided jobs for a large percentage of the area's black residents. By 1930, Jefferson County was known as one of the nation's great centers of gospel quartet singing.
With deep respect for their musical heritage, the Sunlights sought out and received priceless musical instruction from older local quartet masters, repositories of decades of accumulated wisdom in vocal arrangement, quartet technique, and traditional repertoire. However, they also bring fresh ideas to the quartet format, and have developed a repertoire of impressive original gospel compositions to augment their traditional songbook. This will be a rare opportunity for workshop participants to study the four-part a cappella gospel style.
Caleb Klauder
With great pleasure we welcome Caleb Klauder back to Voice Works this year. With a touring schedule that would leave lesser people sapped and wasted, Caleb only seems to gain momentum, artistic depth and humor from the road.
Caleb makes his mark on the scene with a notable perspective on country music in the new century, melding Nashville-quality songwriting with a love for early country, bluegrass and old-time music. He possesses an authentic, warm and happily ragged vocal style, and is a dynamite mandolin player.
Caleb plays with The Foghorn Stringband, The Cajun Country Revival, and leads the Caleb Klauder Country Band. In the last year, Caleb and his partner Reeb Willms have also started appearing as a musical duo, notably at The Portland Old Time Music Gathering in Portland, Oregon and at the rollicking 2012 Blackpot Festival in Lafayette, Louisiana.

In 2010 the Caleb Klauder Country band released their critically acclaimed second album, Western Country. Praised for its classic country vibe, the album reached #2 on the Freeform American Roots Radio Chart.
Reeb Willms
Singer and guitarist Reeb Willms was raised on her family's Douglas County wheat farm on the high and dry plains of middle Washington State. Her parents still inhabit the farm that has been in the family for four generations. Reeb grew up hearing old country music played and sung by her father and uncles, The Willms Brothers, and is still influenced by them today. The brothers sing and pick regularly at family gatherings. At age twenty she started playing the guitar and quickly realized her love for music by learning to play and sing in traditional old time & country styles. Reeb is a true and vulnerable vocalist, with a sweet knack for harmonizing. Her repertoire includes a selection of traditional and country songs.
Last year, Reeb moved to Oregon and joined the high octane Foghorn Stringband. Their latest recording, 'Outshine the Sun', features Reeb's fine vocals on several tracks. She's also been honing some captivating duets with Caleb Klauder, on and off stage. Reeb most recently taught at The 2012 Nimble Fingers Bluegrass Workshop in Sorrento, B.C.
Linda Lay
Linda Lay began singing in church and on stage when she was six years old. She's from Bristol, Virginia, a city at the center of one of the nation's richest sources of traditional musicians. She grew up in a family string band, often hearing local tradition-keeper Ralph Stanley and echoes of the greatest of the family bands, the Carter Family. One of her favorite people was Jeanette Carter – Linda grew up singing for Jeanette, who operated the Carter Family Fold, a music hall just west of Bristol.
Linda currently lends her powerful voice incredibly timed bass playing to the popular quartet Springfield Exit. Her husband, David plays rhythm guitar in the band. Linda has also played and recorded with Dudley Connell, Sammy Shelor and Bill Kirchen, among others. In 2006, Linda was chosen to be a Master Artist for the Virginia Foundation for the Humanities.
David Lay
David Lay grew up in the coalfields of Virginia. Singing in church was learned as he learned to walk, and he developed a keen ear for the traditional music of the region. A graduate of the University of Tennessee (Agriculture), he once operated a large Tennessee dairy. But like many other American farmers, David has had to supplement his current vegetable farming with other work. He's climbed poles for an electric utility, run a welding shop, and operated backhoes and bulldozers of all sizes. He's an electrician and plumber, and if his bulldozer breaks down, he can take it apart and fix it. "It keeps the costs down, and makes you skinny," he says.
Linda and David Lay have performed at the Library of Congress, several National Folk Festivals, the Masters of the Steel String Guitar tour, the Birchmere, the Smithsonian Folklife Festival, Opryland Hotel, and many other prestigious venues and stages. Linda and David's marriage is full of love and harmony; their voices blend beautifully in a duet, and he is her favorite rhythm guitarist.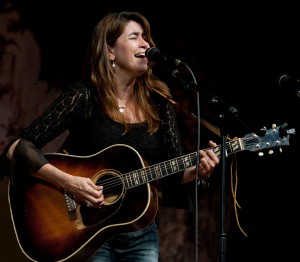 Yvette Landry
Yvette Landry comes from a long and venerable line of musicians. Her grandfather, Lucien Landry of the Bill Landry Orchestra and The Louisiana Six, was among one of most important working musicians from the 1930s into the 1950s. Her grandmother, Viola Hebert Landry of New Iberia, was a musician as well, playing with her brothers Wilton, Noah, Cap and the rest of the Hebert clan in The Louisiana Six.
A seasoned musician, vocalist and a classically trained pianist, Yvette has toured with bands throughout the United States and Europe. Yvette has played with Balfa Toujours, Redstick Ramblers, Pineleaf Boys, Walter Mouton, Dirk Powell, Donna the Buffalo, Bill Kirchen, Carol McComb, John Lilly, Geraldine Gay and Darrell Scott. She is also a founding member of the all-woman super-group, Bonsoir Catin. Deemed the "Queen of Cajun Bass," she can often be seen keeping the rhythm section in line.
In 2010, Yvette released her first solo effort, 'Should Have Known.' The album, recorded by Joel Savoy, and heavily lauded by the press, is packed with homemade honky-tonk kickers and ballads. Yvette is a native of Breaux Bridge, Louisiana, where she makes her home in St. Martin parish.
Pharis Romero
Pharis Romero is a singer, songwriter, guitarist, teacher, and a respected figure in North American acoustic music circles. She has performed and instructed at many of the major North American festivals and venues, including Wintergrass, the Winnipeg and Calgary Folk Festivals, and the Festival of American Fiddle Tunes. A native of Horsefly, deep in the Cariboo interior of British Columbia, Pharis developed her style through both classical training and older tradition-bearers.
Writing songs about hard living, love and loss, her music has been played around the world. Pharis began performing at an early age with her family band, The Patenaude Family. She's a founding member of the Haints Old Time Stringband and of Victoria, B.C.'s Outlaw Social. She currently records, performs, and makes banjos with her husband Jason Romero.
She and Jason's triumphant first album, A Passing Glimpse, won the Americana Album of the Year at the 2012 Independent Music Awards, and was included on many Best of 2011 lists.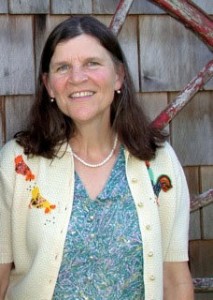 Laurel Bliss
Bellingham, Washington vocalist and dobro player Laurel Bliss was exposed early in her life to the Carter Family, Doc Watson, the Louvin Brothers, and Jimmy Martin. That exposure has inspired a lifelong dedication to unearthing and learning vocal chestnuts. Laurel has a composed, straightforward, yet tender approach to singing, that suggests an earlier era.
Laurel played dobro and sang in Southfork in the 1980's, and has performed for many years in a duo with Cliff Perry. Her heartfelt vocals have made her a stand-out in acoustic and bluegrass music. The joys of playing by ear and learning to sing with others through the festivals of Weiser, The Festival of American Fiddle Tunes and the Puget Sound Guitar Workshop have shaped her approach to music.
Riley Baugus
North Carolina's Riley Baugus first came to music through his family. His father had a love of old time music and a record collection that included, amongst others, the works of fellow North Carolinian Doc Watson, which touched the young Riley on a molecular level. Riley grew up not just with old-time music, but also with the deep religious singing of the South. Riley and his family attended the Regular Baptist church, where unaccompanied singing was the tradition.
The oldest English-language religious music in oral tradition in North America is the "lined-out" congregational hymnody of the Old Regular Baptists from the coal-mining country of the Southern Appalachian Mountains. Riley will lead a daily lined-out hymnody session at Voice Works.
Riley has made his own path, building in-demand instruments and performing at festivals all over the world. His teaching credits include TheAugusta Heritage Festival and Augusta Old Time Week, Mars Hill College's Blue Ridge Old Time Music Week, the Festival of American Fiddle Tunes in Port Townsend, WA and Sore Fingers Week in the UK. When not teaching or building banjos, Riley can be found out on the road performing, playing with the Dirk Powell Band, with Kirk Sutphin, and with Ira Berstein, among others.
Kristin Andreassen
Kristin Andreassen is an award-winning songwriter and composer of music for both children and adults. She's toured three continents as a member of the celebrated old time string band Uncle Earl, the "folk noir" trio Sometymes Why, and as a clogger and educator with the Footworks Percussive Dance Ensemble.
Kristin's debut solo album Kiss Me Hello features the single "Crayola Doesn't Make a Color for Your Eyes," which won the John Lennon Song Contest Grand Prize for Children's music, has been used in weddings, choir recitals, marching band performances, and topped the charts on Sirius Satellite Radio's Kids' Place Live.
Kristin's mentors include heroes of the acoustic scene (Nickel Creek bassist Mark Schatz produced her solo album), as well as the rock & pop world (Led Zeppelin's John Paul Jones produced the current Uncle Earl release). She's equally at home at Clifftop, a West Virginia fiddlers convention with one tiny stage & a lot of camping tents, or at Bonnaroo , the country's largest rock festival, where she played with Uncle Earl and Sometymes Why. Originally from Portland, Oregon, Kristin now makes her home in Brooklyn, New York.
Nancy is a songwriter who composes in a variety of styles ranging from lively and upbeat western and standard swing to cowboy waltzes, heartfelt jazz ballads, and sweet and honest country love songs. She takes particular delight in the sights, sounds, and scents of the west. Many of her songs are filled with coyotes and cactus and the prairie moon frequently provides the background for her ballads. Nancy's also a great musician, specializing in swing and folk styles of rhythm guitar, and traditional and swing-style ukulele.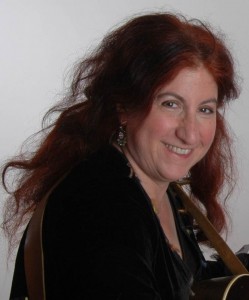 Suzy Thompson is a powerful blues singer who is unique in her ability to fiddle and vocalize at the same time. She discovered the music of Bessie Smith, Sippie Wallace, Memphis Minnie, Victoria Spivey, and other classic blues moaners in the winter of 1975, when a friend of a friend of a friend stored his LP collection in her room. She began learning and performing some of this early blues material, accompanying herself on the guitar.
Over the past three decades, Suzy has been a leading force in many influential roots music groups, including the California Cajun Orchestra, the Blue Flame String Band, the all-woman Any Old Time String, and most recently, the Bluegrass Intentions. Currently, Suzy records and performs in a duet with her longtime musical partner, renowned flat picker Eric Thompson, with the Aux Cajunals and with the Thompson String Ticklers.
Suzy, who serves as the Artistic Director of The Festival of American Fiddle Tunes, will lead one blues singing session each day.
John Lilly
John Lilly is a multi-talented acoustic music performer from Charleston, West Virginia, specializing in Americana, country roots, and traditional folk music. He writes new songs that sound as old as the hills, and performs older songs like they were made yesterday.
According to one reviewer, "If Hank Williams had a sunny disposition, he'd be John Lilly."
John was born in Illinois in 1954 and has traveled and performed widely, including three tours of Scotland and visits to 48 states. A former member of the Green Grass Cloggers dance team, John spent years playing traditional string band music with groups including Ralph Blizard and the New Southern Ramblers.
He is a former a tour guide at the Country Music Hall of Fame and Museum in Nashville, and is currently editor of West Virginia's Goldenseal magazine
Meredith Axlerod
Meredith is a singer of early jazz and pre-1930s American pop music. Her playing explodes with energy and vintage rhythms. She has performed with Dan Hicks, Maria Muldaur, Robert Crumb, the Cheap Suit Serenaders, and Craig Ventresco, and at venues around the United States and internationally, including The Great American Music Hall, the Freight and Salvage, and Jazz at Pearl's, the San Francisco Festival of the Mandolins, as well as at the West Coast Ragtime Festival and the Blind Boone Ragtime and Early Jazz Festival.