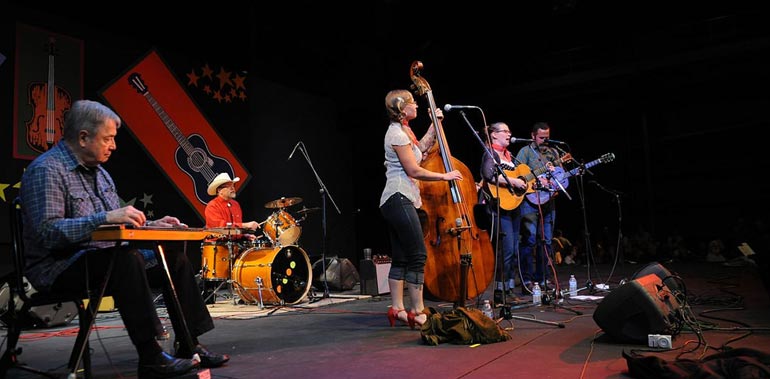 Here's a general idea of what to expect at Voice Works:
Tuesday, June 23, 2015:
3:30 – 5:30pm – registration, settle in, dinner at 6pm,
An extensive welcome and orientation session begins at 8:00pm in the Wheeler Theater. We will introduce each of the singers who are on staff, and ask them to sing a little, and to talk about what they'll be doing during the workshop. We'll also talk about the workshop schedule, bring any fresh information, and try to get all of your questions answered.
WEDNESDAY, THURSDAY, FRIDAY, SATURDAY
9:00: Vocal Warm-ups
9:45 – 10:45: Choice of classes
11:15 -12:15: Choice of classes
2:00 – 3:00: Choice of classes
3:30 – 4:30: "one-offs," instrumental sessions, wildcard slot.
5:00 – 5:45: Open mike
Each of the faculty will be teaching twice a day, at varying times. All classes are open to all comers.
Evenings in 204 – faculty led jams, song swaps, dancing, etc.
SUNDAY
8:00am – breakfast
9:00am – shuttle leaves for airport from Centrum office.
EVENTS OPEN TO THE TICKET-BUYING PUBLIC
Voice Works participants receive prime seating.
Friday, June 26, 2015
Intimate Concert in the Wheeler
7:30 pm; Joseph F. Wheeler Theater
Saturday, June 27, 2015
Honky Tonk Polka Dot Dance
7:30 pm; venue TBD
Class Descriptions
All these folks will be teaching two classes each day. Below you will find the class description for one of these sessions.
Each person's second class will evolve on site, based on participants' requests – you'll have to tell them what you want! We've noted some areas (in some cases) where these folks have a particular expertise, to help you think about what you might get out of this workshop.
Favorite Women Country Singers – Laurel Bliss
Let's sing some songs from the repertoires of my favorite women singers of country music – Kitty, Delia, Rose, Tammy, Molly, Loretta….great names, great songs!  Laurel might also lead a duo or trio class with other faculty.

Vocal Improvisation for Everyone! – Jennifer Scott
Traditional and Non-Traditional methods of vocal improvisation will be the focus of this class. Learn to free your ideas within a variety of song styles like Jazz, Latin, R&B/Blues, gospel, roots and more. We'll also take some time for less-structured improvisations, using alternative vocal sounds and 'freer' musical forms exploring the parameters of the voice, including vocal percussion, learning to trust your instincts & ears to create and nurture spontaneity in your vocal performances and explorations. The perfect venue to become a more adventurous singer!
Joy of Singing! – Pharis Romero
Each day we'll focus on a new area – breathing, projection, tone, range – and build up a set of skills for you to explore and develop your own voice. We'll do some exceptionally fun exercises, we'll sing together in slightly smaller groups, and maybe even alone, and we'll learn some beautiful old songs and arrangements to practice our new found skills. Other ideas from Pharis: a master class, country girl harmonies with Laurel Bliss (and maybe Reeb Willms), building up a duet song with Jason Romero.
Miguel Govea and Susan Peña
Learn to sing two (and sometimes three) part harmonies in Spanish by beginning with the melodies of classic Mexican songs such as La Bamba, Cielito Lindo, etc. in a key appropriate to your voice.  English translations and coaching on pronunciation will be provided.  La Familia Peña-Govea's repertoire includes rancheras, corridos, valses, boleros, sones, merengues and cumbias from Texas, Mexico and other parts of Latin America.
Vocal Strength and Development – Pamela Bertoli
Pamela will be teaching you a set of vocal exercises to build your voice to its full potential – by strengthening the muscles and ligaments in your vocal cords to enable you to accurately hit pitches, sustain tone, increase your vocal range, blend your high and low range, coordinate soft and loud sounds, and avoid vocal strain and fatigue.  You will also learn a modified set of exercises for use as a vocal warm-up.  The class is appropriate for all levels, from absolute beginners to professionals, and will enable you to sing any type of repertoire.
Traditional Irish Songs in English – Cathy Jordan
Just what it says – Cathy will also teach songs in Irish, if you'd like.
Four-part Swing Chorus – Casey MacGill
We'll sing 4 part vocal arrangements; soprano, alto, tenor, and bass (baritone). I'll demonstrate the parts and help with phrasing, swing, intonation, and dynamics. Songs will range in tempo from slow to medium to fast (but not too fast). Examples: Moonglow-slow, I Hear Music-medium, and Swing Brother Swing-fast. We'll also learn about the arc of the arrangement and other musical considerations that help make a satisfying performance.
Colors of the Voice – Moira Smiley
Learn how to be intrepid & expansive with your vocal timbres, ornaments, and styles. We'll learn some solo singing and 3-part harmony from Eastern Europe (Serbian, Bulgarian, Macedonian), build Multi-Voice Arrangements.  Class will also involve Body Percussion and movement to free you; warmup exercises, voice technique and creating the 'magic' of communication through song.
Ballads from Virginia – Elizabeth LaPrelle
Pretty much sums it up. Elizabeth is also available for technique and repertoire sessions, and looking at her repertoire in an historical context.
Evolution of an old song: Artistry moves Tradition – Eli West
How would you arrange an old song? Capturing an oral tradition on tape doesn't immortalize a song, but just a version of it.  If field recorders like Alan Lomax had gone back to record the same songs 10 years later, they would all sound somewhat different. Tunes and songs are dynamic, so let's explore ways to arrange and sing songs that reflect the original version while employing your own musicality. This class will utilize listening parties, running down the rabbit hole of story/song origins, and finally pursuing different arrangements for performance.  Styles will include Old Time, African American work songs, and Georgia Sea Island lullabies.
Caleb Klauder – class description on the way.
Reeb Willms – class description on the way.
Cedric Watson – class description on the way.