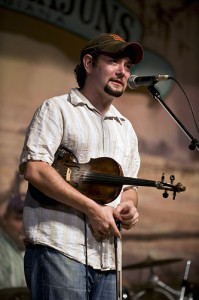 The Cajun component in 2012 includes three great musicians from different generations: fiddlers Al Berard and Brandon Moreau, and accordionist Ray Abshire.  Brandon is the youngest of the three; this will be his first visit to Fiddle Tunes. Raised near Basile (hometown of the Balfas and also of Harry Choates), his grandfather Vories Moreau was a fiddler, and his dad played with Dewey Balfa during the 1980s and 90s.
Brandon is certainly one of the heirs to the Balfa fiddle legacy, and his powerful singing is just fantastic!  One time we were jamming on the front porch of our house (in Berkeley California) and Brandon was letting fly with the vocals — people heard it all the way around the block and came over to see what was going on.  Suddenly we had a fais do do right in the front yard!  Brandon is friendly, is a great cook, and just loves to jam so I look forward to experiencing his special brand of energy at Fiddle Tunes.
We are very pleased to welcome back Ray Abshire to Fiddle Tunes!  His connection to the Balfa family goes back to his early teens, when Ray subbed for his cousin Nathan Abshire (one of the greatest Cajun accordion players of all time) with the Balfa Brothers.  Ray is a friendly and welcoming person, and he plays Cajun accordion the way it was handed down to him, in a pure style that owes absolutely nothing to rock and roll and owes everything to the deep emotion that is behind all great Cajun music.
We're also very pleased to welcome Al Berard back to Fiddle Tunes.  Al grew up in Grand Anse, Louisiana, a town so small it's not even on most maps, hearing his dad sing traditional Cajun songs to their cows.  No report on how that affected the milk production. He specializes in twin fiddle tunes; he and Karen England (who will also be with us as a fiddle tutor) recorded an excellent CD together in 2000, called "Feet Off the Ground."
He hasn't been to Fiddle Tunes for awhile and it will be great to have him with us again.