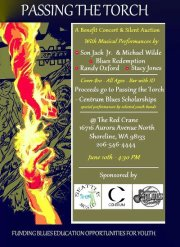 Centrum, Seattle Teen Music and The Washington Blues Society are pleased to announce that three teenage musicians from the Puget Sound region will be receiving full-ride Passing the Torch scholarships to the 2012 Port Townsend Acoustic Blues Festival.
The scholarships were awarded to Nolan Garret, Jesse James and Ian Sandico at the close of a very successful fundraiser held at the Red Crane restaurant in Seattle on Sunday, June 10, 2012.
Each musician performed in between sets by Son Jack Jr. and Michael Wilde, Blues Redemption, and the Randy Oxford Band.
James – who will attend the Centrum week for the third time – played and spoke to the nearly-packed house about the Centrum experience, and how it has literally changed his life.
Not only the kids and the audience were appreciative of Passing the Torch, but the parents of the youth musicians were also struck by the out pouring of love from the crowd and all the people who worked so hard to make this first year so successful. Randy Oxford had the opportunity to speak with the parents during the show.
"I think the kids and their families were in awe of the whole thing. Several of the parents and relatives went out of their way to express their gratitude. They really felt special and realized how much others care about their kids and their musical future."
The three organizations involved in this effort are Centrum, Seattle Teen Music, a program for finding venues for youth musicians from the greater Seattle area to provide their musical art to the public, and The Washington Blues Society, the third largest blues society in the country and winner of the 2009 Keeping the Blues Alive award from the Blues Foundation.