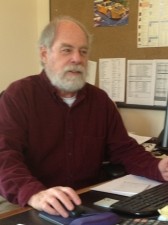 Jim Costello has been appointed by the Centrum Board of Directors to serve as Interim Director, following the recent resignation of Executive Director John MacElwee.
Effective immediately, Costello will manage the organization's staff and operations until a nationwide search for a new Executive Director is completed.
Costello, who with his wife Jeanne was a part-time resident in Port Townsend for six years before moving to Port Townsend full-time in 2009, has taken on leadership roles in arts, community, and municipal organizations for many years. He has served on the Board of Directors of the Monterey Jazz Festival, the country's oldest continuous jazz festival, for the past thirty years, including three years as president.
Prior to his retirement from the Pacific Grove (California) public schools, Costello served on the Pacific Grove City Council and was also that city's mayor until his retirement in 2006. He was a director of the Monterey County Fair and a member of various county-wide committees, including the Fort Ord Reuse Authority.
A long-time Centrum supporter, Costello has served as a member of the Centrum Board of Directors since February 2012 and has asked that he not be compensated for his interim service. "Centrum was one of the major reasons we moved to Port Townsend, and I am pleased and honored to step in and help during this time of transition," said Costello. "We have a tremendously talented, dedicated staff and a strong, committed board, and I'm excited to work with all of them as we plan for our upcoming 40th anniversary year and 2013 summer season."
"Jim Costello is uniquely qualified to take on the role of Interim Director, and he will be able to hit the ground running," said Centrum Board of Directors President Cynthia McBride. "Given his depth of experience in arts and community leadership, plus his demonstrated devotion to Centrum, we are very fortunate to have him here to help ensure a smooth transition until a new Executive Director is hired."
McBride has appointed a search committee to find a new Executive Director and information for prospective applicants will soon be available online.