Centrum veteran and drum great, Joe LaBarbera will join 2013's Jazz Port Townsend faculty this July. We sat down with him last week and had a little chat. Read our interview where he discusses the benefits of a professional faculty, Bill Evans, and just enjoying the process.
Centrum: It's been a while since you've come to teach at Centrum. What are you looking forward to while being here?
Joe LaBarbera: I'm really looking forward to seeing all my old friends. Between the faculty and the students that come back year after year there are a lot of people I'm looking forward to seeing. That will be fun. The old house [when I used to come to Jazz Port Townsend] was Jiggs Whigam, John Clayton, and myself in one of the officer's houses. That was a lot of fun.
C: Can you speak about the teaching process? How is it valuable in comparison to performing?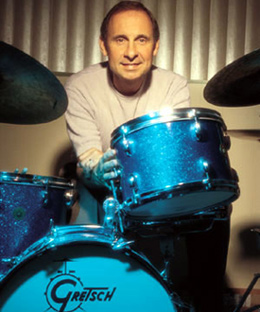 JLB: Well my education was a combination of some college and a lot of on the job playing on the road. My teaching process is a combination of everything I myself have learned over years. I distill it down and pass on to a student—in an organized manner. I pass on things that I find have helped me over the years to be a better player and would be beneficial to students.
C: Can you give an example of one of those things?
JLB: My number one thing is always technique. I start out assessing each student's technique. Unfortunately young people always want the hardest stuff right away before they're necessarily ready. The thing I try to encourage in my students is to understand and enjoy the process each step of the way. Advance at your own level—that is the most important way to approach a career in music. Find out where you 're at an d what you have to offer—don't guage yourself against someone else's ability.
C: You're on faculty at CalArts in Los Angeles—obviously teaching is a huge part of your life even outside of Centrum. How does Centrum differ from other programs and workshops you're involved with?
JLB: I've done many all over the world—from New Zealand to France and all around Europe—and the approach is similar. But Centrum was at front end of this whole idea of gathering together a faculty of all professional performers and giving students access to their knowledge and mentorship. It's the best way to go. The most valuable lesson for students in this environment is that it gives the opportunity to hear, almost daily, these great musicians perform. In my life some of the most valuable lessons were learned in going to hear people play live. And it's not always possible for young people to do that—especially those who may live more rurally. The Faculty Presents, the clubs, and the mainstage performances at Centrum are incredibly important.
C: You studied at the Berklee College of Music; can you speak about the evolution a musician goes through in his roles as student/artist/teacher?
JLB: I never stop being a student. Berklee had (and probably still has) the exact same format as CalArts and Centrum where the faculty are all professional jazz musicians. Alan Dawson was my instructor, Charlie Mariano, Kurt Pomeroy—the faculty were stellar. Having players as mentors was the best process for going to school. They were teaching exactly what we wanted to learn. It's the process of seeing your goal every day standing in front of you and then working to achieve that goal.
C: What projects are you working on now?
JLB: I'm on sabatical from CalArts this semester, which is allowing me the opportunity to work on writing a drum book. I've never taken the time to put my knowledge down into writing. I'm also writing a book on my two year experience with Bill Evans. I'm hoping to have something finished by September of this year. Also I've got a fair amount of touring; starting next week I'm going on the Jazz Cruise. And in my time off it's just nice to have the opportunity to sit down at the drums whenever.
C: What advice do you have for young musicians?
JLB: Enjoy the process. [Being a professional musician] is a hard life. There are a lot of talented people out there and not every one of them is going to find a career in music. You have to be willing to dedicate yourself to some rough times. Sometimes young people are unrealistic in their expectations. Improve as a musician every day a little bit. It's from that hard work whatever benefits will come from. But actually enjoy and embrace the process and be able to stick it out. I'll give you an example: When Bill Evans moved to New York he gave himself a 5-year commitment in which to make a mark on jazz. Now, for him it happened much more quickly, but for others it takes more time. It's certainly worth it if you're willing to put in the time.