What is it like to be a workshop participant at Jazz Port Townsend?
Vocalist Sherrill Rutherford attended JPT in 2012 and wrote a terrific summary of her experience at Centrum. If you want a sense for what a week of total jazz immersion is like, please read on. And thank you, Sherrill, for sharing this with us.
—
I have just returned from a weeklong jazz music workshop at Fort Worden State Park in Port Townsend, Washington. The setting for this workshop was a turn-of-the-century US Army Base (Fort Worden) perched on the northeast tip of the Olympic Peninsula. The Base has been completely restored and converted into a vacation retreat and conference center. Since the mid 1970's, a non-profit organization in partnership with Fort Worden State Park, has offered short residential workshops in music, dance, writing, visual arts, and theater, led by master artists. These workshops are described as gathering places for artists and creative thinkers from around the world, students of all ages and backgrounds, and audiences seeking extraordinary cultural enrichment; workshops that provide creative experiences that change lives. I attended the Jazz Port Townsend Workshop and Festival and it was truly a life changing experience for me.
This workshop is an amazing feat of organization and coordination. The faculty at this year's jazz workshop included 35 virtuoso jazz musicians who coached over 200 participants. The week culminated with the jazz festival where the faculty and participants all performed. In order to translate my learning experience, I need to describe the details of the workshop and the daily events to portray what it was like to be a participant.
Prior to the workshop, each potential participant submitted a recorded audition which was used to determine if that individual was accomplished enough to attend, and if they were, which group they would be assigned to. There were 20 singer participants of whom I was one, and 3 vocal coaches. The vocalist participants were divided into 3 small groups for coaching and rehearsing. At the start of the week all the participants and faculty received a small booklet that contained the schedule for each day of the workshop and festival. The basic format for each day was as follows.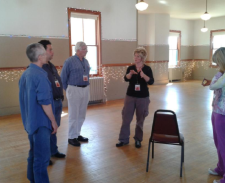 The day started with a rehearsal first thing in the morning for small groups of musicians each with a faculty coach. For the singers this meant each singer would sing a song in front of their small group and then be critiqued by the pros. Following this rehearsal, there was a number of sessions to choose from on jazz topics such as how to improvise or jazz theory for example. This was followed by a lunch break which I usually spent practicing. After lunch, master classes for each instrument were held followed by another rehearsal for small groups. After that, there was a faculty concert where several faculty members were featured, and over the course of the week the entire faculty performed for the participants. This was followed by dinner and after dinner there were "extras" which were more workshops, or pick up jamming/playing with other participants. This was particularly helpful for the singers because a combo of participants would be available to accompany the singers so we could practice our songs with a back-up band.
So from that schedule you can visualize a lot of to-ing and fro-ing. But there was more than just coordination and scheduling, there was a top down attitude that was ever present. On the Sunday when we arrived there was an evening welcome performance. The artistic director welcomed all of the participants and acknowledged us as family. The theme of the week was that we were all a big family of jazz musicians helping each other out. This day-one orientation really hit home. His line was "Hello Family" and all of the participants would respond in unison, in kind. The artistic director and program manager both have an all inclusive, help everyone, share the knowledge perspective that was pervasive. This was fundamental to the success of this workshop. The entire selected faculty had the same attitude. And it influenced all of our interactions during the week. Each of the 3 vocal coaches was phenomenal. They were able to inspire each singer to become self confident and engage the audience, as well as providing positive critical feedback to improve performance.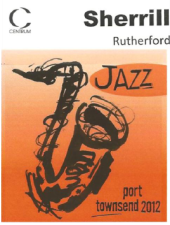 For me this workshop was an amazing opportunity to be completely immersed in jazz music. There are so many components to playing jazz that are difficult to perfect individually, and jazz really isn't an independent avocation (nor is music). For instance timing is critical to jazz music. This has been one of the most difficult things for me to grasp. I have a background in classical music which has a completely different time feel. Playing with other musicians, and just listening to other jazz musicians perform this past week, has really helped me learn and develop an aptitude for the feel of jazz timing.
It is hard to believe that a person could be transformed by a one week workshop, but that is how I feel. And many of the other participants voiced similar experiences. Before the workshop think I had plateaued in my skills, and this experience pushed me past that. The combination of complete immersion in all aspects of jazz music, individual coaching, and a phenomenal attitude towards sharing the music seems to have propelled me to a new level of competence.
One of the faculty members had a great analogy for the participants' experience. The participant comes to the workshop with a small Dixie cup hoping to get it filled up by the faculty. The faculty pulls out a firehouse and completely douses the Dixie cup and the participant. This was definitely my experience; there was so much opportunity to learn during this week that it was at times overwhelming. I knew I wouldn't be able to retain everything, but I'm hoping that I can come back to it over time and incorporate it onto my hard drive.
An additional, unexpected result of the workshop was the strong bond that the participants developed, and in particular for me, the vocalists. The participants became a small united support group for each other, which was so evident at our final performances on Friday and Saturday evening. I witnessed people transform from inside their shell to self-confident, interactive performers. The vocalists are now communicating by email and sharing photos and videos of our performances.