We're excited to announce that Rebecca Brown and Ilya Kaminsky will lead our Autumn Writing Intensive November 7-10, 2013 at Fort Worden.
Rebecca's workshop will explore short prose forms, both fiction and nonfiction, such as haibun, prose poetry, vignette, collage narrative, flash biography and utterly unclassifiable things. Ilya's session will explore poetry, poetics and the art of translation – asking various questions about literary tradition, poetic composition and what we can learn about craft from writers around the world.

Rebecca Brown is an immensely popular teacher and among many other awards and roles, served as Artistic Director of Literary Programs at Centrum. Her latest book, American Romances (City Lights), is a collection of gonzo essays that put Brian Wilson (of the Beach Boys) and Hawthorne on the same page and reveals the secret sex life of H. G. Wells' The Invisible Man. It won the Publishing Triangle's Judy Grahn award for nonfiction in 2010.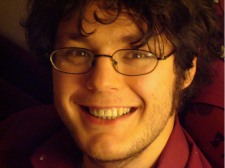 Ilya Kaminksy's anthology of 20th century poetry in translation, Ecco Anthology of International Poetry, was published by Harper Collins in March, 2010. His poems have been translated into numerous languages and his books have been published in Holland, Russia, France, Spain. Another translation is forthcoming in China, where his poetry was awarded the Yinchuan International Poetry Prize.
Learn more about the the November 7-10 gathering, and register online at our Autumn Writing Intensive page.