Summer is here, and that means many of you are looking for fun and challenging summer camp experiences for your teenager.
In 2013, Centrum's Young Artists Project has two workshops that are specifically focused on students in grades 9-12: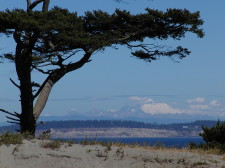 The 2013 Advanced High School Writers' Studio is designed for both AP-level writing students, and those interested in a serious exploration of the literary arts.  Students begin each day with a master class led by acclaimed author Jennine Capó Crucet for a guided practice of a variety of prose techniques and the opportunity to create new work in a supportive environment. Afternoons are filled with a choice of seminars in the Port Townsend Writers' Conference , including poetry, short fiction, humor writing, creative nonfiction, journalism and much more. Evenings include readings and events featuring nationally acclaimed writers from the Conference.
The DANCE This! Camp at Centrum is a partnership between Seattle Theatre Group and Centrum. The week of dance provides an opportunity for high school students to study a wide range of dance styles and techniques in a supportive, yet challenging atmosphere. Students participate in African, Ballet, Choreography, Hip-Hop and Modern dance classes with professional dance instructors from the Seattle area.
At Centrum, renovated Fort buildings, including classrooms, dormitories, performance and studio spaces, serve as home. While here, students are supervised by faculty and staff, including experienced dorm counselors. During free time students are asked to be in groups of two-to three if they are exploring the grounds of Fort Worden. They are not accompanied by supervisors during their free time, but they are asked to let the Dorm staff know where they are going. Food served at Fort Worden is organic, fresh, and local.
Centrum is located at Fort Worden State Park, Port Townsend. Perched on the Northeast tip of the Olympic Peninsula, Fort Worden offers 450 acres of sandy beaches, wooded hills, wetlands, and a historic campus, with stunning views of the Strait of Juan de Fuca and the Olympic and Cascade ranges.
Summer Music Camps
In addition to our Young Artists Project camps, we offer world-renowned music camps that are incredible experiences for teens:
–