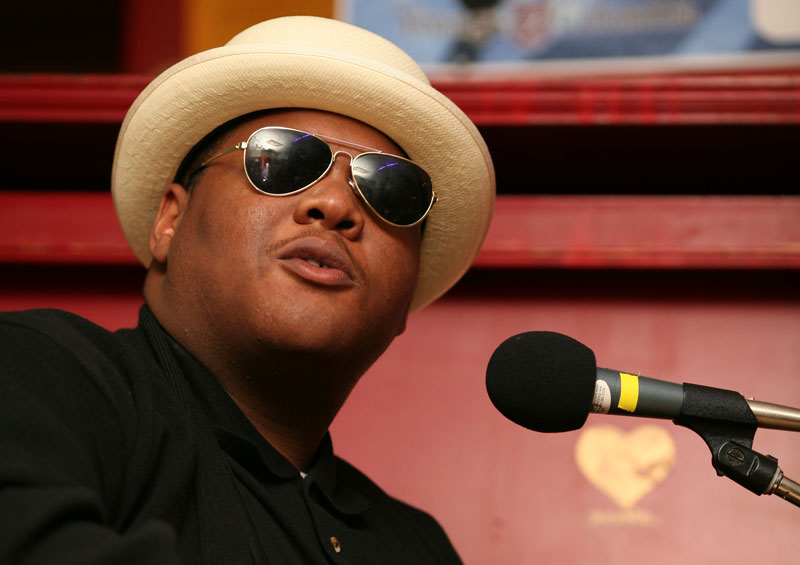 Jerron Paxton served as the Artistic Director of the Port Townsend Acoustic Blues Festival & Workshop from 2014-2019.
"The Blues is the most beautiful music in America and it has the power to draw in all people, young and old. I want those who come to Centrum to hear that music played by the best and to play with the best so that they can build that admiration and take that love and that music home with them." – Jerron Paxton
Centrum's Acoustic Blues program manager Mary Hilts says, "Jerron [Paxton] is a young man with an old soul. He embodies the essence of traditional folk and blues with a wit and charm that bridges generations. He has a unique ability to collaborate with a diverse array of professional musicians while attracting youth to the genre. We're delighted that he will help lead the growth of the Port Townsend Acoustic Blues Festival."
Jerron Paxton was born in 1989 but his talent rivals the greatest. He plays in the true songster tradition: ragtime, hokum, old-time, French reels, Appalachian mountain music and blues and more.
Paxton hails from an African American Jewish family with mixed Creole /Choctaw Indian ancestry who moved to South Central Los Angeles, where Jerron grew up. He is a highly capable multi-instrumentalist who picks banjo and guitar, plays harmonica, piano and other instruments, including the fiddle, his first instrument.
Frank Matheis, publisher of thecountryblues.com said, "The virtuoso is a joyous entertainer, humorous with a smooth vernacular, dazzling wit, a terrific storyteller, exuding an affable excitement. He's witty, fast rhyming, poetic, fun, exciting and wonderfully skilled as a musician and a fine singer, he is the continuation of a proud tradition."
For me, music is not an academic experiment. I play it the way I feel like it, because it should be an expression of how I see things. I am just learning to have a good time so that the audience can have a good time. Music shouldn't be forced. It's upsetting to me that so much music is technique, just skill and not enough feeling. I am happy to play so that the audience feels like I am in their living room. I want people to be enjoying themselves. – Jerron Paxton
Blind since age 16 with peripheral vision problems that allow him some sight, Paxton cannot drive and is legally blind, but has enough sight to get around and he can see enough to seem unaffected by his vision problems.
Phil Wiggins refers to Jerron Paxton as "a musical genius" and offers his blessing on Jerron taking the helm he once held.
Jerron Paxton was first introduced to Centrum and the Acoustic Blues Festival at the age of 19. He served on the faculty from 2008-2010 and again in 2013.