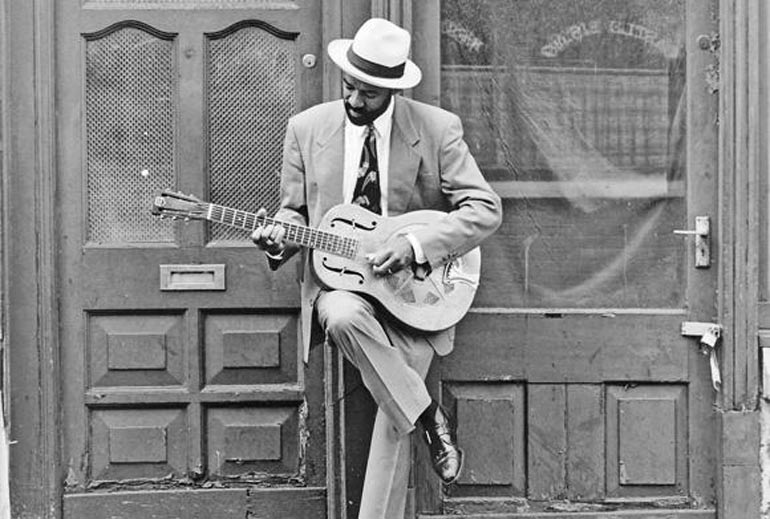 'Building Your Skills' Workshops              Miller & Roach Public Performance
October 18-22, 2017                                     7:30pm, October 21, 2017
The Centrum Country Blues Intensive is held at Fort Worden State Park in Port Townsend, Washington, one of the Pacific Northwest's most stunning and inspiring landscapes. Participants will gather in Officer's Row housing and study with two masters of Country Blues Traditions.
At the Country Blues Intensive, John Miller and Michael Roach will be working to develop your abilities as an all-around musician in the style,  becoming comfortable singing, playing, and singing while playing, working in a lead or accompanist capacity, and feeling confident joining in and playing on songs you've never heard before, learning them as you play.
Each instructor will offer two solo classes per day, one morning session apiece which will meet at different times, early afternoon classes that will meet simultaneously, and a late afternoon team-taught session.  Evening time will be available for small jams, discussions of the music and visiting, as the participants see fit.
Artist Faculty
Michael Roach – sings and plays guitar in an East Coast style of blues that dates back to the 1920s. After spending several years learning directly from such well known figures as John Jackson, John Cephas and Jerry Ricks, Michael has developed his own style. As a cultural arts performer, Michael has promoted African-American culture through the use of blues music. He has lectured for the Smithsonian Institute (USA), Oxford University (UK) and more recently at the University of Metz (France). Michael is the Director, Guitar Instructor and Vocals Teacher for the annual Blues Week program in the UK.
John Miller – was inspired to take up the country blues guitar after seeing Mississippi John Hurt at the 1963 Philadelphia Folk Festival.  He taught himself to play guitar by listening to records and recorded his first album in 1973.  Since then, he has come to be recognized as one of the foremost authorities on country blues guitar.  John has released 12 instructional videos on the music of Furry Lewis, Bo Carter, Robert Wilkins, Elizabeth Cotten, John Hurt Vols 1&2 and Memphis Blues amongst others.
John Miller's Classes
John Miller's solo classes will be drawn from the following list of topics:
Where does the vocal go? – We'll look at how to place the vocal with the accompaniment to get you singing and playing at the same time and come up with a method that will enable you to figure this out for yourself for songs you'd like to perform.
Use of a flatpick for Country Blues accompaniment – Quite often, a flatpick is the best tool for the job in Country Blues back-up.  We'll work on building skills with the pick, starting with simple "boom-chang" accompaniment and working towards playing fluid single-string runs, a la Dan Sane.
Thumb lead playing – Such Country Blues players as Leadbelly and Blind Willie Johnson excelled at thumb lead playing, in which the thumb rather than the fingers plays the melody in the right hand.  We'll work on building those skills as well as using the thumb like a drum, with big brush strokes, and using it to play runs in the treble.
Creating your own arrangements – Consider the possibility of creating your own arrangement of a song rather than copying a pre-existing one.  We'll examine strategies for doing this including playing the song in a different tuning or key, and changing the rhythmic feel of the song.  Persons in class will come up with their own arrangements in and after class, and present them to the group.
Other classes may be added to address participants' particular interests.
Michael Roach's Classes
The Roots of Michael Roach: After spending several years learning directly from such well-known figures as John Jackson, John Cephas and Jerry Ricks, Michael has developed his own style. He recorded 6 albums containing over 40 original songs and developed arrangements for over 40 country blues songs in the public domain. In addition to Michael's mentors, he will demonstrate songs that were inspired by the likes of Big Bill Broonzy, Mississippi John Hurt, Frank Stokes and Furry Lewis among others.
Michael will focus on his approach to accompanying a song. He will demonstrate using the guitar as a second voice by picking out the melody while playing an alternating bass with his thumb. He will also discuss arrangements and focus on playing rhythm (which is essential to the foundation of a song).
For the past 10 years, Michael has been the leader of the successful blues vocals class at the annual Blues Week program held in the UK. He has helped countless students find their true voice by focusing on breathing and phrasing. With John Miller, they will jointly conduct a class that will encourage singing while playing the guitar.
Additionally, Michael will conduct a class with John Miller called 'Playing Together' – how to play back up and second guitar. The class will give tips on how to accompany another guitarist.
The Team-Taught Sessions
The first team-taught session will focus on singing, and the second will focus on duet-playing strategies.  We'll leave the third session open for now, and decide at the event where the greatest needs and interests are, and go there.
Play What You Hear: We'll work on getting your ear oriented to the blues scale so that you can hear runs in your head and know where to find them in different positions and tunings.  Learn to know what you're going to hear when you put your fingers down before you put them down, even or especially if you're improvising.
2017 Schedule
The schedule is is still under development but here's a general idea of what to expect:
Wednesday October 18, 2017
Check-in at 4pm / Dinner at 6pm / Orientation at 7:30pm followed by a Welcome Reception, bring your instrument.
Thursday, October 19, 2017
Breakfast / Morning Session / Late Morning Session / Lunch / Afternoon Session / Late Afternoon Lab / Dinner / Evening Discussions and Jamming
Friday, October 20, 2017
Breakfast / Morning Session / Late Morning Session / Lunch / Afternoon Session / Late Afternoon Lab / Dinner / Participant Presentations and Jamming
Saturday October 21, 2017
Breakfast / Morning Session / Late Morning Session / Lunch / Afternoon Session / Free Time / Dinner / *Public Concert in Wheeler Theater / Closing Reception and Late Evening Jamming
Sunday October 22, 2017
Farewell Breakfast / Room check-out by 11am
*Your workshop registration entitles you to entrance to the public concert.
Who Should Attend?
This workshop is limited to thirty people and will focus on guitar and singing while accompanying on guitar. This workshop is intended for people who have a reasonable degree of skill on their instrument. You should be able to play several songs at a snappy tempo, without pausing to contemplate finger placement.
Centrum welcomes young musicians whose ability meets the above criteria. If you are under 18 you must be accompanied by a registered adult or a registered chaperone.
If you have questions about whether this workshop is right for you, please contact Mary Hilts, Program Manager at mhilts@centrum.org, or call 360.385.3102 x 116.
What Does This Music Sound Like?
Frequently Asked Questions
When: Wednesday October 18 through Sunday October 22, 2017
Tuition: Cost of the Country Blues Intensive is $350. This includes admission to all workshop activities, and the public performance.
Registration: Register online or call 360-385-3102 x 114 or 360-385-3102 x 117
Housing: is optional, cost for a Private Room in Officer's Row: $365
Meals: Wednesday dinner and 3 meals a day ending with Sunday breakfast: $175
Scholarships: There is no scholarship fund for this program.
Refund policy: A non-refundable $200 deposit is required to hold your space and goes toward your tuition. Full payment is due by September 18, 2017. Your $200 deposit is non-refundable but your remainder payment is fully refundable until September 18, 2017. There are no refunds available after September 18, 2016
Under 18: Centrum encourages young artists to attend the intensive. Participants who are under-18 must be accompanied by a chaperone and will be required to sign a Centrum Student Contract.
Chaperones: Must be 21 or older. If not participating, there is a no-cost option in our registration type drop down for Chaperones. If the under-18 is staying in housing, their chaperone will need to also stay in the house and pay for their own room and board.
Climate: the Pacific Northwest can be chilly. Please remember to bring a sweater, sweatshirt or jacket.
Smoking: As posted within Fort Worden, smoking of any kind is prohibited by state law inside any public building or within 25 feet of any public building entrance including windows and ventilation intakes. Regarding the recent legalization of marijuana and the passage of I-502, Washington state law only allows the displaying or consuming of marijuana or a marijuana-infused product on private property. Under no circumstances is such use permitted outdoors at Fort Worden, in public spaces at the Park, or within any building at Fort Worden State Park. State park rangers will enforce the law. Thank you for abiding by Fort Worden State Park policy while you are a guest at Centrum's programs.