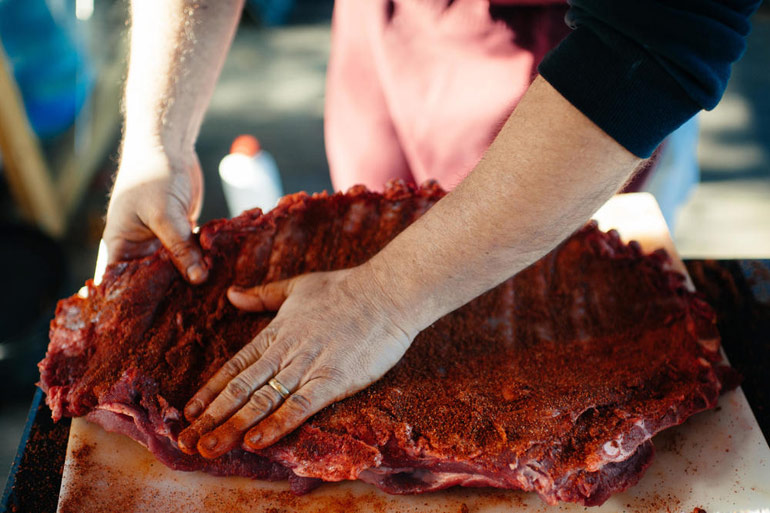 What is Kitchen Culture?
Kitchen Culture is a once-a-year gathering featuring the artists, music, food, and dance of a specific region of the world. At our first gathering—May 6-10, 2015—we celebrate the unique culture and heritage of the Cajun people from Southwest Louisiana.
What types of classes are offered?
Kitchen Culture consists of three tracks:
Food: If you are looking for authentic Cajun culinary instruction, are committed to the farm-to-table movement, and are interested in locally-sourced food, Kitchen Culture is for you. The workshop is guided by chefs Toby Rodriguez and Bryan Kyzer from Southwest Louisiana who specialize in Low Hill Country cooking.
Music: Improve your Cajun music chops with an immersion into southwest Louisiana music making, working with The Revelers. You'll have your choice of music workshops throughout the day – partial list of daily workshops include Cajun fiddle from scratch; intermediate Cajun fiddle; Intermediate and advanced Cajun accordion; bass; Cajun percussion and rhythm; singing in French; improvisation; Cajun band)
Dance: Cajun and Zydeco dance aren't just art forms – they are cultural experiences in their own right. At Kitchen Culture, you'll dance to your heart's content, surrounded by a welcoming and joyful community, led by Corey Porche and Sally Freund.
Can I participate in multiple tracks?
Yes! You can participate in up to two Kitchen Culture tracks. Tracks take place simultaneously, so individuals participating in two tracks should discuss and design their scheduled with Centrum staff before the May 6 orientation.
Food & Music
Food & Dance
Music & Dance
Where does Kitchen Culture take place?
All Centrum programs takes place at Fort Worden State Park, in the seaside community of Port Townsend, Washington, located on the Olympic Peninsula, two hours northwest of Seattle.
How much does tuition cost?
Workshop tuition is $360; this includes admission to one or more education tracks and all evening events such as film screenings, dances and more.
A nonrefundable $150 deposit is required to hold your space. Scholarship applicants require a $50 deposit, which is fully refundable if you are unable to attend.
If you're under 18, you must be accompanied by a registered adult. Please register the adult first, as you will need a confirmation number.
How much does Room & Board cost?
Most participants stay in private dormitory rooms at Fort Worden, which feature a single twin bed, a closet, a side table, a reading lamp and outlets for your electronic devices. (There are a limited number of double rooms, that is, rooms with two twin beds. Ask about room shares.) All rooms come with linens, blankets, and towels, but you should plan on bringing personal toiletry items. The dorms also feature shared bathrooms (one for men, one for women), a communal kitchen and living room area.
Dorm room with 3 meals per day: $340.00
Meals only, 3 meals per day: $185.00
If you stay in a dorm, you are required to purchase a meal ticket. The meals presented at Kitchen Culture will be served by both Fort Worden Food Services and the boucherie class. You'll need a meal ticket in order to eat.
*Please note that there is no vegetarian option for this workshop.
What is the total cost to participate in Kitchen Culture?
Tuition + Dorm room + Meal ticket: $700
Tuition + Meal ticket only: $545
Tuition only: $360
(*Note that if you select not to purchase a meal ticket you cannot sample the authentic Cajun cuisine prepared by faculty and participants.)
Are there other options for housing?
Fort Worden features a variety of overnight accommodations including cottages, historic homes, campsites and RV spaces. These accommodations fill quickly in the summertime.
A variety of hotels and Bed & Breakfasts are available for rent in Port Townsend. These accommodations fill quickly in the summertime.