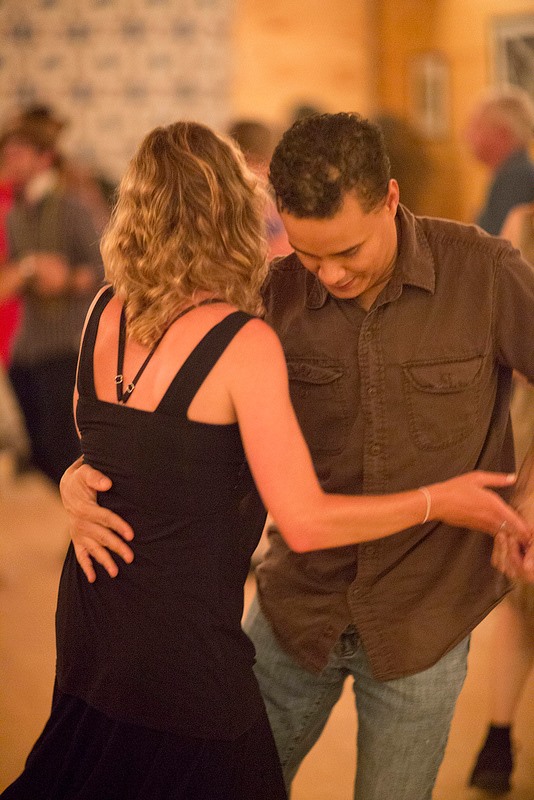 CAJUN AND ZYDECO DANCE
Corey Porche
Corey Porche hails from the dance halls and cultural goldmine of Southwest Louisiana. He grew up hearing the infectious beats of the music to which he now so freely moves, always curiously watching what folks were doing on the dance floor. Corey has taught Cajun and Zydeco dance to numerous audiences at home and around the globe, sharing his passion and love of all that which makes Louisiana unique. Through his relaxed and informative method of teaching, he has become a staple at events such as Ashokan, Dewey Balfa Cajun and Creole Week, the Tøndor Festival in Denmark, and numerous other engagements. He has also presented on the history and evolution of Cajun and Creole dance at the Center for Cultural and Ecotourism.
Corey's appreciation of the music of Southwest Louisiana doesn't stop at the dance floor. He is also an avid accordion player fortunate enough to have spent several years with creole accordionist Alphonse "Bois Sec" Ardoin during his last years. He has played at numerous events such as Festival International de Louisiane, Festivals Acadiens et Creoles, Soiree Louisiane in Nova Scotia, and other music camps and venues with members of The Redstick Ramblers, The Revelers, Bonsoir Catin, Dirk Powell, Riley Baugus, and many others.
Corey will lead a Cajun dance class each day, and a zydeco dance class each day. He'll be assisted by Sally Freund, who has taught Cajun and zydeco dancing for more than 20 years.
CULINARY – THE BOUCHERIE
According to Cajun tradition, a boucherie is a gathering of community for the butchering of hogs. Before refrigeration, fresh food and meat had to be prepared and consumed quickly before it spoiled. Early Cajuns would gather their family, friends and neighbors to share in the labor of slaughtering and cleaning of hogs as well as preparing southern delicacies such as andouille sausage, boudin, and cracklins. Every scrap of the hog was used. All those that participated in the boucherie took home shares of meat and other various cuts.
Kitchen Culture will feature a boucherie at Fort Worden next May, guided by Toby Rodriguez and Bryan Kyzer from Southwest Louisiana. Participants registered in the food track will help Toby and Brian kill and butcher a pig, using every part of the animal to create some of the most treasured Cajun dishes. This class will provide three lunches and three dinners to Kitchen Culture participants with a meal ticket (see menu below).
Toby and Brian are the bosses at Lache Pas Boucherie et Cuisine, a sort of mobile boucherie party outfit. There's lots of great information about them and their work on their website. Toby's been featured on Anthony Bourdain's "No Reservations," and most recently appeared in America's Top Chef.
"The boucherie is our culture's most genuine expression of the farm to table movement," says Toby. The killing of a pig is a spiritual moment for him.
"There's definitely a level of fear during the boucherie process. During it, people are extremely moved. Something is sacrificing its life for us. There's some sort of blessing over this. For about 10 – 20 minutes, there's no talking. – Toby Rodriguez
Here's the tentative menu:
Thursday
Morning Class: Traditional Cajun Boucherie and Fraisseurs
Lunch: Fraisseurs and Egg Sandwiches w/ Fried Pork Belly.
Afternoon Class: Cracklin & Courtbillion (with local fresh water fish)
Dinner: Courtbillion w/ sides
Friday
Morning Class: Boudin & Hog Head Cheese
Lunch: Charcuterie w/ sides
Afternoon Class: Sausage & Panse
Dinner- Gumbo w/ sides
Saturday
Morning Class: Cajun slow food: BBQ, Smoker & Oven meats
Lunch: BBQ Plate Lunch w/ sides
Afternoon Class: Backbone Stew
Dinner: Backbone Stew w/ sides
Mini Glossary:
Fraisseurs – pork liver, heart, kidney and tongue stewed in a rich sauce.
Courtbillion – a rich, spicy tomato-based soup or stew made with fish fillets, onions, and sometimes mixed vegetables.
Boudin – seasoned pork and pork liver mixed with onions, cooked rice, herbs, and stuffed in sausage casing.
Charcuterie – is the art of making sausages and other cured, smoked and preserved meats.
MUSIC
Music will be anchored by The Revelers – one of America's finest Cajun/Swamp Pop bands. Here are the players, and what they'll be teaching:
Daniel Coolik – fiddle, guitar, mandolin
A consummate musician's musician, Daniel Coolik, originally from Atlanta, Georgia, swept into the Lafayette scene in 2009 and quickly added his name to many respectable rosters, loaning his talents to such groups as Cedric Watson & Bijou Creole, The Red Stick Ramblers, Les Malfecteurs, and The Yvette Landry Band. Daniel was already an adept multi-instrumentalist in the Asheville, North Carolina scene where he focused on jazz mandolin as well as old time Appalachian traditional music, and has since emerged as a violoniste extraordinaire here in Acadiana. His abilities have taken him all over the globe, including Haiti, Thailand, most countries in Western Europe, and Canada.
Glen Fields – percussion and rhythm
Baton Rouge native Glenn Fields is the quintessential Louisiana drummer. He has also emerged as a fine singer causing comparisons to be drawn the late Levon Helm as well as Louisiana drummer vocalists Warren Storm and Lil' Bob. A capable bandleader and founder of The Red Stick Ramblers, Glenn is the first call for those looking for the most unshakable groove, versatility, and peerless taste of anyone whoever hit the skins. It's no wonder that his skills have taken him all over the world including the Far East. He is also responsible for the creation of The Blackpot Festival, an event representing Louisiana's cultural renaissance and vitality that he so embodies.
Blake Miller – accordion, fiddle, vocals
Grandson of well-known accordion builder Larry Miller, Blake has been surrounded by Cajun music and culture his entire life. Hailing from the small town of Iota Louisiana, Blake, a fluent French speaker and songwriter, managed to acquire a degree in Francophone studies from The University Of Louisiana at Lafayette, and in the meantime founded the popular young Cajun band The Pine Leaf Boys and became a member of the premiere Louisiana roots band The Red Stick Ramblers. He has also served stints in just about every other Cajun/creole band of note including Balfa Toujours, Les Malfecteurs and Cedric Watson & Bijou Creole, bringing his strong cultural identity and accomplished musicianship to the world.
Chas Justus – guitar, fiddle
Hailing from Memphis, Tennessee, Chas plays with a confidence and diversity that belies his young age, able to seamlessly switch from any of the numerous blues styles he's mastered to country jazz and the Southwest Louisiana guitar styles that he has fallen in love with. His guitar playing has been featured on numerous albums to come out of the Louisiana music scene and his songs have been on quite a few albums, including Linda Ronstadt and Ann Savoy's Grammy nominated Adieu False Heart. His individualistic guitar playing, singing, and songwriting mark Chas Justus as one of the next Southern troubadours with a new song that sounds refreshingly old.
Eric Frey – bass
If something needs getting done Eric Frey is your man. The son of a bluegrass bass player, Eric grew up going from jam to jam and festival to festival around his hometown of Clay, Alabama. It was only natural for Eric to play bass and sing, which attracted the Red Stick Ramblers to recruit him to Louisiana in 2003. He is not only a versatile bassist (both upright and electric) but also is a brilliant lead and part singer, and is becoming well known for his record producing as well as his witty but meaningful songwriting. Oh yeah, he happens to play old-time banjo and loves to research old songs.
The Chris Miller – saxophone
TCM is the newest member of the Revelers, though no stranger to fans as he's featured on the debut record and has been guesting with the band at live shows since the beginning. A native of Jacksonville, Florida, he grew up listening to bluegrass music but found his voice in the saxophone and has quickly developed a reputation as an in-demand soloist. Recently he's been featured with bands as diverse as Mike & Ruthy (the Mammals), the Andrew & Noah Band (Great Bear Trio), and AC Newman (the New Pornographers). It's been said that his fiery tone and homage to the swamp pop masters is the "glue" in the Revelers unstoppable sound.