Laisser le bon temps rouler! (Let the good times roll!)
May 6 – 10, 2015
Fort Worden State Park, Port Townsend, WA
The kitchen is, by far, the most important room in your house. It's the hub of most family interaction, the heartbeat of your existence. If you're a musician or a dancer, you know it's the place to be.
Centrum proudly launches a new program, Kitchen Culture – a once-a-year gathering featuring the artists, music, food, and dance of a specific region of the world. At our first gathering, we celebrate the unique culture and heritage of the Cajun people from Southwest Louisiana.
Kitchen Culture is held at Fort Worden State Park, a venue unparalleled in beauty and facility. Expect three days and four nights of intense fun, Cajun and zydeco dance instruction, music classes, jamming, preparing and eating food together, and learning about the Cajun culture. We aim to create an experience that doesn't really happen in the Pacific Northwest, but happens in Louisiana all the time – the bringing together of friends and family to make and eat food together, play music, and really have a good time.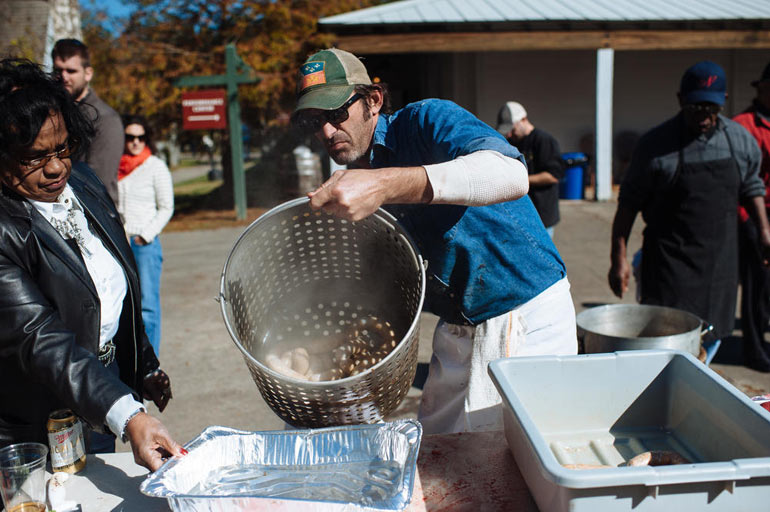 WHO SHOULD COME
People passionate about food. Kitchen Culture will feature a boucherie at Fort Worden next May, guided by Toby Rodriguez and Bryan Kyzer from Southwest Louisiana. If you are looking for authentic Cajun culinary instruction, are committed to the farm-to-table movement, and interested in locally-sourced food, Kitchen Culture is for you. Learn more about the food track – it's an incredible opportunity!
Cajun music lovers. Kitchen Culture will give you the opportunity to improve your Cajun music chops with an immersion into southwest Louisiana music making, working with The Revelers.
Dancers. Cajun and Zydeco dance aren't just art forms – they are cultural experiences in their own right. At Kitchen Culture, you'll dance to your heart's content, surrounded by a welcoming and joyful community, led by Corey Porche and Sally Freund.
THE SCHEDULE
Here's a general idea of what to expect – we'll post a detailed schedule soon:
Wednesday, May 6, 2015:
3:30 – 5:30pm: registration, settle in, visiting.
6pm: dinner
8pm: welcome session and orientation
Thursday, Friday, Saturday, May 7 – 9, 2015:
Culinary track throughout the day –
Choice of music workshops throughout the day – partial list of daily workshops include Cajun fiddle from scratch; intermediate Cajun fiddle; Intermediate and advanced Cajun accordion; bass; Cajun percussion and rhythm; singing in French; improvisation; Cajun band)
Choice of dance workshops – Cajun and zydeco.
Evenings: entertainment, open jams, house parties; Saturday night Cajun-swamp pop-honky tonk dance, featuring the Revelers. http://revelersband.com/
The gathering culminates in a big Cajun-swamp pop-honky tonk dance on May 9, open to the public. Detailed information will be posted soon.
Sunday, May 10, 2015
Breakfast, check out of rooms by 11am.