** PLEASE NOTE **
This workshop is to be potentially rescheduled at a future date.  No additional registrations are being accepted at this time.
—————————————————————————————————————————————
with Phil Wiggins, Grant Dermody and Orville Johnson
September 10-14, 2014
Fort Worden State Park, Port Townsend WA

(For intermediate to advanced harmonica players and guitar players seeking to improve their rhythm and accompaniment skills.)
Centrum's Acoustic Blues Harmonica and Guitar intensive offers up to 24 harmonica players and 12 guitarists a unique opportunity to spend three full workshop days immersed in the music and culture of these fine masters and tradition bearers. The workshop ends with a public performance by the masters and your tuition includes a front row set for this concert. Private rooms are available in Fort Worden Officer's Row housing for the four nights as well as a shared meal plan. The gathering is not only an opportunity to share in the time-honored tradition of oral learning from these masters, but you will spend time getting to know them as we break bread together and jam in the evenings. Classes will be limited to 12 per instructor and you are welcome to switch between instructors.
Tuition: $395 (three full-workshop days)
Housing: $260 (four nights in a private room)
Meals: $185 (for 3 meals/day (11 total) Wednesday dinner through Sunday breakfast)
PHIL WIGGINS – is arguably America's foremost blues harmonica virtuoso. While rooted in the melodic Piedmont blues of the Chesapeake region, his mastery of the instrument now transcends stylistic boundaries. Since his longtime partner John Cephas' passing, Phil has expanded his repertoire to include jazz and swing. Phil will bring some of that new verve to this workshop to share with y'all.
Phil's Class
Phil will teach traditional country blues harmonica from the Piedmont and Delta regions. He will also teach songs he was inspired to learn from listening to and playing with people like Martin, Bogan and Armstrong, Nat Reese, and the Mississippi Sheiks. I will include songs from Louis Armstrong, Duke Ellington, Louis Jordon, Django Rheinhart, and others. Folks who want to learn the jazz tunes will need a Bb Melody Maker harmonica. You can get that harp from Lee Oscar or order them from Hohner. There will also be singing.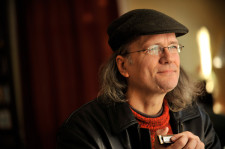 GRANT DERMODY – known as a keen interpreter of American roots music, is a world-renowned harmonica player and blues singer, a subtle re-inventor of traditions with a pioneering approach, and an artist who can meld old-time music into country blues and beyond. For many artists, the blues is a state of mind, a certain feeling when the woes of the world pile up at your door. For Grant, the blues is a journey. Grant plays blues stripped of all pretense and fabrication, hand-made music for a modern age. Ask other harmonica players about Grant's style, and they all point to his big, warm, wide-open tone, his ability to bring his own voice to a wide variety of musical styles, and his subtle, un-hurried approach.
Grant's Class
In this workshop Grant will be focusing on the art of improvising and playing rhythm in various traditional blues forms. He will also spend time working on improving tone production, and building repertoire. He looks forward to a fun and productive workshop with you all.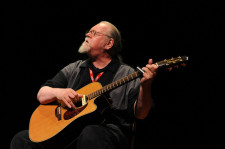 ORVILLE JOHNSON – known for his dobro and slide guitar stylings and soulful vocal acrobatics, is an in-demand performer and teacher. Arguably the best dobro player in America, unbound by genre classification, Orville slips and slides among swampy blues, Latin, bluegrass, and much more. The guy northwest musicians call when they want that perfect dobro part on their latest recording. Orville also plays guitar, lap steel and bottleneck slide, mandolin, banjo, and fiddle.
Orville's Class
Blues Rhythm Guitar and Accompaniment: We'll explore a few of the common guitar grooves like shuffles, rhumbas, slow blues, and funk. We'll learn how to play with solid time and fluid phrasing in several different keys.