MONDAY JULY 31 – SUNDAY AUGUST 6, 2023
Daily classroom instruction in traditional acoustic blues, performance, history, songs, and styles as well as technical skills and how to play well with others. Afternoons include discussions on relative topics and ensembles. Evenings present faculty concerts celebrating various regional styles, both traditional and moving the genre forward. Jamming happens between everything else, sometimes replacing sleep.
TUITION: In-Person Attendance, $620 / Youth Rate, $520 / Gospel Choir, $175 / Online, $120 / Scholarships Work-Trade available.

SCHOLARSHIPS / WORK-TRADE: Scholarships are available for those who are not able to afford the full tuition. If the full tuition will be a significant financial burden to you, please select the scholarship/work-trade registration type. Work-trade positions work off tuition. Most are valued at $50 a session.
ROOM & BOARD: On campus you can stay in private dorm rooms in Buildings 203 and 225 with shared bathrooms. Linens will be provided, bring your own toiletries. Layered clothing is strongly recommended, the climate in Port Townsend can be hot and cold. Meals will be in the Fort Worden Commons. There will be late night jamming in building 204 and jamming in dorm 203. Dorm 225 will remain quiet.
For in-person participants we can provide a private room + meal plan – $680 (Choose between Quiet room and Jam room)
MEALS ONLY: Starting with Monday July 31 dinner, three meals daily through Sunday August 6, breakfast – $340
SHUTTLE (Sea/Tac – Port Townsend):
Monday July 31 shuttle departs Sea/Tac at 2:PM Pacific Time (Book arriving flights landing July 31 no later than 1:00PM Pacific Time.)
Sunday August 6 shuttle departs Port Townsend at 9:00AM Pacific Time (Departing flights no earlier than Noon Pacific Time Sunday August 6.)
· Round Trip $120
· One-way $60
WHO SHOULD COME: There is no age restriction or audition to attend. If you are familiar with your instrument, you will get the most out of the experience, however, this is not required and anyone who wants to be here is encouraged to do so. U-18 must be accompanied by an adult (21+) guardian (no charge for non-participating guardian) and will be required to sign a Centrum Student Contract. If staying in the dorm, the guardian must also stay in the dorm.
IN-PERSON WORKSHOP: You will have your choice of four one-hour instrument classes daily Tuesday through Friday, with late afternoon ensemble playing in various styles. Evening house parties in 204 will include impromptu faculty presentations, concerts and jams as well as an opportunity for participants to present to the group. Registration includes the concluding festival celebrations Wednesday evening, and Friday and Saturday evenings with Blues in the Clubs on the Fort Worden campus, and Saturday afternoon in the McCurdy Pavilion, where you'll have a front row seat for the Acoustic Blues Showcase.
DRAFT ACOUSTIC BLUES SCHEDULE:
(Subject to change)
MONDAY July 31, 2023
· Check-in 4:00PM Pacific Time
· Dinner 6:00PM Pacific Time
· Orientation: 8:00PM Pacific Time
IN-PERSON WORKSHOP:
TUESDAY August 1 through FRIDAY August 4, 2023
Most artist faculty will teach two 1-hour instrument sessions daily Tuesday through Friday. Sessions in various styles and technique and focus on certain tradition bearers are offered. Instrumentation includes guitar, harmonica, piano, mandolin, violin, bass, washboard, voice and accordion are offered as improv, ensembles and a Gospel Choir that gathers late afternoons. Evenings include events and performances and planned and spontaneous jams.
At the end of the week, the artist faculty take to the stages and share in performance a festive celebration of the traditions they carry as well as their own music and style. Friday and Saturday nights, Blues in the Clubs series hosts a variety of intimate stages, where each artist gifts their audience with a unique performance. We'll host a show or two in McCurdy Pavilion, a former blimp hanger turned performance space, break bread together and have a really good time basking in and soaking up the traditions passed along at the gathering.
---
GOSPEL CHOIR:
We offer participation in the gospel choir only that Includes admission to the gospel class Tuesday through Friday and all evenings in Building 204, Tuesday through Saturday. The gospel choir will perform at the mainstage on Saturday afternoon, tuition includes attendance to that concert. It does not include Blues in the Clubs, or the Wednesday public event.
Gospel Choir is available for youth however, anyone under the age of 18 must attend with a registered participant or registered chaperone over the age of 21.
All registered Acoustic Blues participants can participate in the Gospel Choir at no additional fee.
---
ONLINE:
The online offering will include some daily instrument sessions, and the afternoon panel presentations.

MORE INFO:
Questions?
Contact: Mary Hilts, Program Manager at mhilts@centrum.org, or call 360.385.3102 x 116
---
Port Townsend & Fort Worden
Located just 2 hours northwest of Seattle, Port Townsend is the perfect place to indulge your creative side. With its maritime heritage, Victorian architecture, artist spirit, and a touch of urban chic, Port Townsend is an easily accessible base camp to the Olympic Peninsula and beyond.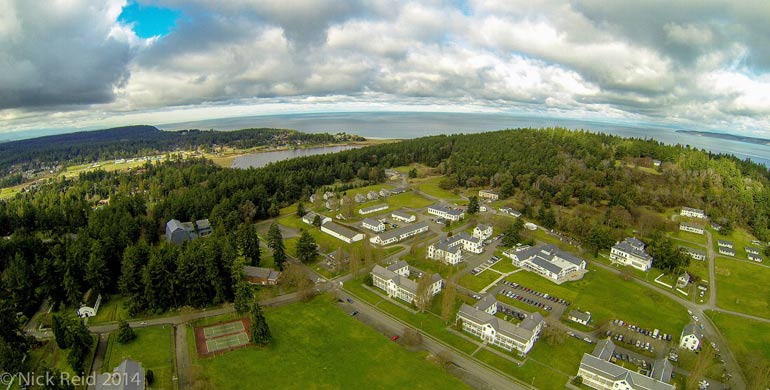 Centrum's home is at Fort Worden State Park in Port Townsend, WA on the Olympic Peninsula – the kind of destination that stays with you for a lifetime. Amidst the magnificent natural setting and the influence of its military past, Fort Worden is home to inspiration, education and personal transformation. People gather here to participate in arts and music events, woodworking classes, conferences, camping and outdoor activities, family reunions, weddings, and much more. Originally a military base to protect Puget Sound, Fort Worden evolved into an iconic and cherished state park. The fort – featuring 100 historic structures – spans two miles of saltwater shoreline with views of the Olympic and Cascade Mountains, and the San Juan Islands.
To drive here from the mainland, drop our address into an online map application and find a route:
223 Battery Way, Port Townsend, WA USA
To get here from Seattle or north of there, you'll need to use the state ferry system, those schedules are.
Ferries
Seattle to Bainbridge
Edmonds to Kingston
Mukilteo to Clinton (Whidbey Island)
Whidbey Island to Port Townsend
Airports
Sea-Tac International Airport 
17801 International Blvd, Seattle, WA 98158
Jefferson County International Airport  
Airport Cutoff Road, Port Townsend, WA 98368
Shuttles
Centrum offers a shuttle ride to/from Port Townsend/SeaTac International Airport. You can add this when you register.
Or Go Rocket Man is a commercially available door to door airport service, you can reserve.
Public Transportation / Bus
from the Seattle ferry terminal, take the ferry to Bainbridge Island.
catch the Kitsap Transit bus to Poulsbo, WA and,
connect with the Jefferson Transit bus to Port Townsend, then out to Fort Worden.