Gaining understanding, building community, and fueling our aspirations—this is why art matters. It is as true now as ever before. At Centrum, we are a gathering place for creative artists and learners of all ages seeking extraordinary cultural enrichment.
Located in Port Townsend, Washington, Fort Worden—an army base built in 1902–offers an unmatched combination of natural beauty and historic interest. Acres of saltwater beaches, wooded hills, and open fields are framed by stunning vistas of the Olympic and Cascade ranges and the Strait of Juan de Fuca. It's a place where the land stops, the sea begins, and the mind keeps going.
Summer Workshops at Centrum
Centrum offers weeklong residential workshops—some very intimate, others serving several hundred participants in myriad forms of music, dance, writing, visual arts, and theater, led by master artists from around the region and world.

June 27-July 2  |  World-class singers share their passions with participants of all abilities in this 5-day program. Day and night, participants soak up new styles, songs and stories from a wide range of vocal traditions. Learn breathing techniques, phrasing, dynamics, and find your unique style. An eclectic faculty line-up will introduce songs from Denmark and Quebec, and delve into American country, R&B, and jazz.

July 2-July 9  |  Joel Savoy, Artistic Director. An American original, Fiddle Tunes features classes, band labs, dances, concerts, open jams and spontaneous gatherings in this nonstop celebration of traditional music. You will broaden skills and forge lifelong relationships with other passionate musicians in this weeklong program. Over 35 instructors travel from four different countries to teach and perform a cavalcade of regional fiddle styles.
July 16-23  |  Sam Ligon, Artistic Director. The Port Townsend Writers' Conference has been since 1974 at the wild heart of the thriving Pacific Northwest literary scene. With a focus on community and rigorous attention to craft, the Conference offers morning workshops, afternoon workshops, residencies, guided freewrites, and a vibrant readings and lectures series presented by vital, contemporary writers.
July 9-15  |  Centrum's High-School Writers' Conference brings ardent student writers together with acclaimed faculty for a week of immersion, inspiration, and instruction in creative writing. Core morning workshops, afternoon workshops in special topics, guided freewrites, open-mike sessions, a vibrant readings and lectures series, and guided outdoor time and space designed for rest and relaxation helps to round out this essential experience for high-school writers.
July 23-30  |  John Clayton, Artistic Director. This weeklong immersion into the world of jazz is open by audition to instrumentalists and singers highschool-aged and older. More than 200 participants focus on improvisational skills in coached combos and vocal classes, with a performance at the end of the week. Participants also attend master classes and faculty performances each day given by 43 internationally known musicians.
July 30 – August 6  |  Jerron Paxton, Artistic Director. This is the largest early blues gathering in the nation. Still, the downhome, back-porch vibe makes this week feel like a family reunion. Thirty of the country's best acoustic blues roots musicians take participants on a journey through history and tradition with classes designed to build skills, introduce new styles, and inspire. Jam sessions stretch from the afternoon until dawn. The annual Wednesday night gathering and other faculty concerts are the grand finale to a blues experience you can't find anywhere else.
August 6-12, 2017 |  Immerse yourself in dance! Presented by Seattle Theatre Group and Centrum, The DANCE This Camp at Centrum provides an opportunity for high school students to study a wide range of dance styles and techniques in a supportive, yet challenging atmosphere.
Port Townsend & Fort Worden
Located just 2 hours west of Seattle, Port Townsend is the perfect place to indulge your creative side. With its maritime heritage, Victorian architecture, artist spirit, and a touch of urban chic, Port Townsend is an easily accessible base camp to the Olympic Peninsula and beyond.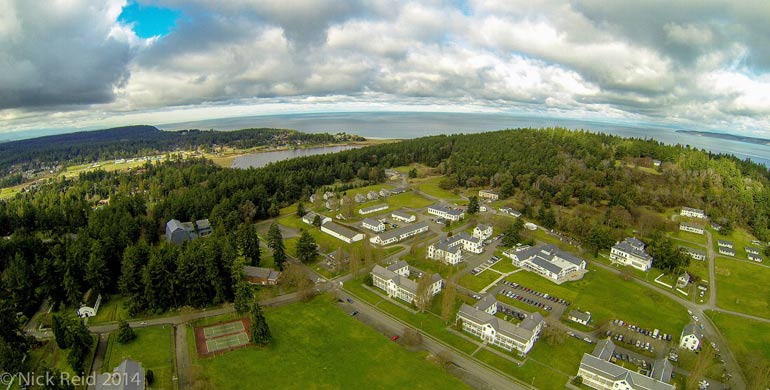 Centrum's home is at Fort Worden – the kind of destination that stays with you for a lifetime. Amidst the magnificent natural setting and the influence of its military past, Fort Worden is home to inspiration, education and personal transformation. People gather here to participate in arts and music events, woodworking classes, conferences, camping and outdoor activities, family reunions, weddings, and much more. Originally designed as a military base to protect Puget Sound, Fort Worden evolved into an iconic and cherished state park. The fort – featuring 100 historic structures – spans two miles of saltwater shoreline with views of the Olympic and Cascade Mountains, and the San Juan Islands.
Click here for detailed instructions about traveling to Seattle to Port Townsend without a car.
Ferry
Seattle to Bainbridge
Edmonds to Kingston
Mukilteo to Clinton (Whidbey Island)
Whidbey Island to Port Townsend
Airports
Sea-Tac International Airport 
17801 International Blvd, Seattle, WA 98158
Shuttle information
Jefferson County International Airport  
Airport Cutoff Road, Port Townsend, WA 98368
Bus/shuttle
Located less than two miles from downtown Port Townsend, Fort Worden is easily accessible for both locals and visitors.
General inquiries: info@centrum.org, (360) 385-3102 x117