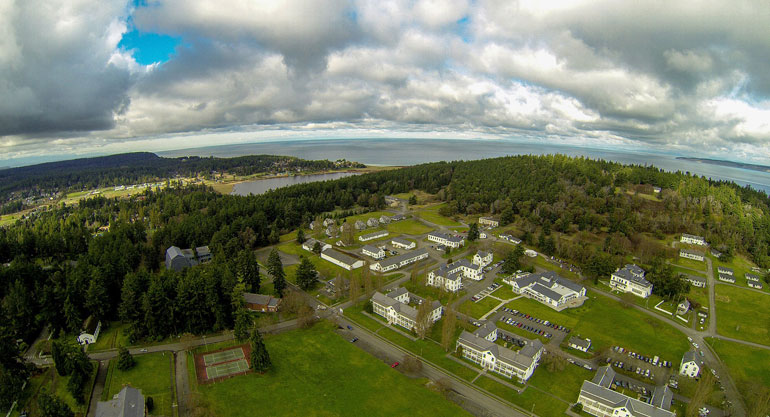 Centrum is part of a dynamic and growing learning center at beautiful Fort Worden State Park — an historic gathering place where you can learn, stay, eat, meet, play, or wed (as many couples have for decades).
From Centrum's famed musical workshops and performances to the cutting-edge science education programs at the Port Townsend Marine Science Center to our world renowned Port Townsend School of Woodworking, Fort Worden offers a range of year-round programs and activities for all ages. We have two college campuses and Madrona MindBody Institute, which is steps away from Pulitzer-Prize-winning Copper Canyon Press.
Plus you can stay here! Book your room at the historic fort and dine on food gathered from nearby organic farms and deliciously prepared by the fort staff. Following is a list of our extraordinary Fort Worden partners. To see what's happening now, visit the Calendar of Events on the fort's web site.
Centrum
Centrum's mission is to promote creative experiences that change lives. Through intergenerational immersive workshops, Centrum brings together aspiring and master artists to foster creativity, find and provide mentorship, and build community. Centrum's public performances are the culmination and celebration of workshops and programs, where audiences are welcomed to share in those creative experiences. Upcoming events
Coast Artillery Museum 
The Puget Sound Coast Artillery Museum, founded in 1976 in partnership with Fort Worden State Park in Port Townsend is dedicated to the mission: "…to interpret for the benefit of present and future generations, the story of the coastal fortification of Fort Worden, and Puget Sound and those who manned them." The museum is a nonprofit, volunteer based organization. Upcoming events
Corvidae Press
Corvidae Press is an association of artists who share an interest in fine art printmaking and who support and manage a communal non-toxic printmaking facility. Founded in 2006, Corvidae Press is dedicated the cooperative structure and spirit of the organization and the pursuit of the printmaker's craft, with a focus on education, community, and regional interaction. Upcoming events
Commanding Officer's Quarters
Completed in 1904, the Commanding Officer's Quarters is one of Fort Worden's finest buildings. Late Victorian and Edwardian furnishings provide a unique glimpse into the life of a senior US Army officer and his family in the first decade of the 20th century. Today, the Jefferson County Historical Society maintains the historic house museum. Tours are available May – September.
Copper Canyon Press
Copper Canyon Press is a nonprofit publisher that believes poetry is vital to language and living. Since 1972, the Press has published poetry exclusively and has established an international reputation for its commitment to authors, editorial acumen, and dedication to the poetry audience. Upcoming events
Friends of Fort Worden 
As stewards of Fort Worden State Park, the nonprofit Friends of Fort Worden provide both financial and volunteer support for park improvements and programs not funded by the state parks system. The Friends work closely with park management to identify key projects that support the park. Upcoming events
Fort Worden State Park
The Washington State Parks and Recreation Commission cares for Washington's most treasured lands, waters, and historic places. State parks connect all Washingtonians to their diverse natural and cultural heritage and provide memorable recreational and educational experiences that enhance their lives. Fort Worden joined the state parks system on Aug. 18, 1973. Upcoming events
Goddard College 
Goddard is a one-of-a-kind institution of higher education with a history of creativity and chaos, invention and experimentation, of growth, decline and reemergence. Goddard's mission is to advance cultures of rigorous inquiry, collaboration, and lifelong learning, where individuals take imaginative and responsible action in the world. Upcoming events
Madrona MindBody Institute
Your sanctuary for conscious dance and living in the Pacific Northwest, Madrona MindBody Institute offers life-changing events including workshops, concerts, teacher trainings, intensives and daily classes. After your experience, pamper yourself with a massage or spa therapy. Drop-in class schedule and Upcoming events
Peninsula College
Peninsula College provides educational opportunities in the areas of academic transfer, professional and technical, basic skills, and continuing education. The College also contributes to the cultural and economic enrichment of Clallam and Jefferson Counties. Upcoming events
Port Townsend Marine Science Center
The Port Townsend Marine Science Center is an educational and scientific organization devoted to understanding and conserving our marine and shoreline environment. For anyone looking to dive deeper into the conservation of the Salish Sea, volunteer and education opportunities are available. Upcoming events
Port Townsend School of the Arts
The Port Townsend School of the Arts was founded in 2015 by local artists and has quickly emerged as a vital community center for connecting artists and learners of all ages. Our mission is to "Bring out the artist in all of us." In less than two years, more than 1100 students from ages 6–85 have enrolled in over 175 classes taught by more than sixty exceptional regional artists. Upcoming classes
Port Townsend School of Woodworking 
Inspiring a lifelong passion for craftsmanship through education in woodworking and traditional building trades, Port Townsend School of Woodworking offers instruction in hand tools, joinery, fine furniture, Northwest Coast Arts, woodturning, tiny homes, Vardo Wagons and creating an inclusive, supportive community. Upcoming workshops
Rainshadow Recording
Rainshadow is a full service recording studio, offering both analog and digital formats, as well as concert promotion and production services. Upcoming events
NOTE: These listings are also available on the Fort Worden web site as is a Calendar of Events.