SAVE THE DATES for RED HOT STRINGS 2023!!!
Wednesday May 17 – Sunday May 21, 2023
2023 workshop details are still under construction, we will post updates as they roll in.
In the meantime, we'll leave 2022 information up for information and to reminisce…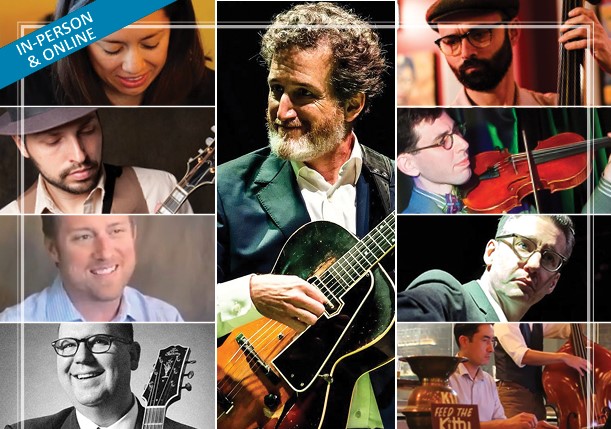 RED HOT STRINGS – May 25 -29, 2022
From Hot Jazz to Western Swing, Rags to Beguines, we'll be offering Red Hot in-person classroom instruction in guitar, banjo, mandolin, fiddle, steel guitar, tenor guitar and bass at Fort Worden State Park. Vaccination will be required for all faculty and participants attending in-person. Many classes will be available for audit online for those who are not able to attend in-person for whatever reason.
TUITION:
In-Person Attendance, $450
Youth & Scholarship Rates, $200
Online Audit Track, $100
ROOM & BOARD:
For in-person participants we provide an optional room + meal plan, $420
or just take meals, $220
SHUTTLE (Sea/Tac – Port Townsend):
Wednesday May 25th shuttle departs Sea/Tac at 2:PM Pacific Time
Sunday May 29th shuttle departs Port Townsend at 9:00AM Pacific Time – *book departing flights no earlier than Noon May 29, Sea/Tac is two hours from Port Townsend – on a good day.
Round Trip $110
One-way $55
TERMS:
In-person: Show ID + proof of being "up to date" with COVID-19 vaccinations, based on the most recent CDC guidelines. As of now, this means showing proof of the first booster shot, if qualified by age to receive the booster. Please know that masks are still being required while in the Wheeler Theater for all events. The use of masks is recommended everywhere else on the campus.
Centrum's Covid Protocols | Centrum
HOUSING:
On campus you will stay in private dorm rooms in 225 with shared bathrooms. Linens will be provided but bring your own toiletries. Layered clothing is strongly recommended, the climate in Port Townsend can be hot and cold. Meals will be in the Fort Worden Commons. There will be late night jamming in building 204, so dorm 225 can remain quiet and folks can rest anytime. 
IN-PERSON WORKSHOP:
You will have your choice of four one-hour instrument classes daily Thursday and Friday, and two on Saturday morning. With late afternoon ensemble playing in various styles. Evening house parties in 204 will include impromptu faculty presentations, concerts and jams as well as an opportunity for participants to present to the group. Registration includes the Saturday evening concert.
IN-PERSON SCHEDULE:
WEDNESDAY May 25, 2022
Check-in 4:00PM Pacific Time
Dinner 6:00PM Pacific Time
Orientation: 8:00PM Pacific Time
THURSDAY May 26 and FRIDAY May 27, 2022
BREAKFAST
1st SESSION: 10:00AM – 11:00AM Pacific Time
2nd SESSION: 11:15AM – 12:15PM Pacific Time
LUNCH
3rd SESSION: 1:30PM – 2:30PM Pacific Time
4th SESSION: 2:45PM – 3:45PM Pacific Time
ENSEMBLES: 4:00PM – 5:00PM Pacific Time
DINNER
EVENING EVENTS 8:00PM – 9:00PM Pacific Time
OPEN 204 JAMS: 9:00PM – 12:00AM Pacific Time
SATURDAY
1st SESSION: 10:00AM – 11:00AM Pacific Time
2nd SESSION: 11:15AM – 12:15PM Pacific Time
LUNCH BREAK
TBD
Red Hot Strings Concert: 7:30PM – 10:00PM Pacific Time
OPEN 204 JAMS: 10:00PM – 12:00AM Pacific Time
<><><>
ONLINE-AUDIT:
Online participants will have your choice of four one-hour instrument classes daily Thursday and Friday, and two on Saturday morning. Online Audit registration includes the Saturday evening concert.
ONLINE SCHEDULE:
WEDNESDAY May 25, 2022
Orientation: 8:00PM Pacific Time
THURSDAY May 26 and FRIDAY May 27, 2022
1st SESSION: 10:00AM – 11:00AM Pacific Time
2nd SESSION: 11:15AM – 12:15PM Pacific Time
LUNCH BREAK
3rd SESSION: 1:30PM – 2:30PM Pacific Time
4th SESSION: 2:45PM – 3:45PM Pacific Time
SATURDAY May 29, 2022
1st SESSION: 10:00AM – 11:00AM Pacific Time
2nd SESSION: 11:15AM – 12:15PM Pacific Time
Red Hot Strings Concert: 7:30PM – 10:00PM Pacific Time
<><><>
---
Artistic Curator, Matt Munisteri
Guitarist, singer, songwriter, and Brooklyn native Matt Munisteri grew up with early interest in American folk music that led him from finger-style Country and Ragtime guitar, through Blues, to Tin Pan Alley and Jazz. His own compositions, and lauded guitar playing, accurately reflect this life-long immersion in the history of American Popular song; linking rural and urban, long-gone with contemporary. As one of "New York's finest vintage guitar stylists" (Downbeat Magazine), Matt is regularly called upon to play on a wide range of CDs, movie soundtracks, television shows, and commercials. He's also worked with a wide range of artists in the studio and on the road. Over the past decade he's worked regularly with violinist Mark O'Connor's Hot Swing, Steven Bernstein's Millennial Territory Orchestra, and the singer Catherine Russell, in whose trio he is the guitarist and music director. A sought-after accompanist, Matt has recorded with many of today's most individual singers, including Holly Cole, Madeline Peyroux, Liz Wright, "Little" Jimmy Scott, Geoff Muldaur, Sasha Dobson, Catherine Russell, Kat Edmonson, and Loudon Wainwright. In addition to arranging for his own bands Matt has contributed arrangements to 5 of Catherine Russell's CDs, and to Wainwright's 2010 Grammy-winning CD "Hight Wide and Handsome – The Charlie Poole Project." In 2014 he was a co-producer of his friend Julian Lage's debut solo guitar CD "World's Fair". Matt's played every one of Carnegie's Halls, but on the rare occasions that he's not on the road, Sunday evenings find him crammed into a dim corner of a tiny watering hole on Manhattan's lower west side, playing music with cherished musicians and friends as The EarRegulars.
Artist Faculty
Dennis Lichtman

Multi-instrumentalist (clarinet, fiddle, and mandolin) deeply entrenched in early- to mid-1900's American music, from traditional jazz and swing to bluegrass and western swing, Dennis' elegant voice carries through on all his instruments, lending a thread that weaves together the various genres he navigates. Since 2007, Dennis has been the clarinetist and bandleader of the famed Tuesday night traditional-jazz jam session at Mona's in downtown New York, described by the Wall Street Journal as "ground zero for an emerging late-night scene of young swing and traditional jazz players." Dennis switches deftly between fiddle, clarinet, and mandolin while leading his western swing sextet, The Brain Cloud, through a broad array of American music including original compositions and new arrangements of old songs. Dennis has performed at Carnegie Hall, major festivals throughout the United States, and on stages in Europe, Brazil, and China. He has performed and recorded as a regular member of Ghost Train Orchestra, Pokey LaFarge Band, Nation Beat, Jim Kweskin Band, and many more.
Tyler Jackson

Tyler Jackson is a world renown tenor banjoist and upright bassist.  Under the tutelage of Buddy Griffin, Tyler quickly learned the ukulele, tenor banjo, and electric bass. Tyler went on to study the double bass at the University of North Texas under Lynn Seaton and began to fine-tune his skills as a professional bassist. During this period, he was asked to work for Ray Price and the Cherokee Cowboys. Touring with Price took him all over the world and to venues across North America including the Grand Ole Opry, Massy Hall, Radio City Music Hall, Gruene Hall, as well as the Stagecoach Festival, Austin City Limits Live and more. In 2007-09 Ray Price teamed up with Willie Nelson and Merle Haggard to form the highly successful "Last of the Breed" tour. Tyler worked with many well-known artists spanning genres including Earl Klugh, John McEuen, Randy Travis, Jim Cullum, and Dale Watson.
Matt Weiner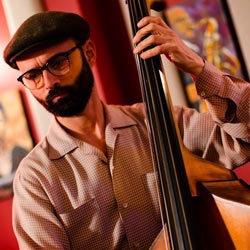 Big tone and solid rhythm have made Matt Weiner one of the busiest bass players in the Northwest. Inspired by the "prebop" bass players and their music, Matt's slapping out a syncopated jazz feel on one tune, on another bowing a folksy melody. Matt frequently performs upward of 200 shows per year, He can be spotted around Seattle and other places plucking, bowing and slapping his gut-strung bass with Jacob Zimmerman, Ray Skjelbred, Del Rey, Barton Carroll, Bric-a-Brac Trio, Squirrel Butter, Wayne Horvitz, Eli Rosenblatt, Casey MacGill and many others. He has also recorded and performed with The Todalo Shakers, The Hot Club of Cowtown, The Asylum Street Spankers, Butch Thompson, Becky Kilgore, Danny Barnes, Matt Munisteri, Jon-Erik Kellso, Rani Arbo and James Hill. Matt has taught at the Puget Sound Guitar Workshop, the Yukon Woodshed Acoustic Music Workshop, The Portland Ukulele Festival, The Menucha Ukulele Bandcamp, and 4 different Centrum music camps: The Ukulele Festival, the Country Blues Festival, Voiceworks and the Hot Strings Vintage Jazz Workshop.
Jonathan Stout

Los Angeles-based guitarist and bandleader Jonathan Stout is well-known to swing dancers everywhere for the wonderful dance orchestra he leads, but any fan of swing guitar currently stalking the internet knows him for the beautiful touch he brings to relaxed swinging versions of standards played chord-melody style on an array of prized old archtop guitars. One of the few guitarists working today who harken back to the era when acoustic chord-melody giants roamed the earth, his recordings and Swing Guitar Blog have increased people's awareness of past masters like Allan Reuss and George Van Eps. During the past year Jonathan has given fans a welcome relief from the pandemic doldrums through his regular "front porch practice sessions".
Aaron Weinstein

It wasn't enough for 35-year-old Aaron Weinstein to be topping Downbeat polls as one of the most burning mainstream violinists on the scene, or to have his comedy celebrated by a coterie of the hippest Broadway types, he also just had to go and basically invent a new way of playing jazz on the mandolin. Aaron cites his long relationship with the great guitarist Bucky Pizzarelli, who left us last year at 94, as being the initial inspiration for a method of playing the mandolin that is more evocative of George Van Eps than, say, Bill Monroe – or Samuel Seigel for that matter (Go on: Google).
Eva Scow

Eva Scow is an American mandolinist and violinist from Fresno, California. She began studying music at a young age, starting on the piano and violin at age 4, and later adding the mandolin at age 8. Growing up she played in Classical orchestras and bands, exploring different kinds of music from Bluegrass to Brazilian Jazz. She began playing professionally in high school, collaborating with different musicians/bands around the country.

At age 15 she recorded for mandolin pioneer David Grisman on his album 'Tone Poets'. She was selected to perform at Carnegie Hall in 2006 for a Young Artist Spotlight alongside bassist Edgar Meyer. She recorded her debut album with guitarist Dusty Brough entitled 'Sharon by the Sea' (Adventure Music) in 2007. The album features influences from Flamenco, Jazz, and Brazilian folk music. That same year she also recorded with jazz guitarist Anthony Wilson for his album 'Power of Nine' (2007).
Eva has performed at the International Festival du Mandoline in Lunel, France (2010). She toured alongside country pop duo Attwater, opening up shows for Willie Nelson (2011). Eva has opened concerts for artists Poncho Sanchez, Lee Ritenour, and JJ Cale. She has recorded on numerous projects, ranging in styles from R&B, Country, Pop, and Jazz. Eva also teaches string orchestra and jazz education at the middle school level in Fresno,CA. Eva is a member of the contemporary jazz quartet Espacio, and the progressive funk group The Experience. She continues to play in numerous groups across California as a sideperson, equally at home in the classical, folk and jazz idioms.
Joel Paterson

"Joel Paterson defines who the ideal session guy should be: selfless, musical, and born with impeccably good taste. His sympathetic hollow body makes the jazz, country, rockabilly or swing he's backing come alive." — Timeout Chicago
My life is dedicated to playing guitar and exploring the sound and history of the roots music I love, including blues, jazz, country, western swing, and whatever else you want to call it. I live in Chicago, and I'm lucky to be surrounded by some of the finest musicians you will find anywhere. Rather than trying to have one band to brand and market, I enjoy playing in many projects, and putting together different lineups to play a variety of musical styles—to keep things fresh and to have the right sound to fit any occasion.  It's always difficult to keep people updated with everything I'm up to (and it's hard for me to keep track of it all), but for info on the projects that I'm currently working on, check out the "Bands" section of my website. And check out the "Recordings" section of my site for ordering info on albums that are still in print and available for purchase.
https://www.joelpaterson.com/
Mikiya Matsuda

Mikiya Matsuda is a steel guitarist and sometimes string bassist living in San Francisco, CA. He is the leader of the Alcatraz Islanders, a swing-era Hawaiian group, and a regular sideman with various traditional jazz and western swing dance bands in the Bay Area.
Mikiya graduated from Amherst College with a B.A. in music, studied privately with steel guitarists John Ely and Alan Akaka, but mostly learned (and continues to learn) the instrument by listening and playing along with old western swing, country, Hawaiian, and mainland jazz recordings.
Instrumental Classes
About Red Hot Strings Instrumental Classes
Our faculty has put together a selection of classes that are designed to offer accessibility and flexibility. "Accessibility" because each instructor will be teaching one class geared for intermediate students and one that is more advanced (RHS does not offer absolute beginner classes), and accessible because some of the classes will work equally well for multiple instruments ("Jazz Improv" and "Arranging" for example). "Flexibility" both because while each day's classes will be unique, most won't be entirely reliant on having absorbed the previous day's materials, so if you choose to, you can attend different instructors' classes on different days and still come away with meaningful and complete content from each session. And flexibility because we're concuss about proving a mix of "conceptual" instruction (theory, ideas, musical history) and "show me" instruction (learning rote arrangements). Consuming a healthy blend of the two approaches is an ideal formula for growth!
Everyone's methods differ, and most of our faculty will provide some written notation at some point during their class, but all will primarily be "teaching" by playing the material for the class. Playing when asked to play, and being quiet when not, creates a productive atmosphere.
The Classes:
Jonathan Stout
SWING ERA RHYTHM GUITAR
Although it's often just talked about as "four to the bar", we'll talk about the subtitles of time-feel and rhythmic variations that will make those quarter notes actually swing, using the examples of Freddie Green (Count Basie), Allan Reuss (Benny Goodman) and John Trueheart (Chick Webb). We'll cover the right voicings for the job, especially in how to choose the right voicings for a given size/style of band, and we will learn to expand simple changes with walking inversions, passing chords/substitutions, and walking inner voices (and also when not to). Basics, tricks and variations on what every swing guitar player actually spends 90% of their time doing.
1930's CHORD-MELODY SOLOING
We'll cover the voicings and vocabulary of the largely forgotten and mysterious Swing-Era chord-melody intros, solos and breaks. Using examples ala John Trueheart, Carmen Mastren and Dick McDonough, we'll start with some "bread and butter" chord-melody basics, before adding some hipper and more complex tricks ala George Van Eps, and then finally concentrating on secrets behind the "Swashbuckling" super-swinging (yet super economical) style of Allan Reuss.
Dennis Lichtman
WESTERN SWING FIDDLE
The world needs to know more about the rough-and-ready folks who pulled a big bow, like Joe Holley and Louis Tierney (of the Texas Playboys). We'll explore some classic western swing fiddle tunes and solos by Holley, Tierney, Johnny Gimble, and more. We'll spend some time on melody playing/repertoire, hot solos, and of course, twin- and triple-fiddle harmonies.
MANDOLIN OF TINY MOORE
If there is a such thing as a "famous electric mandolin player," Tiny Moore is it! This class will be a deep dive into his relentlessly hot, swinging and always-surprising soloing style, with a particular focus on his work as a Texas Playboy with Bob Wills in the 1940s. Written transcriptions will be provided, but we'll do plenty of listening and playing too. (Acoustic mandolins are welcome, of course.)
Tyler Jackson
INTRO TO JAZZ BANJO
This goal of this class is to give a grounding in the basics of playing tenor and plectrum banjo. Its material will be as useful to beginning jazz banjoists as it will be to competent guitarists or mandolinists who want to take the dive into 4-string tunings and Jazz Banjo. This will include proper right and left-hand technique, and how to play solid rhythm with nice chords. Instructional handouts will be given with various exercises and examples.
ADVANCED JAZZ BANJO
Tyler will teach advanced single string and chord harmony technique. Students will be given a challenging single string solo piece as well as a couple of chord melody pieces to work on with Tyler. Instructional handouts will be given with various exercises and examples as well.
Matt Weiner
RED HOT BASS SCRAPBOOK
Matt cut and pasted together a bunch of vintage bass nuggets for your education and amusement. In this class, we'll take a look at various bass "moments" from our favorite hot bassists on classic recordings. We'll analyze them, learn to play them, and think about how we can bring these classic ideas to our own playing.
ARRANGING ON THE FLY
Tired of head/solo/solo/solo/solo/head out? In this class we'll investigate Strategies, ideas and riffs for putting together a great arrangement in a hot jazz/swing style right on the bandstand or at a jam session. It's not magic. It just involves a little preparation and love. We'll also listen to some classic records and see what we can glean from them.
Mikiya Matsuda
FUNDAMENTALS OF STEEL GUITAR TECHNIQUE
This course covers a range of fundamentals for non-pedal steel guitar, from right hand picking to left hand blocking — all techniques that will help you become more fluent playing Hawaiian, Western Swing, traditional jazz, or really any style of music. Students will get hands-on experience working through exercises that I wish someone had shown me when I first started learning steel guitar. The course will also cover important topics like intonation, harmony, learning repertoire, strategies for absorbing language from recordings, simpler ways to map out the fretboard and decipher new tunings, as well as advice on creating your own practice routines. This course is designed for students of all experience levels and will be applicable to any steel guitar tuning.
SINGLE NOTE SOLOING ON STEEL GUITAR
In this course, we'll learn some of the ingenious ways the masters of Western Swing and Hawaiian steel guitar approached their single note playing. If you've ever felt stuck and limited to strumming across all the strings with a straight bar, or if the single note runs of Joaquin Murphey and Sol Hoopii just sound like a wild blur, this course is for you.
As a group, we'll tackle and demystify some classic steel guitar breaks and solos and you'll leave with some simple tools to help deepen your soloing vocabulary. This course is designed for students of all experience levels and will be applicable to any common steel guitar tuning (although having a guitar in A6 or C6 would be ideal).
Aaron Weinstein
MANDOLIN CHORDAL SOLOS
The mandolin is as at home in Bluegrass as in Jazz. But the techniques that will win friends and influence people while playing a hoedown may get you kicked off a Jazz gig. We'll explore effective ways to play rhythm and rhythmic chordal solos on the mandolin that will win the hearts and souls of other Jazz musicians – or at least prevent you from getting dirty looks – and we'll be learning the chord shapes that make "chord-melody" playing work, as we look at the theory behind the harmony. Think Carl Kress, Allan Reuss, George Van Eps, Bucky Pizzarelli…except, uh, on the mandolin.
THE JAZZ VIOLINIST'S HANDBOOK
The violin is an amazing Jazz instrument. It's also its own worst enemy. We'll explore how to play authentic Jazz solos on the violin while becoming aware of instrument's potential stylistic pitfalls so we can avoid them like Covid-19. To this end we'll be learning some of the ideas behind the "lines" that you might a jazz improviser play, and we'll be working on the techniques that make swinging these lines possible on the violin.
Joel Paterson
SWINGING FINGERS
If you sometimes feel forced to use a pick but are actually more comfortable with the fingers of your right hand, then this is the class for you. We'll learn techniques for finger independence and their applications of all things roots guitar. We'll work on approaches of learning tunes by ear, improvising blues and swing, chord theory and work on fingerstyle technique that will get a good tone and still allow for us to play.
THE JOEL PATERSON UNIFIED STRING THEORY
This is kind of a working musician's guide to blues, jazz, and country guitar. We'll bring together thoughts on music theory, harmonizing melodies, improvising, and how all of these roots' music genres are often more similar than different. It'll be a musical hang – I'll be playing tunes and answering your questions, as we explore different styles and how to apply the constants of roots guitar: tone, taste, and time.
Eva Scow
CONCEPTS FOR BEGINNER IMPROVISERS
Explore early jazz tunes while learning how to solo through them. Melodic phrases through multiple chord changes can seem daunting, we will see how some of the early jazz icons would interpret these passages. Transcribing some of their phrases can be a great way to add to your "info bank" of soloing ideas, and I will also share some of my personal approaches to soloing through the changes.
LOSE THE BAND: MANDOLIN AS A SOLO INSTRUMENT
A 30's era swing standard (i'll be seeing you), and an early 20th century waltz (storyteller waltz). We will focus on playing these melodies at different levels, incorporating different stylistic right and left-hand techniques and adding occasional harmony. There are many ways to interpret a melody! We will learn about adding some improvisation to add color to the melody also. These will be taught by ear.
Matt Munisteri
FINDING YOUR WAY ON THE NECK WITHOUT LOSING YOUR HEAD:
On their own Rock, blues, or flat-picking backgrounds don't provide a stable enough basecamp from which to explore pre-rock popular song. In this class we'll take a "from the ground up" approach to understanding the guitar neck. Through a guided hands-on approach (ie; your hands, on your guitar) I'll take you through you a framework through which I've come to navigate the guitar neck. Throughout the class these concepts will be applied to individual songs, so that they don't just exist in some fog of "theory" but can instead be immediately brought into "practice", thereby improving and expanding your accompaniment and soloing.
FIDDLIN' WITH THE FORMULA
What on earth are we to make of the collision of old-time fiddle tune melodies (generally played over two or three chords) with the busier "jazz harmony" two beat accompaniment style (think Eddie Lang and Nick Lucas) that was integral to the Big Bang of western swing (think Eldon Shamblin)? Where did each meet the other? Did their mashup always result in a happy union – and how might it be more so? What can we learn if instead we tweak the melodies to reflect the busier harmonies (think Georg Barnes)? And are we then playing…JAZZ?? In case you can't tell, this stuff is personal to me! This class will teach a couple of my own arrangements of traditional melodies, which by nature of my own proclivities, drop some jazz bombs. And in the process, we'll learn more about what the heck Eldon was really up to.
Ensembles
About The Ensembles at Red Hot Strings
Our ensembles are an essential part of Red Hot Strings. In many ways, this is where, "the rubber meets the road", as different instruments with different vocabularies, tonal qualities and jobs to do, learn to "play nice" together. Some groups will lean more heavily on improvisation (songbook bootcamp), others more on set arrangements (mandolin orchestra), and still others will involve a mix (Tiffany). We assume that all of you, like all of us on staff, have learned your instruments through different means: Some learned by ear, some from the page; some of you read music, some don't. The fact is most of this music was originally created without "the page", so in that spirit we're planning, as much as possible, to teach according to an oral/aural tradition: by playing parts slowly, by listening, by repeating, by memorizing. To facilitate this, any arranged tune will be shared among all of us in the weeks/month leading up to camp, either through a written arrangement or a recording, or both. This is intended to give everyone exposure to the material and the shape of the performance before we meet; no one is expected to have completely mastered their performance before camp.
All ensembles are open to all instruments. There is room for people of every ability in each ensemble. All ensembles will work with different people on staff, so that the needs of different instrumentalists can be met, and so that we can have the benefit of different perspectives. Like any adopted pet, the name of any ensemble can of course be changed through love – and the consensus of its members. We at RHS reserve the right to surprise you at game time with additional ensembles if deemed appropriate.
The Ensembles:
"The South Sea Stompers" – A lively jazz sensibility permeates this ensemble's otherwise tranquil and mellifluous airs of the isles…making this "Music To Live In The Shadow Of An Active Volcano By". If, while running out the door to RHS, you've accidentally thrown a ukulele in your grip, and you're not planning on using it for kindling, we need you!
"OMG – Tiffany! Tiffany – OMG!" – A western swing band inspired by the Texas Playboys' legendary "Tiffany Transcriptions band" of the mid 1940's. The swinging arrangements and hot solos by Tiny Moore, Junior Bernard, Noel Boggs, Herb Remington, and Eldon Shamblin (among others) laid the groundwork for all manner of "cowbop" and "redneck jazz" to come. This band will examine the construction of a few Tiffany arrangements and then work at actually being able to PLAY one or two – maybe even at tempo!
"The Rag-a-Reno Shakers" – A hokum band that inhabits that mythical musical terrain that exists in some mystic present somewhere between Memphis and Dallas. Employing extraneous banjos, harmonic discord, superfluous kitchen implements, and a depraved indifference to intra-genre sensibilities, this ensemble seeks to successfully play ragtime, blues and hot jazz all completely wrong. If you've ever been ejected from a blacktie event for having shown up with your "banjo-lin", your membership is guaranteed. In fact, you're the bandleader.
"The Euphonious Symphonia of The Topeka Orphans Society For The Preservation of The Passenger Pigeon" – Get your mazurka on with our mandolin orchestra as you learn beautiful arrangements of timeless songs that we know could not possibly ever go extinct…right? RIGHT?? (Mandolins optional).
"Songbook Bootcamp" – This jazz ensemble will focus on playing through loose versions of different pop songs from the 1920's and '30's (the songs that came to populate the vaunted "American Songbook"). Our goal will be to gain exposure to LOTS of songs (melodies, chord changes) so that we can become familiar with recurring musical motifs, learn tricks for improving our memories of song structures, and identify key components we can address in our improvisations.