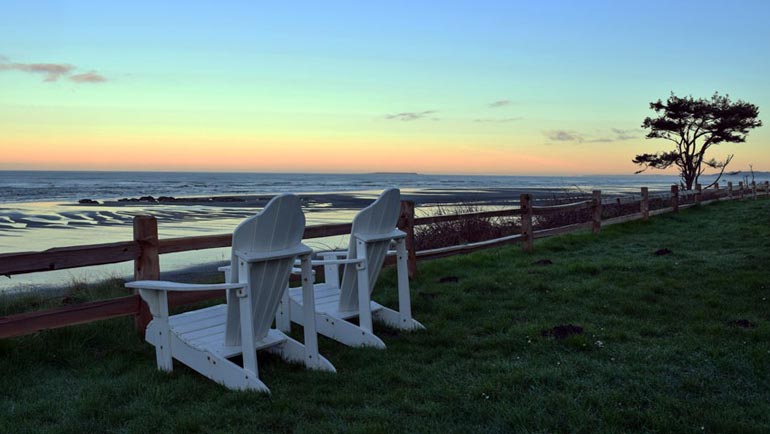 Get closer, and experience internationally-renowned music festivals, writing conferences, farmer's markets, family events, and more on Washington State's Olympic Peninsula in Jefferson County.
We welcome you to explore Jefferson County in Washington State, where expansive beaches, abundant bird life, outdoor recreation, the greatest arts events, artisan foods and family-run organic farms come together. Jefferson County lies between the jutting peaks of the Olympic Mountains and the salty inland waters of the Strait of Juan de Fuca, providing opportunities from wine tasting to kayaking, shopping to camping, beach-combing to birding and more!
For a visit out of the ordinary, book a stay at one of the following unique accommodations options in Jefferson County.
Jefferson County Accommodations
The Resort at Port Ludlow
One Heron Road, Port Ludlow, WA 98365
360-437-7000
Fort Flagler State Park
10541 Flagler Rd, Nordland, WA 98358
360-385-1259
Kalaloch Lodge
157151 US-101, Forks, WA 98331
866-662-9928
Pleasant Harbor Guest House
308913 US Hwy 101, Brinnon, WA 98320
360-796-4611
Chevy Chase Beach Cabins
3710 S Discovery Rd, Port Townsend, WA 98368
360-385-1270
Eaglemount Rockery Cottages & Motel
1822 WA-20, Port Townsend, WA 98368
360-379-8922
Marrowstone Beach Cottages
10 Beach Dr, Nordland, WA 98358
360-385-3077

Hadlock Motel
181 Chimacum Rd, Port Hadlock, WA 98339
360-385-3111

Mt. Walker Inn
61 Maple Grove Rd, Quilcene, WA 98376
360-765-3410
A Wolves' Den at Winterchill Farm
269 N Jacob Miller Rd, Port Townsend, WA 98368
360-531-4508
Chimacum Ridge Lodge
1505 Center Rd, Chimacum, WA 98325
360-774-1644
Old Alcohol Plant
310 Hadlock Bay Rd, Port Hadlock, WA 98339
888-733-6802
Amber Lights B&B
4042 Hastings Ave W, Port Townsend, WA 98368
360-390-5712
Port Townsend Bed & Breakfasts

Blue Gull Inn B&B (BL 002067)
1310 Clay St, Port Townsend, WA 98368
360-379-3241

Commanders Beach House (BL 003225)
400 Hudson St, PT 98368
360-385-1778

Hubers Inn B&B (BL 005210)
1421 Landes St, Port Townsend 98368
360-385-3904

Old Consulate Inn (BL 009453)
313 Walker St, Port Townsend 98368
360-385-6753

Quimper Inn (BL 000941)
1306 Franklin St, Port Townsend 98368
360-385-1060

Ravenscroft Inn B&B (BL 000813)
533 Quincy St, Port Townsend, 98368
360-205-2147

Takaki House B&B (BL 06680)
1617 Washington St, Port Townsend 98368
360-385-9784

Thornton House (BL 008216)
1132 Garfield St, Port Townsend 98368
360-385-6670
Port Townsend Hotels & Motels

A Suite at the Fountain (BL 012022)
914 Washington St, Port Townsend 98368
360-643-1370

Aladdin Motor Inn
2333 Washington St, PT 98368
360-385-3747

The Belmont
925 Water St, Port Townsend 98368
360-385-3007

The Bishop Victorian Hotel
714 Washington St, PT 98368
360-385-6122

Fort Worden
200 Battery Way, PT 98368
360-344-4434

Harborside Inn
330 Benedict St, Port Townsend 98368
360-385-7909

Manresa Castle
651 Cleveland St, Port Townsend 98368
360-385-5750

Palace Hotel
1004 Water St, Port Townsend 98368
360-385-0773

Port Townsend Inn
2020 Washington St, Port Townsend 98368
360-385-2211

The Swan Hotel
216 Monroe St, Port Townsend 98368
360-385-1718

Tides Inn and Suites
1807 Water St, Port Townsend 98368
360-385-0595

Washington Hotel
825 Washington St, Port Townsend 98368
360-301-1271

Waterstreet Hotel
635 Water St, Port Townsend 98368
360-385-5467
Port Townsend Vacation Rentals

A Bungalow on the Bluff (BL 000841)
303 Fillmore St, Port Townsend 98368
800-385-1238

A Garden Cottage (BL 006204)
112 Umatilla Ave, Port Townsend 98368
360-643-3210

A Guest Suite at Plum Cottage (BL 011210)
1016 Madison St, Port Townsend 98368
808-283-1055

A Victorian Romance (BL 012073)
1500 Franklin St, Port Townsend 98368
360-379-2641

Artist's Uptown Sanctuary (BL 011016)
Uptown, Port Townsend, 98368
360-531-1555

Bartlett House Cottage (BL 006026)
314 Polk St, Port Townsend 98368
360-381-0395

Big Red Barn (BL 012048)
309 V St, Port Townsend 98368
360-774-0213

Chez John (BL 011530)
4288 Gise St, Port Townsend 98368
johnnyzpiano@gmail.com

Fort Worden
200 Battery Way, Port Townsend 98368
360-344-4434

Haines Street Studio (BL 011046)
2911 Haines Street, Port Townsend 98368
907-240-1958

Hammond House Cottage (BL 001159)
834 Pierce St, Port Townsend 98368
360-385-6269

Hill Street Suite (BL 011119)
1201 Hill Street, Port Townsend 98368
253-370-5784

Holcomb Hideaway (BL 004531)
1823 Holcomb St, Port Townsend 98368
360-531-0611

Home on the Hill (BL 010748)
Sheridan St, Port Townsend 98368
206-276-8605

Hummingbird Suite (BL 001157)
1040 Taylor St, Port Townsend 98368
360-531-0958

Inn at Waterfront Place (BL 000973)
632A Waterfront Place, Port Townsend 98368
360-385-6957

Karli's Place (BL 005615)
Hendricks St, Port Townsend, WA 98368
karlie.pt@olypen.com

Katie's Kottage (BL 001869)
475 W St, Port Townsend 98368
360-379-8261

Loft on Madison (BL 011918)
1000 Madison St, Port Townsend 98368
425-829-1919

The Lookout (BL 009057)
419 Lawrence St, Port Townsend 98368
360-774-1904

Morgan Hill Guest House (BL 003217)
606 Roosevelt St, Port Townsend 98368
360-385-2536

Morgan Hill Hideaway (BL 011606)
915 Cosgrove St, Port Townsend 98368
360-385-9455

People's House (BL 010921)
Clay & Adams St, Port Townsend 98368
peopleshousept@outlook.com

Pilot's Seaside Cottage (BL 006190)
327 Jackson St, Port Townsend 98368
360-774-0804

Sea Loft (BL 002143)
306 Lincoln St, Port Townsend 98368
360-385-1626

Tess's Guest House at North Beach (BL 011926)
520 56th St, Port Townsend 98368
509-624-3003

Town Pointe Guest House (BL 011777)
Victoria Avenue, Port Townsend 98368
360-302-1831

Turtle Island View Room (BL 010007)
333 Fir St, Port Townsend 98368
360-531-0996
Port Townsend RV/Camping

Fort Worden
Port Townsend 98368
360-344-4431

Jefferson County Fairgrounds
4907 Landes St, Port Townsend 98368
360-385-1013

Fort Townsend State Park
1370 Old Fort Townsend Rd, Port Townsend 98368
360-344-4431

Point Hudson Marina & RV Park
103 Hudson St, Port Townsend 98368
360-385-2828