Pharis Romero, Artistic Director, British Columbia
Pharis has been singing and playing music her whole life. An early student of classical and country, she grew up performing with her family's band and learning the songs and stories that made her want to dig deeper. These days she performs mostly with her husband Jason, and is equally at home disappearing into an old-time jam as she is singing on stage or teaching the joy of song and sound. She's the Artistic Director for Voice Works, has won three Juno Awards for her recordings with Jason, and is a three-time Canadian Folk Music Awards Traditional Singer of the Year. After more than ten years of teaching at Centrum, she is honoured to be the Artistic Director of Voice Works.
Jefferson Hamer, New York
Jefferson Hamer is a songwriter, guitarist, and traditional musician based in Brooklyn, NY. His new album of original songs, Alameda (featuring Jeff Picker, John Fatum, Alec Spiegelman, Hannah Read, Sarah Jarosz, and others), will be released in 2018. Murphy Beds, his traditional acoustic duo with Eamon O'Leary, features harmony vocals backed by intricate guitar and bouzouki accompaniment. He currently plays electric guitar and sings (and moonlights as a Bostonian) with the six-piece roots rock ensemble Session Americana. In 2016 he recorded and co-produced their album "Great Shakes". His 2013 "Child Ballads" album with Anais Mitchell earned a BBC2 Folk Award and was named one of NPR's top-ten Folk releases of the year.
Dr. Kathy Bullock, Kentucky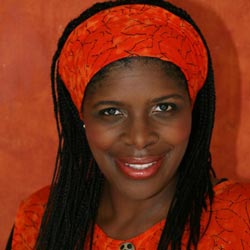 Dr. Bullock is a professor of music at Berea College, Berea, Kentucky. She provides workshops and other musical programs in African American sacred music throughout the United States, Europe, and Africa.  A performer, conductor, accompanist, arranger, and scholar, she specializes in gospel music, spirituals and classical music of the African diaspora, sharing the joy of this music-culture everywhere she goes. Dr. Bullock's research in African and African-American music and culture and the African diaspora has afforded her the opportunity to provide presentations including Singing in the Spirit, African-American Sacred Music and African-American and Appalachian Musical Connections.  Dr. Bullock shares the infectious joy and inspires heartfelt connections as she sings, plays, and teaches, and thus conveys the transcending power of love and of God through music.
Tim Eriksen, Massachusetts
Tim Eriksen is acclaimed for transforming American tradition with his startling interpretations of old ballads, love songs, shape-note gospel and dance tunes from New England and Southern Appalachia. He combines hair-raising vocals with inventive accompaniment on banjo, fiddle, guitar and bajo sexto – a twelve string Mexican acoustic bass – creating a distinctive hardcore Americana sound that ranges from the bare bones of solo unaccompanied singing through the stripped-down voice and bajo sexto to lush, multi-layered arrangements.
Eriksen's own compositions have been featured in films like the Billy Bob Thornton vehicle Chrystal and the upcoming documentary Behold the Earth. Eriksen's other notable work has included extensive contributions to Anthony Minghella's 2004 Oscar-winning film Cold Mountain as well as collaborations ranging from hardcore punk and Bosnian pop to symphony orchestra, duo work with Eliza Carthy and the 2010 Grammy-nominated album Across the Divide with Afro-Cuban world-jazz pianist Omar Sosa. In 2018 his song I Wish The Wars Were All Over was chosen by Joan Baez as her last recorded musical statement.
Tim Eriksen is the only musician to have shared the stage with both Kurt Cobain and Doc Watson, and his media appearances have ranged from Prairie Home Companion to the Academy Awards. While his curiosity and passion have led him on many musical journeys besides American roots, all his explorations are linked by the qualities of intensity, directness, and authority which combine in music that captures a truth about human experience and expresses it without apology.
Elizabeth LaPrelle and Brian Dolphin, Washington
Elizabeth LaPrelle is exceptional in her devotion to and mastery of the ancient and deep art of Appalachian unaccompanied singing. She performs the old mountain ballads and songs with a sense of conviction, honor, honesty, and an emotional force that evokes the great Appalachian ballad singers of generations past. Raised in Rural Retreat, Virginia, she came from a home where there was always singing, and a community with many fine old-time musicians. Elizabeth has developed her style and repertoire from neighbors like Jim Lloyd, under the tutelage of powerful female ballad singers Ginny Hawker and Sheila Kay Adams, and from legendary singers like Cas Wallin. Elizabeth's voice, stark and unaccompanied, can lift and carry the listener away to another time. Today, she is taking the tradition forward by playing with her own, young family for a social media audience that watched throughout the coronavirus pandemic.
Elizabeth will be team-teaching one class with Brian Dolphin, a Thomas J. Watson Fellow, Fulbright recipient, and doctoral student of Ethnomusicology at the CUNY Graduate Center. He has studied folk music, lived with indigenous musicians, and performed all over the world. He leads an active life as a songwriter, performer, producer, and songleader, uniting diverse communities through the Ukrainian Village Voices choir and the "Dolphin & You" Community Sing and Patreon.
Epi and Cruz Martinez, Texas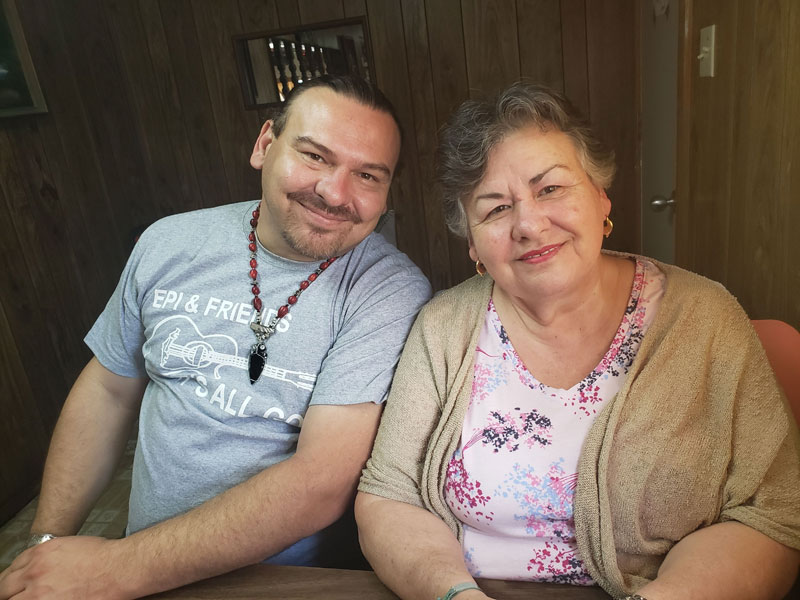 Epi Martinez has been playing music with family and friends since he was 6 years old. His first musical influences could be credited to his parents Epifanio and Cruz Martinez. He grew up hearing and playing Tejano and Conjunto music, but his family also loved country music. They enjoyed listening to Hank Williams, Buck Owens, and they loved the duets of George Jones and Tammy Wynette. Epi is a self-taught musician who plays many instruments such as drums, bajo sexto, guitar, bass, congas, vihuela, and more. He has toured the world with numerous artists and is now dedicated to preserving the Conjunto heritage of South Texas. Epi is a 2017 inductee into the Tejano Roots Hall of Fame.
Cruz Martinez, Epi's mom (and "secret weapon"), began singing with Epifanio Sr. many years ago. She continues sharing her award-winning vocals, now with her son, as they continue to preserve South Texas Conjunto Music. Cruz was honored with a Lifetime Achievement Award from the South Texas Conjunto Association in 2017. She and the late Epifanio Martinez Sr. were also honored with the Tejano Roots Hall of Fame induction in 2017. Cruz is as comfortable onstage singing lead vocals as she is adding harmony to the Mother and Son duo, the only one in Conjunto music. There's sincerity in her vocal delivery that many consider to be a lost art in today's popular music.
Mara Kaye with Ernie Vega, California and New York
Mara Kaye is that rare cross-species phenomenon, a Blues Amphibian.  When others "sing the blues" as if offering an unusual small plate at the tapas bar, Mara has so immersed herself in the idiom that she goes down to the bottom and doesn't need air until the show is over.  She's a modernist rather than a museum piece: her creations can be darkly mournful, savagely vengeful, or gleefully erotic, but they are always leavened with Brooklyn spice.  Think 1928 Bessie Smith or 1937 Billie Holiday leavened with street smarts. Her heart is in her music, and there is no pretense, no distance, as audiences from here to Russia, at Joe's Pub and Brooklyn dives have found out. 
Ernie Vega, a singer/songwriter, guitarist, and mandolin player born and raised in Queens NY, will accompany Mara at the workshop. Ernie is a staple of the New York's traditional and contemporary music scene. He performs the blues in an original way, detailing the precise finger-picking styles by masters like Mississippi Fred McDowell. Ernie harbors a plethora of stories and information to go along with the songs. He is an aficionado of the blues, and a lovely character as well.
Linda McRae, Tennessee
Linda is perhaps best-known for her eight-year tenure as a member of the platinum-selling band Spirit of the West. Performing on banjo, guitar and accordion, her warm and world-weary voice, unforgettable melodies, and thought-provoking lyrics make McRae a captivating and sought-after artist. She combines old-time sounds with universal themes of heartbreak and redemption, offering an intriguing sepia postcard from the past that is vibrant and alive in the present. Linda's enjoyed recording and performing with musical luminaries such as Bruce Cockburn, Neko Case, Alejandro Escovedo, Gurf Morlix, and Ray Waylie Hubbard. With a voice equally warm and world-weary McRae's stories are stand-alone gems. One song breaks your heart, the next one puts it back together.
Eva Salina, New York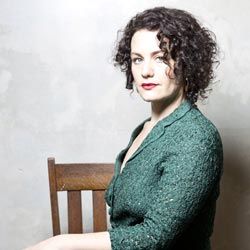 California-grown, Brooklyn-based Eva Salina is a groundbreaking interpreter of Balkan Romani songs. Raised in the US Balkan Diaspora, Eva's mentors are some of the greatest living Balkan musicians. Eva's rich, supple voice moves effortlessly through the intricate and demanding expression of Romani songs, intertwining vintage pop songs with her singular interpretations. A passionate activist for dialogue and mutual understanding, and an advocate for women in traditional and traditionally-based music, Eva is committed to a life of collaboration and evolving musical traditions. Eva continues an interrupted legacy of empowered female voices in Balkan Romani (gypsy) music. Amplifying voices of past generations of Romani women musicians, Eva employs tenderness, grace, passion and a commitment to keeping these songs alive and evolving, while inspiring and teaching young people in the Balkans and the Balkan diaspora to participate in their own living traditions.
Albanie Falletta, Louisiana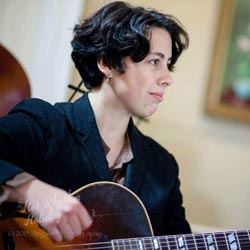 A native of Monroe, Louisiana, Albanie was in her formative years exposed to the local music of Louisiana: the sounds of Cajun, zydeco, blues and gospel musics at festivals and backyard parties. Shortly after relocating with her family to San Marcos, Texas at the age of nine, Albanie began taking guitar lessons and developing an interest in acoustic-roots and electric blues, punk rock, and hair metal. Albanie began her love and study of early American Jazz as a freshman in high school in Wimberley, Texas, when she was exposed to the Parisian Romani guitarist Django Reinhardt. Listening fervently to recordings of Reinhardt, Louis Armstrong, Billie Holiday, Fats Waller, and other such great figures of jazz, she began to develop her feel for swing. In the summer of 2013 Albanie relocated to New Orleans, Louisiana, where she is currently living and performing solo, and with various traditional jazz and swing ensembles.
Greg Blake, Kansas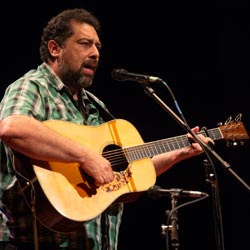 You'll hear it in his voice immediately … the original strain of Appalachian mountain music that lies at the heart of all great modern bluegrass and country. Greg Blake grew up in the mountains of southwest West Virginia, and when he sings, you can hear a voice that connects to the great old generations of mountain singers, invested with a rich twang and rumbling drawl, and the kind of eerily powerful high tenor cry that first inspired the high, lonesome sound. Growing up Greg was immersed in the sounds of old country, mountain bluegrass, and gospel harmonies from a young age. Moving to Kansas City, he started playing in more and more bands, eventually recording on 12 albums for bands like the Bluegrass Missourians, Mountain Holler, The Harvest Quartet and more. He's twice been nominated for the SPBGMA's Traditional Male Vocalist of the Year and five times won the SPBGMA's Guitarist of the Year, not to mention the Kansas State Flatpicking championship. Greg is currently the guitarist and lead vocalist with Special Consensus.
Ellie Hakanson, Tennessee
Ellie plays fiddle and sings with Missy Raines and her group Allegeny, after five years of working with Jeff Scroggins and Colorado. She has been singing bluegrass music since she was a toddler. As a child she performed with the Hakanson Family Band at bluegrass festivals throughout Oregon and Washington, and as a teenager she began sitting in with many local Oregon and Washington bluegrass bands. More recently she's performed shows with groups like the Caleb Klauder Country Band, James King, and the Greg Blake Band. In January 2019, Ellie released her first full length album with Jeff Scroggins and Colorado. The band was nominated in 2018 for IBMA Emerging Artist of the year. Ellie was also nominated for the 2018 IBMA Momentum award for Vocalist of the year, and the 2017 Momentum award for Instrumentalist of the year. Ellie has been teaching private fiddle lessons and workshops at festivals since 2003, and currently teaches fiddle and vocals at camps and in individual lessons.