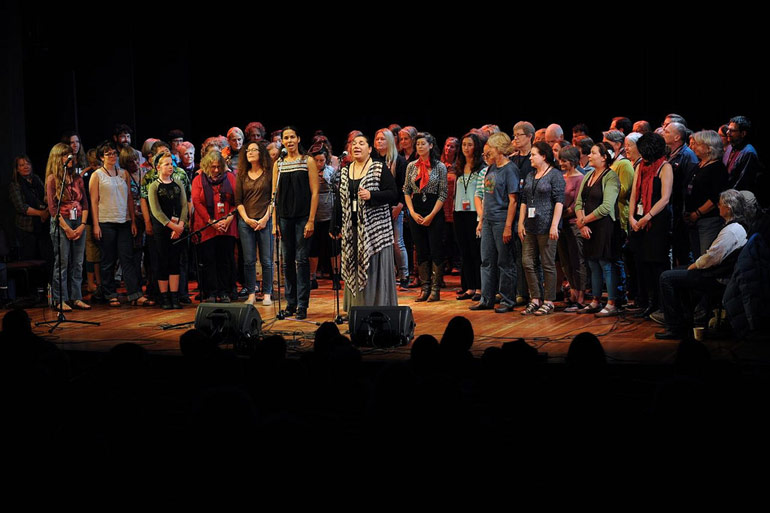 Voice Works Faculty Showcase #1
Thursday, June 29, 7:30 pm, Wheeler Theater
Tickets $25
Nikki Dee
Offering a blend of international jazz, blues, and cabaret repertoire in multiple languages.
Yoseff Tucker
Traditional bluegrass and American roots music singer, California Bluegrass Society Male Vocalist of the Year.
Khari Wendell McClelland
Blending soul and gospel, his songwriting joyfully invokes the spirit of his ancestors who straddled the US-Canadian border in efforts to escape slavery and discrimination.
Bridge Hill Kennedy
Sacred Harp singing specialist from Birmingham, Alabama.
Moira Smiley
Heartbreakingly beautiful singer immersed in early American, Irish and East European vocal traditions.
Caleb Klauder & Reeb Willms
Honky Tonk Royalty. Enough said.
Faculty Showcase #2
Friday, June 30, 7:30 pm, Wheeler Theater
Tickets $25
Pharis & Jason Romero
3-time Canadian Traditional Singer of the Year.
Karin Plato
Acclaimed Canadian Juno nominated Jazz vocalist and recording artist.
Eli West
A noted songwriter, performer, and composer has been crafting a Northwest-centric roots music aesthetic.
Grace Love
Olympic Peninsula's shining jewel of grit, beauty and power – think Etta James and Betty Wright meet Mahalia Jackson.
Johnny Nicholas
A blues legend and gifted storyteller, his music is full-spectrum Americana — a rich gumbo of blues, Southwest Louisiana soul and Texas swing and honky tonk.
Mara Kaye & Tim McNalley
This blues maven's voice has been compared to Louis Armstrong's trumpet at a rent party.
Honky Tonk Polka Dot Dance
Saturday, July 1, 8 pm, USO Building
Tickets $15 (sold at the door only)