March 2-7, 2014
Fort Worden State Park, Port Townsend, Washington
Tuition, Room & Board is $500; scholarships are available.
"I learned more about myself as a writer, artist, student, & friend."
~ 2013 Explorations Participant
"I learned a lot of things that I never could have done before. I learned taiko notes, dance moves,
how to improve my writing greatly, how to be surreal, and improve theater."
~2013 Explorations Participant
Centrum's "Explorations" middle-school workshop, in partnership with The Office of the Superintendent of Public Instruction, is a week-long total-immersion residential experience. It's a chance to converse, draw, sculpt, paint, dance, perform, and write in an intense, fun-filled time of learning. The goal is to expose students to visual and performing art from other cultures, widen their horizons and honor diversity in the creative culture of Washington State.
Students work with gifted professional artist-faculty in the world of arts and ideas, creative risk-taking, and professional practices. Each day is divided into four workshop sessions. Students start the day with their main interest, or core class, then explore different genres in their other three classes. Throughout the week, there is time in the schedule to connect with nature and explore the trails, beaches and historic monuments at Fort Worden State Park. Each evening, the artist faculty show and talk about the work they do; these presentations are followed by snacks and hang-out time in the dorm. On Thursday night, the student showcase takes the stage, with friends and family invited to see your work!
"Reading my poem onstage for Spoken Word made me feel amazing and I loved sharing it
even though it was hard to get over my stage fright."
~2013 Explorations Participant
Chaperones
For this program, student groups of four to six sign up with an adult chaperone. Groups may come from school districts, with teachers and school staff chaperoning, or they may be formed by parent committees looking for extra opportunities in the arts and sciences for their children. Tuition, room and board is free for chaperones.
"A highlight for me was the class structure. I liked how we were thrown in with
a group of complete strangers and kept there so we could get to know them.
It was a great way to make new friends."
~2013 Explorations Participant
CLASSES (Register for 2014 Explorations!)
Gizmos and Automata (Darwin Nordin)
Learn to make art that moves and spins, flips and pops-up and engages viewers as participants. Use elements of simple machines and pop-up paper engineering to create Gizmo-Paintings, Collages and Assemblages.
The objective in this class is to tinker like creative geniuses, exploring ways to bring the elements of art together in new, interesting and inventive ways. Join us to create thingamajigs and doohickeys that challenge our notion of what we usually consider to be a painting or sculpture!
Hip-Hop Dance (Rex Kinney)
Returning by popular demand, this energetic urban dance style incorporates several different styles and techniques into a fun hip hop routine. As a great cardio and conditioning work-out, learn some basic to advanced moves and dance combinations. Come challenge yourself and build your dance repertoire or just have fun!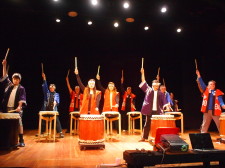 Japanese Taiko Drumming (One World Taiko)
Teachers Nancy Ozaki and Gary Tsujimoto of One World Taiko introduce you to Japanese culture through the study of Japanese drumming. Learn the history of taiko in Japan and the United States as they teach the intricacies of Japanese drumming. Learn from their drumming style, which is energetic and athletic with a mix of modern and traditional rhythms and whole body movements similar to the martial arts.
Spoken Word (Nicco Annan)
This workshop fits all those who want to express the power of words and get behind the mic to make magic happen. Spoken Word is a combined expression of poetry and theatre. Sharpen your writing and performing skills in this workshop. Bring words to life through your imagination and observations of the world around you.
Theater (Samantha Rund)
Do you love the magical world or do you prefer reality? Ever wish you were royalty or do you prefer anonymity? Are you shy or do you love being the center of attention?  No matter who you are or what you secretly wish for, A Midsummer Night's Dream has a character written for you!
Have fun using movement, voice, and text as you delve into the wonderful world of this Shakespearean classic.  Learn how to create a variety of characters as you explore the many worlds within this one fantastic play.
Wearable Art (Margie McDonald)
Learn to create wearable art using a wide variety of recycled materials. This class will explore the cultural influences of art on the body. Craft and art combine in this class as you stitch or glue your way to the creation of a new wearable piece of art. Your work becomes something between clothing, costume and sculpture.
We will look at samples of past and present wearable art and make our own art piece to wear on the runway. Margie is on the executive committee of and is a participant for the Port Townsend Wearable Art Show, now heading into its fourth year. She has been a finalist in The World of Wearable Art in New Zealand for the last two years.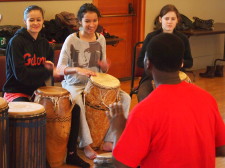 West African Dance and Drumming (Etienne Cakpo and Yaw Amponsah)
Learn basic dance moves and drum rhythms from the Benin-Ghana coastal region of West Africa. This class is appropriate for boys and girls of all experience levels. The drum-beats are accompanied by shaker and bell parts, and the dances have graceful and strong movements that require undulation of the back and bending of the knees.
Dances integrate traditional, social and spiritual dances as well as modern movements commonly found across West African countries.
Write Right: The Craft of Songwriting (Dejah Leger)
What exactly is it that makes a song worthy of being on your iPod? How can you best express yourself through music? This class demystifies the song-crafting process, giving students the skills to construct, interpret, arrange, write, and share songs.
Be willing to sing, but no vocal technique or instrument playing necessary. You'll leave with a fully-completed song and the skills to continue writing above-the-cut lyrics.
FACULTY (Register for 2014 Explorations!)
"I loved meeting all the instructors/teachers. They were so inspirational and they all had good, strong messages to share with us."
~2013 Explorations Participant
Yaw Amponsah is a master percussionist from Ghana. A versatile player, Yaw can play many styles of music from Ghana including Highlife, Agbadja, Kpanlogo and more. His specialty is the music of the multi-part percussion ensembles of the Ashanti people, which include as many as eight independent percussion parts. He is the leader of Anokye Agofomma and a member of Manghis Khan Quartet.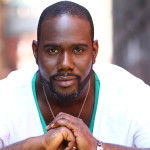 Nicco Annan is an award winning director and choreographer whose work spans the worlds of theater, dance, and music. Nicco has been involved with New York City's Hip Hop Theatre Festival, Rita Dove's 'Thomas & Beulah' with the Poetry Society of America, as well as big productions including 5 Guys Named Moe, and the Respect Project (with Tony Award winner George Faison).
Etienne Cakpo is a professional dancer, choreographer and musician from Benin, West Africa. He teaches and performs traditional African dance from Benin as well as contemporary African dance styles. Currently the director and lead choreographer of Gansango Music and Dance based in Seattle, Etienne performs in solo events and group shows.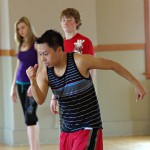 Rex Kinney is currently the director and choreographer for the Shorecrest High School Dance Team, who he has led to seven straight District Titles, three WIAA State Dance/Drill Championships, and three National Titles. Rex has danced with several Seattle-based hip-hop groups and is an instructor through UW Experimental College, an adjunct instructor at Cornish College of Arts in Seattle, "Dance This" Workshop, and Backstage Dance.
Dejah Leger is a songwriter and traditional musician. She co-founded a high-powered music promotion agency based in the Northwest and promotes some of the top roots-music songwriters in the business. Her own musical career has allowed her to perform at countless festivals and venues, and she is the subject of two documentaries about women in music.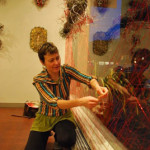 Margie McDonald grew up in rural Newfoundland in a large family that was, she says, "economically challenged." And so she was involved with reuse from a very early age.  She learned to knit mittens and socks, crochet, and make quilts and clothing using mostly recycled materials.
Margie earned a degree in fine art with a focus on textiles, tending toward sculptural forms. While working as a yacht rigger she started to experiment with industrial materials and traditional methods to create sculpture. She now works with recycled wire, metal and plastic to make sculptures using textile techniques. Her current work is on view as part of the new Bainbridge Art Museum's inaugural show.
Darwin Nordin's work includes drawings, paintings and sculpture that reflect his fascination with nature. His artwork has won several awards and been exhibited nationally. Darwin's twenty-five-year career as a teaching artist is centered-around the creative process. He has worked collaboratively with poets, writers, actors, dancers, filmmakers and set designers. He has facilitated the creation of large mixed media artworks for organizations like the Seattle Children's Museum, the Port of Seattle, the Pacific Northwest Ballet and the Museum of Glass. For the past 6 years Darwin has taught high school art classes at the Seattle Waldorf High School.
One World Taiko is a professional Japanese drum ensemble that captivates audiences with their heart pounding beats, dynamic movement and rhythmic grooves. Founded in San Francisco, CA, One World Taiko is led by Gary Tsujimoto and Nancy Ozaki. Their repertoire includes arrangements of traditional pieces and original compositions, which are infused with contemporary rhythms.
Samantha Rund is a Graduate of the Second City Conservatory and is currently studying directing. She has performed in over thirty staged productions. Samantha received her undergraduate degree in theater from Northwestern University and her M.F.A from the University of Washington's prestigious Professional Actor Training Program (PATP).
This program is generously funded by the Washington State Office of the Superintendent of Public Instruction. Additional sponsors include the Washington State Arts Commission, Washington State Parks and Recreation Commission, The Baker Foundation, The Greater Tacoma Community Foundation, The Forest Foundation, The Peach Foundation, Rayonier Foundation, the Congdon Hanson Family, and nearly a thousand individual donors whose generosity celebrates the power of creativity to change lives.