June 18-23, 2017
Fort Worden State Park, Port Townsend, WA
For students entering grades 7-8 in September 2016, chosen by OSPI's Migrant Education Program.
Centrum presents the first year in a three-year commitment to arts education for students in Washington State's Migrant Education Program.
The goal of Voices from the Field Arts Academy is to provide outstanding arts experiences for middle school students in Washington State's Migrant Education programs. Many of these students have not had a lot of opportunity to experience the arts in their regular school day. Some struggle academically trying to keep up to grade level in the face of moving from school to school while their families move for their work. OSPI believes that their experiences in meaningful arts classes will both inspire them to find their own strengths and creativity and be an avenue through which increased literacy and academic development takes place.
For this program, Centrum is collaborating with the Office of the Superintendent of Public Education's (OSPI) Migrant Education Program and five schools from Washington State. Anne Banks, OSPI's program Supervisor for the Arts is also assisting, as well as Beverly Buehler from Arts Impact, which is a comprehensive professional development arts program for classroom teachers under the wing of the Puget Sound Educational Service District.
With 60 students, their chaperones and a cohort of teachers from their schools, the week at Centrum is a complete arts immersion. Theater, Visual Art, Poetry, Dance and Music take center stage for one week, guided by an outstanding artist faculty and the idea that the arts reveal essential insights and ways of learning that can resonate meaningfully in the lives of young people.
---
CLASS DESCRIPTIONS
Actor's Bootcamp, Theater with Pattie Miles
Actor's Bootcamp is a fun, multi-disciplinary, process-focused approach to train young actors of all levels. You will learn improvisation, physically-based acting, character-based scene work, vocal performance, movement and self-scripting, and you will have the opportunity to create original work.
Creative Rhythms, Music with Eduardo Mendonça
Students will create their own rhythms in an intuitive, spontaneous way. Brazilian instruments will be available as well as buckets, plastic oil pans and anything that can make sound. Learn to play traditional and contemporary Brazilian grooves like Samba, Baião and Samba-Reggae. And enjoy playing as an ensemble with an instructor who has performed for celebrities such as Nelson Mandela, Pope John II and the 14th Dalai Lama!
Folklorico, Dance with Luna Garcia (photo by Joshua Trujillo)
Learn traditional Mexican folkloric dance in this class with Luna. This dance is high energy with lots of movement and footwork! Folklorico is a combination of Mexican culture and history translated into rhythm and body movement. Dancing as a group, we work on coordination and expression.
You'll learn dances from the Costa Chica Region of the state of Guerrero focused on the style known as Chilenas. To find the beginning of this style you have to go to South America and Chile. The dances were introduced to Guerrero during the California "gold rush" in which Chilean ships stopped in Costa Chica for supplies, allowing the sailors to share their lively dances with locals, who took the dances and made them their own.
Gizmos and Automata, Visual Art with Darwin Nordin
Make art that moves and spins, flips, pops-up and engages viewers as participants. Learn to use elements of simple machines, and pop-up paper engineering to create gizmo-paintings, collages and assemblages. The objective in this class is to tinker like creative geniuses, exploring ways to bring the elements of art and engineering together in new, interesting and inventive ways. Join us to create thingamajigs and doohickeys that challenge our notion of what we usually consider is a painting or sculpture.
Wearable Art with Margie McDonald
Learn to create wearable art using paper, tape, scissors, staplers, string and other crazy materials. This class will explore the cultural influences of art on the body. Craft and art combine as you tape or staple your way to the creation of a new, wearable piece of art. Your work becomes a blend of clothing, costume and sculpture. We will look at samples of past and present wearable art and make our own art piece to wear on the runway.
Spoken Word with Daemond Arrindell
"Who are you?" is sometimes a difficult question to answer. Society often wrongly assigns labels that show only one small part of the complex, amazing human creatures we are. In this class with Daemond, you will address the ways that others see you and you will decide for yourselves who you really are and how you want to be seen. Spoken Word is a style of poetry that is meant to be performed. You will be bringing to life dynamic voices and stories through writing prompts, imagery, metaphor, and individual as well as group poems.
---
FACULTY BIOS
Daemond Arrindell is a poet, performer, and teaching artist and an adjunct faculty member at Seattle University, Cornish College for the Arts and Tacoma's School of the Arts. He has performed in venues across the country and has been repeatedly commissioned by both Seattle and Bellevue Art Museums. In 2013, he was chosen for "13 for '13," a joint project between the Seattle Times and KUOW, profiling 13 influential people in Seattle's art scene.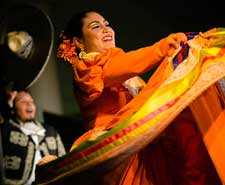 Luna Garcia started dancing Folklorico at age seven with the dance group Joyas Mestizas. In 2007, she started teaching with Joyas Mestizas, and she started dancing with Bailadores de Bronce.  Dancing and teaching with both organizations, she has been able to promote and present the beauty of Folklorico throughout the Seattle area. She has taken classes and workshops with renowned Folklorico teachers such as Jose Tena from New Mexico State University and Samuel Cortez from Los Lupeños, San Jose.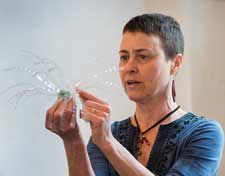 Margie McDonald is the artistic director for the Port Townsend Wearable Art Show now heading into its sixth year. Margie's work in Wearable art and sculpture has been exhibited in the New Zealand World of Wearable Art Exhibition, Bainbridge Island Art Museum, Museum of Northwest Art, Northwind Arts Center and Simon Mace Gallery.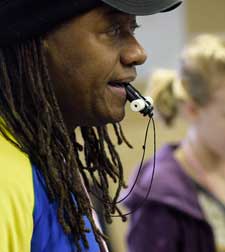 Eduardo Mendonça —musician, producer and composer—is a native of Salvador, Bahia, Brazil. Eduardo received his degree in arts education from the Music Institute of the Catholic University of Salvador. He is a founding member of Arts Corps and is the Artistic Director for the international performance ensemble Show Brazil!
Pattie Miles is a member of Seattle's new and used improv and sketch comedy duo, Smitty & Miles. She is Co-Artistic Director of The Paradise Theatre School in Chimacum, Wash. where she teaches Acting, Directing, Playwrighting, and Improv. She co-founded Pittsburgh's Friday Night Improv and in Seattle has performed with Annex Improv and King's Elephant Theatre. She is a veteran participant as an actor, director, and playwright with Seattle's 14/48 The World's Quickest Theatre Festival and was the first woman awarded the festival's prestigious Mazen award for "embodying the spirit of community and risk-taking inherent in our process. She has an MFA in Acting from the University of Pittsburgh.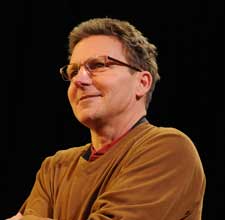 Darwin Nordin's work includes drawings, paintings and sculpture that reflect his fascination with nature. His artwork has won several awards and has been exhibited nationally. He has worked collaboratively with poets, writers, actors, dancers, filmmakers and set designers. He has facilitated the creation of large mixed media artworks for organizations like the Seattle Children's Museum, the Port of Seattle, the Pacific Northwest Ballet and the Museum of Glass.