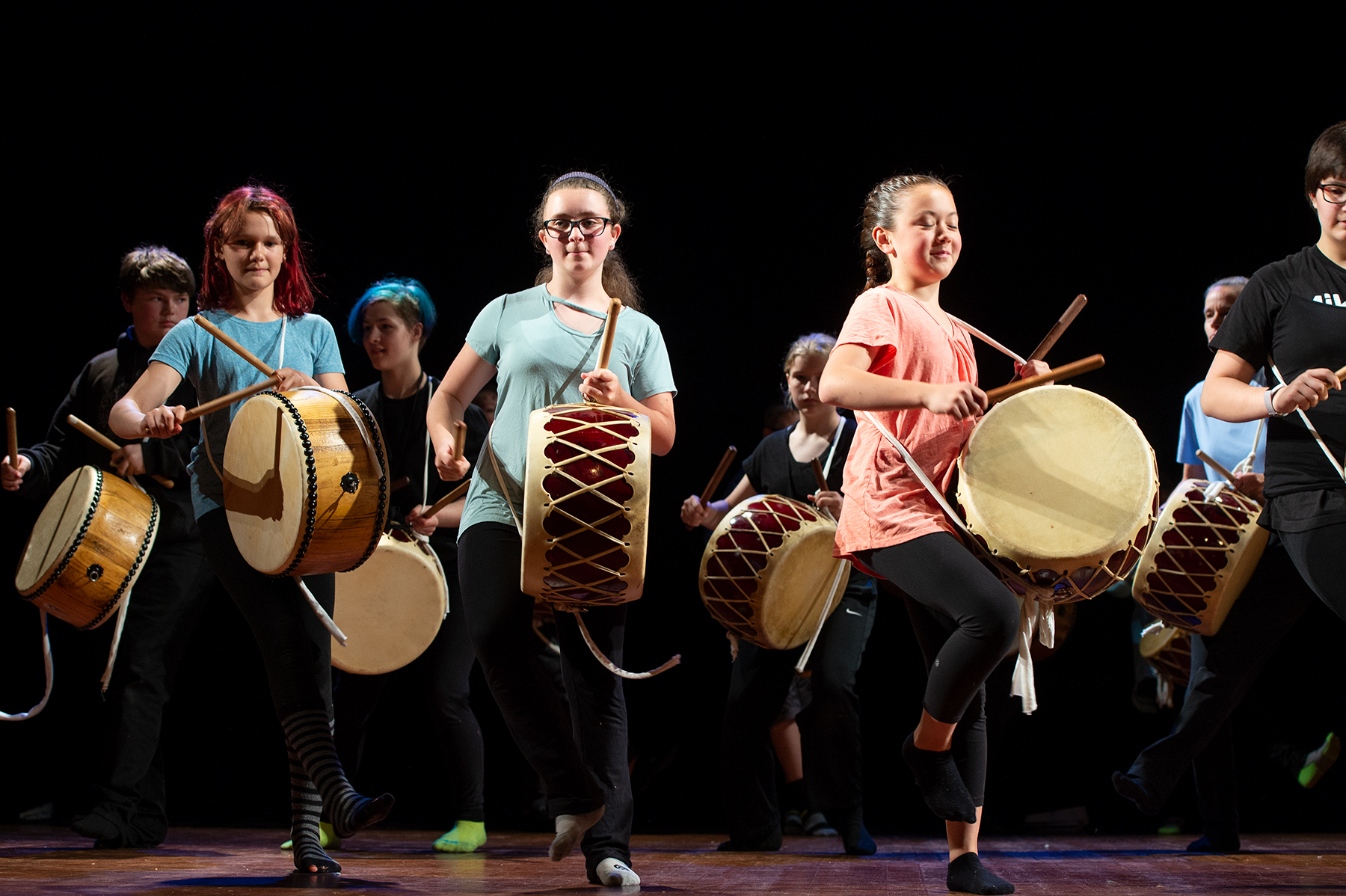 March 6 – 11, 2022
Fort Worden State Park, Port Townsend, Washington


---
EXPLORATIONS affirms the gifts that every student offers. Through this immersive, week-long program, students are introduced to the world of arts and ideas, creative risk-taking, and personal development. It's a total learning environment that challenges the mind and body in equal measure.
Each day features a core workshop session where students pursue their main interest, then explore different genres in their other three classes. During breaks, participants connect with nature and explore the trails, beaches, and historic monuments at Fort Worden State Park. Each evening, our faculty artists present their skills, followed by snacks and all group activities outside or small group time in the dorms. The week concludes with a student showcase to witness and celebrate this creative week!
Explorations is designed for students to attend in groups of 4-6 with an adult chaperone accompanying the group. Larger or smaller groups may be accommodated – please reach out to program manager Becky Berryhill (bberryhill@centrum.org) for details. Sliding scale tuition and scholarships are available to make this program financially accessible to all families.
Student tuition, room, and board: $575
Deadline to apply for scholarships: January 28, 2022
Don't wait until the deadline to register – Explorations fills up quickly!
More info:
– Program Manager, Creative Youth Development: Becky Berryhill 360.385.3102 x 120
Centrum's COVID-19 Protocol
Centrum's 2022 Youth Programs have implemented COVID-19 safety protocols consistent with all applicable State, County, CDC, and OSHA guidance.
We are requiring proof of COVID-19 vaccination for all participating students, chaperones, artist faculty, and Centrum staff. Additionally, masks will be required while in indoor settings, and participants will be placed in single dorm rooms unless otherwise requested. Further details about our COVID-19 protocol – including guidelines for mealtime, dorm bathrooms, testing and quarantine for exposed or symptomatic participants, etc. – will be available closer to the program start date.
We understand that not all students have yet had the opportunity to become fully vaccinated against COVID-19, and that availability and timeline for under-12 vaccinations is still emerging. Please refer to your local clinic or provider to ensure that your student will be considered fully vaccinated by the program start date.
If emergency circumstances or county, state, or CDC guidelines make gathering in-person at Fort Worden impossible, this program will be transferred to an interactive online learning environment. In this case, your tuition will be refunded – minus $100 for the students who wish to participate in the online program.
---
Class Descriptions
Breakdance! with Robert Eyerman (Dance)
Using music as an inspiration, learn the foundation of breakdancing, or "breaking." The four fundamental components, toprock, footwork, freezes, and power moves will be demonstrated and taught. With Robert teaching some new-found knowledge and skills, students learn to create dance routines. Everyone will have the opportunity to battle against and perform with one another by exploring the arts of cyphering, battling, and performing. Perfect for those with little-to-no dance experience who are dedicated, enthusiastic, and open-hearted about learning.
Expressive Printmaking with Klara Glosova (Visual Arts)
This class will focus on drawing and painting using the monotype technique as a tool. Monotype is a basic printmaking technique where artists draw, paint, use stencils, and otherwise manipulate the smooth surface of a printing plate. The plate is then run through a press and produces a unique print. This class is designed as a journey and exploration into the elements of art and creative self-expression.
Music & Roots with Joe Seamons (Music)
Learn to hear and play instruments and songs that laid the foundation for American music as we know it! This class will give you experience playing music with others on an instrument of your choice–guitar, banjo, fiddle and mandolin, singing and percussion are all options for students, beginners are welcome.
Spoken Word with Daemond Arrindell (Poetry)
"Who are you?" is sometimes a difficult question to answer. Society often wrongly assigns labels that show only one small part of the complex, amazing human creatures we are. In this class with Daemond, you will address the ways that others see you and you will decide for yourselves who you really are and how you want to be seen. Spoken Word is a style of poetry that is meant to be performed. You will be bringing to life dynamic voices and stories through writing prompts, imagery, metaphor, and individual as well as group poems.
Percussion: The Roots of Steel Pan with Angie Tabor (Music)
This course takes students through a fun, high-energy, hands-on musical journey tracing the roots of the steel pans in Trinidad & Tobago. Students will explore the traditional music created by a determined youth culture, who, in spite of many obstacles, continued to find ways to make their music.
Artist Faculty
Daemond Arrindell
Daemond Arrindell is a poet, performer, and teaching artist and an adjunct faculty member at Seattle University, Cornish College for the Arts and Tacoma's School of the Arts.
He has performed in venues across the country and has been repeatedly commissioned by both Seattle and Bellevue Art Museums. In 2013, he was chosen for "13 for '13," a joint project between the Seattle Times and KUOW, profiling 13 influential people in Seattle's art scene.
Robert Eyerman
Robert Eyerman, aka Bboy Bobby Drake, started breaking in 2005 at the age of 13. Three years later he co-founded the Dog Pound Crew. His group works frequently alongside the Seattle Theater Group, dancing in productions such as DANCE This, Global Party, and Sasquatch Music Festival. Robert highly values education, graduating from the University of Washington with two degrees – chemistry and biochemistry. His passions include dance, music, medicine, education, and philanthropy.
Whenever he is not conducting clinical research in the hepatology clinic at a local Seattle hospital, he provides in-home tutoring to youth, writes music, trains for competitions, and brainstorms how to further impact the world through art and science. Robert enjoys jamming on his guitar, playing with lasers, and traveling the world with his girlfriend.
Klara Glosova
Klara Glosova is a Czech-born visual artist currently based in Seattle. She is a prolific multidisciplinary artist working in wide variety of media. Her work is autobiographical, drawing inspiration from her dreams as well as the daily life of a soccer mom.
She is a founder of NEPO House and always interested to see what happens when you place the inside out, invite the outside in and generally do things backwards. Klara was awarded Seattle Magazine's 2013 Spotlight Award, Seattle Art Museum's 2014 Kayla Skinner Special Recognition Award and was nominated for 2015 Stranger Genius Award.
Joe Seamons
Joe Seamons and Ben Hunter have established themselves nationally as critically acclaimed roots musicians and award-winning acoustic blues songsters.
Rooted in their home of Seattle, Washington, they bring their unique integration of performance, folklore, and education with them to schools and communities nationwide.
Angie Tabor
Angie Tabor holds a Bachelor's and Master's degree in Music Performance, and is known for being a versitle musician, performing with jazz ensembles, symphony orchestras, for music theater productions, and tribute & Top 40 acts. She can also be heard performing on steelpans with her own Caribbean-infused trio, Caribe.
As a music educator, she has taught grades K-12 and college. In 2017, she founded the Port Townsend Steel Bands communty-based beginning and intermediate steel bands devoted to sharing the enchanting sounds of the steelpans with the community. She also maintains a studio of private students.
This program is generously funded by the Washington State Office of the Superintendent of Public Instruction. Additional sponsors include ArtsWA, The Baker Foundation, DV and Ida McEachern Charitable Trust, Gottfried and Mary Fuchs Foundation, Florence B. Kilworth Foundation, Suquamish Tribe, Washington Department of Commerce/Schools Out Washington and nearly a thousand individual donors whose generosity celebrates the power of creativity to change lives.