Centrum's "Virtual" Red Hot Strings 2021: A Space-Age Celebration Of The Great Jazz-Age String Players

Daily classroom instruction by our noted professional staff; mini-concerts by up-and-coming professional level young players; a salon for attendees to hangout and chat, songs swaps and show-and-tell of instruments; half-hour shows by still-under-the-radar professional players; group performances by our teaching staff; and several hour-long one-of-a-kind themed workshops featuring invited guests hosted by members of our teaching staff.
MAY 14 – 16, 2021
---
FEATURING A FACULTY OF 13 MUSICIANS AND INSTRUCTORS
Albanie Falletta
Dennis Lichtman
Gabe Terracciano
Joel Paterson
Matt Weiner
Mikiya Matsuda and Tyler Jackson
Special workshop guests include:
Aaron Weinstein
Charlie Burnham
Craig Ventresco
Howard Alden
Jonathan Stout
Matsui and Mario Takada
Noam Pikelny.
John Clayton – Artistic Director

Grammy-winning bassist/composer/conductor John Clayton has written and arranged music for Diana Krall, DeeDee Bridgewater, Natalie Cole, Milt Jackson, Nancy Wilson, McCoy Tyner, Quincy Jones, George Benson, Dr. John, Regina Carter and many others.
John has been commissioned by many ensembles including the Northwest Chamber Orchestra, the American Jazz Philharmonic, the Iceland Symphony, the Metropole Orchestra, the Carnegie Hall Big Band, the Richmond Symphony, the WDR Orchestra, and the Amsterdam Philharmonic. John was awarded a platinum record for his arrangement of "The Star-Spangled Banner," performed by Whitney Houston during the Super Bowl in 1990.
He has won numerous awards such as the Golden Feather Award and the Los Angeles Jazz Society's Composer/Arranger award. John won a Grammy as an arranger, and has eight additional nominations to his credit, most recently for his collaboration with Yo-Yo Ma on the cellist's album Songs of Joy & Peace. Clayton has served as the musical director of several jazz festivals including the Sarasota Jazz Festival, the Lionel Hampton International Jazz Festival, the Santa Fe Jazz Party, and the Vail Jazz Workshop. He is a co-founder of the Grammy-nominated Clayton-Hamilton Jazz Orchestra, which he co-leads with his brother, saxophonist Jeff Clayton, and drummer Jeff Hamilton. John and his brother Jeff also co-lead the Clayton Brothers Quintet, which has been nominated for two Grammy awards.
Clarence Acox, Big Band
A native of New Orleans, Clarence came to Seattle in 1971 straight out of Southern University, where he was recruited by Garfield High School to lead its music program. He founded the Garfield jazz program in 1979, and in over three decades of leadership, he has made the name "Garfield" synonymous with excellence in high school jazz. Garfield's Jazz Ensemble has taken first place four times (2003, 2004, 2009, 2010) at New York's Essentially Ellington National Jazz Band Competition and Festival at New York City's Lincoln Center – the country's most prestigious high school jazz competition. Under Clarence's direction, the jazz ensemble has won nearly every major competition on the West Coast. Clarence co-founded the Seattle Repertory Jazz Orchestra in 1995 and performed at the New Orleans Creole Restaurant for more than two decades with the Floyd Standifer Quartet.
Carl Allen, Drums
With over 200 recordings to his credit, New York-based drummer, sideman, bandleader, entrepreneur, and educator, Carl Allen's profound and propulsive percolations have provided soulful and syncopated support for nearly three decades.
Starting a year before graduating from William Patterson, Carl served as Freddie Hubbard's Musical Director for eight years and made several recordings with Hubbard including Double Take and Life Flight.
He also played with Michael Brecker, Randy Brecker, Benny Golson, Jennifer Holliday, J.J. Johnson, Rickie Lee Jones, Sammy Davis Jr., Branford Marsalis, Kenny Garrett, Lena Horne, Ruth Brown, Wayne Shorter, Herbie Hancock, Bobby Hutcherson, Mike Stern, Nellie McKay, Terence Blanchard, Phil Woods, Benny Green, Cyrus Chestnut, Joe Henderson, Billy Childs and many others.
Sid Gribetz of JazzTimes wrote, "more than just another fine drummer, Carl Allen has it all together as a bandleader, businessman, and producer, becoming a force in today's jazz world."
Dan Balmer, Guitar
Long considered one of the finest guitarists and composers in the Northwest, Dan Balmer's compositions have appeared in movies, television, and radio internationally. One of only five Oregonians honored with membership in both The Oregon Music Hall of Fame and the Jazz Society of the Oregon Hall of Fame, he has a long history of recording and touring.
From 2005 to 2009 Dan toured and recording with two-time Grammy-winner Diane Schuur. He also leads his own groups and continues long-standing gigs with top musicians around the country. An acclaimed educator, Dan has given clinics here and abroad.
George Cables, Piano
Pianist George Cables has performed and recorded with some of the greatest jazz musicians of our time, including Joe Henderson, Roy Haynes, Max Roach, Art Blakey, Sonny Rollins, Woody Shaw, Sarah Vaughn, Tony Williams, Bobby Hutcherson, and Dizzy Gillespie. He has recorded numerous albums as a soloist and ensemble leader including the iconic Cables' Vision with Freddie Hubbard.
He is noted for his fresh interpretations of classic compositions and for his innovative style of writing. George is currently performing and recording as a soloist, with trios and larger ensembles, and as a clinician in college jazz programs.
Dawn Clement, Piano
Pianist, composer, and vocalist Dawn Clement moved two years ago from Seattle to Denver, Colorado, to take on the role of Assistant Professor and Area Coordinator of the Jazz and American Music Department at Metropolitan State University of Denver.
Dawn has five albums under her belt and is involved in several collaborations including the Jane Ira Bloom Quartet, Priester's Cue (with the legendary trombonist Julian Priester), and her own trio. Dawn has performed with such notables as Nancy King, Ingrid Jensen, Hadley Caliman, John Clayton, Mercer Ellington, and Mark Dresser, and has toured the US with the Sabella Consort and the Rubin/Clement Piano Dialogues.
Anat Cohen, Clarinet/Tenor Sax
Grammy-nominated clarinetist-saxophonist Anat Cohen has won hearts and minds the world over with her expressive virtuosity and delightful stage presence. Anat has been declared Clarinetist of the Year by the Jazz Journalists Association every year since 2007 and has also been named the top clarinetist in both the readers and critics polls in DownBeat for multiple years running. In 2009, ASCAP awarded Anat a Wall of Fame prize for composition and musicianship, among other honors. Having first appeared at the Newport Jazz Festival in 2007, she had the honor of being the music director for the Newport Jazz Festival Now 60! all-star band that toured the US on the occasion of the festival's 60th anniversary in 2014. In 2017, Anat played major European festivals as part of the all-star, all-female band called ARTEMIS alongside the likes of Renee Rosnes and Cécile McLorin Salvant. She has also toured in a duo with acclaimed pianist Fred Hersch, as well as with iconic Cuban singer Omara Portuondo.
Tanya Darby, Trumpet
Tanya Darby was recently appointed Chair of the Brass Department at the Berklee College of Music. Originally from Seaside, California, Tanya is a current and veteran member of a variety of renowned groups, including the Vanguard Jazz Orchestra, Roy Hargrove Big Band, DIVA Jazz Orchestra, Michel Camilo Big Band, Rufus Reid Large Ensemble, and Manhattan Jazz Orchestra.
She has performed and toured with a diverse array of artists and ensembles, including the Jazz at Lincoln Center Orchestra, Count Basie Orchestra, Ron Carter Great Big Band, Paquito D'Rivera, Gladys Knight, Dianne Reeves, and many others. As an educator, Tanya teaches master classes and has been a clinician and adjudicator at numerous festivals, both domestic and abroad. She received her master's degree in jazz performance from Rutgers University in 2012, and a bachelor's degree in jazz performance from the Manhattan School of Music in 1998.
Chuck Deardorf, Bass
Chuck Deardorf has been an integral member of the Northwest jazz scene for over two decades. A respected acoustic and electric bassist, his dynamic performances have been a part of countless festivals, nightclubs, and recording sessions, touring with such jazz greats as saxophonists Bud Shank and Don Lanphere; pianists George Cables, Bill Mays, and Kenny Barron; and guitarists Larry Coryell and Bruce Forman.
He's performed with legendary artists Chet Baker, Kenny Werner, Herb Ellis, Charlie Byrd, Eric Alexander, Phil Woods, Zoot Sims, Pete Christlieb, Joe LaBarbara, Jeff Hamilton, Victor Lewis, Joe Williams and Mark Murphy.
He is currently a member of the Susan Pascal Quartet and Jovino Santos Neto Quinteto, and tours with the New York Voices.
Alex Dugdale, Educator Track
Saxophonist, tap dancer and Earshot Jazz's 2016 "Emerging Artist of the Year" award winner, Alex Dugdale performs in many big bands and leads his FADE Quartet with regular performances in the Seattle area. Alex attended the Eastman School of Music, obtaining a degree in Jazz Performance, followed by a master's degree in education from Seattle Pacific University.
He currently works for Edmonds-Woodway High School, Bishop Blanchet High School's Grade School Band Program, and Eckstein Middle School. Alex has performed with Smith Staelens and Hal Sherman Big Bands and the Seattle Repertory Jazz Orchestra.
Chuck Easton, Theory
Multi-instrumentalist and composer Chuck Easton is equally at home on the bass, flute, piano, clarinet, saxophone, trumpet, trombone, and violin, though he is best known for his jazz guitar work.
He received his music degree from the Berklee School of Music and plays throughout the Pacific Northwest. A National Endowment of the Arts Jazz Composition award recipient, Chuck has been a conductor of the Northwest Big Band and teaches jazz improvisation and music theory.
Tia Fuller, Alto Sax
Tia Fuller balances the worlds of performance and education as both a touring and recording artist and a full-time professor at the Berklee College of Music in Boston. The Denver, Colorado native graduated ​magna cum laude ​from Spelman College, and ​summa cum laude ​ with a Master's degree in Jazz Pedagogy and Performance from the University of Colorado at Boulder​.
Tia has recorded five CD's as a leader, the most recent of which, ​Diamond Cut, received a Grammy nomination.Tia's quartet has performed in festivals around the world. She also performs with several other bands, including Terri Lyne Carrington, Project, ​Money Jungle and ​Provocative in Blue, and has appeared with the Ralph Peterson Septet, Rufus Reid Quintet, Wycliff Gordan Septet, T.S. Monk Sextet, Chaka Khan, Ledisi, Kelly Rowland, Jay-Z, Jill Scott, Patti LaBelle, Sheila E, Valerie Simpson, Dionne Warwick, Janelle Monáe, Patrice Rushen, Erykah Badu, Aretha Franklin, Nancy Wilson, and Geri Allen. She has received numerous awards, including​JazzTimes' Jazz Critics Poll for best alto saxophonist (2018), and ​Downbeat Critic's Poll-​Rising Star ​twice in Soprano Sax​ (2014) and Alto Sax​​ and Flute​​ in 2013.
Michael Glynn, Bass

Bassist Michael Glynn is a fixture on the West US jazz scene, performing with countless musicians throughout the Pacific Northwest, California, and New Mexico. Michael has performed with Bud Shank, Jon Hendricks, Bobby Shew, Mark Levine, Dave Grusin, Geoffrey Keezer, Seamus Blake, Eric Alexander, David Hazeltine, Benny Green, Gary Smulyan, Conte Candoli, Bob Florence, Doug Lawrence, Madeline Eastman, Dena DeRose, and the Cab Calloway Orchestra.
Michael also performs in a variety of genres including classical works with the New Mexico Philharmonic, the New Mexico Symphony Orchestra, and Opera Southwest, calypso with legend Ray Holman, and an Arabic/Western blend with Iraqi-American oud virtuoso Rahim Al Haj.
Wycliffe Gordon, Trombone
Wycliffe Gordon's busy schedule encompasses performing, composing, arranging and recording. He is the recipient of many awards: He has been named him "Trombonist of the Year" 12 times The Jazz Journalists Association, and "Best Trombone" five of the past six years by the Downbeat Critics Poll.
In addition to his solo career, Wycliffe tours regularly leading his quintet. He is commissioned frequently as a composer and has an extensive catalog of jazz and chamber music works. Perhaps his most frequently heard work is his arrangement of the theme song to NPR's "All Things Considered," which is aired daily across the globe.
Wycliffe is a veteran member of the Wynton Marsalis Septet, the Lincoln Center Jazz Orchestra and he has been a featured guest artist on Billy Taylor's "Jazz at the Kennedy Center" Series.
A dedicated educator, Wycliffe is Visiting Artist in Jazz Studies at the Arizona State University in Phoenix, and is Director of Jazz Studies at Augusta University in Augusta, GA.
Juliane Gralle, Trombone
Born and raised in Germany, Juliane Gralle moved to The Netherlands to earn her degrees at the Conservatory of Amsterdam, and eventually made her way to Los Angeles in the summer of 2012. There she can be found playing trombones (bass, tenor and contrabass) and tuba, performing in concerts on open air stages and in tucked away places… jazz clubs, theatres, beautiful halls, live music establishments and recording studios. In a huge and diverse city like Los Angeles Juliane finds it difficult to choose a single genre to belong to, so why not do it all?
Juliane frequently plays in studios with artists ranging from Quincy Jones, Jeff Hamilton and John Clayton to Lady Gaga and the Dirty Projectors as well as recording for TV, motion pictures and the Golden Globes. She considers herself fortunate – with an education, a thick skin and an open mind she has established herself in an inspiring work environment.
Randy Halberstadt, Piano
Randy Halberstadt has been a major figure on the Pacific Northwest jazz scene for many years. A pianist, arranger, composer, lyricist, and author, Randy enjoys an international performing career playing with musicians at the top of their game, including Herb Ellis, Terry Gibbs, Buddy de Franco, Matt Wilson, Pete Christlieb, Bobby Shew, Joe LaBarbera, and many others.
In 1990, he performed at the Monterey Jazz Festival with drummer Mel Brown. Randy has performed with the Seattle Symphony and is the pianist for the Seattle Repertory Jazz Orchestra. As a full professor at the prestigious Cornish College of the Arts until May 2018, Randy coached ensembles and taught jazz theory, piano, and ear training.
Jon Hamar, Bass
Jon Hamar is a versatile bassist who is comfortable in virtually any musical situation. Born in Kennewick, Washington he earned his Bachelor of Arts degree in Classical Double Bass Performance from Eastern Washington University and a Master's degree in Jazz and Contemporary Media from the Eastman School of Music.
In 2001 Jon relocated to Seattle and was busy as a freelance bassist. He also performed for four years with jazz and blues icon Ernestine Anderson and other Northwest notables such as Greta Matassa, Jim Knapp, Randy Halberstadt, Dawn Clement, Kelley Johnson and John Hansen. In the Fall of 2015 Jon joined the faculty at the Natalie Haslam School of Music at the University of Tennessee in Knoxville, Tennessee.
Jeff Hamilton, Drums
Versatile drummer Jeff Hamilton brings originality to every group he performs with, and it's one of the things that makes him constantly in demand, whether for recording, performing with his trio, or co-leading the Clayton-Hamilton Jazz Orchestra. In addition to his many recordings with Ray Brown, Jeff has been on nearly 200 recordings with artists such as Natalie Cole, Diana Krall, Milt Jackson, Rosemary Clooney, Barbara Streisand, Mel Torme, John Pizzarelli, and Benny Carter. Hamilton is a frequent guest of the WDR Big Band in Cologne, Germany. He also appeared in Natalie Cole's Great Performances PBS special, Unforgettable, and an Oscar Peterson documentary, Life In The Key Of Oscar.
John Hansen, Piano

John Hansen is one of the most in-demand jazz pianists in the Northwest. A studied and musical ensemble player with a strong melodic vocabulary, John has always been recognizable for a unique personal voice. His performance history includes top US venues as well as tours in France, Japan, Korea, Eastern Europe, Central Asia, Russia, and Central America. John has performed and recorded with many of the Northwest's premier award-winning bands including the Jay Thomas Quartet, the Jim Knapp Orchestra, Kelley Johnson, and the Bill Ramsay-Milt Kleeb Band. He has been invited to perform with the Seattle Symphony, Rick Margitza, Randy Brecker, Ingrid Jensen, Ernestine Anderson, The Woody Herman Orchestra, Bud Shank, Bobby Shew, David "Fathead" Newman, and more.
Marion Hayden, Bass
Born in Detroit in 1952, Marion Hayden grew up on the industrial west side of the Motor City, taking up piano at the age of nine, and bass at 12. She took classes at Michigan State University and then the University of Michigan, gaining a liberal arts degree with a minor in entomology, then took a position with the Michigan Department of Agriculture while working the nightclub circuit. From there her career took off as one of the founding members of the all-female ensemble Venus, followed by the band Straight Ahead in collaboration with Regina Carter, pianist Eileen Orr, and drummer Gayelynn McKinney. Her versatility led her to a wide variety of engagements, but also gave her the opportunity to develop her skills as an educator and she is now on the faculty at the University of Michigan School of Music. She has performed or recorded with such jazz veterans as Kirk Lightsey, Ralph Peterson, Jr., Terry Callier, Dizzy Gillespie, Sonny Fortune, Kenny Burrell, Steve Turre, Cecil Bridgewater and James Carter, Her solo CD Visions was released in 2008, and she has composed a suite based on the writings of poet Phyllis Wheatley.
Gary Hobbs, Drums
Gary Hobbs is a native of the Pacific Northwest and lives in Vancouver, WA. His father and grandfather were both semi-pro drummers, but the drum bug didn't bite Gary until his senior year in high school. He attended a Stan Kenton Jazz Camp where he studied with legendary jazz drummer and educator John Von Ohlen, who convinced him to pursue drumming professionally.
After a stint in the army, Gary was invited to join the Kenton Band and toured with them almost non-stop for two and a half years. Since then, his hometown has been his home base from which he has commanded a successful career as a drummer and educator. In addition to playing all over the Pacific Northwest, Gary teaches at The University of Oregon. He has traveled the world as a sideman with jazz greats such as Randy Brecker, Anita O'Day, and Eddie Harris, and in his own right as an educator and clinician.
Kelby MacNyr, Drums
Percussionist, composer, music director, and band leader Kelby MacNayr performs jazz, classical, and new music, and has collaborated with Anne Schaefer, pop group Elephant Island, Christine Jensen, Chuck Deardorf, Ian McDougall, Chet Doxas, and many others.
Kelby is the founding Artistic Director for the Art of the Trio Series and has performed as a member of the Marc Atkinson New Quartet, George Colligan Quartet, New York pianist Misha Piatigorsky's (Canadian) trio, the Scott White Quartet, the Storm Nilson Trio and the Marianne Trudel Quintet. MacNyr leads his own quintet, which in 2013 released the album The Measure of Light featuring Phil Dwyer, Dan Lapp, Miles Black, and Tom Wakeling.
Renee Marie, Vocalist
In a span of two decades, 11 recordings and countless stage performances, vocalist René Marie has cemented her reputation as not only a singer but also a composer, arranger, theatrical performer and teacher.
Guided and tempered by powerful life lessons and rooted in jazz traditions laid down by Ella Fitzgerald, Dinah Washington and other leading ladies of past generations, she borrows various elements of folk, R&B and even classical and country to create a captivating hybrid style. Her body of work is musical, but it's more than just music. It's an exploration of the bright and dark corners of the human experience, and an affirmation of the power of the human spirit.
René joined the Motéma label with the 2011 release of Voice of My Beautiful Country, followed later that same year by Black Lace Freudian Slip. Her 2013 followup, I Wanna Be Evil: With Love To Eartha Kitt, earned a Grammy nomination in the Best Jazz Vocals category. The newest installment in her ever-expanding body of work is Sound of Red, a CD set for release on Motéma in April 2016. It's her first album of all-original material, an 11-song set that provides insightful glimpses into the many small but profound turning points that are part of an individual life.
Allison Miller, Drums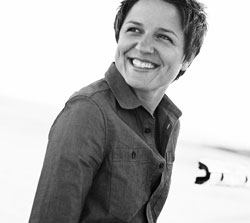 New York-based drummer/composer/teacher Allison Miller engages her deep roots in improvisation as a vehicle to explore all music. Described by critics as a Modern Jazz Icon in the Making, Miller won DownBeat magazine's 67th Annual Critics Poll "Rising Star Drummer" and JazzTimes magazine's Critic's Poll. Her composition, "Otis Was a Polar Bear," is included on NPR's list of The 200 Greatest Songs by 21st Century Women+. She is also the first recipient of the Mid-Atlantic Arts Foundation's Commissioning Grant. In January 2020 Miller along with her band, Boom Tic Boom, tap dancer-Claudia Rahardjanoto, and video designer Todd Winkler premiered a new multimedia suite, In Our Veins.
Allison teaches at the New School for Jazz and Contemporary Music (where she was recently named a Melba Liston Fellow), Stanford Jazz Workshop, Centrum, Geri Allen Jazz Camp, and is the Artistic Director of Jazz Camp West. She has been appointed Arts Envoy to Thailand for her work with Jazz Education Abroad.
Miles Okazaki, Guitar
Miles Okazaki is a New York-based guitarist originally from Port Townsend. His approach to the guitar is described by the New York Times as "utterly contemporary, free from the expectations of what it means to play a guitar in a group setting — not just in jazz, but any kind." His experience as a sideman over the last two decades covers a broad spectrum, from standards to experimental music (Kenny Barron, John Zorn, Stanley Turrentine, Dan Weiss, Matt Mitchell, Jonathan Finlayson, Jane Monheit, Amir ElSaffar, Darcy James Argue, and many others).
He appeared with Steve Coleman and Five Elements from 2009-2017. As a leader, Okazaki has released five albums of original compositions over the last 12 years and is an artist on the Pi Recordings label. He has also released a six-album recording of the complete compositions of Thelonious Monk for solo guitar, published a book Fundamentals of Guitar, has taught at University of Michigan for five years, and holds degrees from Harvard, the Manhattan School of Music, and the Juilliard School.
Ellen Rowe, Piano and Arranging
Ellen Rowe, jazz pianist and composer, is currently Arthur F. Thurnau Professor of Jazz and Contemporary Improvisation at the University of Michigan. Prior to her appointment in Michigan, she served as Director of Jazz Studies at the University of Connecticut. She is a graduate of the Eastman School of Music. Ellen has performed with Kenny Wheeler, Tim Ries, Tom Harrell, John Clayton, Ingrid Jensen and Steve Turre and was also a guest on two installments of Marian McPartland's "Piano Jazz" on National Public Radio. Her quintet has performed at conferences and jazz clubs around the U.S. and Europe. She has released several CD's as a leader. Her latest project, "Momentum – Portraits of Women In Motion," features Ingrid Jensen, Tia Fuller, Marion Hayden and Allison Miller. Ellen is active as a clinician and has given workshops and master classes at universities around the world. She was recently composer-in-residence at the Eastman School of Music. Her compositions and arrangements have been performed and recorded by jazz ensembles and orchestras around the world, including the Village Vanguard Orchestra, BBC Jazz Orchestra, U.S. Navy Commodores, Berlin and NDR Radio Jazz Orchestras, London Symphony, DIVA and the Perth Jazz Orchestra. Ellen also serves as the Coordinator for the JEN Sisters In Jazz Collegiate Combo Competition.
Gary Smulyan, Baritone Sax

Gary Smulyan attended SUNY-Potsdam and Hofstra University before he joined Woody Herman's Young Thundering Herd. He later became part of the Mel Lewis Jazz Orchestra under the direction of Bob Brookmeyer. Gary worked with Mingus Epitaph band and the Smithsonian Jazz Masterworks Orchestra and has shared the stage and recording studios with Freddie Hubbard and Dizzy Gillespie, Stan Getz, Chick Corea, Tito Puente, Ray Charles, B.B. King and Diana Ross. Gary is a six-time Grammy award-winner for his work with B.B. King, Joe Lovano, Dave Holland, and the Vanguard Jazz Orchestra.
Terell Stafford, Trumpet
Acclaimed New York–based trumpet player Terell Stafford has been hailed as "one of the great players of our time" by piano legend McCoy Tyner. Stafford combines a deep love of melody with his own brand of spirited and adventurous lyricism.
Since the mid-90s Stafford has performed with groups such as Benny Golson's Sextet, McCoy Tyner's Sextet, Kenny Barron Quintet, Frank Wess Quintet, and Dizzy Gillespie All-Star Alumni Band.
Stafford is the Director of Jazz Studies and Chair of Instrumental Studies at Temple University, founder and bandleader of the Terell Stafford Quintet, and Managing and Artistic Director of the Jazz Orchestra of Philadelphia (JOP).
Chris Symer, Bass
Born and raised in Southern California, in 2002 bassist Chris Symer relocated to the Northwest, where he continues to make his living as a freelance musician. Equally comfortable in the classroom, stage, or recording studio, Chris has played and taught clinics throughout Europe, Asia, and North and South America. He has appeared on soundtracks for television, movies, theatre, performance art, and in settings from duos to big bands and symphony orchestras. Notable projects have included recordings with Bill Anschell (Rumbler, 2017), Johnaye Kendrick (Here, 2014), and James Knapp's Scrape, as well as tours with Anschell (2012, 2014) and Kendrick (2013).
Katie Thiroux, Bass, Vocalist
As a bass player, singer and composer Katie Thiroux is a "triple threat." Her debut album, Introducing Katie Thiroux, has received awards from the Huffington Post, All About Jazz, the Jazz Journalist's Association and the NPR Jazz Critics Poll. She was a semi-finalist in the 2015 Thelonious Monk Competition, and has been featured in DownBeat Magazine and on NPR. In May, 2017 Katie served as musical director in a tribute to Ella Fitzgerald at the Grammy Museum in Los Angeles.
She has performed at the Blue Note, Birdland, the San Jose Summer Jazz Fest, NAMM and the Juneau Jazz and Classics Festival, and recently returned from a two-month residency in Dubai.
Brianna Thomas, Vocalist
Born and raised in Peoria, Illinois, Brianna Thomas made her singing debut at the age of six. By age 12 she had appeared at the Montreux, North Sea, and Umbria jazz festivals, and in 2001 – 2002 she was a resident in the Betty Carter Jazz Ahead Program at the Kennedy Center. In 2006 Brianna made her New York debut at Dizzy's Club Coca-Cola, and in 2009 she won the New York Jazzmobile Vocal Competition. Brianna has performed in venues and festivals across the world, including the Sochi and St. Petersburg Jazz Festivals, the International Jazz Festival in Bern, Switzerland, the Savannah Music Festival in Savannah, Georgia, and Jazz at Lincoln Center Doha, Qatar, as well as concert halls and venues in Europe, Southeast Asia and the Middle East. Since graduating college in 2011, Brianna has performed at Lincoln Center, Carnegie Hall, the Jazzmobile Summer Stage, the New York Hot Jazz Festival, Charlie Parker Jazz Festival, Smoke, The Iridium, 54 Below and Ginny's supper Club, leading her own band. Brianna has performed with artists such as Wycliffe Gordon, Wynton Marsalis, the Jazz at Lincoln Center Orchestra, the Legendary Count Basie Orchestra, Dianne Reeves, Catherine Russell, Russell Malone, Marcus Printup, and Rock and Roll Icon Steve Miller. In 2014 Brianna released her debut album, You Must Believe in Love, and her sophomore release will follow soon.
Jay Thomas, Trumpet
Jay Thomas is a multi-instrumentalist, appearing on more than 60 recordings that run the gamut from hip-hop to acid-jazz, rock, Latin, and big band. Jay has performed in concert with numerous prominent musicians, including Mel Lewis, John Clayton and Jeff Hamilton, Maria Schneider, Bill Holman, Bob Florence, and Frank Wess. He has also played at the Wolf Trap, Aspen, and duMaurier Jazz Festivals. Thomas toured Great Britain with jazz legend Slim Gaillard recording there with Slim, Jay McShann, and Buddy Tate.
Donald Vega, Piano
Donald Vega was trained classically in piano in his native Nicaragua. He emigrated to the United States at age 14 and found a musical home at the Colburn School of Performing Arts, where he studied classical piano. Donald began learning the language of jazz from mentor Billy Higgins at The World Stage while continuing at Colburn and USC, and graduated from the Manhattan School of Music and The Juilliard School. Donald currently performs with Ron Carter's Golden Striker Trio.
He also sits on the board of BackCountry Jazz, a non-profit organization which provides music education programs and performances to underprivileged youth. He is also an adjunct professor at both SUNY Purchase and The Juilliard School.
Donald has released three CD's as a leader, and appears on several albums with Ron Carter's trio. He is currently working on his fourth album, a tribute to his own immigration story as well as the thousands of migrants impacted by the U.S.'s current immigration policies.
Eric Verlinde, Piano
Pianist Eric Verlinde has excited audiences worldwide with his energetic and passionate performances. He has played with Arturo Sandoval, Randy Brecker, Eric Alexander, Terell Stafford, Mark Murphy, Luis Conte, Thelma Huston, Floyd Standifer, Buddy Cattlet, Bryan Lynch, Hadley Caliman, Francine Reed, Bobby Medina, Thomas Marriott, and Bill Waltrous. Eric has composed more than 200 pieces of music in many different genres, including jazz, gospel, funk, electronic, neoclassical, Latin-jazz, rock, and R&B. Eric is in high demand and is constantly performing, refining his sound and creating new music. His different groups create music that is pure, creative, spontaneous, superbly structured and melodic.
Sunny Wilkinson, Vocalist
Sunny Wilkinson has a rich stage history, having performed at jazz festivals, with symphony orchestras, and at clubs and music programs across the country. She has sung with music icons such as The Count Basie Orchestra, Rob McConnell and the Boss Brass, Clark Terry, Mark Murphy, Milt Hinton, Curtis Fuller and many more. She has recorded four CD's as leader, including her latest, "Into the Light," and has made numerous guest appearances.
Sunny has also made significant contributions in jazz education. She was the head of the vocal jazz program at Michigan State University for 18 years. Presently she is adjunct faculty at Western Michigan University and an artist in residence at the University of Michigan. She developed a mentoring program for young women jazz musicians called "Sisters in Jazz" that was taken to an international level through IAJE. Many of her former students now lead vocal jazz programs at universities around the country and have successful careers as jazz performers and recording artists.
Matt Wilson, Drums
Grammy nominee Matt Wilson leads the Matt Wilson Quartet, Arts and Crafts, Christmas Tree-O, and the Carl Sandburg Project. He is an integral part of bands led by Joe Lovano, John Scofield, Charlie Haden, Lee Konitz, Bob Stewart, Denny Zeitlin, Ron Miles, Marty Ehrlich, Ted Nash, Jane Ira Bloom, and Dena DeRose among others. He has performed with many legends including Herbie Hancock, Dewey Redman, Andrew Hill, Bobby Hutcherson, Elvis Costello, Cedar Walton, Kenny Barron, John Zorn, Marshall Allen, Wynton Marsalis, Michael Brecker, Pat Metheny, Bill Frisell and Hank Jones. Most recently, he was named 2018 Musician of the Year by the JJA and also received the organization's Record of the Year honor for Honey And Salt.