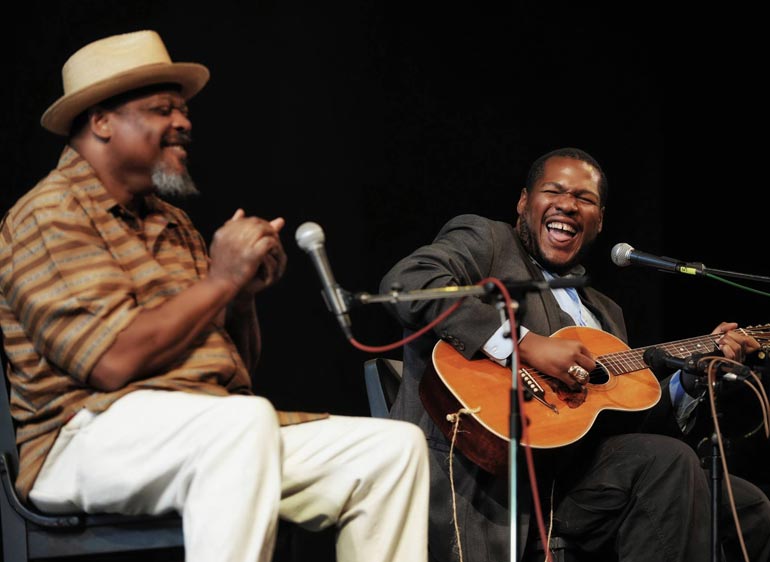 Blues in the Clubs is perhaps the signature experience of the Port Townsend Acoustic Blues Festival. On Friday and Saturday night of festival week, the artist faculty head to numerous venues in Port Townsend's historic downtown and uptown districts to play sets in all sorts of interesting combinations.
One wristband each night gives you access to all venues, and an amazing variety of musicians. Please read our Wristband Policies.

Blues in the Clubs: August 4-5, 2017
Friday and Saturday Night – 8pm-midnight
Admission: $25 wristband – all access

Blues in the Clubs is a moveable feast of great music in various downtown venues, with each venue operating on a first-come, first-seated basis. Your wristband is an all access pass, and we encourage you to move around throughout the evening to gain the full benefit of the clubs experience. Venue hosts will help direct you to available seating or standing room options.
Friday, August 4, 2017
American Legion Hall (all ages)
209 Monroe Street

8-9p:  Mrs. Phelps
Seattle all-girl band featuring Blues participants, Kate and Clare Molloy along with Isabel Russak, Stella Beihl and Erica Monda
9:15-10:15p: Phil Wiggins, Darren Loucas, and Johnson's Nails
Johnson's Nails includes: Blues faculty Phil Wiggins and Darren Loucas with Bill Molloy, Wayne Horvitz, Eric Eagle, Keith Lowe
10:30p-12a: Phil Wiggins, Darren Loucas, and Johnson's Nails
Johnson's Nails includes: Blues faculty Phil Wiggins and Darren Loucas with Bill Molloy, Wayne Horvitz, Eric Eagle, Keith Lowe
The Boiler Room (all ages)
711 Water Street

8-9p: Alex Andrews
9:15-10:15p: Adam Tanner
10:30p-12a: Lauren Sheehan
Key City Public Theater
419 Washington Street

8-9p: Suzy Thompson
9:15-10:15p: Steve James
10:30p-12a: Lightnin' Wells
The Old Whiskey Mill
1038 Water Street

8-9p: Eleanor Ellis
9:15-10:15p: Alvin Youngblood Hart
10:30p-12a: Jerron Paxton
Pope Marine Building
607 Water Street

8-9p: John Maxwell and Sean Divine
9:15-10:15p: Ernie Vega, Ben Fox & Aaron Gunn
10:30p-12a: Crow Quill Night Owls
Cellar Door
940 Water Street

8-9p: Ben Payton
9:15-10:15p: Marcus Cartwright
10:30p-12a: Meredith Axelrod
Beverly's Hall
1034 Water St
8-9p: Happy Traum
9:15-10:15p: Henry Butler
10:30p-12a: Ethan Leinwand
---
Saturday, August 5, 2017

American Legion Hall (all ages)
209 Monroe Street

8-9p: Alvin Youngblood Hart
9:15-10:15p: Zydeco with Sunpie Barnes, Leory Etienne, Randy & Dean Mueller
10:30p-12a: Zydeco with Sunpie Barnes, Leory Etienne, Randy & Dean Mueller
The Boiler Room (all ages)
711 Water Street

8-9p: Steve James
9:15-10:15p: John Maxwell
10:30p-12a: Daren Loucas & Sean Divine
Key City Public Theater
419 Washington Street

8-9p: Ernie Vega, Ben Fox, & Aaron Gunn
9:15-10:15p: Ben Payton
10:30p-12a: Happy Traum
The Old Whiskey Mill
1038 Water Street

8-9p: Marcus Cartwright
9:15-10:15p: Eleanor Ellis & Phil Wiggins
10:30p-12a: Meredith Axelrod
Pope Marine Building
607 Water Street

8-9p: Lightnin' Wells
9:15-10:15p: Jerron Paxton
10:30p-12a: Crow Quill Night Owls
Cellar Door
940 Water Street

8-9p: Lauren Sheehan
9:15-10:15p: Adam Tanner
10:30p-12a: Alex Andrews
Beverly's Hall
1034 Water St
8-9p: Henry Butler
9:15-10:15p: Suzy Thompson
10:30p-12a: Ethan Leinwand