Centrum's "Virtual" Red Hot Strings 2021: A Space-Age Celebration Of The Great Jazz-Age String Players
Daily classroom instruction by our noted professional staff; mini-concerts by up-and-coming professional level young players; a salon for attendees to hangout and chat, songs swaps and show-and-tell of instruments; half-hour shows by still-under-the-radar professional players; group performances by our teaching staff; and several hour-long one-of-a-kind themed workshops featuring invited guests hosted by members of our teaching staff.
MAY 14 – 16, 2021
With our opportunities for in-person music making sadly still limited, RHS 2021 will be taking full advantage of the electronic interconnectivity of our world, as we bring together instructors, performers, students, and fans of this music from all across the globe. From Hot Jazz to Western Swing, Rags to Beguines, we'll be offering rich classroom instruction in guitar, banjo, mandolin, fiddle, steel guitar and bass during our mornings; unique workshops by noted guest artists during our afternoons; and evening concerts featuring the entirety of our staff and guests on Saturday and Sunday.
Our virtual Centrum campus will also feature a lounge where participants can always retreat to share a song, have instrument and gear show-and-tells, and enjoy inspiring performances by some accomplished younger musicians who we are fortunate to host as our invited guests. And, the entirety of our weekend's activities will be recorded, and all participants will have streaming access to the classes, concerts and workshops through the end of the year – so we hope that you will take the weekend at a relaxed pace, knowing you will not have to miss out on a note!
---
FEATURING A FACULTY OF 13 MUSICIANS AND INSTRUCTORS
Albanie Falletta
Dennis Lichtman
Gabe Terracciano
Joel Paterson
Matt Weiner
Mikiya Matsuda
Tyler Jackson
Matt Munisteri
Special presentation guests include:
Aaron Weinstein
Charlie Burnham
Craig Ventresco
Howard Alden
Jonathan Stout
Tomotaka Matsui and Mario Takada
Noam Pikelny
May 14 – 16, 2021
Fort Worden State Park, Port Townsend, WA
Matt Munisteri, Artistic Curator
---
Artistic Curator, Matt Munisteri
Guitarist, singer, songwriter, and Brooklyn native Matt Munisteri grew up with early interest in American folk music that led him from finger-style Country and Ragtime guitar, through Blues, to Tin Pan Alley and Jazz. His own compositions, and lauded guitar playing, accurately reflect this life-long immersion in the history of American Popular song; linking rural and urban, long-gone with contemporary. As one of "New York's finest vintage guitar stylists" (Downbeat Magazine), Matt is regularly called upon to play on a wide range of CDs, movie soundtracks, television shows, and commercials. He's also worked with a wide range of artists in the studio and on the road. Over the past decade he's worked regularly with violinist Mark O'Connor's Hot Swing, Steven Bernstein's Millennial Territory Orchestra, and the singer Catherine Russell, in whose trio he is the guitarist and music director. A sought-after accompanist, Matt has recorded with many of today's most individual singers, including Holly Cole, Madeline Peyroux, Liz Wright, "Little" Jimmy Scott, Geoff Muldaur, Sasha Dobson, Catherine Russell, Kat Edmonson, and Loudon Wainwright. In addition to arranging for his own bands Matt has contributed arrangements to 5 of Catherine Russell's CDs, and to Wainwright's 2010 Grammy-winning CD "Hight Wide and Handsome – The Charlie Poole Project." In 2014 he was a co-producer of his friend Julian Lage's debut solo guitar CD "World's Fair". Matt's played every one of Carnegie's Halls, but on the rare occasions that he's not on the road, Sunday evenings find him crammed into a dim corner of a tiny watering hole on Manhattan's lower west side, playing music with cherished musicians and friends as The EarRegulars.
Artist Faculty
Joel Paterson
"Joel Paterson defines who the ideal session guy should be: selfless, musical, and born with impeccably good taste. His sympathetic hollowbody makes the jazz, country, rockabilly or swing he's backing come alive." — Timeout Chicago
My life is dedicated to playing guitar and exploring the sound and history of the roots music I love, including blues, jazz, country, western swing, and whatever else you want to call it. I live in Chicago, and I'm lucky to be surrounded by some of the finest musicians you will find anywhere. Rather than trying to have one band to brand and market, I enjoy playing in many projects, and putting together different lineups to play a variety of musical styles—to keep things fresh and to have the right sound to fit any occasion. It's always difficult to keep people updated with everything I'm up to (and it's hard for me to keep track of it all), but for info on the projects that I'm currently working on, check out the "Bands" section of my website. And check out the "Recordings" section of my site for ordering info on albums that are still in print and available for purchase.
Albanie Falletta
In her formative years Albanie was exposed to the local music of Louisiana: the sounds of Cajun, zydeco, blues and gospel music at festivals and backyard parties. After relocating with her family to Texas at the age of nine, she began taking guitar lessons and developing an interest in acoustic-roots and electric blues, punk rock, and hair metal. Albanie began her love and study of early American jazz as a freshman in high school when she was exposed to the Parisian Romani guitarist Django Reinhardt.
Listening fervently to recordings of Reinhardt, Louis Armstrong, Billie Holiday, Fats Waller, and other great figures, she began to develop her feel for swing. Soon she was performing alongside mentors and other players of the Austin scene. In the summer of 2013 Albanie relocated to New Orleans, Louisiana, where she currently lives and performs solo and with various ensembles.
Dennis Lichtman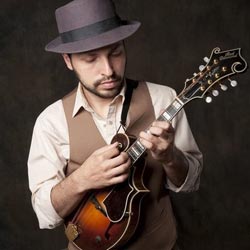 Multi-instrumentalist (clarinet, fiddle, and mandolin) deeply entrenched in early- to mid-1900's American music, from traditional jazz and swing to bluegrass and western swing, Dennis' elegant voice carries through on all his instruments, lending a thread that weaves together the various genres he navigates. Since 2007, Dennis has been the clarinetist and bandleader of the famed Tuesday night traditional-jazz jam session at Mona's in downtown New York, described by the Wall Street Journal as "ground zero for an emerging late-night scene of young swing and traditional jazz players." Dennis switches deftly between fiddle, clarinet, and mandolin while leading his western swing sextet, The Brain Cloud, through a broad array of American music including original compositions and new arrangements of old songs. Dennis has performed at Carnegie Hall, major festivals throughout the United States, and on stages in Europe, Brazil, and China. He has performed and recorded as a regular member of Ghost Train Orchestra, Pokey LaFarge Band, Nation Beat, Jim Kweskin Band, and many more.
Tyler Jackson

Tyler Jackson is a world renown tenor banjoist and upright bassist. Under the tutelage of Buddy Griffin, Tyler quickly learned the ukulele, tenor banjo, and electric bass. Tyler went on to study the double bass at the University of North Texas under Lynn Seaton and began to fine-tune his skills as a professional bassist. During this period, he was asked to work for Ray Price and the Cherokee Cowboys. Touring with Price took him all over the world and to venues across North America including the Grand Ole Opry, Massy Hall, Radio City Music Hall, Gruene Hall, as well as the Stagecoach Festival, Austin City Limits Live and more. In 2007-09 Ray Price teamed up with Willie Nelson and Merle Haggard to form the highly successful "Last of the Breed" tour. Tyler worked with many well-known artists spanning genres including Earl Klugh, John McEuen, Randy Travis, Jim Cullum, and Dale Watson.
Matt Weiner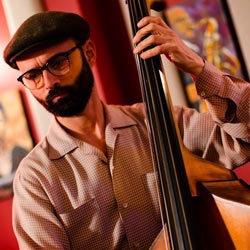 Big tone and solid rhythm have made Matt Weiner one of the busiest bass players in the Northwest. Inspired by the "prebop" bass players and their music, Matt's slapping out a syncopated jazz feel on one tune, on another bowing a folksy melody. Matt frequently performs upward of 200 shows per year, He can be spotted around Seattle and other places plucking, bowing and slapping his gut-strung bass with Jacob Zimmerman, Ray Skjelbred, Del Rey, Barton Carroll, Bric-a-Brac Trio, Squirrel Butter, Wayne Horvitz, Eli Rosenblatt, Casey MacGill and many others. He has also recorded and performed with The Todalo Shakers, The Hot Club of Cowtown, The Asylum Street Spankers, Butch Thompson, Becky Kilgore, Danny Barnes, Matt Munisteri, Jon-Erik Kellso, Rani Arbo and James Hill. Matt has taught at the Puget Sound Guitar Workshop, the Yukon Woodshed Acoustic Music Workshop, The Portland Ukulele Festival, The Menucha Ukulele Bandcamp, and 4 different Centrum music camps: The Ukulele Festival, the Country Blues Festival, Voiceworks and the Hot Strings Vintage Jazz Workshop.
Gabe Terracciano
"Adventurous, but always melodic…Terracciano plays with Joe Venuti's grace and Zbigniew Seifert's swagger." – Ian Patterson, AllAboutJazz.com (August 9, 2018).
A native of Portland, Maine, Gabe has been playing the violin since the age of three. After eight years of strictly classical training, he discovered the jazz violin playing of Joe Venuti, Stuff Smith, and later, Zbigniew Seifert, who all changed his musical life (and life in general!) forever. Since then, Gabe has developed into a versatile multi-instrumentalist and a musician who has been recognized for playing the violin "in a way that's unlike anyone else" (Sam Pfeifle, Portland Phoenix). As an improvising string player, Gabe has delved into the fields of modern jazz, Gypsy and hot jazz, Middle Eastern, electronic, pop, bluegrass, and Latin styles, just to name a few! He has played for many years throughout the United States as both a leader and sideman, including multiple performances at Dizzy's Club Coca-Cola (NYC), part of Jazz at Lincoln Center. He also spent several months during 2014 and 2015 in Ghana, where he played and toured extensively with the Ghanaian National Symphony Orchestra and toured throughout Costa Rica as a member of the East Eleventh Collective in the summer of 2017. Gabe is a member of the two-time Grammy-award winning Turtle Island String Quartet and has toured with them throughout the United States. He is also a member of several New York-based groups.
Mikiya Matsuda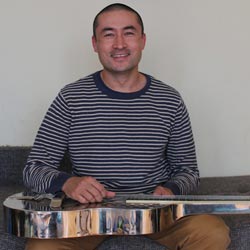 Mikiya Matsuda is a steel guitarist and sometimes string bassist living in San Francisco, CA. He is the leader of the Alcatraz Islanders, a swing-era Hawaiian group, and a regular sideman with various traditional jazz and western swing dance bands in the Bay Area.
Mikiya graduated from Amherst College with a B.A. in music, studied privately with steel guitarists John Ely and Alan Akaka, but mostly learned (and continues to learn) the instrument by listening and playing along with old western swing, country, Hawaiian, and mainland jazz recordings.
Class Descriptions

DENNIS LICHTMAN – MANDOLIN
SWING MANDOLIN COMPING using 3-NOTE CHORDS
More "chunk," less work! 4-note chords on the mandolin sparkle and shine, but if you want to drive that rhythm section like Freddie Green, you'll want to simplify. 3-note chord voicings can provide that rhythmic bite while easing up on the tricky hand and finger positions that 4-note voicings sometimes require. We'll discuss my favorite 3-note voicings (or shapes if you prefer to call them that) and how to apply them to recognizable swing tunes.
MANDOLIN RAGS AND SHOWPIECES
Who doesn't get goosebumps for a showstopper like Dave Apollon's recording of Russian Rag, Jacob do Bandolim's "Flight of the Fly," or the good old Black & White Rag? In this class, we'll dissect a classic mandolin showpiece from beginning to end, and work through the challenging fingerings and techniques that the tune presents. We'll discuss the "original" melodies, embellishments that have become conventions, and how to make these tunes your own.
MATT WEINER – BASS
ANATOMY OF A MURDER: Slam Stewart's I Got Rhythm Choruses (Intermediate-Advanced)
On June 9, 1945 Don Byas and Slam Stewart stepped on stage at Town Hall in New York City and delivered 2 blistering and deadly duets. On I Got Rhythm, Slam uses his bolt action German bow to absolutely kill it on his 2 choruses at about 288bpm. This solo has become an excalibur for bassists hoping to unlock the secrets of Slam's arco technique. In this workshop, we'll listen to the solo, take a look at a transcription and break down Slam's work into some easily (and some not so easily) digestible nuggets. We'll also go over some strategies and exercises for building speed with the bow. You'll leave with everything you need to recreate the crime scene.
TRAD BASS TOOLKIT (Beginners and up)
Simple strategies for 2-beat and walking bass lines. We'll break down bass lines into simple blocks of "vocabulary" so you can plug them into your favorite tunes and play. Understanding chord progressions and just enough theory to keep you awake. Suggestions for right and left hand-technique. Exercises and ideas for practicing bass lines on your own and keeping yourself engaged. As the joke goes, you'll be getting calls before class is even over.
TYLER JACKSON – TENOR BANJO
PLAYING IN A BAND
Want to be "the banjo player" in a traditional jazz band?
…NO??! Well then, it's time you got your Life Priorities straight buster – and this is just the class to help you do it! Common comping styles, fills, and basic soloing will all be tackled. We'll learn about playing solid rhythm, and how to efficiently navigate through standard chord progressions used in traditional jazz through a series of commonly used chord shapes. In addition to the above, students will also get several chord-melody solos to work on and take home. If you've never played the tenor banjo, but have experience playing other plectrum instruments, then this crash course will get you on your way.
SOLO STYLE TENOR BANJO
Take your playing to the next level by studying the masters of past. Students will be given an arrangement to learn that focuses on both single-string and chord melody solos in the style of Harry Reser, Perry Bechtel, Eddie Peabody, and more. We're going to learn many of the once-common right and left-hand techniques that are unique to solo 4-string banjo performances of days gone by. This virtuosic style is part of the reason why the tenor banjo was once the most popular stringed instrument in the country, yet it fell out of style when the guitar replaced the banjo in swing bands. But with traditional jazz groups popping up everywhere this style is ripe for a renewed renaissance! If you're serious about the tenor banjo, this is where it's at.
MATT MUNISTERI – GUITAR
SPRING TRAINING: EASY OUTS FOR THE CHORD-MELODY IMPROVISER
OK, so you're having fun with a couple of chord-melody arrangements, you're playing some intros and some endings, and you've even begun to include some chord-melody elements in your improvised solos…but too often you wind up chasing your ideas down a blind alley where your fingers ultimately crash, ending up a jagged ball of broken digits amid the twisted shrapnel of harmonic good intentions. Yeah…believe me: I get it. We must remember that even the greats of 1930's chord-melody playing – George Van Eps, Allan Reuss, Carl Kress – frequently worked out solos in advance, and, like any "improviser", they also had a trove of "go-to" tricks to navigate commonly encountered chord progressions. We all need a few tools in our bag that we can count on to quickly and painlessly extricate us from the prospect of certain wreckage while navigating the treacherous terrain of the fretboard's dusty outback. This will be hands-on instruction of specific fingering, and both tab and standard notion will be provided for examples culled from The Greats (including a couple favorite Eddie Lang-isms) as well as many of my own weird little workarounds. In short, I'll be giving away the farm. So – are you as eager as I am for all this strained sports/adventurer metaphor to come to an end? Great! Then join us for this for a hour-long dive into chord-melody "licks" that will leave you with creative, ear-grabbing "easy outs", and allow you to sidestep the disaster that lies waiting just beyond that next deadman's curve…
ORIGINS OF THE HOT GUITAR VOL I: THE INIMITABLE GUITAR OF GEORGE BARNES
In the mid 1930's a Chicago teenager began working as one of the first electric guitar players anywhere, and in 1938 he likely became the first person to record commercially on the electric Spanish guitar (which, uh, in case you haven't heard, went on to become, like, the most popular, era-defining instrument of the 20th century, all the world over). Over the past decade George Barnes' recordings, like most of copyright "protected" popular culture of the 20th century, have finally begun to resurface via the internet, and his playing is winning new fans…but it wasn't always thus. After coming across a florid description of his playing in a book by Whitney Balliett, I finally found my first George Barnes disc in a used record store as a teenager in 1982, and I've continued to return to his playing again and again over the years in ever-increasing amazement – at his sound, his touch, his technical command, his compositional ideas, and most of all at the astonishingly early, out-of-nowhere full flowering of a completely formed style. At his peak, Barnes' guitar playing was surprising, boundary-crossing, virtuosic and endlessly lyrical and impassioned – not to mention EVERYWHERE, by way of his staggeringly productive career as a session musician – yet his impact has remained perplexingly narrow among jazz guitarists, with his influence most often discerned in the playing of western swing and country guitarists. In this class I'll show you how to play one of Barnes' early masterwork solos – with as much elucidation
as possible on the specifics of his downstroke-based technique, and its role in his immediately identifiable phrasing. We'll also look at the deep command of harmony that marked everything he played, as we learn several of his signature licks – elements of which, I'm proud to admit, have remained only loosely camouflaged in my own playing for decades.
Tab and standard notation will be provided for all.
MIKIYA MATSUDA – STEEL
A STUDY IN CONTRASTS – FROM BOGGS TO MURPH
In the pantheon of Western swing steel guitar deities, few loom-larger than Noel Edwin Boggs and Earl James "Joaquin" Murphey. If you could only pick two artists to figure out what 1940s and 50s Western swing steel guitar was all about, the recordings of Boggs and Murph would be wise choices. And while the list of steel guitarists who pushed the instrument forward during this period is undeniably long, the styles of these two masters come close to covering the full range of what was possible on the instrument—at least in a Western swing context and before pedals came on the scene. As Paul Bigsby, inventor and instrument maker eloquently wrote: "There are two names that stand out above all the rest, at least out here on the Pacific Coast, Noel Boggs and Joaquin Murphey. I say outstanding because these two players were the originators of their distinctive styles, the two of them as different as night and day but each showed his personality in his style. Noel Boggs, married, father of three, a property owner and a solid citizen. You could hear it in every bar he played. Murph, on the other hand, single, unattached and his playing was 'out of this world', the greatest 'single string' picker that ever picked a steel guitar."
In this course, we'll closely examine recordings by each of these masters and use the provided transcriptions (in TAB & standard notation) to make sense of their iconic styles, learn to execute their techniques on our steel guitars, and attempt to absorb the beauty and logic of their ideas into our own playing. Beginner to advanced students and all flavors of tunings are warmly welcome—although having a guitar tuned to A6th or C6th (preferably with a high G) will make it much easier to follow along with the transcriptions.
SO, YOU'VE TRANSCRIBED YOUR FAVORITE SOLO…NOW WHAT?!
If you've spent any time studying jazz or improvisation, you've likely heard or been told that you need to transcribe solos in order to master the language. But how does the process actually work, do you have to write transcriptions down or not, and what do you do after you've gotten one under your belt?
This course is for anyone who is interested in transcription but feels overwhelmed by the process, or has been at it for a while but hasn't seen tangible results appear in their playing.
Attendees of the course will be assigned a soon-to-be-named recording and asked to sing or hum along with it on their own before the course. Bonus points for learning it on your instrument, but not at all required. The important thing is to just get familiar with the music on an intuitive level. Then in the session, we'll examine the solo more closely, play some of the phrases together, discuss technical issues as applied to our instruments, and then deal with the problem of what to do next.
Through this guided practice session, you'll come away with a toolkit of exercises and approaches you can use in your own studies and hopefully you'll feel inspired to make transcription a more regular and productive part of your learning. No prior experience in transcription or ability to read music needed.
ALBANIE FALLETTA – GUITAR
THE LANGUAGE OF LONNIE
Ever had a powerful otherworldly sense from mysterious origins that Lonnie Johnson is the greatest of all time, and that all other guitarists are obsolete? Never heard of the guy in your life? Perfect! This class is for you. I'll be sharing my love and admiration for Lonnie and teaching one of his great guitar solos for an hour of SGLT (Solid Gold Lonnie Time) at our beloved Red Hot Strings online extravaganza. See you there.
THE LANGUAGE OF LOUIS – LEARN TO PLAY POPS (on the guitar!)
When folks tell me they're new to jazz and want to know who to listen to, I always say "Pops!" He wasn't the first, but in many ways, I feel that he wrote the book. Everyone who came after borrowed and is borrowing from Louis. His sense of melody, phrasing and harmony are the foundation on which all subsequent jazz pillars rest. A common thread that I find among many guitar players is a lack of phrasing (the space between) and a lack of melodic sensibility. We tend to get focused on the fretboard grid, and licks (oy, licks!) and aren't incorporating some of the most essential elements of this music we call jazz. Louis' playing encapsulates all of those elements, am honored to be teaching a few of his masterful improvisations in this workshop where we will transcend the limitations of GB (Guitar Brain) to become more melodic, swinging players.
JOEL PATERSON – GUITAR
FINGERSTYLE GUITAR IN A TRAD JAZZ BAND
Guitarists in Traditional Jazz bands rightly pay a great deal of homage to the fire and power of acoustic plectrists like Eddie Lang and Django Reinhardt, but there were plenty of guitarists in early jazz who used the fingers of their right hands to provide punchy lines and great chordal accompaniment on the acoustic guitar. Check out Teddy Bunn, Oscar Alemen, Snoozer Quinn, and Lonnie Johnson for some examples of some truly original – and SWINGING! – pre-electric guitar finger-style techniques. This class will be focused on the many tools available to the finger-style (or pick/finger hybrid style) guitarist in a trad jazz band – the many benefits of the style, as well as "work arounds". Various chordal comping methods, chord/melody, and single note soloing techniques, will all be explored to get the finger-style guitarist up-to-speed in a swinging, stomping band.
SOLO STRIDE GUITAR
It was through the innovative guitar playing of Merle Travis in the 1940's, and Chet Akins in the 1950's, that many folks first heard the thumbing of alternating bass notes, interspersed with stabs of chords and sandwiched between a rippling melody, which enabled the guitarist to function as a full band and which we now often regard as a cornerstone of "country" guitar. This class is going to harness some of the rough-and-ready virtuosity of finger-style ragtime (as exemplified by the incredible, syncopated-never-replicated playing of Blind Blake) to the "jazzier" chords of the Travis/Atkins school, in the service of creating a "stride guitar" approach that's perfect for playing solo versions of tin-pan alley and early jazz
standards. Participants will learn an original arrangement, and work on developing their finger-style technique, so that the thumbed bass lines and plucked melody forge a deep and undeniable pocket.
GABE TERRACCIANO – FIDDLE
STUFF YOU SHOULD KNOW
Stuff Smith was and is an iconic violinist whose playing exemplifies the best qualities of American swing music. His unmatched swing feel, harmonically advanced vocabulary, humorous arrangements, and depth of repertoire are required material for any violinist (or musician, for that matter) who is interested in learning more about swing, hot jazz, bebop, western swing, and even more modern music. This class will utilize period recordings, my own transcriptions of Stuff Smith solos, and knowledge from the man himself (mostly collected and catalogued by musicologist Anthony Barnett) to gain a better understanding of how Stuff Smith revolutionized violin playing, and how we can use his techniques in our own playing to capture a unique kind of violin sound. I promise you, once you learn more about Stuff, the swingin' will never stop!
CRACKING THE CODE
Much like any type of musical genre, jazz and swing contain a unique language full of idioms, slang, and vocabulary. For beginners and seasoned pros alike, getting to the heart of this "code" can be a game changer when it comes to approaching the music. In this class, we will be diving into rhythmic vocabulary and the syntax of swing to better understand how to groove to our fullest potential. At the core of any great practitioner is a deep understanding of fundamentals and building block skills. This class will help you to deepen your groove, increase your musical vocabulary, and take your playing to new heights!
Guest Presentations

Without the need for the normally required airfares, and with many great performers grounded for the time being, we are (*ahem*) delighted to be able to capitalize on our circumstances, and present some very unique workshops each afternoon. These will feature invited artists and will comprise a mix of playing, instruction, questions and conversation guided by the host of each event. This is a chance for our "hard learning" muscles that get activated (and exhausted) in classroom settings to get a break, and the "soft learning" parts of our brains to be entertained and informed. Through listening and observing, hearing relatable stories, and getting to ask questions of these artists, our audiences will be afforded a glimpse into a range of contemporary musical expression through which these string traditions continue to percolate into the present and the personal.
Tomotaka Matsui and Mario Takada of Osaka's Sweet Hollywaiians
Inspired by a range of 1920's and '30's music, and contemporary bands like Robert Crumb's Cheap Suit Serenaders, Tomotaka Matsui and Mario Takada launched their band The Sweet Hollywaiians over a decade ago in Osaka Japan. They continue to keep jazz-age string traditions alive, with their startling virtuosic playing on steel guitar, mandolin, ukulele and guitar, both alone and with various incarnations of their bands, and this will be their first interview and workshop conducted for an English-speaking audience around the world, thanks to the assistance of a RHS interpreter. Already possessing a wide repertoire drawing from Hot Jazz, Hawaiian music, Caribbean string traditions, and Ragtime, Tomotaka has recently been wowing guitarists with his beautiful renditions of the too seldom performed 1920's-30's solo work of the great guitarist Carl Kress. Mikiya Matsuda will host this workshop guiding our guests through conversation, performances, instruction and questions from you all.
Out Of The Future and Into The Pasture – Inside the Music of Violinist Charlie Burnham
NYC-based Charlie Burnham is a violinist who's been a vital part of the New York jazz world for over 4 decades. As a key member of ensembles led by forward-thinking musicians like James Blood Ulmer, Cassandra Wilson, Steven Bernstein, Living Color, and Medeski Martin and Wood, he reliably brings a deeply rooted sound and compelling rhythmic ideas that can influence any group's performance for the better. While classically trained and often working in the avant-garde it will surprise no one that's heard his throaty growl, or his percussive bowing that he brings a range of older traditions into his own music. Charlie pulls from hot jazz, swing and blues, and slyly evoking players like Stuff Smith and Stephane Grappelli in his thoroughly modern and personal improvisations. In conversation with RHS fiddle instructor Gabe Terracciano, Charlie will discuss the links between these fiddle traditions and their place in the development of a personal and contemporary voice on the instrument, and he will demonstrate some of the older techniques and tunes that have inspired, and still lurk inside, his fiddle and mandolin playing.
Noam Pikelny with Matt Munisteri
Noam's bio reads that he has "emerged as the preeminent banjoist of his generation" and for once this is no publicist's lie. Currently based in Nashville, Noam is a founding member of The Punch Brothers, and you would be forgiven if you thought the "Steve Martin Prize For Excellence In Banjo and Bluegrass" was invented just as an excuse for Noam to be lavished with more accolades. As a five-string banjoist he primarily works within Bluegrass contexts, but his improvisations know no bounds (just ask Bela Fleck) and his own tunes often betray obvious jazz and ragtime influences. In conversation and performance with Matt Munisteri, Noam will focus on the task of adapting music from one instrument to another (specifically the notoriously pigeon-holed 5-string banjo), and with Matt will provide some fresh insights into the musical concepts of the pioneering guitarist George Barnes.
Craig Ventresco Plays For Lovers
Just kidding! For at least a quarter century Craig has stalked the grand boulevards and dark alleyways of ragtime-etc guitar as a kind of "poet-lariate": Roping and bull-riding hitherto unknown rhapsodic beasts of the 78RPM era into howling submission to his alternately ferocious and tender guitar stylings. By way of a lifetime of listening and a remarkably elastic memory, Craig has become a one-man compendium of the first four or five decades of recorded music, but his guitar playing manages that rarest hat trick: He might be our greatest guitarist practitioner of Very Old Music, yet you will never ever hear any music on a 78, Edison cylinder or diamond disc that sounds ANYTHING like Craig Ventresco. Craig will be playing and expounding with his pal, and ours, Albanie Falletta. Craig ventures beyond the Bay Area too rarely, so prepare your questions now.
A Swinging Century of Guitar – Howard Alden, Jonathan Stout, and Matt Munisteri
Howard Alden is a contemporary master of just about any kind of jazz guitar that exists, but he is also an intimate link to jazz guitar's first golden age – to its first innovators, the players who defined jazz guitar from the 1920's-50's. Though only in his early 60's Howard's been on the scene for going on 50 years. As a kid he quickly took to the tenor banjo, and then guitar, was soon working regularly in clubs in LA and even teaching at the famed Guitar Institute of Technology while still in his teens. He studied with the unclassifiable jazz-and-western swing great Jimmy Wyble when he was 16, and then later wound up working with, and recording four albums alongside, George Van Eps, a legend in the recording studios and perhaps the most revered name in the history of acoustic rhythm guitar and the chord-melody playing of the 1930's and 40's. In the 1930's George Van Eps invented a 7-string archtop guitar, which became a signature part of his sound, and through their friendship and shared music Howard too came to own and play a 7-string guitar, an instrument he remains closely associated with. Howard has played with, well, pretty much everyone, but his playing reached new ears when he played all the guitar parts in Woody Allen's 1999 film, "Sweet and Lowdown".
Los Angeles-based guitarist and bandleader Jonathan Stout is well-known to swing dancers everywhere for the wonderful dance orchestra he leads, but any fan of swing guitar currently stalking the internet knows him for the beautiful touch he brings to relaxed swinging versions of standards played chord-melody style on an array of prized old archtop guitars. One of the few guitarists working today who harken back to the era when acoustic chord-melody giants roamed the earth, his recordings and Swing Guitar Blog have increased people's awareness of past masters like Allan Reuss and George Van Eps. During the past year Jonathan has given fans a welcome relief from the pandemic doldrums through his regular "front porch practice sessions".

"Are You Kidding Me??!" – Chord-Melody Mandolin with Aaron Weinstein
It wasn't enough for 35 year old Aaron Weinstein to be topping Downbeat polls as one of the most burning mainstream violinists on the scene, or to have his comedy celebrated by a coterie of the hippest Broadway types, he also just had to go and basically invent a new way of playing jazz on the mandolin. Aaron cites his long relationship with the great guitarist Bucky Pizzarelli, who left us last year at 94, as being the initial inspiration for a method of playing the mandolin that is more evocative of George Van Eps than, say, Bill Monroe – or Samuel Seigel for that matter (Go on: Google). Aaron has recently started sharing his concepts with the unwashed masses, and during this hour with our own masterful jazz mandolinist Dennis Lichtman, he'll be playing tunes, teaching some of the principles of his approach, answering your questions, and shedding light on some of his own paths to discovery.