Celebrating the 45th Conference
July 15-22, 2018
Fort Worden State Park, Port Townsend, WA 

The Port Townsend Writers' Conference has been since 1974 at the wild heart of the thriving Pacific Northwest literary scene. With a focus on community and rigorous attention to craft, the Conference offers morning workshops, afternoon workshops, residencies, guided freewrites, and a vibrant readings and lectures series presented by vital, contemporary writers.
Whether you're new to writing, and seeking an inspirational environment to create new work; looking for advanced post-MFA revision workshops; or simply desire to renew and recharge yourself in a writing retreat, the Port Townsend Writers' Conference gives you the craft and connections to make breakthroughs in your work.
Mornings
For those who register for a core morning workshop, you'll spend the morning in workshops with your core faculty member.

Afternoons
The Conference features afternoon-workshop offerings in special topics. These workshops are taught both by the morning faculty members and by visiting writers and editors. They are available on a drop-in basis free to participants registered for morning workshop and at a special price ($300) for those who only want to take workshops in the afternoon.
Residency-Only
Many of the participants who come here come simply to write, and do not take workshops while they are here. This option gives you the opportunity to take the time and space that you need to disconnect from your daily life and write and revise. As part of this registration, you have access to all of the craft lectures, evening readings, and open-mike events that are part of the Conference.

Evenings
Each evening at 7 pm, faculty writers give a reading at the Joseph F. Wheeler Theater. These readings are free.

Tuition
Tuition ranges from $300 to $740. Room and board options range from $325 to $875. Afternoon workshops are free for those who register for the core morning workshops.
Housing
All rooms are private rooms. Whether you are here to advance your writing through the full Conference experience, or here as a resident, you'll find a private room, 400 acres of inspiration, and a vigorous community of writers and teachers.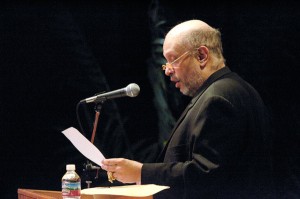 The Daily Schedule
8:15-8:45—Breakfast
9-11:30—Morning workshop
11:45-12:45—Lunch
1-1:50—Craft Lecture
2-3:30—Workshops and lectures in special topics
5:30-6:30—Dinner
7—Readings
Transportation
Centrum operates airport shuttle to and from Sea-Tac airport on the first and last days of the Conference. You can register for the shuttle during the registration process.  Read information on the shuttle.