This post refers to an event in the past. Please visit the Centrum homepage for links to current workshops and performances.
===
Genre-spanning clarinetist Anat Cohen will make her first-ever appearance in Port Townsend on April 6, 2013 for a spirited performance of Choro, along with renowned mandolinist Dudu Maia, 7- string guitar virtuoso Henrique Neto,  percussionist Alexandre Lora , and composer/pianist Jovino Santos Neto.
The performance at the Joseph F. Wheeler Theater begins at 7:30pm, and Centrum will provide free parking passes at the Fort Worden entrance gate.
Note, tickets may be purchased online until midnight one day before the event. Tickets may be purchased at the venue box office starting one hour before show time until sold out. For information about ticket fees, venue parking, mobility issues, etc. please visit our ticket information page.
Choro is the lively and engaging street music of Brazil that pre-dates the Bossa Nova. Now a Port Townsend tradition, this annual event produced by Centrum features five masters of this delightful musical style who come together for the first time to perform a wide range of Choro favorites.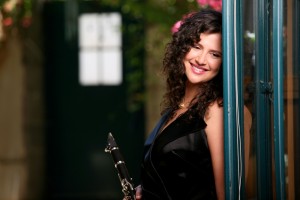 Clarinetist-saxophonist Anat Cohen has won hearts and minds the world over with her expressive virtuosity and delightful stage presence. Voted Clarinetist of the Year six years in a row by the Jazz Journalists Association, as well as 2012's Multi-Reeds Player of the Year, Anat will be coming to Centrum for Choro as well as Jazz Port Townsend.
Anat has toured the world with her quartet, headlining at the Newport, Umbria, SF Jazz and North Sea jazz festivals as well as at such hallowed clubs as New York's Village Vanguard. In 2012, Anzic Records released her sixth album as a bandleader, Claroscuro. The album ranges from buoyant dances to darkly lyrical ballads, drawing inspiration from New Orleans and New York, Africa and Brazil.
Dudu Maia is distinguished for his soulful style, his unique touch, and his mastery of the 10 stringed bandolim, an instrument that has two more strings than the standard bandolim, expanding its musical range and harmony.
Dudu served for five years as the bandolim professor of the Escola Brasileira de Choro Raphael Rabello in Brasília, and is considered one of Brazil's top bandolim players. Dudu brings to his work a lifetime of research and study of Brazil's greatest musical traditions.