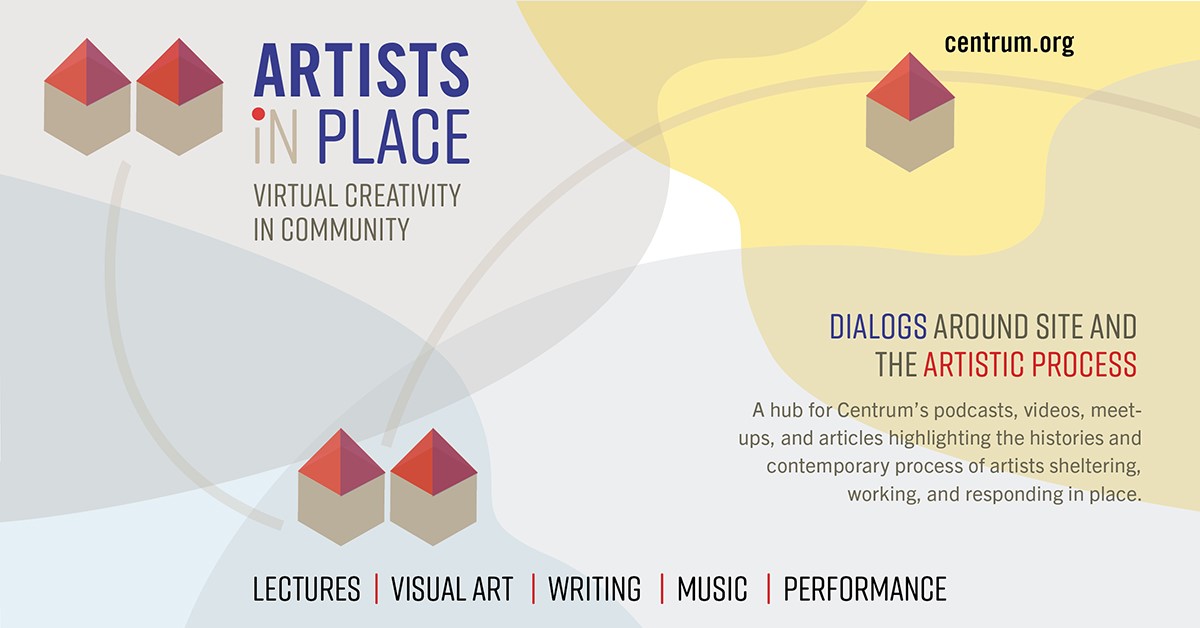 Dialogues around site and the artistic process
Visual art / writing / music / performance
A series of interviews, videos, meetups and posts highlighting the processes of artists sheltering, working, and responding in place
WELCOME to our new podcast channels! Each program offers a separate subscription, so please subscribe now to those you wish to get new updates each time we release a pod.  Available shows include:
---
PODCASTS
An exploration of the Centrum archives
Crackin' the Vault, a new radio show on KPTZ 91.9FM Port Townsend, features musical nuggets from the last five decades of Centrum programming, including Country Blues, Fiddle Tunes, Voice Works, Slide and Steel, and one-time shows from the 90s. More than 55 National Heritage Fellows have participated in Centrum programming, and we'll be broadcasting some of their finest performances.  Hosted by Peter McCracken.
Sample Show:
SUBSCRIBE:
---
Conversations with Artists-in-Residence
Give yourself an hour-in-residence with creative folks discussing the intersections of process, place, and the personal. Artists, writers, and cultural producers who have engaged with Centrum's residency program over its 40+ years bring you into their studios, homes, and minds to guide us towards the myriad ways our creative practices can affect change through art. Hosted by Michelle Hagewood.
Logo artwork: From the Infinite Lovers series by Leon Finley.
Sample Show:
SUBSCRIBE:
---
Centrum's Arts and Lectures Series
Curated to appeal to learners of all ages, Centrum's new arts and lectures series is designed to inspire thought-provoking conversations, throughout our community, highlighting a wide range of topics affecting our world. Each 90-minute event will feature selected experts in dialog with journalists and reporters from Crosscut and KCTS public media.  Hosted by Robert Birman.
Sample Show:
SUBSCRIBE:
---

Conversations With Jazz Leaders About Their Musical Journeys
The 35 musicians who comprise the Jazz Port Townsend faculty each summer are a priceless resource. Artistic Director John Clayton hosts informal 90-minute sessions with them, talking about experiences, colleagues, mentors and musical heroes that have shaped them. Expect inspiring stories (and doubtless a few laughs) as they look at life through the open window that is Jazz.
Sample Show:
SCHEDULE
November 19 (Thursday) 5 pm – 6:30 pm (Pacific)
JAZZ LESSONS THAT CHANGED MY LIFE
Tia Fuller, Marion Hayden, Allison Miller
SUBSCRIBE: