Hank Bradley – fiddle, Washington
Hank Bradley was Washington fiddle champion for 1974, thanks to his draft board who sent him to Fort Bragg NC in 1963. Hank's Southern style fiddling began with time spent with Otis Burris and the Mountain Ramblers of Galax, VA. He also plays Croatian tamburitza and violin with Bonaca of Seattle, violin and bouzouki in the Greek communities of the US and Canada with Yiannis Novakis and with Seattle bands El Fin del Mundo and Roscoe's Gone.
He composes new tunes in the traditional musical dialects he finds, and prefers an aggressive Southern fiddle style based on continuous, though not extreme, improvisation. He has taught Southern fiddle at Lark in the Morning in Mendocino, at Pinewoods Camp in Massachusetts, at the Augusta Heritage Festival in Elkins, WV, and was a regular member of the Port Townsend Festival of American Fiddle Tunes staff for its first decade.
Hank's recording credits include three solo ventures: Music of the Poison Coyote Kid, and Hassle the Caller on both of which he plays fiddle plus the all rest of the string band, and The Pescadero Blues released in 2016 with some help from his friends and family. Exclusively his original tunes, all Hank's CDs are in print and available along with Counterfeiting, Stealing, and Cultural Plundering, a Manual for Applied Ethnomusicologists.
https://www.hankandcathie.com/
Hank will be accompanied at the festival  by his longtime mates Bill Meyer and Candy Goldman on guitar and banjo, decades long bastions of the Northwest old time music community.
John Haywood, banjo – Kentucky
John Haywood is a banjo-playing tattoo and folk artist in Whitesburg, Kentucky. He owns and operates the Parlor Room Tattoo and Art Gallery – a tattoo shop that draws visitors from all over the world to Letcher County into the far southeastern corner of Kentucky. "Many come for a tattoo, and some to experience a little bit of our culture," Haywood says of his shop. John attended the Old Regular Baptist Church with his papaw, where he heard him sing the old unaccompanied songs of Zion. He has studied with banjo master and historian George Gibson, played solo, and joined multiple bands. A curious musician, he's spent the past two decades moving from project to project, ranging from Traditional Kentucky music to garage metal to pop punk. At the workshop, John will offer a closer look at old-time banjo techniques such as up-picking, drop-thumb and two-finger style while focusing on the repertoires of such legendary Kentucky banjo players as George Gibson, Lee Sexton, Morgan Sexton and Roscoe Holcomb, among others. "There is a common bond that holds us all here, a voice, a heritage, and a connection to the landscape," Haywood says of fellow eastern Kentuckians. "If I'm sittin' with someone we might not have a thing to talk about, but if you've got a fiddle and I've got a banjo we could spend 3 hours together and just become best friends."
Jackson Lynch, New York
Jackson Lynch is a guitar, banjo and fiddle player from New York. His grandfather was a traditional Irish fiddler and taught Jackson some of his first tunes. Since then, he's immersed himself in down home music from all over. He's played fiddle in the old-time string band The Down Hill Strugglers for just about a decade, and otherwise plays a range of traditional American music, including old-time fiddle music, Mexican and calypso fiddle tunes, country blues, jazz and honky tonk. Jackson has learned from and played with the likes of John Cohen, Jerron Paxton, Pat Conte, Clyde Davenport and Nora Brown, and has performed at concerts and festivals across the country, including The Brooklyn Folk Festival, The Newport Folk Festival, Oldtone Roots Music Festival, The Jalopy Theatre and School of Music, The Berkeley Old Time Music Convention, The Kennedy Center, and The Abita Springs Opry. With a focus on the pre-war fiddling of the American South and beyond, Jackson Lynch loves to play, learn and share tunes with those who played a long time ago and sure enough knew how to have a good time doing it.
Jerron Paxton, New York
Jerron hails from a Creole family in Watts, South Central Los Angeles, but his people come from Louisiana, and you can hear Louisiana in his music. Ragtime, early jazz, ballads, swamp blues, folk, dance tunes – Jerron renders them all on any instrument with strings, reeds, or hammers. His range of repertoire, quick wit and fast rhyming poetry delivered with unbridled musical freedom make us think of him as a musical savant. In addition, he mesmerizes audiences with his humor and storytelling. Jerron will probably teach banjo and guitar at Fiddle Tunes.
Dale Russ, Washington
Dale Russ is a friendly, unassuming man who plays Irish Traditional music with distinctive clarity, articulation, and soul. Born in the U.S., he picked up the fiddle as a young adult in Washington State, far from the urban Irish enclaves. Yet, in 1993, Martin Hayes told Folk World magazine, Dale Russ is one of the greatest fiddlers Irish I know in Irish traditional music. Recognized by such luminaries as Kevin Burke, Liz Carroll and James Kelly, Dale plays music for dancing, listening, and for pleasure. He has played with several bands over the years, as well as for dance competitions and solo concerts. Dale also tours Japan regularly, where he helped spark the interest in Irish music in the mid-1990s. He has taught advanced fiddle at the Lark in the Morning music camp for many years, and has an instructional video produced by Lark. More recently he recorded a series of video lessons available at pegheadnation.com. Subtle, inventive, and steeped in the tradition, his intense work ethic and concentration are matched only by the sheer joyfulness of his music.
Danny Levin, Texas
Danny was raised serious classical by a violist dad and a pianist (and dancer) mom. Starting at age 10, he studied cello with Philadelphia Orchestra cellist Francis dePasquale. Frequent string quartet jamming with dad and others started a couple years later. He started writing string music when he was 15. Danny's first paying gig was at the Brooklyn Museum. He was 19 years old and the gig paid $19. A piece he composed was on the program. He joined Asleep at the Wheel shortly after its start in West Virginia in 1970. He was their first piano player and, eventually, their first fiddler. He was there for two of their many Grammy's. He quit in 1980 and became a busy (if not wealthy) freelancer based in Austin TX. Danny has performed or recorded with many legendary country greats, including Willie Nelson, Charlie Pride, Tom T. Hall, Dolly Parton, and many more. He's written and recorded string arrangements for Jimmy Day, Tish Hinojosa, Shinyribs, Bob Schneider, Eliza Gilkyson, and many others. He taught at Johnny Gimble's Taos NM fiddle camp from 2001-2006 and at Randy Elmore's camp for a couple years after that. Danny is equally uncomfortable on piano and fiddle. He leans jazzward, but the fiddle camps exposed him to contest fiddlin', and he enjoys some of the better known breakdowns (in the privacy of his home). Recent activities: 2021 – music supervisor on PBS film Citizens at Last; rejoined the Wheel for their 51st anniversary reunion tour and recording; finally got to play the Grand Ole Opry. Some current gigs in Austin: he plays every Monday night with Bob Schneider's Lonelyland at the Saxon Pub, and enjoys occasional Friday evenings with Emily Gimble at the Continental Gallery.
Danny will be accompanied at Fiddle Tunes by Dick Gimble, the son of the late Johnny Gimble, the legendary Western swing fiddle player who was inducted into both the Rock & Roll Hall of Fame, and as an individual performer in the Country Music Hall of Fame. Dick was eight when his father tried to teach him the fiddle, but Dick couldn't make it sound right. "I hated the fiddle," he said. "It sounded terrible when I played it." He found his calling six years later, when his father brought home a stand-up bass to use on some songwriting demos. "I started thumping on it, and Daddy heard me and said, 'Do you want to play bass?' "
His father taught him the essentials, and soon the two were sitting in Dick's room, jamming on songs like "Stay All Night" or "Milk Cow Blues." Dick was such a quick study that six months later, his father asked him to play in his band. On Thursday afternoons, Johnny took Dick out of school for weekend tours in East Texas and Louisiana as part of the Aunt Jemima Bandwagon, where they'd perform on a flatbed truck parked in front of grocery stores, just as Johnny and his brothers had done in the thirties. For the younger Gimble, it was a crash course in Texas swing and music theory. Then Johnny moved to Nashville, and Dick began playing in other bands in Central Texas. By the time Johnny returned, Dick had become one of the most well-known bassists in Austin, backing up numerous country musicians onstage and in the studio. Eventually he started his own band. He ended up as a session player in Nashville, then moved back to Austin, playing gigs around town before accepting a teaching job at McLennan Community College, where he taught guitar for nearly 40 years.
Kevin Carr, Oregon
For many decades dynamic fiddler-piper-storyteller Kevin Carr has honed his craft in smoky Irish pubs, remote cabins in Quebec, at Fort Worden in 204 and McCurdy Pavilion, and in dance halls across America. Kevin has been an integral part of Fiddle Tunes since very beginning, spearheading the Celtic Thug movement. He's played banjo in Latvia, the fiddle in Russia, and along the way became a collector of bagpipes – up to 31 and counting. Uilleann pipes were his first love, with Galician Gaita and Scottish Highland pipes coming later, along with various French, Italian, Eastern European, Scandinavian, and other smaller pipes. He is also fascinated with diatonic button accordion. But Kevin will teach fiddle at Fiddle Tunes, dance music from around the world – expect tunes from Quebec, Galicia, the Basque country, Ireland, and ….?  "I continue to play today because traditional music connects me to culture and emotion in a profound way. It is challenging, energizing and deeply satisfying to spend time in the vast pool of music which has nourished, and been nourished, by so many grand souls through the centuries."
Wendy MacIsaac, Màiri Rankin, & Mac Morin, Cape Breton Music and Dance
Wendy MacIsaac, Mac Morin, and Màiri Rankin are a powerhouse trio of Cape Breton musicians. The core members of the award-winning band Beòlach, they came together over 20 years ago at a late-night session during the Celtic Colours International Music Festival. The demands of solo careers and family life put Beòlach on hiatus for a few years, but they reformed two years ago, to great excitement, expectation, and acclaim.
Cape Breton music is largely descended from the Scottish Gaelic melodies brought over to Cape Breton Island in the late 18th and early 19th centuries with the arrival of settlers fleeing the forced evictions known as the Highland Clearances. Musicians have staunchly preserved and nurtured this style, passing it to the next generation "knee-to-knee" for over 200 years. Known for innovative arrangements of traditional tunes, Beòlach's energy on stage demonstrates their mastery of and passion for their musical inheritance.
Wendy MacIsaac is a standout among Cape Breton's wealth of great fiddlers; she is also a master pianist and a skilled stepdancer. "My first bit of music was stepdancing," she recalls. "My mom taught stepdancing lessons—with Natalie MacMaster's mom, actually—in communities on Cape Breton and I'd go out with them and just pick it up from being in the circle at those lessons." When MacIsaac started fiddle at age 12, the rhythms and feeling of Cape Breton music and language were already in her. By 15, she was in demand for dances across the island; now she performs to international acclaim.
One of the hugely influential Rankin Family—legends on the Canadian music scene—Màiri Rankin plays fiddle, sings, and also stepdances up a storm. Immersed in this rich musical culture, she has developed her own unique style, pulling from her native Cape Breton and her strong Scottish roots from North Uist. Màiri has toured nationally and internationally as a performer and educator in both fiddle and stepdance, and for the past nine years, has been part of the internationally renowned Celtic group the Outside Track.
Noted pianist and stepdancer Mac Morin also started his musical journey early. Stepdancing came first, with guidance from his mother, a well-known dancer. It wasn't until age 16 that he became interested in piano, but he quickly moved from accompanying musicians at house parties and local dances to "debuting" when renowned Cape Breton fiddler Buddy MacMaster needed a pianist to sub in at a wedding. Now in great demand as a pianist, he has toured and recorded with Natalie MacMaster, the Rankin Family, Howie MacDonald, Mary Jane Lamond, and many others.
http://beolach.ca/
Eddie Bond, fiddle – Virginia
Old-time fiddling thrives in Grayson County, Virginia, which many consider the musical heart of Southwestern Virginia and Appalachian old-time music. It is from here that one of the greatest living old-time fiddlers, Eddie Bond, hails. Though he has played on stages worldwide, Bond continues to be a central figure at local music festivals and at picking parties in parking lots, country stores, or any of the other informal settings where musicians gather along what's become known as the Crooked Road Heritage Music Trail.
Bond was raised up in a family of musicians in the Grayson County mill town of Fries. A tiny town of 600 residents, Fries has a strikingly rich musical tradition, producing such musical luminaries as Henry Whitter, Ernest Stoneman, among others. Fries is six miles from Galax, home of the Old Fiddlers' Convention, the oldest and largest fiddlers' convention in the country.
Music descends in families in Grayson and Carroll Counties of Virginia. Bond was taught by a maternal grandmother who played guitar and sang music handed down for generations through the Hill family, musicians well-documented in the Library of Congress' archival field recordings. His paternal grandparents played guitar and sang; his Grandmother Bond was from the same region of North Carolina as Doc Watson and taught Bond many of the old mountain ballads he sings today. One of the most influential members of his family was his great-uncle, Leon Hill, a musician who took him to visit many of the local fiddlers from whom he learned.
Bond also remains deeply committed to his local community—performing locally as a solo artist and with others, and teaching a string band course at a high school in Grayson County. Much as the great old-time fiddling masters did for him, Bond never hesitates to take the time to teach, assist, and encourage the next generation of fiddlers.
http://www.galaxbogtrotters.com/bio
Carl Jones, mandolin and banjo – Virginia
Carl Jones is an American songwriter and multi-instrumentalist. He is widely respected for his instrumental talents and original songs about the joys and tribulations of day-to-day life in the South. Carl's songs have been recorded by The Nashville Bluegrass Band, Kate Campbell, Rickie Simpkins with Tony Rice, and others. His song Last Time on The Road was on the Grammy Award-winning album Unleased by the Nashville Bluegrass Band. Originally born in Macon, Georgia, Carl currently lives in Galax, Virginia with wife and musical partner, fiddler Erynn Marshall. In the 1980's he played mandolin with James Bryan and Norman and Nancy Blake as part of the Rising Fawn String Ensemble and during the same period won 3rd place and a guitar in the fingerpick-guitar category at Winfield, KS. Carl has recorded many CD's including Traveling Star featuring his original songs and a 2015 duet album with Marshall, Sweet Memories Never Leave. Carl is known for his fine musicianship on many stringed instruments, keen sense of humor, evocative songwriting, and as a charismatic teacher. Carl has performed or taught all over the United States, Canada and Europe.
www.dittyville.com
Erynn Marshall, fiddle – Virginia
Erynn Marshall is an old-time fiddler well known nationally and beyond for her traditional music. She was raised in a musical family and took up the fiddle as a young girl. Now she teaches and performs at festivals around the globe. Originally from the West Coast of Canada, Erynn was led astray by the banjo and fell down the rabbit hole of southern music. She learned the nuances of old-time fiddling from visiting elder southern fiddlers and singers over the last twenty years. Her fieldwork culminated in the book, Music in the Air Somewhere about West Virginia fiddle and song traditions (WVU Press). She, Carl Jones and Eddie Bond (all Galax Bogtrotters) will soon be featured in a forthcoming documentary about old-time music: Never Met a Stranger. Erynn has also recorded a DVD and five CDs including her 2016 Greasy Creek recording of all original tunes. She broke the glass ceiling when she won 1st place fiddle at Clifftop, the first woman and the person born outside the US to do so. She also took 2nd place fiddle at the renowned Galax Old Fiddlers Convention. Erynn lives in Galax, Virginia and tours with Carl Jones (they are married in life and music) as well as the Galax Bogtrotters.
With great regret, Alice Gerrard will not be at Fiddle Tunes this summer, so the long-awaited Harmony Sisters reunion will be postponed. 
Bayou Seco – Jeanie McLerie, Ken Keppeler, Scott Mathis, Linda Askew, and support from Paul Rangell and Emily Abbink
2022 marks Bayou Seco's 42nd year of music with more than 100 band members across the globe. They started out with Paul Rangell and Emily Abbink and established that Chilegumbo groove. Scott Mathis and Linda Askew joined when Paul and Emily relocated to Santa Cruz and Bayou Seco morphed through many versions of the band from full on electric and back to eclectic/acoustic and more recently a duo, always focusing on lots of good old traditional tunes they learned from their many mentors from Louisiana over to Arizona.
Jeanie McLerie, fiddle – New Mexico – A native Californian who performed extensively in Europe during the 1970s and 1980s, Jeanie is currently based in New Mexico. With her sweetheart Ken Keppeler they are known the world over as Bayou Seco. They have made significant contributions to New Mexico by preserving the cultural heritage of Hispanic and Cowboy folk music and bringing it to life for future generations through their performances and teaching.
Jeanie has been a professional musician since 1962, performing in the United States, Canada and Europe with the groups Sandy & Jeanie, The Harmony Sisters and the Delta Sisters. For more than 30 years, she has taught fiddle instruction to children through "The Fiddling Friends," which focuses on an international repertoire of fiddle styles and music, with an emphasis on the sources of the music.
Jeanie and Ken were instrumental in helping to bring the old traditional Hispanic style music of such New Mexico legends as Cleofes Ortiz, a violinist from Bernal, and Antonia Apodaca, a singer/accordion player from Rociada, into the mainstream of the folk music scene. They've also found and kept alive traditional dances in Albuquerque, Silver City, Las Cruces and Mesilla. Together in Bayou Seco they are renowned for their "chilegumbo music," which celebrates the cross-cultural music of the Southwest.
https://bayouseco.com/
Linda Askew (guitar, New Mexico) grew up listening and dancing to the music of West Texas. She got her first guitar in high school and learned to play rhythm guitar backing up Appalachian fiddle style music. She expanded her horizons learning regional traditional tunes and dances from old time fiddlers and musicians playing the music from northern New Mexico. She's become a master at playing rhythm guitar for a variety of musical forms including Cajun dance melodies, the irregular rhythms of Gu-achi fiddle styles and several styles of Mexican music. Linda has recorded and toured with Bayou Seco, the Soda Rock Ramblers, the Southwest Musicians, La Rondalla de Albuquerque and the Sandia Hots and performed with numerous others.
Scott Mathis (mandolin, New Mexico), a veteran of 1960's rock and roll, has become a crusader for traditional music and dance. Playing the full range of the mandolin family of instruments and the guitarron, Scott's focus has been on music from the great Southwestern USA, Mexico, France, and Italy. Scott is a member of such bands as Bayou Seco, Sandia Hots, Soda Rock Ramblers, the Southwest musicians, La Rondalla de Albuquerque, the Love Buzzards, Virginia Creepers and Lost Woody. Recently he is enjoying playing with younger musicians and seeing traditional music grow and prosper.
Irene Herrmann, fiddle and mandolin – California
Irene is as fluent with mandolin, cello, piano, and fiddle as she is with the traditional music of France, Greece, Poland, and Italy. She received her Master's in Performance Practice at the University of California, Santa Cruz, with a focus on American vernacular music. Irene has played music all her life, but only after she graduated from music school did she discover the world of non-classical music and started dividing her time between classical piano and cello and traditional music. She feels strongly that elements of both are part of all her music. The world of traditional music opened many doors for her, not only musically, but socially and culturally as well. She has played cello on Joe and Antoinette McKenna's second album, orchestra bells on the second album of R. Crumb's Cheap Suit Serenaders, recorded on mandolin with vaudevillian Roy Smeck, and on fiddle with gospel singer Marion Williams. With the late Paul Hostetter, she formed a string band with friend and traditional Italian mandolinist, Riccardo Tunzi, playing the traditional music that Riccardo taught them, until he passed away. They then continued that tradition in a trio with Italian mandolinist Tony Flores. She performs in new music ensembles, with choirs and in chamber music in the Santa Cruz, California region where she makes her home. "Making and sharing all kinds of music with my friends is the greatest joy I know."
Gina Forsyth, fiddle – Louisiana
Born in Florida and raised in Alabama, Gina grew up on hymns, country songs, and old time fiddle tunes. In the mid-1980s, she moved to New Orleans to study classical and jazz violin at Loyola University and quickly developed an irrevocable passion for Cajun music. She's an award-winning singer/songwriter, who is known for her wizardry on fiddle and guitar. With an alto as unique as it is soulful, unpretentious songs that cut straight to the heart, and a wicked sense of humor, her live performances are legend. Considered one of the finest Cajun fiddlers in Louisiana (no small feat), Gina is in demand from other great Louisiana musicians to play club gigs and festivals, some of the same talent that backs her up when she plays as Gina Forsyth and Friends. She has toured and recorded with some of Louisiana's greatest Cajun bands, including the legendary, Bruce Daigrepont. Her fiddling appears on three of his recordings, Couer des Cajuns (Rounder, 1989), Paradis (Rounder, 1999), and Bienvenue dans le Sud de la Louisiane (self-released, 2016)
https://www.ginaforsyth.com/
Bruce Daigrepont, accordion – Louisiana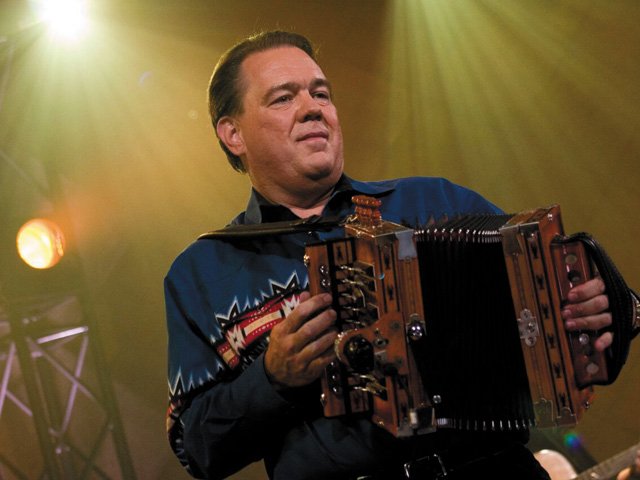 Bruce was born in New Orleans on July 11, 1958. His parents were part of a post-World War II migration of Cajuns to New Orleans from the rural farming communities of Avoyelles Parish, the forgotten part of Cajun country. Nevertheless, the language and customs of the Cajun people are as deeply rooted here as anywhere in the state. And whenever you walk through the door of Bruce's family home, you return to Avoyelles Parish. The same, instinctive pride of culture and heritage that has guided his parents' lives, and his grandparents' lives, is now invested in Bruce's music. Music came to Bruce at an early age, and in the most traditional manner–handed down from father to son. When he was growing up, no family gathering was complete without a little playing and singing.
When Bruce turned five, his father presented him with a guitar, and by the age of ten he was also bearing down on a five-string banjo. It was in 1978, after attending the annual Festival Acadiens in Lafayette, that Bruce was inspired to devote himself to the French accordion. By 1980 he had his own Cajun band, and was honing his skills at regular Thursday-night fais do do dances at the Maple Leaf Bar. Over the next six years, Bruce Daigrepont almost single-handedly popularized Cajun music and Cajun dancing in cosmopolitan New Orleans. In 1986 Bruce moved the fais do do dance to the original Tipitina's, where it continues to this day, every Sunday evening from five till nine.
Bruce is one of New Orleans' and Louisiana's great musical institutions; and he has emerged as one of Cajun music's finest cultural ambassadors. In North America he has performed at such prestigious venues as New York's Lincoln Center, Wolf Trap Center for the Performing Arts, the Winnipeg Folk Festival and the National Folk Festival. Over the past ten years he has taken his music to France, Belgium, Holland, Switzerland, Germany, Denmark, Norway, Sweden, El Salvador and Venezuela. Most rewarding, though, are his annual ""homecoming"" pilgrimages to the French-speaking Canadian maritime provinces of New Brunswick and Nova Scotia, where the history of the Louisiana Cajuns had its harsh beginnings.
Bruce is one of Cajun music's most gifted singers. In keeping with the old-time dance hall musicians, he sings loud and passionately, in the high tenor register. The same spirit of adventure that distinguishes his singing is also present in Bruce's accordion playing. He has developed a highly individual style, patterned after no one past master, but imbued with the zest and vitality of them all.
https://www.youtube.com/watch?v=5owQK0_hwCk
David Doucet, guitar – Louisiana
The acoustic guitar has been transformed into an important voice of southwest Louisiana's Cajun music by David Doucet. The younger brother of Cajun fiddler Michael Doucet, Doucet has used his distinctive hybrid of folk-style fingerpicking and bluegrass-like flatpicking to strengthen the performances of Beausoleil, the band he's shared with his brother for more than four decades.
Doucet first played the guitar after recuperating from a broken arm sustained while practicing with his high school football team. Although he initially taught himself to play by using Bob Dylan and Paul Simon songbooks, Doucet became fascinated with flatpicking after listening to an album by Doc Watson.
Together with his brother and banjo player Raoul Breaux, Doucet played Cajun music in Louisiana clubs in 1975. When the project proved commercially unsuccessful, the band broke up with Doucet enrolling in college and his brother going on to form the Cajun rock band Coteau and the original lineup of Beausoleil. A turning point in Doucet's evolution as a guitarist came when he heard the playing of the late Clarence White on an album, The Kentucky Colonels 1965-1967, in 1980. Inspired by White's use of unusual chords and imaginative melodies, Doucet began to develop his own unique style. In addition to his solo album and recordings with Beausoleil, Doucet was featured on albums by Chuck Guillory (Grand Texas), Octa Clark & Hector Duhon (Ensemble Encore) and Michael Doucet (Dit BeauSoleil).