With the snow beginning to melt off the peaks and gardens greening up by the day, there is one thing markedly conspicuous by it's absence this week.  That is the enthusiastic buzz of the first wave of the season's volunteers to help Hali, Centrum's Registrar, prepare registration packets, and meet, greet and warmly welcome the Choro participants and faculty.  Although the decision to reschedule workshops was made several weeks ago, the eerie silence is keenly felt around the deserted office as refunds are issued in place of Choro badges – a sweet lament indeed – along with the reminder of how much we miss our cheery volunteers!

We look forward to having you and our friends from Brazil back next year!
---
Global Funkadelic Art Tour
Here is a virtual (and extremely colorful) exhibit to pass along to you from annual Centrum Artist in Residence, and Explorations faculty alumni, John Hillmer.  John emailed earlier this week:  "Since my pop up exhibit this month at the Bordello Galeria in San Miguel de Allende was cancelled I'm attaching here a pdf file of the original paintings scheduled to appear. Though I wish we were there in the lovely courtyard listening to the birds and perhaps sharing a tequila, I do hope you'll enjoy your virtual tour. Con muchas gracias y saludos, John." Please click  below to view the virtual exhibit:
Global FunkademicArt Tour
---
… find themselves still in the grip of winter back East in Quebec, where they continue to play music and hone their melodic old-time skills, while setting a responsible example of social distancing.  They have been enjoyed at Fiddle Tunes by many as both performers and inspiring Faculty.  Although their touring schedule is on ice this season we hope to see the mulit-talented duo back out here again in less frosty times.

Click to listen!
---
A Tribute to Troy
Last and by no means least, I am featuring a tribute to a most cherished creature, close to many Centrum hearts, that of Troy the Corgi, who attended numerous Centrum productions accompanied by his Mom, Lucy, an invaluable member of the  production team.  Troy sadly passed away in his sleep last Fall, having completed yet another successful season with his sweet nature, behind the scenes.
Troy crossing Abbey Road
Taking the London Underground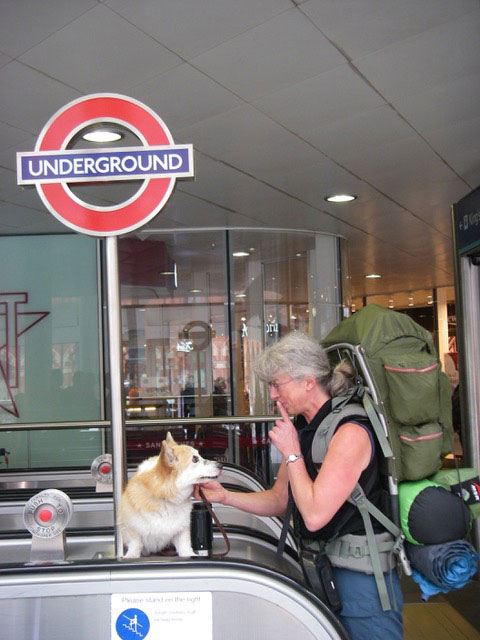 Troy was also something of an international adventurer.  On one trip to the UK, Troy visited all the hotspots in London and even looked up his cousins at Buckingham Palace (apparantly out of sight playing in the back garden that day).  Lucy said of her long time travelling companion "Troy was photographed extensively by everyone while we were there.  I wanted a photo of him outside the gate at Buckingham Palace and ended up standing back while he sat calmly for photos with entire tour groups.  We hiked the Ridgeway Trail in Britain,  and the West Highland Way in Scotland and climbed Ben Nevis together, the tallest peak in the UK.
It was the best trip ever…"
"He was an exceptional little guy, accompanying me anywhere he was allowed to be, theatres, concert halls, convention centers, studios, festivals… After meeting him, more than one venue "bent the rules."  He was quite willing to sleep through any style of music or theatre, but ready to wake up.  Troy's official responsibilities were "Raising Spirits, and Lowering Blood Pressure."  He was very good at his job."
Troy pictured L-R with Centrum Production Crew, his favorite Auntie Lisa, in his red buggy, Troy's very own VIP parking spot