CALVIN VOLLRATH – ALBERTA 
fiddle
Calvin's love for music began at an early age when he used to mimic his father Art "Lefty" Vollrath with two butter knives. He got his first fiddle at the age of 8, and it was soon apparent that he was a natural. He has twice been crowned the Grand North American Old Time Fiddle Champion.
Calvin is a musical prodigy. To date, he has composed over 475 tunes, many of which have become standard contest and dance tunes across North America & Europe. He has recorded an astonishing 58 albums, numerous music books of his original compositions, and an instructional DVD.
Calvin was commissioned to compose 5 fiddle tunes for the Vancouver Winter Olympics 2010 Opening Ceremonies to represent the various Canadian styles of fiddling. Calvin is also a very active, committed, and inspired teacher, having taught at the Canadian Grand Masters Fiddle Camp in Ottawa since its inception in 1996, and his own "Camp Calvin" in northeast Alberta. In 2011, Calvin was inducted into the North American Fiddlers Hall of Fame.
Calvin will be accompanied at the workshop by longtime collaborator Clinton Pelletier on guitar, and his wife Rhea LaBrie, who will teach step dancing during the week.
RICHARD BOWMAN – VIRGINIA
fiddle
Born into a well-known musical family from Patrick County Virginia, Richard was the youngest of 8 kids. His mom and dad played the autoharp, and his dad also played some clawhammer banjo.
The first fiddle he can remember hearing was Tommy Jarrell on the radio, and he thought, "Well, man, that really does sound good. I believe I could learn to play that, if I had a fiddle." Turns out he lived 12 miles from Jarrell, so he started spending some time with him, picking up tunes and his style. Richard also learned from Ernest East, Benton Flippen, and Kyle Creed, before he became the champion old time fiddler he is today.
Over the years he has won both individual and band competitions at many fiddler's conventions including Galax, Mt. Airy and Fiddler's Grove. His band, The Slate Mountain Ramblers, have been a mainstay of the dance and festival culture in central and western North Carolina and southwest Virginia for three decades.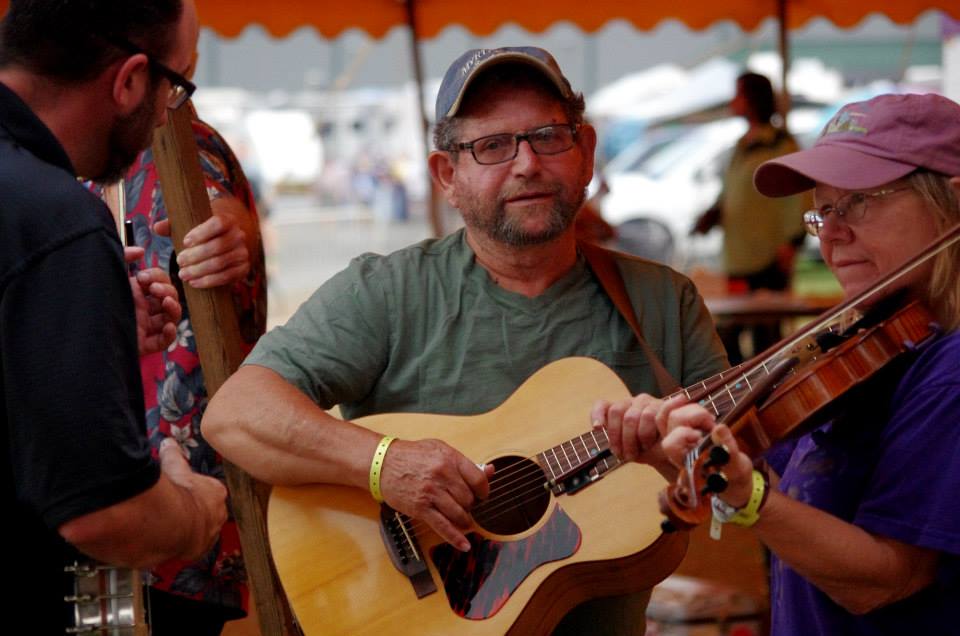 CHESTER MCMILLIAN – NORTH CAROLINA
guitar
Chester was born in Carroll County, Virginia, into a musical family and community. He has played traditional old-time Round Peak style music since childhood. By the time he was eleven or twelve years old, he was living in Surry County and taking an active part in the Round Peak music community.
Chester played guitar with Tommy Jarrell for fifteen years, and he developed his guitar style specifically to play with Tommy. He has also played and recorded with Dix Freeman, Kirk Sutphin, and Greg Hooven.
ROBIN LEBLANC & CLAUDE AUSTIN – NORTHERN NEW BRUNSWICK
fiddle
Robin Leblanc is a marvelous young fiddler from a long line of Acadian fiddlers. He learned from his uncle Ira LeBlanc and his grandfather Fériol LeBlanc, as well as other key fiddlers in New Brunswick near his home. But he also learned music by traveling all over North America searching out old tunes and ancient Acadian routes. Robin lives with his family in a farmhouse near Bathurst, in the Northeast part of New Brunswick, next to the Acadian Peninsula, where he grows most of his own food and grinds his own wheat for bread.
Seeing as fiddle music from Northern New Brunswick has never been presented at Fiddle Tunes before, Robin will bring fiddler Claude Austin with him, an older tradition bearer from Campbellton, New Brunswick. More info soon!
MICHAEL ALPERT – KLEZMER
fiddle
Singer, multi-instrumentalist, dancer, and scholar Michael Alpert has been a key figure in the renaissance of East European Jewish music and culture worldwide since the 1970s. Alpert was born into a Yiddish-speaking family in Los Angeles, California, in 1954. He grew up immersed in immigrant music and culture, including the "Yiddish boardwalk scenes" of Venice Beach, West Hollywood, and similar locales on the East Coast. Moving to New York City in 1979, he was co-founder of the pioneering klezmer band Kapelye, and began intensive documentation of traditional East European-born Yiddish performers, including master singer Bronya Sakina, klezmer violinist Leon Schwartz, singer/drummer Ben Bayzler, and clarinetist German Goldenshteyn, all of whom influenced him profoundly.
Alpert is best known for his performances and recordings as a solo artist, with the ensembles Brave Old World and Kapelye, and collaborations with artists across a broad spectrum of cultures and generations, including Theodore Bikel, Daniel Kahn, and Ukrainian-American singer/bandurist Julian Kytasty. He has performed and taught Yiddish music and culture throughout North America and the world, in venues ranging from Polish village streets to a farmworkers' school in Florida to Carnegie Hall. As musical director of the PBS Great Performances special Itzhak Perlman: In the Fiddler's House, he helped bring global attention to Yiddish and klezmer music.
Michael will bring an accompanist, TBA soon.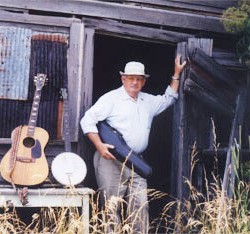 JOHN WHITE – MISSOURI
fiddle
Master old time square dance fiddler John White comes from a fiddling family in north-central Missouri. His fiddle playing style developed while playing for square dances in Shelby, Macon, Linn and Monroe counties, and his favorite fiddling venue is still the community square dances he and his wife, Betty, sponsor in Hallsville. John has been a master fiddle teacher in the Missouri Traditional Arts Apprenticeship Program and is a regular member of the staff at the summer fiddle camp in Bethel. Charlie Walden says "He has an easy lope to his playing honed playing for square dances in No. Central Missouri as a boy.  Nothing fancy, but his time is perfect and quintessentially Midwestern – spot on the beat."
John will be accompanied by longtime musical partners Amber Gaddy on banjo, and Dave Cavins on guitar.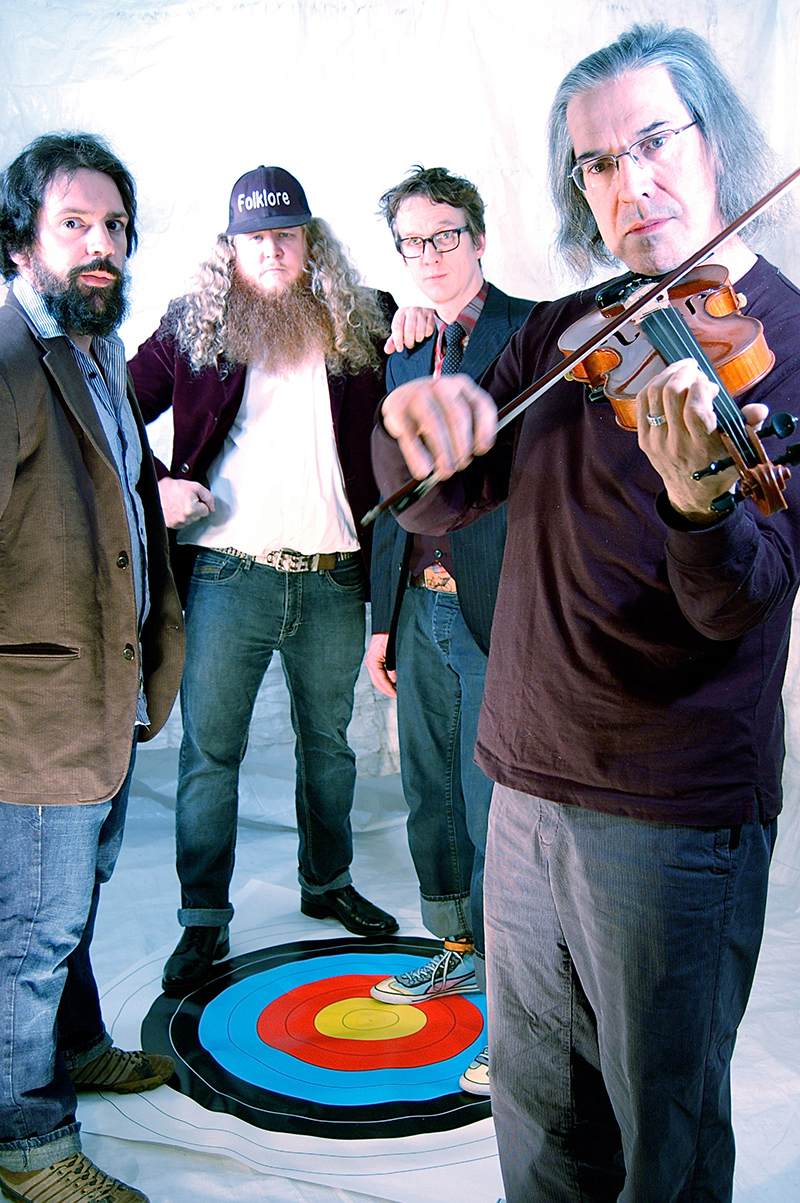 RÉVEILLONS! – QUEBEC
RéVeillons!  is a well-known quartet playing music made in Quebec, traditional with a crude energy – omnipresent percussions which make the heartbeat, an impetuous violin, a rhythmic nuanced guitar, and voices that sing about the  hazardous path of everyday life, with the audacity and the authenticity which the traditional music background acknowledge them for.
RICHARD FOREST
fiddle
A veteran of traditional music of Quebec, Richard has graced Quebec stages and animated traditional dancers for more than 30 years. He was first inspired by fiddlers in his own family from Lanaudiere, and is recognized not only for the energizing swing of his bowing style but also credited for discovering and reviving tunes that were all but lost. Also an accomplished composer, he has created timeless pieces of music that remain popular in countless jam sessions. Richard first taught at Fiddle Tunes in 1991.
JEAN-FRANCOIS BERTHIAUME
bodhran, step dancing, singing
High in demand as a percussionist, caller, and step dancer, Jean-Francois has a rich and varied background and is recognized as one of the most original and entertaining dance callers in Quebec. He has dedicated more than twenty years learning, researching and living the folk music and dance of Quebec.  His passion, instinct, energy and charm make him an authentic artist of traditional music of Quebec.
DAVID BERTHIAUME
concertina, singing
With his unmatched singing style, David gives Reveillons! a raw distinct personality unique among the traditional music groups of Quebec. Having been steeped in traditional music as a child, he brings a vast repertoire of his family's songs mixed with the unique accompaniment of the English Concertina which he learned despite his passion for French history and language. He claims it is an instrument commissioned by the grey nuns in the 19th century so it is simply a matter of reclaiming it as the rightful property of Quebec traditional music.
ANDRÉ GAGNÉ 
guitar, singing
André is a native of St-Côme, a small village renowned for their tradition of call and response songs. He studied American banjo and jazz guitar at CEGEP St-Laurent, and honed his skills for many years by singing in the bars and bistros of the province of Quebec. He has toured Europe with the Celtic Spring Caravan Tour and participated in two Cirque Alphonse circus productions La Brunante (2006) and Timber (2011).
TRICIA SPENCER –  KANSAS
fiddle
Tricia Spencer is a Kansas fiddler who grew up learning the tradition of old time music from her Grandparents.  At an early age, she was perched up on some stage tapping her foot to the beat of fiddles, banjos, mandolins and guitars.  While growing up, her free time was spent traveling to festivals and fiddling contests throughout the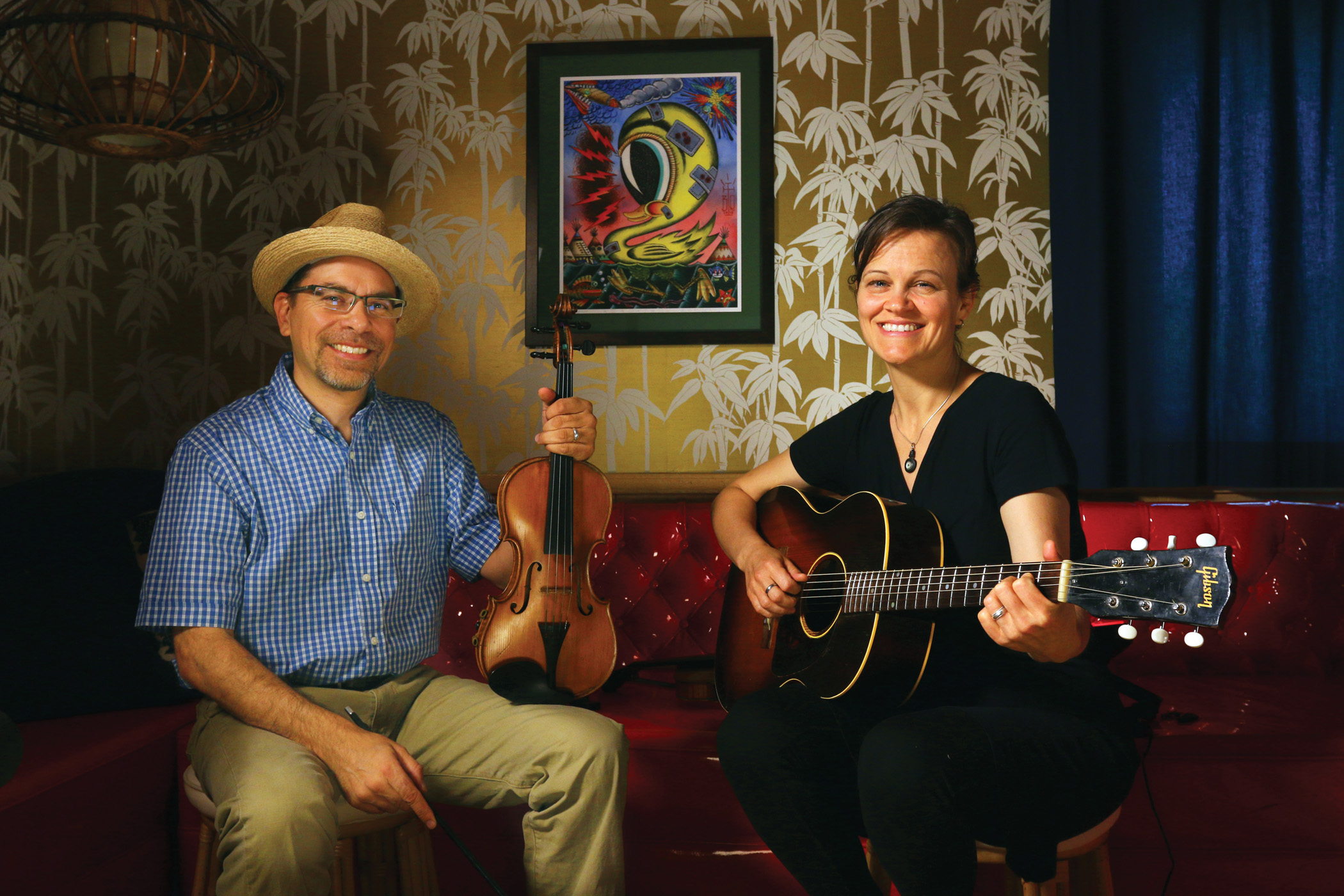 Midwest where she learned from the likes of Pete McMahan, Cyril Stinnet, Lymon Enloe, Dwight Lamb, Amos Chase, and Lucy Pierce. Tricia is a multi-instrumentalist who has studied with some of the great masters and is highly sought after as a performer, dance fiddler, and instructor.
HOWARD RAINS – KANSAS
fiddle
Howard Rains is a native Texas artist and a fourth generation fiddler (or "VY-lin," as his grandfather would say) from a musical and artistic family whose two obsessions are painting and playing the archaic style of fiddling of his home state. Howard plays rare, old tunes learned from friends, family, mentors, and old recordings. As much known for his painting as his fiddling, Howard has painted many of the great old time musicians, both living and gone. Howard's distinct repertoire reintroduces listeners to the pre-contest styles of Texas fiddling.
THE MUSIC OF TIERRA CALIENTE
The great violinist Juan Reynoso made many powerful visits to Fiddle Tunes, beginning in the late 90s, and a direct result of his influence is the group Fire of Tierra Caliente. They will present Don Juan's music (and other Calentano fiddlers) at this year's gathering.
The group came together by the passion of Paul Anastasio, violinist, composer, performer and bandleader. In 1996 Paul was introduced to the music of violinist Juan Reynoso and his guitarist sons at the Fiddle Tunes festival. Shortly thereafter he began traveling to Guerrero and Michoacán to study this fast-disappearing southern Mexican traditional violin style. On roughly 20 trips to Mexico between 1998 and 2006 Paul studied three hours daily with Don Juan, as well as more than a dozen other violinists. He was able to record 3,000 hours of music and transcribe over 800 pieces, several hundred of them arranged for violin trio.
The other members of Fire of Tierra Caliente have strong Mexican music credentials as well. Tina Pilione was able to join Paul on his Mexican visits from 2003 through 2006, studying with Don Juan and his guitarist sons Hugo and Javier. She and Paul currently live next door to each other in south Louisiana and play the music together as often as their schedules permit. Elena DeLisle-Perry and Paul were practically neighbors in the Seattle area when Paul lived in Washington, and also played the music together as often as possible. She loves to teach and play music. With guitar as her main instrument she has studied many acoustic styles, with the music of Tierra Caliente at the top of her list. Juan Barco is a world class singer, guitarist, bajo sexto player and bassist, and he plays often with Paul and Elena. In fact, Juan and Paul taught the music of Tierra Caliente at Fiddle Tunes a few years ago.
BILLY HURT, JR. – VIRGINIA
fiddle
Billy Hurt grew up and learned to play just south of Roanoke, VA. Influenced by such luminaries as Kenny Baker, Bobby Hicks and Chubby Wise, Billy's music falls somewhere between old time and bluegrass. But he feels he owes the greatest musical debt to legendary West Virginia fiddler Clark Kessinger. "Clark inspired me to play, and I'm proud to have known him and met him, and that we were born on the same day, July 27th." It was indeed good fortune to be acquainted with Kessinger, who was a family friend. The old man and the young boy formed a bond, and Billy absorbed everything he could from his mentor until Clark passed away in 1975. Kissinger, and his pre-bluegrass style, is largely forgotten among the young generation of fiddlers coming of age now. But Billy will bring it to Fiddle Tunes next summer.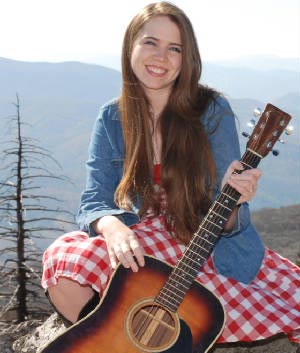 MARTHA SPENCER – VIRGINIA
banjo, fiddle
Accompanying Billy will be Martha Spencer. She grew up on Whitetop Mountain immersed in the musical Spencer Family and has been playing music and dancing since a very young age. She is a multi- instrumentalist, playing guitar, banjo, fiddle, bass, mandolin, and is also well known for her flat foot dancing.
She has taken part in master dance workshops at the National Folk Festival, Australia's Woodford Folk Festival, and the Lowell Folk Festival and played across the USA, UK, Australia and New Zealand.
Martha is very active in passing on music and dance traditions to local youth as well, teaching in the Junior Appalachian Musician program in the Ashe and Alleghany Counties of NC. Martha is also a full time member of The Whitetop Mountain Band.
DOUG KERSHAW – LOUISIANA
fiddle, accordion
Doug Kershaw was born in Cameron Parish, Louisiana, in 1936, surrounded by Cajun fiddle and accordion music. He was raised in a home where Cajun French was spoken and didn't learn English until he was eight. He started fiddling at age five, and eventually taught himself to play 28 instruments.
He played in a duo with his brother Rusty, quickly building a solid reputation for their high-energy performances of Cajun two-steps and country ballads. In the mid 50s they had several national hit records, and shortly afterward were invited to become cast members of the Louisiana Hayride, a popular radio show broadcast from Shreveport, LA. The following year they became members of the Grand Ole Opry. At the peak of their early career, in 1958, Doug and Rusty decided to simultaneously enlist in the United States Army. After fulfilling their military obligation, the two brothers recorded Louisiana Man, an autobiographical song that Doug had written while in the Army. The song not only sold millions of copies but over the years has come to be considered a standard of modern Cajun music. The song was eventually covered by more than 800 artists, and became the first song broadcast back to earth from the moon by the Apollo 12 astronauts.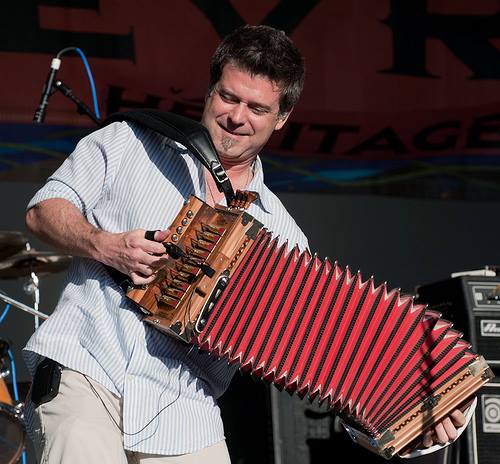 STEVE RILEY – LOUISIANA
accordion, fiddle
Steve Riley, of Mamou Louisiana, is a widely acknowledged master of the Cajun accordion and its singularly powerful sound. His playing is a standard by which timing, phrasing and ingenuity are measured on the royal instrument of South Louisiana. That, combined with his searing, emotional vocals, songwriting, soulful fiddling and onstage front man charisma have cemented his legacy in the evolution of Cajun music. Steve's band, the Mamou Playboys, was started in 1988 by Steve and David Greely. They have been very prolific with more than 10 CD's almost exclusively in Cajun French. Their style has grown from traditional music of Riley's mentors Dewey Balfa, Belton Richard, and Walter Mouton to a more personal style that still has a distinctively Cajun sound.
Steve and Doug recently made a recording on Valcour Records, in a duo setting, paying tribute to the old masters who first introduced their music to the world in the 1920s.
CHRISTOPHER STAFFORD – LOUISIANA
fiddle, accordion, guitar
Christopher Stafford is a multi-talented force of nature in Cajun music. He was a founding member of the acclaimed young traditional/progressive group Feufollet, a band both deeply rooted in the francophone soil of Louisiana and pushing boldly into unexplored yet utterly natural varieties of Cajun experience.
He was performing on international stages when he was still attending a French immersion primary school. A multi-instrumentalist, singer, songwriter, and producer, Christopher generates a major portion of the musical creativity of the French cultural community in Lafayette LA.
JOHN, JAMES, AND MAGGIE CARTY – IRELAND
fiddle, tenor banjo, tenor guitar
John Carty is one of Ireland's finest traditional musicians having been awarded the Irish Television station, Teilifis Gaeilge's Traditional Musician of the Year. He joins previous acclaimed winners Matt Molloy (Chieftains flautist), Tommy Peoples (Master Fiddler), Mary Bergin (whistle player, Dordan), Máire Ní Chathasaigh (Harpist) and Paddy Keenan (Uilleann Piper), all of whom are considered to be the leading exponents of their instruments within the Irish tradition. Carty already has three solo fiddle albums, two banjo albums, two group albums and a sprinkling of recorded tenor guitar and flute music recordings under his belt so it's little wonder he should have joined such elusive ranks. Born in London, fiddler John Carty has established himself among the elite in Irish traditional music and as a staunch supporter of its preservation. Carty developed his love for fiddle, banjo, and flute, all of which he has mastered, through his multi-instrumentalist father who was a member of the Glenside Ceili Band in London in the 1960's.
Joining John will daughter, Maggie, herself accomplished banjo player and traditional singer, and son James, a crackerjack fiddler. This family is part of a living and evolving tradition that spans at least four Carty generations.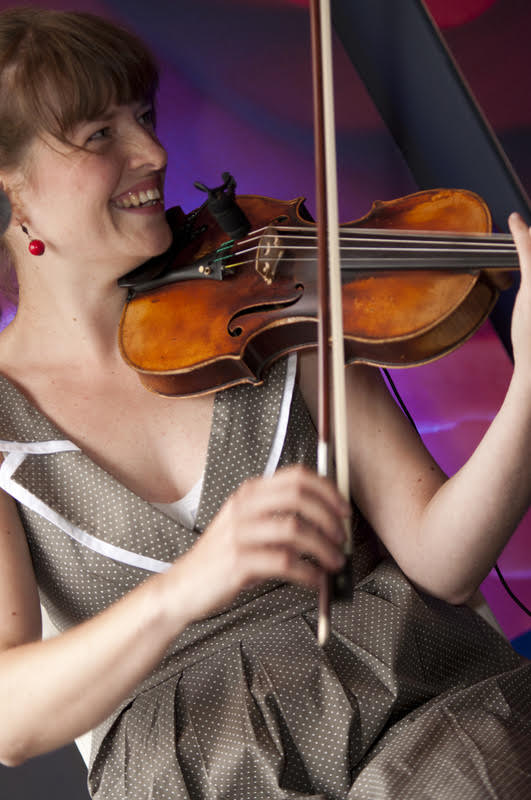 MAJA KJÆR JACOBSEN – DENMARK
fiddle, Hardanger Fiddle (AEBF#/BEBF#)
As the daughter of a singer and guitarist, the path to becoming a musician was natural. At age 14 she took up the fiddle, with great inspiration from the fiddlers performing at festivals such as the mighty Tønder Festival in Denmark, which Maja went to since she was 8 years old. She's a fiddler, a singer, a researcher and a teacher, as well as a composer, arranger and a dancer.
She is especially interested in the old music and singing traditions of Central Jutland (Denmark), where she grew up. Central Jutland music gives her energy, and she'll soon publish a book on the subject. When singing, Maja brings back some of the power and spark that the older generations carried on in the small communities of Denmark for decades and centuries. She has searched for and nourished the old ways of singing, and one of her missions is to sing the songs in the old dialects in which they were originally sung. Other than Maja very few people master this form of traditional song in Denmark.