Details on our 2014 workshop are under development. Stay tuned for more information. Below is information from our 2013 gathering.
—
Old Time
Chirps Smith and Dot Kent
Bobby Taylor and Kim Johnson
Vivian Williams and Phil Williams
Matt Kinman and Moses Nelligan
Joseph Decosimo
Rich Hartness
Riley Baugus
Dan Gellert
Down East
Klezmer
Cookie Segelstein and Joshua Horowitz
Mark Rubin
Texas-Polish
Brian Marshall and family
Basque
Joseba Tapia, Arkaitz Miner and Xavier Berasaluze ("Leturia")
Quebecois
Yvon Mimeault and Guy Bouchard
Turicato, Michoacán
Los Jilguerillos del Huerto
Cape Breton
Dawn Beaton and Barbara Magone

Louisiana
Edward Poullard
Cedric Watson
Desiree Champagne
OLD TIME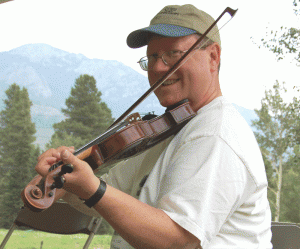 Lynn "Chirps" Smith has played fiddle & mandolin for more than thirty years with a specialty in Midwestern dance tunes. He has played mandolin with the Indian Creek Delta Boys (with fiddler Garry Harrison), The Polecats (with fiddler Mark Gunther), and fiddle & mandolin with The Volo Bogtrotters. Currently he plays with the Little Egypt Pepsteppers and VigorTones, as well as his latest group, the New Bad Habits.
Smith has taught at workshops around the country including the August Heritage Workshop (Elkins, WV), the University of Wisconsin String-Along Weekend, the Montana Fiddle Camp, Blue Ridge Old-Time Week (Mars Hill, NC), and the Rocky Mountain Fiddle Camp.
In 1997 he was recognized as a master Illinois fiddler and awarded an Illinois Arts Council Apprenticeship Grant with teenager Stephanie Coleman (now an acclaimed fiddler in her own right). He will be accompanied at Fiddle Tunes by his wife, Dot Kent, a renowned clogger and dance caller.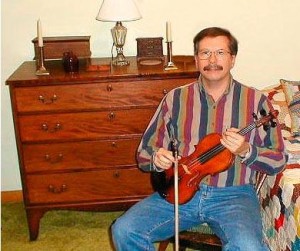 Bobby Taylor is a fourth generation West Virginia fiddler who has been playing since the age of 13. He learned from legendary fiddlers Clark Kessinger and Mike Humphreys. Taylor first received statewide recognition when he was named the 1977 West Virginia State Fiddle Champion at the West Virginia Forest Festival at Elkins. In 2003 he received the Footbridge Award, presented by FOOTMAD (Friends of Old-Time Music and Dance) for his contributions to old-time music.
Bobby has been the coordinator of West Virginia's Vandalia Gathering contests at the State Capitol in Charleston since 1979, and has coordinated the Appalachian String Band Music Festival contest since 1990. Taylor has taught fiddle at the Augusta Heritage Center and Allegheny Echoes. In 2006 and 2007 he was Grand Masters Fiddle Championship Judge in Nashville TN. He also performs and records with the Old-Time band Kanawha Tradition.
From Clendenin in Kanawha County, West Virginia, Kim Johnson was exposed to banjo music at the West Virginia Folk Festival held in Glenville, WV, where she also attended college. She bought her first banjo in the early 1970s and initially struggled until she met West Virginia fiddler Wilson Douglas, whose father and grandmother had both been fine banjoists. Johnson's determination and persistence eventually paid off and she learned to play in a sparse style suitable for string band accompaniment.
Kim's banjo playing complimented Douglas's fiddling so well that the two made three recordings together: Boatin' Up Sandy (1989), Common Ground (1993) and Back Porch Symphony (1995). Kim's song list includes many old-time fiddle tunes common in Clay County, WV, such as "Liza Jane," "Pretty Little Cat," and "Elzic's Farewell."When she's not performing, Johnson can be found teaching at camps such as the Augusta Heritage Center, and performing at festivals all over West Virginia and beyond.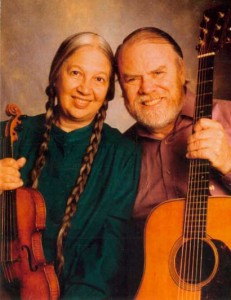 Vivian and Phil Williams have been documenting and performing Northwest folk music since their teens in the 1950′s. Vivian is one of the leading old time and bluegrass fiddlers on the West Coast. She is an award-winning fiddler, with accolades including a three-time Washington State fiddle champion, four-time winner of the West Coast International in Canada, and winner of the Smithsonian Fiddle Contest in Washington, D.C. Vivian plays primarily in the old time fiddle styles found among fiddlers in the Pacific Northwest, with an influence of older era bluegrass. She is known as one of the major historians of the pioneer dance music of the Far West.
Phil Williams has developed a reputation as an outstanding backup player of fiddle tunes on the mandolin. He has published a collection of fiddle tunes for the mandolin under the title "The Mandolin Player's Pastime." His extensive recording work documenting fiddling in the Pacific Northwest has contributed to his title as a consultant to the Smithsonian on traditional music in the region.
Phil and Vivian own and operate Voyager Recordings & Publications, which has released recordings of over 85 fiddlers and has developed the most extensive recorded archive of Northwest fiddle and old time music in the country.
Matt Kinman has been playing music since he was a kid growing up in Arizona. In his teen-age years, after moving to the south east of the United States, he began traveling the region to meet and play with the old timers, "I'd find every musician that I wanted to be around and I'd take off. It didn't matter if I had a car or not…I'd take off walking…I'd take off on a bus…I didn't care and if I had no job or no money to get there – I went anyways."
Kinman regularly plays with the Roan Mountain Hilltoppers, and has played with Old Crow Medicine Show, the Hackensaw Boys and the Old Time Serenaders. He is a fixture on the festival circuit all over the southern U.S. He also performed at the Second Ever Los Angeles Old Time Social in 2007. He has two full-length recordings, When the Works All Done This Fall and Matt Kinman and the Old Time Serenaders.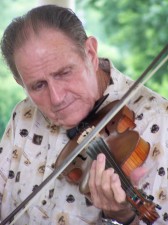 Charlie McCarroll is a strong, serious, and powerful fiddler. At age 74, he continues to play expertly in a style only barely more modern. Since the recent reissue of the classic 1928 recordings of the Roane County Ramblers, Charlie is attracting attention for his own mastery of the repertoire of his father, the great Southern Champion fiddler Jimmy McCarroll.
Charlie says, "Daddy played a little different than me. He never did learn none of that grass." Charlie often performs locally and has recently earned well-deserved attention on both WBIR's Heartland Series and WDVX's Music of the Cumberland Trail. Even today, as younger players instantly download and scrutinize styles and repertoire from far-flung regions, performers, and time periods, Charlie's vast storehouse of tunes, earned through diligence in face-to-face interaction, is fascinating followers and students of old-time fiddling. Though reserved and modest, Charlie bends to no fiddler, remaining ever ready to put his breakneck, hard-driving facilities to the test.
Charlie will be accompanied by Joseph Decosimo, an Old Time multi-instrumentalist deeply interested in keeping old tunes alive, and the mighty Bob Fulcher, Tennessee Park Ranger and documentarian of much of Tennessee's music and culture.
South Carolina native, Rich Hartness, is a seasoned fiddler in the Old Time style. He learned from old master players including Wilson Douglas, Melvin Wine, and the Hammons Family. Having played with musicians Tommy Jarrell and Dix Freeman, Hartness is a regular finalist at the Appalachian String Band Festival.
His fiddling style is unique and represents a synthesis of many different influences; he is sometimes characterized as an "up bow" fiddler as he gains power and emphasis by "pushing" the bow up on the down beat. Hartness has appeared on recordings of Palmer and Greg Loux, Gail Gillespie, Molly Tenenbaum, and Mark Simos and is also featured on North Carolina Heritage Award winner Marvin Gaster 's CD, Uncle Henry's Favorites.
Riley Baugus has carved his own path in music, building in-demand instruments and performing at festivals all over the world. His teaching credits include The Augusta Heritage Festival and Augusta Old Time Week, Mars Hill College's Blue Ridge Old Time Music Week, and Sore Fingers Week in the UK.
A touring musician playing regularly with Tim O'Brien, Dirk Powell, and Ira Bernstein, Baugus's discography is impressive and extensive. Of his 2006 release, Long Steel Rail, Billboard Magazine said: "..quintessential American old-time music. The instrumental component is impeccable, while Baugus' vocals sound like they've been echoing through the Appalachian Mountains for about 150 years."
Baugus was featured on the score for the Academy Award-winning film, Cold Mountain, and has appeared on the Grammy award-winning Album Of The Year, Raising Sand by Alison Krauss and Robert Plant. In 2010 his banjo playing was featured on Willie Nelson's Grammy-nominated recording Country Music.
Dan Gellert is a legend in the field of old time American music. As a result of the folk music revival of the 1960s and records he heard growing up in New Jersey, he began to master the banjo, guitar, and fiddle, and sing. At an early age he discovered the importance of taking the time to understand the music in a complete and detailed way, as if it were a language.
Dan has given a lot of thought to what it takes to make the music sound and feel like the field recordings and old 78 rpm records he has listened to. While Dan is playing, one gets the sense he has entered another world which combines all his influences, yet it is his playfulness and improvisational sensibilities which make his style powerful and instantly recognizable… Not for the faint of heart, Dan Gellert is a commanding and uncompromising talent. (–from Fiddler Magazine)
DOWN EAST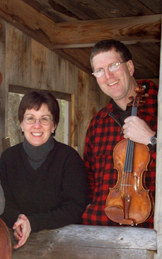 Franco-American ace fiddler, Don Roy, has been called the dean of Franco-American fiddling in Maine. Roy has been playing since age 6. His uncle Norman Mathieu taught him how to play guitar, and he then accompanied another uncle, Lucien Mathieu, who taught him how to play fiddle at 15. In keeping with Acadian tradition, Roy has been passing along his fiddling heritage to a few private students, as well as a larger workshop at the Center for Cultural Exchange, in Portland, Maine. After many years performing with the Maine French Fiddlers, Roy now leads the Don Roy Trio. Nationally recognized for his skill, Roy has performed at venues including Carnegie Hall and Garrison Keillor's "A Prairie Home Companion." He has twice been awarded the Maine Fellowship for Excellence in Traditional Music. Recently, Roy has been pursuing an interest in making stringed instruments, working under master craftsman Jon Cooper.
Cindy Roy, also a member of the former Maine French Fiddlers, is well known for her step dancing piano accompaniment which is among the best in New England. Augmented by her rhythmic feet, she adds life and enthusiasm to the music. Some of Don and Cindy's families were getting for house parties long before Don and Cindy met on a blind date to play music in 1980. The heritage continues and Cindy and Don will entertain you with a blend of fiddle and piano styles that are common to traditional musicians of Maine.
KLEZMER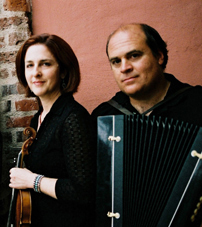 A specialist in klezmer fidlling, Cookie Segelstein received her Masters degree in Viola from The Yale School of Music in 1984. She is the founder and director of the klezmer band Veretski Pass, and has performed with Kapelye, The Klezmatics, Frank London, Klezmer Fats and Swing with Pete Sokolow, and The Klezmer Conservatory Band. Segelstein has presented lectures and workshops on klezmer fiddling all over the world , including Yale University, the University of Wisconsin at Madison, the University of Oregon, and Klezmerwochen in Weimar, Germany. She was featured on the ABC documentary, "A Sacred Noise," heard on HBO's "Sex and the City," and is the publisher of "The Music of…" series of klezmer transcriptions.
Cookie will be joined at Fiddle Tunes by fellow Veretski Pass member, Joshua Horowitz (chromatic button accordion, cimbalom, and piano). Horowitz received his Masters degree in Composition and Music Theory from the Academy of Music in Graz, Austria, where he served as Research fellow and Director of the Klezmer Music Research Project for eight years.
Mark Rubin, bass, grew up with a love of music due to his two musician parents and the help of a rebuilt Wurlitzer 78 rpm Juke box installed the family living room. Some of his happiest childhood memories are of sitting on the floor soaking up every nuance of the jukebox sound.
When Rubin was six years old his parents signed him up for the first ever Suzuki Method course in Oklahoma so that he could begin training as a violinist.
Quickly thereafter he realized his passion lay instead with the trombone, tuba and bass. Since then, Rubin has performed and recorded with a bevy of artists including Steve James, Santiago Jiminez Jr., the Bad Livers, and Frank Londn's Klezmer Brass Allstars.
TEXAS POLISH
Texas-Polish dance band fiddler, Brian Marshall, is a native of Houston with Bremond roots. A fourth generation musician of Polish ancestry, he started playing music at the age of 7 and he likely learned his first Polish tune at 8. By his late 20s Marshall realized that an entire generation of Texas Polish musicians were disappearing and their repertoires with them. In response, he started recording himself and many of the older players to ensure that the music was not lost.
His passion for this effort has resulted in two acclaimed and currently available recording projects, the self-produced Polish Roots and Texas Kapela (Arhoolie Records). Marshall's latest album with his group, Brian Marshall and His Tex-Slavik Playboys, Texas Lowlands (2006), was released to critical acclaim. Of it John Morthland of Texas Monthly said, "In the nineteenth century, Polish bands used fiddles to create a distinctly Texas sound. The rural sound died out decades ago, but Brian Marshall and His Tex-Slavik Playboys bring it back with grace and verve. . . These guys are to Texas polka what Beausoleil is to Cajun music." Along with Marshall, the album features musicians Dennis Bielamowicz, Chuck Bolin, Mike Stinnett, David Slovak, and Mark Rubin.
BASQUE
In the late '70s, Joseba Tapia gained local fame as a young trikitixa (The Basque word refers not only to the diatonic accordion, but to a particular type of folk dance) player whose fingers flew over the keys with blistering speed and accuracy.
He teamed up with virtuosic pandeiro (tambourine) player Javier Leturia in 1984, and together they drove dancers into Dionysian frenzies while somehow avoiding excommunication. The pair didn't limit themselves to traditional folk.
Their 1995 self-titled disc draws on reggae, rap, punk, and the radical rock scene in their homeland. Tapia has launched a solo career that includes performing modern Québécois songs translated into Basque, and an album that features Basque songs, many of them unpublished, from the Spanish Civil War era. Tapia is also bringing his favorite fiddler, Arkaitz Miner.
QUEBECOIS
Former member of the iconic Quebecois band, La Bottine Souriante, Guy Bouchard is a master of Quebecois fiddling. In addition to his extensive recordings with La Bottine, Bouchard doubles as an archivist and historian of traditional Quebecois music through his organization, Trente Sous Zero (translating to Thirty Below).
Yvon Mimeault is one of the great fiddlers from Québec. At age 85, this left-handed fiddler, originally from the Gaspesie, is known for his energetic style and original repertoire. Mimeault learned from his family and his nearly 50 years playing in dance halls.
He is often accompanied by various musician friends including Éric Favreau (fiddle), André Marchand (guitar), Guy Bouchard (guitar and fiddle), Kevin Carr (fiddle and uillean pipes), Daniel Roy (wooden flageolet), Laurie Rivin (fiddle), Paul Marchand (guitar) and Barbara Mendelsohn (piano).
Recorded in Joliette in March 1998, his album, Y'etait Temps!, is already among the greatest Québec fiddle records.
MICHOACÁN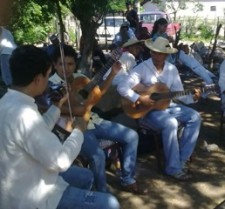 Martin Dagio Almónte, Alaín and Huber Figueroa Ziranda – members of Los Jilguerillos del Huerto – were born into a musical family in the village of Cieneguillas del Huerto, Turicato, Michoacán, México:
All three began playing various stringed instruments when they were young children, learning from their father and uncle, campesinos dedicated to farming who also played traditional music of the region. After meeting David Durán Naquid, a dance instructor who promoted traditional music and dance, the youngsters expanded their repertoire to include all the genres of the broader Tierra Caliente region.
Durán took them to meet and learn from master violinists, many of them who lived hours from Turicato. These masters included virtuosos who have since passed away such as Rafael Ramírez Torres of Huetamo; Don Juan Reynoso Portillo of Riva Palacio; Don Custodio Villa Martínez of Carácuaro, and Don Leandro Corona of La Huacana. They have also studied with Don Serafín Ibarra of San Diego Curucupatzeo who lives in Morelia as well as José Jiménez of Zicuirán; guitarists Don Cástulo Benitez de la Paz of Altamirano and Don José Cruz of Huetamo; harpist Don José García Abarca of Arteaga; and tamborita player Don Faustino Gutiérrez of Huetamo.
Martin, Alaín and Huber have taught at gatherings organized by the non-profit organization Música y Baile Tradicional, A.C. They have also taught at the Centro Cultural El Huerto in Morelia. All are adept at playing violin, harp, tamborita, tololoche, guitarra de golpe, guitar and vihuela.
A partial list of their performance venues includes Museo del Estado (Michoacan State Museum), Museo de Arte Colonial, Teatro Ocampo, Teatro José María Morelos, Casa y Palacio de Gobierno, all in Morelia; the Colegio de Michoacán in Zamora; in the National University's center in Jiquilpan, Michoacán; the National School of Folkloric Dance and Radio Educación in Mexico City and the Regional Museum in Chilpancingo, Guerrero. They have also performed abroad in Valparaíso and Viña del Mar, Chile.
CAPE BRETON
Dawn Beaton hails from Mabou, Cape Breton and has been playing fiddle and step dancing for over 25 years! Music has been at the forefront of her life, surrounded by it through an infusion from her parents, her relatives, and living in the vibrant community of Mabou. Along with her fiddling sister, Margie, they decided in 2008 to release their debut album, Taste of Gaelic. It led to opportunities right from the CD release to attend one of the largest Celtic festivals in the world, the Lorient Interceltique Festival in Lorient, France. From there the girls have traveled and taught in Scotland, England, Brazil, China, Ireland and the United States, not to mention a Nova Scotia Music week nomination and an ECMA win for Roots/Traditional Duo or Group Recording of the Year – 2010!
Dawn has taught both fiddle and dance for the last 15 years including Ceolas in South Uist, Scotland, at the Goderich Celtic Festival in Ontario, Canada, and all over Cape Breton!
Besides being a musician, she is the Artistic Director for Celtic Colours International Festival in Cape Breton that takes place every October on all corners of the island.
Barbara Magone was born and brought up in Detroit, Michigan in a community of transplanted Cape Bretoners. Her father was her first teacher, teaching her by ear by slowly playing the tunes on the piano. Her musical abilities were encouraged by the Cape Bretoners who came to her home for frequent music sessions. Childhood summers spent in Cape Breton also gave her a firm footing in that traditional music. She played for dances, concerts, weddings accompanying such notable Island fiddlers as Buddy MacMaster, Carl MacKenzie, Cameron Chisholm, Theresa MacLellan and John Campbell.
In July of 1970, Barbara made her first of many trips to Ireland where she met such legendary musicians as (the late) Paddy O'Brien, accordion player; flute player and fiddler, Peter O'Loughlin; P.J. Hayes (father of Martin); and fiddler Paddy Canny, among others. She played in a music session in Limerick with all of these musicians and a very young Seamus Connolly. Seamus and Barbara became very good friends and performed together on three of the Masters of Folk Violin tours and at Gaelic Roots at Boston, and they have recorded together. Subsequently she has also accompanied Irish fiddlers James Kelly, Liz Carroll, Mairead Ni Mahonaigh, and has performed and recorded with Irish concertina player Gearóid Ó hAllmhuráin.
CAJUN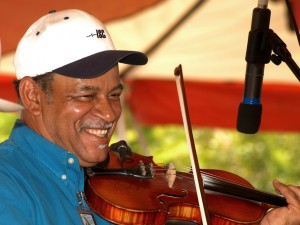 Edward Poullard was born in Eunice, LA and raised in Southeast Texas. By the time he was in grade school, he was playing in his father's band at house parties and parish dances. He started out on drums and guitar, then moved on to accordion and fiddle, studying the latter with the late, legendary Canray Fontenot, with whom he performed nationwide until Fontenot's death in 1995.
Poullard often performed with his late brother Danny on accordion, showcasing older tunes learned from their father. He has performed and recorded with Lawrence Ardoin's Tradition Creole Band, Jesse Lege, and most recently, his group, Les Amis Creoles.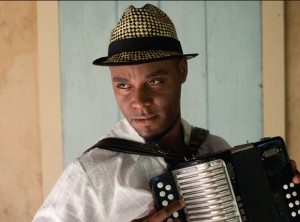 Originally from San Felipe, TX (population 868), Cedric Watson made his first appearance at the age of 19 at the Zydeco Jam at The Big Easy in Houston, TX.
Just two years later, he moved to south Louisiana, quickly immersing himself in French music and language.
Over the next several years, Cedric performed French music in 17 countries and on 7 full-length albums with various groups, including the Pine Leaf Boys, Corey Ledet, Les Amis Creole with Ed Poullard and J.B. Adams, and with his own group, Bijou Creole.
Cedric Watsonis a four-time Grammy-nominated fiddler, singer, accordionist & songwriter, he will be accompanied by washboard player, Desiree Champagne.