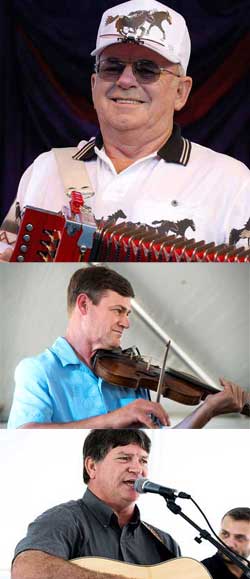 Scott, Louisiana
Walter Mouton – accordion
Jason Frey – fiddle
Mark Latiolais – guitar, vocals
Born in 1938, the venerable Walter Mouton is a legend in Cajun music.
For the past 65 years he has led the Scott Playboys, the quintessential Cajun dance band. They entertained at La Poussiere Cajun Dance hall for 45 years, including playing every Saturday night for 30 years straight, until Mr. Mouton retired in 2008.
"I never was one for the fame," said Mouton. "That's why I never pushed to record. I was satisfied going out there, playing my music and watching the people enjoy it."
He did record a single 45 in 1970, consisting of "Lonely Girls' Waltz" and the accordionist's signature "Scott Playboy Special" as the B side. This was his sole recording for decades although several bootleg recordings of his band from the 80s have been widely circulated and are revered as some of the finest Cajun dancehall music ever recorded.
Mr. Mouton will be accompanied to Port Townsend by Jason Frey, one of Dewey Balfa's favorite accordion players – but Jason will teach at fiddle during the week.
And coming for the first time, teaching Cajun guitar and vocals, will be Mark Latiolais, known for his work with both Jason Frey and Paul Daigle.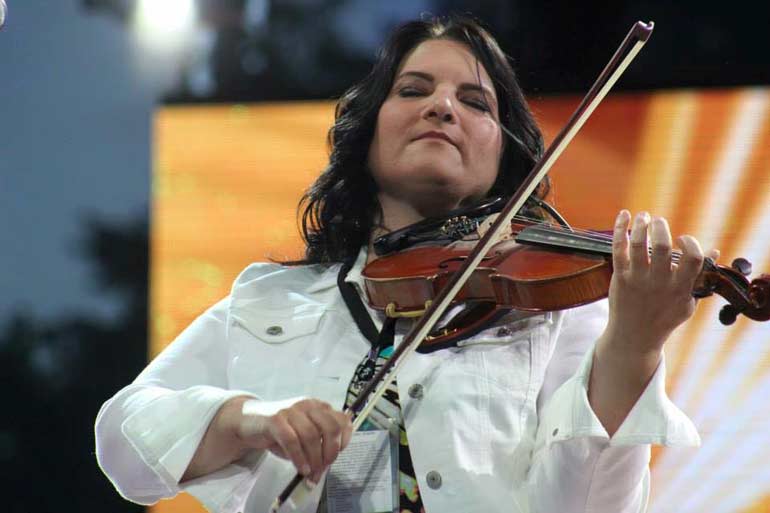 Winnipeg MB
Patti Kusturok – fiddle
Jeremy Rusu – guitar, accordion, piano
"When it comes to old time fiddling in Canada, Patti's the 'Boss'" – North American Fiddle Champion Calvin Vollrath
At the age of four, Patti began to learn playing the fiddle, and has a resume that reads like that of an Olympic champion. A few to her credit include 3-time Champion at the famous Pembroke, ON competition, 6 time Manitoba Champion, 3 time Grand North American Champion, and in 1994, 1995 and again in 1996, Patti won the prestigious Canadian Grand Masters Fiddling Championship in Ottawa, ON. Patti was the first woman in the history of Canada to ever win and was the very first person from Western Canada to attain the crown. Her playing is characterized by a pulsating, rhythmical lilt that is guaranteed to get you on the dance floor.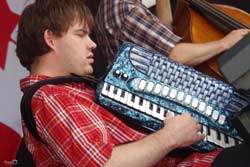 Considered one of the smoothest players in North America, Patti is known for her effortless delivery of some of the best traditional Canadian fiddle music of all time.
Patti will be accompanied during the week by multi-instrumentalist Jeremy Rusu. Blind since birth, Jeremy plays every style of music imaginable. Whether it's on jazz piano, drums with a big band, country lead guitar, bluegrass mandolin, or accordion, Jeremy Rusu is right at as long as he's making music. He is in great demand in several bands around Winnipeg and is also busy working as a studio musician. Most recently, Jeremy has released his first solo recording titled "The Accordion Album."
Dover NH – Irish Fiddle
Winifred Horan
Win was born in New York City to Irish parents, and studied piano and Irish fiddle playing at a young age. She graduated from the New England Conservatory, and played with multiple orchestras before joining the all-female Celtic music ensemble Cherish the Ladies. In 1996 she co-founded Solas, and 20 years and 11 albums after they burst onto the scene, they are still a beacon (Solas is Gaelic for "light") – an incandescent ensemble that found contemporary relevance in timeless traditions. Outside of her work with Solas, Horan was a member of and toured with The Sharon Shannon Band, and also performed with Irish singer-songwriter Pierce Turner. She is a nine-time champion Irish stepdancer and an All-Ireland fiddle champion, having won an All-Ireland Junior Championship at age eleven.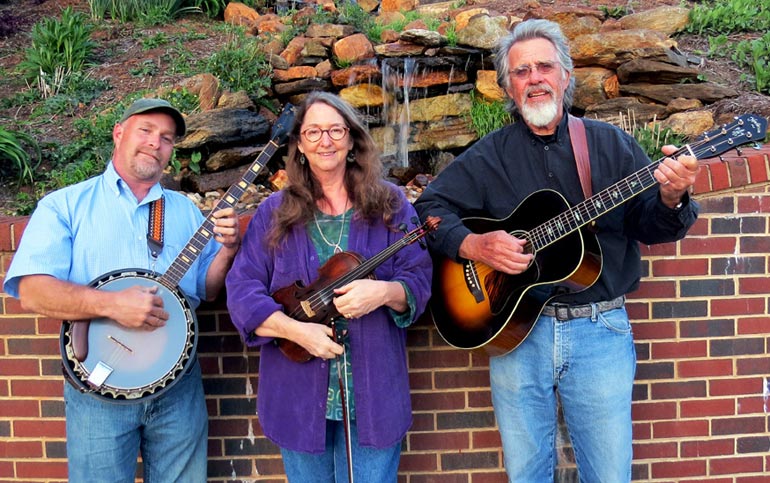 Virginia, North Carolina
The Reed Island Rounders
Betty Vornbrock – fiddle
Billy Cornette – guitar
Kirk Sutphin – fiddle and banjo
Betty Vornbrock is an accomplished fiddler in several different traditional styles. Besides the music of the Appalachian Mountains (her first love), she has studied Shetland, Scottish & Irish fiddling, Western Swing and even Eastern European dance music. Her old-time influences include West Virginia fiddlers Wilson Douglas, Melvin Wine, John Johnson, Sarah Singleton, Clark Kessinger and Burl and Eden Hammons; Kentucky fiddlers JP Fraley, Ed Haley, W.M. Stepp, and Snake Chapman; and from the Blue Ridge, Ralph Blizard, Tommy Jarrell, and Henry Reed. Betty has co-produced a twin-fiddle album "Side by Side" with Kentucky fiddler J.P. Fraley, with whom she has won top twin-fiddle honors at Fiddler's Grove Festival for their haunting and beautiful harmonies. She's had much good luck at contests, as well. Among the many honors are First Place at Mount Airy Fiddler's Convention, Ed Haley Memorial OT Fiddle Contest, WV State Folk Festival in Glenville, and Fiddler's Grove.
Billy Cornette was born in Kentucky to a family of fiddlers and musicians, where he was exposed to a variety of country musicians and early bluegrass greats. While attending the university in the early '60's, his interest in folk music led him to the guitar. After moving to Virginia in 1989, he began teaching himself fiddle and renewing his interest in guitar. He & Betty met in 1990 at a local jam session, and he's concentrated on playing back-up guitar to her fiddling ever since. He & Betty married in 1995. They grow Christmas trees on their farm north of Hillsville, in Carroll County, Va., where Betty also runs her custom sewing business, "Autumn Wind".
Kirk Sutphin was raised in the Piedmont of North Carolina, born into a rich heritage of old-time music. He studied fiddle at the knees of masters such as Tommy Jarrell and Lonnie Austin, mastering both the Round Peak and Piedmont styles of fiddling, as well as the lilting Virginia fiddle styles of Emmett Lundy and Taylor Kimble. Kirk's banjo playing has been influenced by the clawhammer styles of Tommy Jarrell, Dix Freeman, Fred Cockerham, and Wade Ward, as well as the three-finger picking styles of Frank Jenkins and Charlie Poole. Kirk has toured both nationally and internationally, with performances at the Alaska Folk Festival, the National Folk Festival, the Chicago Folk Festival, and the Festival of American Fiddle Tunes. He was featured on the national tour of the Masters of the Banjo, and more recently, Music of the Crooked Road: Mountain Music of Virginia, both sponsored by the National Council for the Traditional Arts.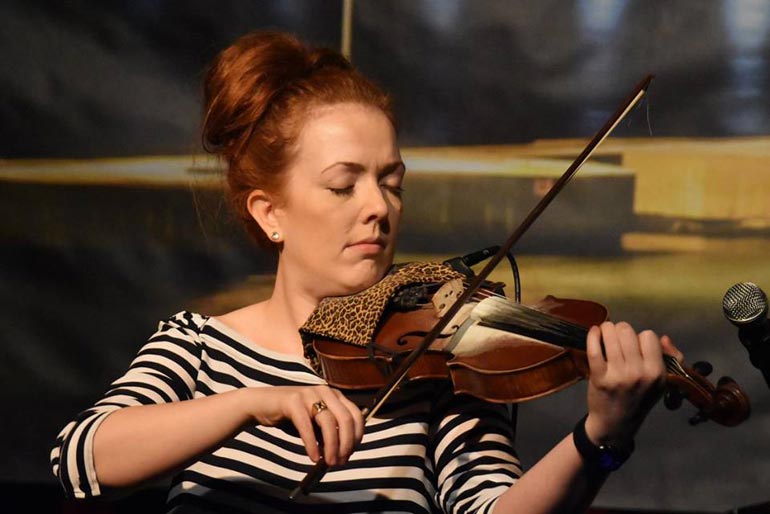 Cape Breton NS
Dawn Beaton – fiddle
Troy MacGillivray – fiddle and piano
Dawn hails from Mabou, Cape Breton and has been playing fiddle and step dancing for most of her life. Music has been at the forefront of her life, surrounded by it through an infusion from her parents, her relatives, and living in the vibrant community of Mabou. Along with her fiddling sister, Margie, Dawn released her debut album, Taste of Gaelic, which won the East Coast Music Award for Roots/Traditional Duo or Group Recording of the Year in 2010. Dawn and Margie have performed at concerts, ceilidhs and festivals all around Cape Breton Island, mainland Nova Scotia, Prince Edward Island, Scotland, Ireland, France, USA, England, Brazil and China.
Dawn is also the Artistic Director for the magnificent Celtic Colours International Festival in Cape Breton that takes place every October on all corners of the island.
Troy MacGillivray has a musical prowess that can be attributed to an especially rare combination of commitment and bloodline. From a young age, Troy was impressing audiences with his fiddle, piano, and step dancing skills. He has a roots-centered approach to his fiddling and piano playing that has the power to inspire any audience and has played across Canada, the US and UK, the Netherlands, Germany, Japan and Australia. Troy plays the music of his ancestors who immigrated to Canada from Scotland over 200 years ago. Today, he focuses on playing not only traditional tunes but also his own compositions which are receiving international recognized and are being recorded by other artists from across Canada and around the world.
Texas
Belen Escobedo – fiddle
Ramon "Rabbit" Sanchez – bajo sexto
Ramon Gutierrez – tololoche
The music of old style Tejano Mexican American strings bands has all but disappeared in Texas, but the tradition lives on in the hands of Belen Escobedo. She plays the music from the late nineteenth and early twentieth century, tunes that have deep roots in the Texas borderlands. Once common across South Texas, she is nearly the only player left keeping this music alive. When Belen was growing up, there was no one playing this string music in San Antonio. Her grandfather missed dancing to it so much that he and his friends would whistle the tunes to Belen so that she might learn them. She'll be accompanied at Fiddle Tunes by bajo sexto master "Rabbit" Sanchez, who is widely considered the top bajista in conjunto music today, and Ramon Gutierrez on the tololoche.
California
Suzy Thompson – fiddle
Eric Thompson – guitar
Some 40 years ago, Suzy Thompson inflicted on her mother and father just about every aspirational parent's worst nightmare. Though she had been accepted to Yale, the folk-music-besotted teenager left her Connecticut home, boarded a Green Tortoise bus and headed to Berkeley, where she knew exactly one person. She not only ended up staying, she's played a central role in turning the city into an extraordinarily vibrant nexus for an intersecting array of American roots music traditions. A powerful fiddler, skilled guitarist, and beguilingly blues-inflected vocalist, she's an invaluable force as a player, bandleader, and inveterate organizer responsible for the Berkeley Old Time Music Convention. Suzy was the Artistic Director for Fiddle Tunes from 2011 through 2016.
Eric Thompson took up the guitar as a teenager in Palo Alto, California in the early 1960's, at a time when very few folk guitarists were playing more than basic rhythm guitar. Among his earliest bands were the Black Mountain Boys (with Jerry Garcia and David Nelson) and Mother McCree's Uptown Jug Champions. He soon became nationally known as an exceptional lead flatpicker, winning the World Championship Cup at Union Grove. Since that time he's been in many bands – the Spare Change Boys, the Graineog Celidh Band, the Blue Flame Stringband, the Backwoods Band, Kleptograss, Guitars Without Borders – and recorded innumerable albums, both solo recordings and as a support player.
North Carolina
Rick Ward – banjo
Rick Ward is steeped in Beech Mountain and Watauga County cultural lore, and he continues long-established family musical and instrument-building traditions. Some of his gifts were evident when he was very young. He made his first banjo when he was only twelve. He's also accomplished in painting, rug hooking, and plant lore, skills he learned from his grandmother. Instrument building – banjos and dulcimers and fiddles – is a craft that passed on to Rick through his grandfather and his father, N.T. Ward. Rick makes traditional mountain-style fretless banjos using patterns created by his grandfather and father, and he continues to use groundhog hides for the head of the banjos. His style of banjo picking is a distinctive "double-knock" style that his grandfather Tab Ward perfected. Tab Ward was a regionally popular recording artist, and Rick has fond memories of visiting his grandfather, listening to stories, ballads, and banjo songs. Tab Ward passed away when Rick was a teenager, and Rick felt inspired to study the double-knock style and learn his grandfather's repertoire from memory and recordings.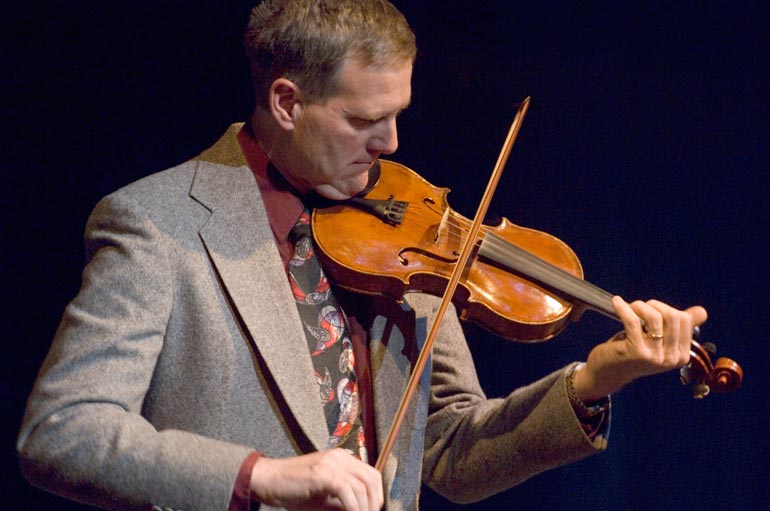 Maine
Don Roy – fiddle
Cindy Roy – piano and step-dance
Don Roy is considered the dean of Franco-American fiddling. He grew up in a large French family in Rockland, and he's been fiddling since he was 15, when his uncle gave him his first instrument. "I just shoved it under my chin and started sawing," he said. He learned as a teenager at house parties, where fiddles and guitars were passed around and songs exchanged deep into the night. He quickly became better than the older and more experienced people he was playing with, including the uncle who taught him, Lucien Mathieu of Westbrook. Since that time he's played at Carnegie Hall, Lincoln Center, the Kennedy Center and the Library of Congress, and performed on Garrison Keillor's "A Prairie Home Companion." And now he's learned to make his own fiddles. He'll be accompanied by his wife, Cindy, well known for her step dancing piano accompaniment which is among the best in New England. Augmented by her rhythmic feet, she adds life and enthusiasm to the music.
West Virginia
The Modock Rounders
Jesse Pearson – fiddle
Cody Jordan – guitar, fiddle
Kim Johnson- banjo
The Modock Rounders, a traditional stringband from West Virginia's Kanawha Valley, and they are keeping hot the fires of the Mountain State's fiddling heritage.
Jesse is an award-winning fiddler from Point Pleasant, WV, who learned to play from visits with local masters Bobby Taylor, Franklin George, John Morris, and Terry Vaughn, while also pouring over classic 78 rpm recordings and albums by The New Lost City Ramblers. As well as being heavily influenced by the playing of Wilson Douglas and Lester McCumbers, Jesse draws equal inspiration from friend Stephen "Sammy" Lind of The Foghorn Stringband.
Cody, who is also an award-winning fiddler from Point Pleasant, WV, has been picking the guitar since before he and Jesse met in middle school and although neither of them grew up with old-time music, Cody now belts out traditional ballads and songs as if he's known them his entire life. Being influenced by folks like Ginny Hawker & Tracy Schwarz, Roscoe Holcomb, and Ralph Stanley, Cody sings and plays with a conviction that is all too rare in modern music.
Kim was born in Clendenin, WV, and has been playing clawhammer banjo since the 1970s when she was first captivated by the fiddling of Wilson Douglas, who then took her under his wing and taught her everything he knew. She has since had the honor of playing with and knowing some of the most highly influential West Virginia fiddlers of the last 40 years. Kim is a true American treasure and the Rounder's connection to a past generation of musicians that live on through her storytelling and lively banjo playing.
We're also working on bringing players from:
Newfoundland
Quebec
Louisiana
Tierra Caliente, Mexico
and one or two more….
Check back for updates!