We're currently assembling the teaching staff for 2016. Here's who we have so far. Stay tuned!
Frank Ferrel – fiddle
Maine coast musician Frank Ferrel is considered one of the seminal traditional New England and Maritime fiddlers. In fact, Boston Globe music critic Scott Alarik called him "One of the finest living masters of the genre." His CD recording Yankee Dreams was selected by the Library of Congress to be included in their "Select list of 25 examples of American folk music on record." His original compositions have enjoyed great popularity in the Canadian Maritimes, and have been recorded by such notable Canadian fiddlers as Buddy MacMaster, Ashley MacIsaac, Brenda Stubbert, Tracy Dares, Maybelle Chisholm, Andrea Beaton, Joe Cormier, and J.J. Chaisson.
Frankis a regular fixture at local traditional dances and concerts, and has performed and toured throughout North America, Ireland and the British Isles, including numerous appearances with the legendary Celtic group, The Boys of the Lough.
Frank managed the Fiddle Tunes Festival in its early years, and we welcome him back for the 40th birthday.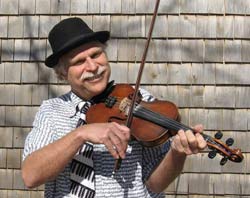 Doug Protsik – piano
Frank will be accompanied on piano by Doug Protsik. Doug likes to play the "old-time piano" for dances, melodramas, honky tonk saloons, and silent movies. He learned his style from Otto Soper, Geneva Walton, and Danny Patt among many others.
Doug plays with Old Grey Goose and produced all three of their recordings, including the group's first recording in 1978 for Folkways, "Old Time Country Dance Tunes and Songs from Maine," now available again on CD. Doug also plays accordion and fiddle, calls country dances, and is the director of the mighty Maine Fiddle Camp.
Pedro Cruz –violin
Andre Dantas –accordion, piano
Grupo Apui is Pedro and Andre from Rio Branco, Brazil, deep in the heart of the Amazon jungle. They are keepers of the traditional music flame of this remote, northwest region of Brazil. They are popular hosts of the lively bi-weekly social dances held in the Rio Branco town square. Grupo Apui plays schottisches (xotes), mazurkas, marches, waltzes, chorinho, forro, and samba.
In addition to playing for dances, Pedro and Andre lead classes, conduct orchestras and present many workshops and performances of traditional music to all ages in schools and theaters throughout Amazonia. They are both professors of music at the Federal University of Acre.
Rio Branco is in Acre, known as "The Rubber Tree State," bordering Peru and Bolivia. During World War Two, the boom of latex extraction from the rubber trees attracted Brazilians from many regions to the area.  Over time, the sonic blend of indigenous tribal traditions, songs of the immigrant rubber collectors (serengais), and rhythms from former African slaves created a music as unique and diverse as the people who populated the land. Pedro and Andre are beloved Acreanos who passionately tell the history of this music through their instruments, pass it along through mentorship, and delight their many devoted fans.
Mme. Thérèse Rioux – fiddle
Born in 1930 in St-Gabriel de Rimouski, a small farming village in eastern Québec, Thérèse played her first notes on the fiddle at the age of four. Her sincerity, generosity, and huge musical talent quickly gained her a loyal local following. She played for countless weddings, dances and house parties in her youth and toured with Jean Grimaldi's vaudeville troupe. In the 1950s and 60s she played in a number of bands, often backed up by Rimouski fiddler Paul Bossé, who became a very important musical influence. Thérèse also appeared in variety show television broadcasts in the 1970s. She recorded several albums over the next twenty years and played fiddle at musical events across the province, all the while raising her family and taking care of the farm when her husband was working in the logging shanties on Québec's North Shore. Towards the end of the 1990s, she produced an eighth album honoring Paul Bossé and in 2007 recorded yet another CD, Mes 70 années en musique (My 70 Years of Music), which has delighted her many followers.  At the age of 86, Mme Rioux shows no sign of slowing down! She continues to be affectionately known on the Lower North Shore of Québec as "La Reine des violoneux" ("The Queen of Fiddlers") and is widely admired by fans of traditional Québec folk music.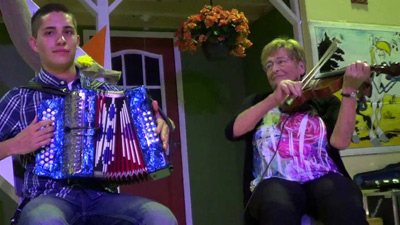 Keven DesRosiers – accordion
Accordionist, fiddler, and pianist Keven was born in 1993 into a family of musicians" His grandmother played button accordion and passed on to him both her passion for music and some of his earliest musical knowledge. Around the age of six, Keven began playing accordion, taking lessons with renowned players such as Réjean Simard et Gaston Nolet and getting advice from the great Marcel Messervier.
Despite his young age, Keven has already had a very full and busy musical life! In 2004, he recorded his first CD, titled Pour la première fois (For the First Time) with Réjean Simard. Three years later came a second CD titled Du bout des doigts (From the Fingertips) with accompaniment by Manon Turcotte, Jacquelin Guérette and Sébastien Dionne. In 2011, he put together a tribute album to one of his favorite mentors, Thérèse Rioux. In Autumn 2015, Keven recorded a duo CD with his good friend, fiddler  Benoit Joncas Leblanc titled Poursuivons la tradition (Let's Keep up the Traditions), in honor of their grandparents.
Keven has shared his music in concerts and festivals in many parts of Québec, and made appearances in New Brunswick and New England. He continues to play every week-end for dancing in his region. He considers it a great honor to come to the Festival of American Fiddle Tunes in the company of Mme Rioux.
Jimmy Triplett – fiddle
Jimmy Triplett is a North Carolina native now living in Oregon, but he spent a serious portion of his life in West Virginia, studying the rich fiddle traditions that have persevered in that region. He plays traditional Appalachian fiddle tunes learned from rare field recordings and visits with older musicians throughout West Virginia, and elsewhere. Jimmy puts great emphasis on achieving an old-time sound.
In 2001 he co-produced a two-CD compilation of the fiddling of Ernie Carpenter, and in 2004, he co-produced the CD/DVD One More Time: The Life and Music of Melvin Wine. He has become an in-demand fiddle teacher, and in his workshops, in addition to sharing tunes and their stories, he emphasizes bowings and ornamentation that capture the simple beauty and graceful rhythm of old-style Appalachian fiddling.
Wendy MacIsaac – fiddle
Wendy is an award-winning fiddler, piano player and step dancer from Creignish, Cape Breton. A born performer, she began appearing publicly at age 5 as a step dancer. At age 12, she began fiddle lessons with Stan Chapman. By age fifteen, Wendy was playing dances all over Cape Breton Island, forming the sound that makes her so recognizable today. She is recognized as one of the "old school" style of players who has kept the traditional sound going and has a deep respect for it.
Wendy is a founding member of Beòlach, and has also performed with The Cape Breton Summertime Revue, Capercaillie, The Chieftains, Ashley MacIsaac, toured with The Rankin Sisters, and traveled and recorded with Mary Jane Lamond for over fourteen years. Wendy has released multiple recordings, the latest of which, Off the Floor, won an East Coast Music Award for Traditional Instrumental Recording of the Year.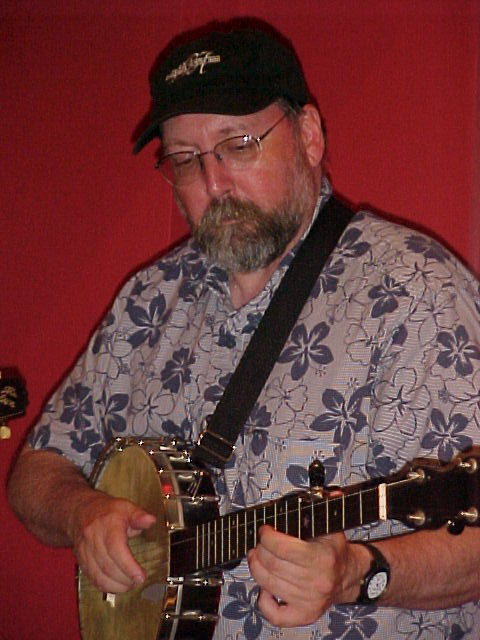 Joe Newberry – old time banjo
Joe Newberry is a Missouri native and North Carolina transplant who has played music most of his life. Internationally known for his powerful banjo work, he is a prizewinning guitarist, fiddler, and singer as well.
Joe's songwriting is characterized by the same clean, elegant style as his banjo playing. Musicians in the folk and bluegrass world often record his songs. The Gibson Brothers' version of his song "Singing As We Rise," featuring guest vocalist Ricky Skaggs, won the 2012 IBMA "Gospel Recorded Performance" award.
A frequent guest on Garrison Keillor's A Prairie Home Companion, Joe is a founder of the string band Big Medicine, and along with Mike, performs with Bruce Molsky, Mike Compton, and Rafe Stefanini as The Jumpsteady Boys. A special side project pairs Joe with old-time music legends Bill Hicks, Mike Craver, and Jim Watson. The four play to enthusiastic audiences around the country as often as their busy individual schedules permit.
Rafe Stefanini – old time fiddle
Rafe Stefanini is an old-time banjo player, fiddler, guitarist, singer, and teacher. He was born in Italy and came to live in the U.S. in 1983. Rafe has been at the forefront of the revival of traditional music from the rural south for over thirty years. His work on fiddle, banjo, guitar and song is represented on over 20 CDs, both as the featured performer and as a guest.
Rafe has played and recorded with Carol Elizabeth Jones, Stefan Senders, Dirk Powell, Bruce Molsky, and Beverly Smith, as well as his wife Nikki and daughter Clelia. He has been a member of such influential bands as The Wildcats, Big Hoedown, The Rockinghams, and most recently the Jumpsteady Boys with Bruce Molsky, Joe Newberry and Mike Compton.
In addition to playing music, Rafe also makes and restores violins.
Grupo de Cuerdas Mirando el Lago
Pedro Dimas – fiddle
Hermenegildo Dimas – tololoche
Miguel Dimas – vihuela
The music that Don Pedro played for almost 50 years with his family string band, "Mirando el Lago" (Gazing at the Lake), is traditional indigenous music from the Purepecha communities of Michoacán, Mexico. Don Pedro and his family are from Ichupio, a small village community made up of houses sprinkled on the hillside above Lake Pátzcuaro.
He is a master violinist and composer in the music and dance traditions from that region, traditions are still a vital part of everyday life for the Purepecha people. Purepecha tunes, usually played in harmony on two fiddles, is a fast-paced energetic dance music generally played at weddings, birthday parties, baptisms, and other community gatherings. The rhythms behind Don Pedro will be provided by his sons, Miguel on vihuela and Hermenegildo on guitar and tololoche.
Find out why the violin is just Don Pedro's second love.
For videos and photos, click here: Mirando el Lago.
Alice Gerrard – old time fiddle
In a career spanning some 50 years, Alice Gerrard has known, learned from, and performed with many of the old-time and bluegrass greats and has in turn earned worldwide respect for her own important contributions to the music. Alice is particularly known for her groundbreaking collaboration with Appalachian singer Hazel Dickens during the 1960s and '70s. The duo produced four classic LPs (recently reissued by Rounder on CD) and influenced scores of young women singers — even The Judds acknowledge Hazel and Alice as an important early inspiration.
Alice's four solo albums, Pieces of My Heart, and Calling Me Home, and Bittersweet (produced by Laurie Lewis), were released  to critical acclaim in Billboard, Bluegrass Unlimited, New Country, and other publications. These superb recordings showcase Alice's many talents: her compelling, eclectic songwriting; her powerful, hard-edged vocals; and her instrumental mastery on rhythm guitar, banjo, and old-time fiddle. Her most recent album, Follow the Music (produced by Mike Taylor of Hiss Golden Messenger) was nominated for a 2015 Grammy.
Alice has appeared on more than 20 recordings, including projects with many traditional musicians such as Tommy Jarrell, Enoch Rutherford, Otis Burris, Luther Davis and Matokie Slaughter; with Tom Sauber and Brad Leftwich as Tom, Brad & Alice, with the Harmony Sisters,  the Herald Angels, Beverly Smith, and with Anna R-g and Elizabeth LaPrelle. With her in-depth knowledge of mountain music, she has produced or written liner notes for a dozen more. She also co-produced and appeared in two documentary films.
A tireless advocate of traditional music, Alice has won numerous honors, including an International Bluegrass Music Association (IBMA) Distinguished Achievement Award, a Virginia Arts Commission Award, the North Carolina Folklore Society's Tommy Jarrell Award, and an Indy Award. In 1987 Alice founded The Old-Time Herald and the Old-Time Music Group, a non-profit organization that oversees publication of The Old-Time Herald. Alice served as editor-in-chief of The Old-Time Herald from 1987 till 2003. She continues to perform solo and with Tom Sauber and Brad Leftwich, the Herald Angels, and Beverly Smith.
Phil Jamison – dance
Founding coordinator of Old-Time Music & Dance Week, Phil is nationally-known as a dance caller, musician, and flatfoot dancer. Since the early 1970s he has been calling dances and performing and teaching at music festivals and dance events throughout the U.S. and overseas, including thirty years as a member of the Green Grass Cloggers. His flatfoot dancing was featured in the film, Songcatcher, for which he also served as Traditional Dance consultant.
From 1982 through 2004, he toured and played guitar with Ralph Blizard and the New Southern Ramblers, and he also plays fiddle and banjo. A longtime proponent of traditional Southern square dancing, in 2004, he founded Dare To Be Square!, a weekend workshop for square dance callers. Phil has done extensive research in the area of Appalachian dance, and his book, Hoedowns, Reels, and Frolics: Roots and Branches of Southern Appalachian Dance, will be published by the University of Illinois Press in 2015.
Phil teaches mathematics and Appalachian music at Warren Wilson College, and in 2008, he became the twelfth recipient of the Gathering's Master Music Maker Award for lifetime achievement.
Bertram Levy – old time fiddle and banjo
Bertram Levy was born in New York in 1941 into a family of classical, swing and klezmer musicians. He started playing classical music on the piano from an early age, but his destiny was to be in a different direction. At age 14 he embraced the 5-string banjo and immersed himself in Southern folk music. As a result he chose to attend college in Atlanta, Georgia where he played bluegrass banjo for six years.
In l965 he moved to Durham, North Carolina to study medicine. There, he met a fellow graduate student, Alan Jabbour who had had been searching out fiddle tunes from old-time fiddlers in North Carolina, Virginia, and West Virginia, including the extraordinary Western Virginia fiddler Henry Reed. Bertram learned this repertoire from Alan and, together with Tommy and Bobbie Thompson, formed the legendary Hollow Rock String Band. The Hollow Rock was the first young urban band to play the repertoire collected directly from the old timers.
Bertram settled in Port Townsend in the mid-70s, where he played music and practiced medicine for 30 years. In 1977 he started the Festival of American Fiddle Tunes, which celebrates its 40th gathering in 2016.
Laurie Lewis & Tom Rozum – Bluegrass
Songwriter, fiddler, vocalist, teacher, and producer Laurie Lewis is among the best known and best admired bluegrass musicians of either gender in the world. Two-time IBMA Female Vocalist of the Year, she is also a great fiddler and guitar player, an extraordinary songwriter and arranger and a hard-working and effective band leader. She has an astounding range of talents and interests (dance, violin making, long-distance bicycling, and more…).The Sacramento News called her "as fine a singer as anyone on the acoustic music circuit, anywhere in the world." Billboard praised her ability to "successfully walk the high wire above esoteric country, combining elements of bluegrass and pure country to form her own seamless mix."
Since joining forces with Laurie in 1986, Tom Rozum's versatility and diverse musical influences come to the fore every night on stage with the band. He plays primarily mandolin with the band, but is also an accomplished fiddle, mandola, and guitar player. His background as a rock and swing musician adds a uniquely satisfying flavor to the band. His rhythmic approach to mandolin especially punctuates the band's repertoire, adding to their on-stage shows a verve and excitement that has become a distinctive feature of their performances.
The Savoy Family: Ann, Marc, Gabie, Joel, and Wilson – Cajun
The Savoy Family Cajun Band plays honed down, hard-core Cajun music laced with an earthy sensuality. In their hands, the old tunes have been revived and returned to new life. Marc and Ann Savoy and their sons Joel and Wilson are strong individual musicians working together to create a tight, intense sound.
Marc and Ann have been performing and recording together since 1977. They have traveled all over the world, appearing in such prestigious venues as the Newport Folk Festival, the Berlin Jazz Festival, the Smithsonian Institution, the Getty Museum, and the Queen Elizabeth Hall in London. Ann and Joel appeared in the film Divine Secrets of the Ya Ya Sisterhood and they performed on the Warner Brothers Soundtrack, as well as at the film's premiere in Los Angeles. Ann served as associate music producer on All The King's Men (Sony Pictures) , wrote a song that was used in the film, and she, Joel and Wilson appeared therein with Sean Penn as musicians.
Marc Savoy has received the National Heritage Fellowship Award. Marc and Ann appeared on the PBS series "American Roots," and Ann wrote the chapter on Cajun music in the book , Rolling Stones Press,that accompanied the series. Ann was awarded the Botkin Book Award for her definitive Cajun Music, A Reflection of a People. Wilson, as a member of the Grammy-nominated Pine Leaf Boys, appeared on HBO's "Treme" series. And Joel was a founding member of the Red Stick Ramblers and today has his own record company, Valcour Records..
Maintaining a more acoustic approach to Cajun music, the Savoy Family Cajun Band can nonetheless hold its own amongst Cajun music lovers everywhere, and takes pride in drawing considerable power from four acoustic instruments.
Ann will teach singing; Joel – fiddle; Wilson – accordion; Marc won't be teaching any formal classes; Gabie will be the staff photographer.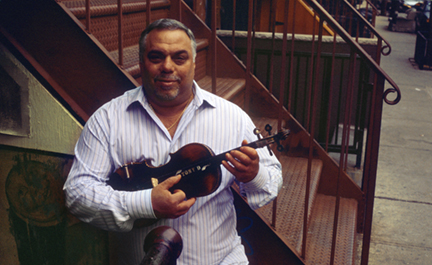 Tony Demarco – Irish 
Tony DeMarco: Irish fiddler. If that sounds slightly off, you have only to listen to the music on this recording to be cured of any preconceptions about the importance of ethnic purity in traditional music. There may have been a time when Irish music in New York City was played exclusively by Irish immigrants and their offspring, while their Italian neighbors strummed mandolins and sang opera. But the Big Apple really is a melting pot, at least for some of its disparate immigrant elements. Before World War II it really wasn't very common for Italian and Irish Americans to marry each other. By the 1950s, however, this kind of ethnic mixing was fairly normal in Tony's native Brooklyn, where the Italians and Irish lived side by side and attended the same parish churches.
He never grew up with the competitive Irish Comhaltas scene—he came through the hippie scene, the folkie scene. He tells the story of how he took up the fiddle and discovered Irish music in his own contribution to these notes, but it is worth repeating here that his first exposure to Irish traditional music was through a Folkways recording of the County Sligo fiddler Michael Gorman. Tony had many other musical influences before this, and would have many more afterward, but for him the appeal of the Sligo fiddle style would never fade.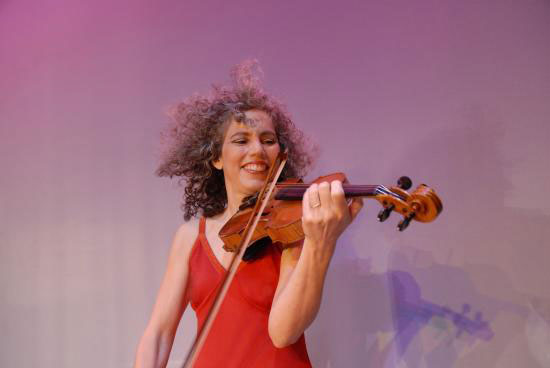 Alicia Svigals – Klezmer fiddle
Alicia Svigals is the world's leading klezmer fiddler, a founder of the Grammy-winning Klezmatics who she co-led for seventeen years, and a composer who was selected to be a 2014 MacDowell Fellow.   She has played with and composed for violinist Itzhak Perlman, the Kronos Quartet, playwrights Tony Kushner and  Eve Ensler, the late poet Allen Ginsburg, Robert Plant and Jimmy Page of Led Zeppelin, singer/songwriter Debbie Friedman, Avraham Fried, singer/songwriters Diane Birch, Gary Lucas and Najma Akhtar, and many others. She has appeared on David Letterman, MTV, PBS' Great Performances, NPR's Prairie Home Companion, Weekend Edition and New Sounds, and on the soundtrack for the L-Word.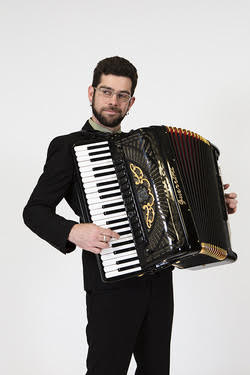 Svigals is the recipient of the Foundation for Jewish Culture's 2013 New Jewish Culture Network commission for her new score to the 1918 Pola Negri silent movie The Yellow Ticket.  She is currently touring this multimedia event, in which she and pianist Marilyn Lerner perform live to screenings of the film.
Accompanying Alicia will be Patrick Farrell, an accordionist, composer and bandleader based in Brooklyn, NY who has been described as a "wizard" (Feast of Music) and as a player of "mordant wit and blistering speed" (Lucid Culture).
He is an integral part of the international klezmer community, plays with "new music" and improvisational groups, and enthusiastically toots on an alto horn in various brass bands.
Farrell has appeared on over 35 recordings, most recently with Yo-Yo Ma and the Silk Road Ensemble and Ljova and the Kontraband, and also enjoys working with dance and theater ensembles as a composer, music director and accompanist.